Chicken memorials : pay your tribute to a much-loved hen or roo.

Share your words and pictures - join my page of chicken memorials and let the world know what was special about your lost hen or rooster.

If you'd like to skip Harriet's story and go directly to the part where you can share your own, you just need to click on this link.

How often have you heard these words : "Oh, for goodness' sake - it was only a chicken"?

Meet Harriet.  She was "only a chicken" who was killed last summer by our English neighbour's uncontrolled dog. 

Harriet was a good chicken.  She liked lettuce and sprouted beans, and she would do anything for a slice of watermelon.  She laid fresh eggs for us every single day and when I went to pick them up each morning, she would come by for a stroke and a chat.
She was so gentle that I didn't even mind when she destroyed my lovely artistic geranium pots so she could use them as a dust-bath spa.
When was killed, I felt bereft.  I didn't expect to, but I did.  I've owned dogs and cats for years and always did feel distressed when they passed on.  But a chicken?
Well - why not a chicken?

If you keep chickens as pets you'll know that they become part of your family.  They have personalities, characters, likes and dislikes, and they provide hours of entertainment - as well as gorgeous fresh eggs.
So yes, the loss of a chicken is just like the loss of any family pet.  There's nothing wrong or unnatural about feeling sad.

Harriet made me smile playing "Kill the swinging lettuce" - that's her on the right.

But I couldn't find a place for chicken memorials.

Writing has always helped me overcome problems.  It's an escape for the feelings which otherwise can stay locked inside.  And locking feelings away is never a good thing.

There are lots of places to leave messages and eulogies to lost dogs, cats, horses - even ferrets.  But chickens?  I couldn't find anything.  Nowhere to write, nowhere to post a picture.

That's when I decided to start this page.
Here is a place for you to share memories of your chickens.  There's no right or wrong way of doing this - just write from the heart.  Funny, happy, sad, "glad to have known you" - whatever you feel is a fitting tribute.
Plaque by Unique Memorials on e-Bay.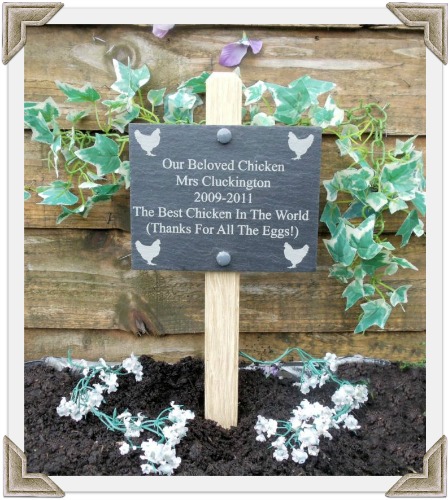 And when you've finished your own tribute ...

Remember to come back to the site and add your comments to the chicken memorials written by other people.  Your experience of loss means that you know something about how they feel - and how dismissive others, who don't own chickens and so really don't understand, can be.
Start here to share your memories and chicken pictures.
Everyone has memories they'd like to share - you too?
We've all been distressed by loving and losing pets - and the time comes when we also want to celebrate their life. Take a few minutes to tell me, and the other caring people who read this site, the story of your hen or rooster who has passed.
Other people's stories.
You're not alone. Click on any of the links below to read touching stories from others who have also lost their beloved 'girls'.

Where would you like to go now?

Thank you for leaving your story, or for reading the stories of others.
It's never possible to replace a lost pet, but when the time is right for you to consider more chickens or even hatching some eggs, you may find these pages useful.  I hope so.
If you found this helpful, please take a few seconds to share it - thank you!