A little chick with a white bum
by Jen
(Australia)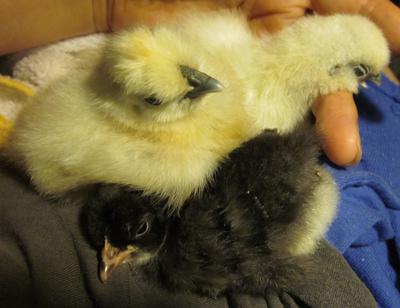 I'd wanted chickens for a while. I made sure I knew how to take care of them; I read a lot, spent just about every night reading up on them for at least a year. I wanted to know how to look after them without "accidentally" killing them by doing something dumb.

Specifically, I wanted Silkies. They are adorable. I planned on getting two chicks. I ended up with three. I had picked two silkies, and ended up with one pekin. Little Pro was the pekin. She was a blue cuckoo with a white/grey patch on her head, and a white bum. I had a little song for her within a day of having her:"I have a black head with white fur, beautiful grey wings and a ... white bum!"

I thought she was cute and adorable even though I had no idea she was a pekin at first. She was a curious and smart little thing. She had the loudest call of them all; she would call her loudest and knew that I'd come along to give them a cuddle if I was around; I hardly left their side for the first week.

The three of them would jostle at naptime and bedtime for a spot. It was funny how they would arrange themselves for naptime. They pushed and shoved, wormed around, dug their heads under each other, and even jumped on each other, leading to loud and shrill chirps. Lately, I'd taken to letting them nap on my lap while I am on the computer in the afternoons.

After that I'd take them out to the garden for supervised play. Little Pro would always find a tiny piece of something that the other two would want, they would squabble over it and play tug of war, accompanied by noisy little chirps of protest. Their play always put a smile on my face, and sometimes they really made me laugh.

They all loved their food. Little pro wasn't too fussy. She was the first to play "knock the lettuce over".

I could see them all growing. Little Pro's tiny little wing feathers were adorable; black with white stripes. Sometimes she would sleep with one wing fully opened and I would sit and admire her cute little feathers. She'd give me happy little chirps when she woke or if she saw me coming.

I miss my little chick; I'd barely had her for a week. Goodbye my darling little white bum. I'm glad I got to meet you and give you all the love and cuddles that I could in that short time.


Thank you Cath, for making this Tribute possible.
If you found this helpful, please take a few seconds to share it - thank you!