Chicken Memorial for Beautiful Willow
by Anonymous
(England)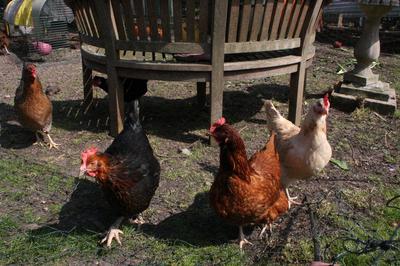 Willow and her flock
When I was about six my parents decided we'd deny urban protocol and we'd buy ourselves chickens (just to try it out). So we brought home two lovely hens, a Rhode Island Red and a Bovans Nera.

My sister took the little red hen and I took the massive black hen. My hen was named Willow after our beautiful weeping willow tree in the back garden although when we expanded our flock (only two more...ten chickens later)she turned out to be a little evil in her constant bullying and determination to be top hen.

By our friends she was nicknamed 'Evil Willow' because she hated intruders and liked to chase shoelaces. However when Rosie (the red hen) died several years later, we were worried if she'd be ok. We had three runs and Willow and Rosie had been in one by themselves. We bought some young hens home to see if might ease her from her grief and she became the adoptive mother and protector of Daisy and Sorrel (our chickens are all named after plants).

By the age of four Willow was mellowing and became the peacemaker in the flock but still guarding them with an iron wing! Once when a storm came over when they were free ranging, she gathered them up and forced them inside, standing at the door of the coop refusing to let them out!

However when she reached five Willow hit a rough spot, and as winter came it was obvious we'd be saying goodbye soon. Luckily she went peacefully, surrounded by her friends in our new extra large coop. She was just curled up on the log in the run, the others all milling around her and the spring sun shining.

We buried her under the willow, after which we named her, and every spring we're reminded of her presence when the tree comes into full bloom. Now it's more than ten years since we brought her home but we'll never forget how beautiful she was and I will always remember as on of the great pets of my childhood.
If you found this helpful, please take a few seconds to share it - thank you!