Missing Annie, our Blue Wheaten Ameraucana
by Laura
(Forest, Virginia)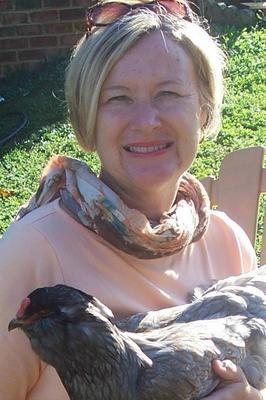 Me and Annie, Blue Wheaten Ameraucana
We just lost our affectionate Annie, a lovely Blue Wheaten Ameraucana hen who was 3 years old to Sudden Death Syndrome.

She had been fine and was eating, laying and doing her chicken thing every day. I found her in our coop just laying quietly one morning, and by noon she was dead. She convulsed and had wing flapping at the end as I held her close. We were devastated as a family because we had her for three joyous years. She would greet us daily as we came to the coop and would literally jump up in our arms.

I have been questioning myself over and over what we could have done differently and what could have happened as she appeared healthy over the previous week and days leading up to her illness. Now that I have read your website I feel like it was probably Sudden Death Syndrome and was unavoidable.

I have beat myself up for a week thinking that I should have seen something, and had a cure, but it sounds as though we could have had no control over her demise.

Thank you for your website and information. At least we know that she was a happy hen, and loved us just as much as we loved her. We love our poultry - all 43 hens and 12 roos!

Join in and write your own page! It's easy to do. How? Simply click here to return to Chicken Memorials and Pictures..
If you found this helpful, please take a few seconds to share it - thank you!