My Sweet Cora
by John
(Tucson, AZ)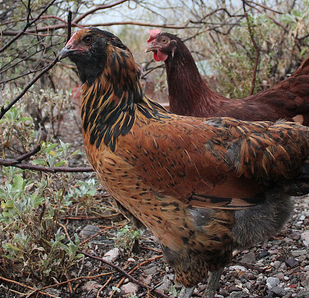 I remember the day I brought you home, riding shotgun along side me on the drive that seemed like it took forever.

You looked like a chipmunk with a beak and made the cutest little scratching and peeping sounds. You were no bigger than a clump of grey and brown cotton balls. You grew up to be a beautiful bird that laid the most beautiful blue-green eggs.

Everyone loved you, most of all me. I don't know what happened to you that you only lived a little over 2 years, but I hope that I was able to help you feel loved.
Join in and write your own page! It's easy to do. How? Simply click here to return to Chicken Memorials and Pictures..
If you found this helpful, please take a few seconds to share it - thank you!