Pest control : rats, mice, your chickens and you.

Think you may have rats in your chicken coop? Ugh!

None of us likes to think it will happen. And then, one day, you go into your chicken run and find the tell-tale signs. You don't want to believe it - but for your and your family's sake, and for the sake of your chickens, you must take action.
It happens to the best of us. It certainly happened to me and I want to share what I learned with you, so you don't make the same mistakes I did.

Let me hasten to add here, I don't blame this on my chickens at all.
It was not my chickens who attracted rats and other pests into the coop. It was the fact that I didn't know how to keep them away and made some very basic mistakes. 
Once I stopped making those mistakes - basically by good husbandry and using an automatic feeder to keep rodents away from the grain - I stopped getting rats.
My free checklist is designed to make sure you undertake some basic pest control as soon as you see the first signs.
Otherwise there's a danger of ...
Chickens having their feet chewed at night

Disease spread among your flock
On this website you'll find lots of information about pest control but ...

| | |
| --- | --- |
| | |
And that's why you need my mouse and rat control checklist!

Here's what it covers :

Pest control in the chicken coop

Controlling rats in the run

How to get rid of an infestation



How to get it.

What you'll get.
My free, downloadable checklist about controlling rodents in your chicken coop
Written in easy to follow language, it leads you through the different stages of pest control

Within it, there are links to pages in my website where you can find more detailed information should you need it.
You can download my controlling rodents checklist now!
Please note: you will need the free version of Adobe Acrobat reader enabled to download this document. If you don't have it, you'll find a download link here for desktop and here for mobile devices.


And if you like chickens and you like checklists, you might like this!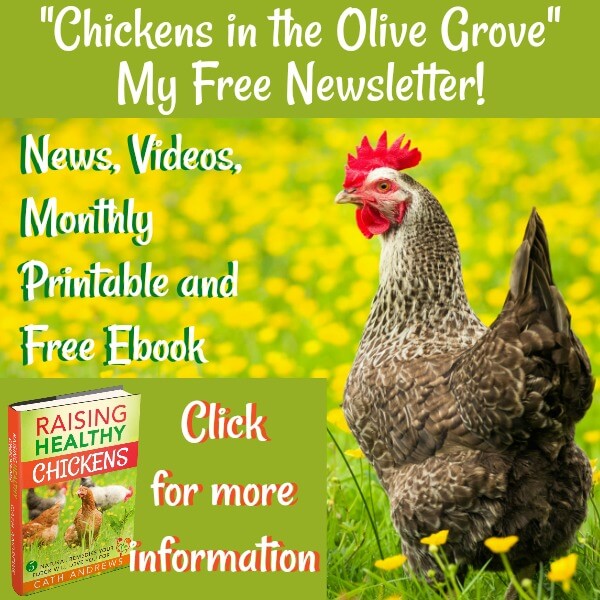 I'd like to offer you the opportunity of receiving my free newsletters about keeping chickens with updates, information, tips and advice. 
As a "thank you", you'll be able to download my free ebook: "Raising Healthy Chickens - 5 natural remedies your flock will love you for".
Each month, the newsletter has a free monthly checklist about tasks for the month ahead in the chicken coop! (Can you tell I like a good checklist?!).
You can see more details about my newsletters here, or sign up now by using the box below. 
But please - don't sign up unless you want to receive my newsletter about raising and caring for chickens. If you're in any doubt, look at the information here first.

Yes please - I'd like to receive your newsletter!
Wonderful! Just fill in the simple form below. As soon as you have confirmed you'd like to receive them, you'll get a link to download the free book.
My chickens and I are looking forward to seeing you in our Italian olive grove!
---
Looking for more information?

Great! Here are some links to other pages about pests and how to control them in your backyard coop.