A traditional 'Scotch Eggs' recipe :
what it is, where it's from and
how to make it.
Chickens tend to lay more in the summer months and that can mean you end up with more eggs than you know what to do with.
Luckily, summer, picnics and this easy Scotch eggs recipe go well together. Try it as a great way of using your hens' offerings and keeping your family satisfied at the same time.

What exactly is a Scotch egg?
Scotch eggs have been really popular in England for centuries.  They're basically a hard boiled egg (some people prefer the yolk to be left a little runny) wrapped in a casing of sausagemeat, dipped in breadcrumbs and fried.  
Not a recipe for those on a diet!
So this Scotch eggs recipe is Scottish?
No - nor does it have anything to do with Scotch whisky!  The word 'scotched' was an old English word meaning 'processed' - so these were one of the first processed foods.
The first Scotch egg was invented in 1738 by a chef working for the famous luxury British food store, Fortnum and Mason.   He wanted a simple but filling snack which could be taken by his customers on long carriage-rides to visit family.  It's likely that the eggs he used were smaller than chicken-sized - probably pullet or quail.
Quails' eggs - perfect finger food for a party.
More recently they fell out of favour in England and became the butt of everyone's jokes - mainly because the mass-produced supermarket versions were so awful.
But more recently they've come back into favour again and now even the most prestigious chefs have them on their menu.
How should these eggs be used?
Here are some of the ways we like to enjoy them :
At picnics and parties, as part of a buffet. Use quail's eggs for a tiny treat!
In a lunchbox for school or work.
To dip in a light mayonnaise or tomato relish.
With salad and pickle as a snack or light lunch.
With baked potatoes and veg as a substantial and filling meal.
A favourite buffet or party food in the UK.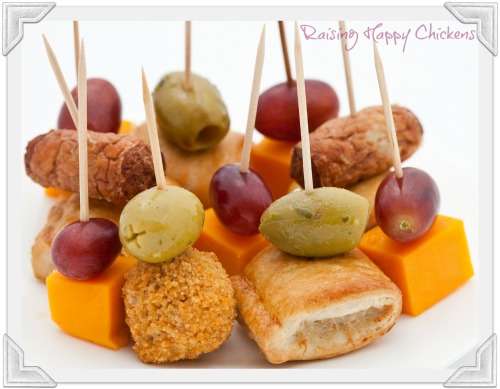 Scotch eggs recipe : general information.
This recipe is enough for six full sized portions.  If you want a bite sized portion either half them or use 12 quails' eggs instead, with the same amount of other ingredients. 
Preparation time : 40 minutes.
Cooking time : 4 - 6 minutes.
Total time : Around 45 minutes.
Calories per (chicken) egg : 700 kilocalories.
Fat per egg : 56 grammes (2 oz)  
Saturated fat : 14 grammes (0.5 oz).
Ingredients.
8 large sized free range eggs (or 14 quails' eggs)
600 grammes (1lb 7oz) good quality sausages or sausage meat
1 small bunch chives or spring onions
1 tablespoon English mustard (optional)
115 grammes (4 oz) white breadcrumbs
1 handful plain flour
1 nutmeg for grating
1 small sprig rosemary
1 small bunch fresh parsley
Salt and freshly ground black pepper to taste
Vegetable oil for frying.
Scotch eggs recipe : Instructions.
Hard boil 6 eggs.  Bring a pan of water to the boil with your eggs in it, making sure they're completely covered.  Once they've come to the boil, simmer for 4 minutes for a softer centre, 7 - 8 minutes to completely hard boil.   Then drain and cover with cold water until you're ready to peel them.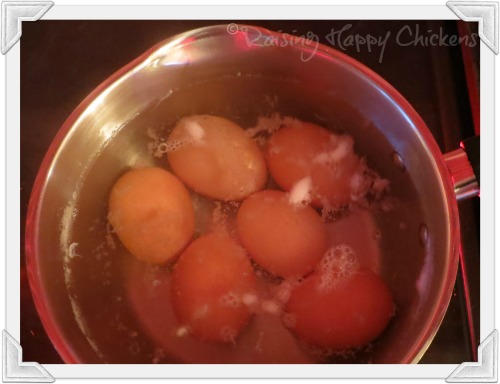 If using sausages, peel the skin away and put the meat into a large mixing bowl.  If using sausage meat just put it straight into the bowl.
Detach the leaves from the rosemary sprig and finely chop them together with the parsley and chives or spring onion.
Add them to the sausagemeat along with the mustard, a little grated nutmeg and a pinch of salt and pepper.
Now mix all this together either with a fork or, if you don't mind getting messy, with your hands.
Covering the eggs with meat.
Divide the mixture into six equal pieces and roll each one into a ball.
Now flatten each one out, stand a peeled egg in the middle and gently work the meat mixture up around the egg until the meat completely covers it. 
This sounds more difficult than it is.  If you find the meat sticking to your hands I've found the best way to make it easier to handle is to wet your hands a little rather than flour them.  It sounds weird, but it works!
Finishing the coating.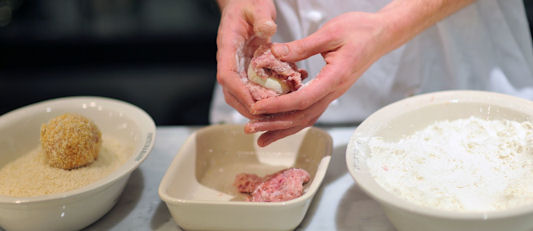 Get three dishes ready.  One will contain the flour, one the remaining two eggs, beaten, and the third, the breadcrumbs. 

Roll each of the meat-covered eggs in the flour, dip in the egg mixture and finally roll in the breadcrumbs.
If you want to make these in advance and eat them hot, now is the time to put them into the refigerator until you're ready to eat.  
If you're cooking for a buffet or a picnic, it's best to cook them immediately and eat them cold.
Scotch eggs recipe : the final stage.
Now it's time to fry the whole thing.  Put your oil into a deep pan or fryer and heat to 180ºC (350ºF).  It's at the right temperature when you drop a piece of potato in and it turns brown.  If it burns, your oil is too hot.
Add no more than three eggs at a time and fry for about 4 - 6 minutes or until they turn golden brown.
Until you've made this recipe a couple of times you may want to experiment by cooking one egg first.  Fry as recommended and when finished cut it in half to make sure everything is cooked through.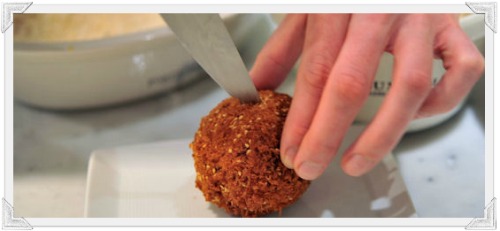 And finally ... 
Place your eggs as they come out of the fryer on kitchen roll so that the excess grease can soak away.
Sadly, Scotch eggs don't freeze well but they will store in the refrigerator for up to a week.

The biggest Scotch egg in the world?
To celebrate the 40th anniversary of their original recipe, Fortnum and Mason made an attempt to cook the largest Scotch egg in the world. Did they succeed?  Watch and find out! 
Enjoy!
---
Looking for other delicious egg recipes?  Try these!

Just click on the pics.