A review of the 'Swift Supreme' stainless steel griddle pan.
Please note : I have not been asked to do this review, nor have I received anything in return for doing it.  I'm writing it simply because I love this griddle pan and think you might, too.
Cooking with a griddle pan is a fast, efficient way to cook your girls' eggs - and more!


If you're anything like me, you'll always be looking for a better, quicker, healthier way to cook your girls' eggs.  I've amassed a whole variety of pans and dishes to do just that - and then I found this one.
It's a heavy gauge, thick-bottomed, stainless steel griddle pan.  It is safe to use on any hob - including induction hobs, which is what I use - and also in the oven.  
That makes it one of the most versatile cooking utensils I've ever owned.
Who are 'Swift'?

Swift is a brand created by a family-owned English company called Dexan, who have been making cookware since 1957.  Their emphasis is on quality,  reliability and innovation.
The Swift brand is Dexan's oldest, original line, described as "a timeless classic".  The griddle pan is a simple, streamlined piece, typical of that classic brand.
The technical bits.
Stainless steel is a long-lasting material which stays looking good for years, as long as it's treated well.  But it's not a good conductor of heat.
Dixan make this griddle pan in 18/20 stainless steel, but the base incorporates a sandwich : outer layers of stainless steel with a middle of aluminium, a much better heat conductor.    
What does that mean for your cooking?  It means the heat is distributed evenly across the base of the pan, so food cooks uniformly. 
Inside, the pan is non-stick, but unlike other non-stick brands the surface is free from PFOA (Perfluorooctanoic Acid). PFOA is a man-made substance whose chemicals have been shown to stay in the bloodstream for long periods of time.  We're better of without it.
And finally, it's 34cm (14.5"), so a good, big size.  
A griddle pan's just for grilling, right?
Not this one!
I use it for a whole range of things.  Here are some of them.
I use it to cook 'fried' eggs.  It's fast, it cooks evenly and because there's no need to use fat, this is a very healthy version of fried eggs - and just as delicious.  
Scrambled eggs cook really well, too.  Take them off the heat before they're properly cooked - the heat in the griddle pan finishes their cooking to perfection.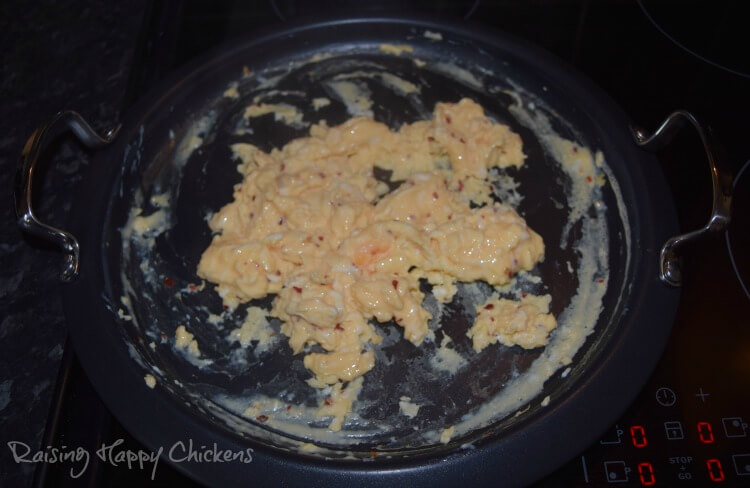 I use it to bake biscuits in the oven.  The non stick covering means I don't need to add much grease here, either.  These are some little chilli cheese bikkies I made.  They don't use eggs, though, so I've not shared my recipe for them.
I use the griddle pan to make Scotch pancakes, also known as drop scones. These are the thicker pancakes that people in America like to have for breakfast.  In Scotland (where I live for part of the year), they're mostly eaten at tea-time, with melted butter and jam (jelly).
These do use eggs, so there's a recipe for them here.
It cooks the greatest English sultana scones - because the heat is so evenly spread, they bake quickly and all over.  No stodgy bits in the middle.
I make pizzas on it, too ...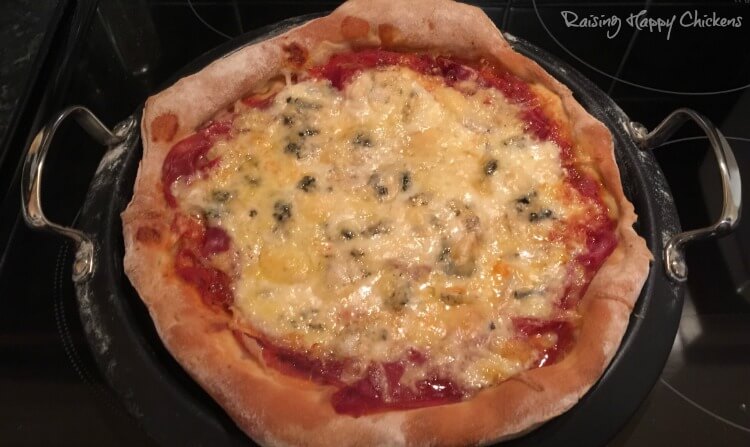 And I use this versatile griddle pan to cook meat, which it does perfectly.  The balanced heat distribution across the stainless steel and aluminium base cooks the meat completely evenly.
Cleaning.
Stainless steel looks good for years and it's really easy to clean.  It can be washed in the dishwasher, but I prefer to clean it by hand.
I just use warm, soapy water and I've never needed to use an abrasive sponge.  The manufacturers warn that using abrasive cleaners can scratch the metal - it won't hinder the performance, though.
The non-stick surface is very robust and also cleans easily.  My pan has had several months' use without marking at all.

Any downsides?
In terms of cooking, I have absolutely no complaints at all about this griddle pan.  I love using it, and both the non-stick surface and the stainless steel base and handles look as good now as the day I bought it.
The only downside is that it's pretty expensive.  But, as my mother used to say, "You get what you pay for".
How many golden eggs does it deserve?
If you've read any of my other product reviews, you'll know I have a 'Golden Eggs' reward system.  One egg represents a product I've used but would not recommend.  Five golden eggs is a genuine recommendation for a product I've loved and can't do without.  The rest are somewhere in between.
So - how many golden eggs does this stainless steel griddle pan merit?
A great big stonking ...

Five Golden Eggs!


---
Want to buy it?
Buy from Amazon USA


Buy from Amazon UK


(These are affiliate links. That means that if you click through and buy, I receive a small commission.  There is no additional cost for you.  This helps me keep my blog free to use).  
---
If you've enjoyed this page, you may like these.
Click on the pics to go to these pages, all about eggs.
Some links in the following sections are affiliate links, which means that if you purchase a product through them I receive a small commission. There is no extra cost to you. Find more details on this page.
Because my integrity and your satisfaction are very important to me, I only recommend products I have purchased or would purchase myself and which I believe would benefit you.