The Sad Death of Noah Webster and Henry W. Longfellow
by Promise Joy Stephens
(Cherryville, NC, USA)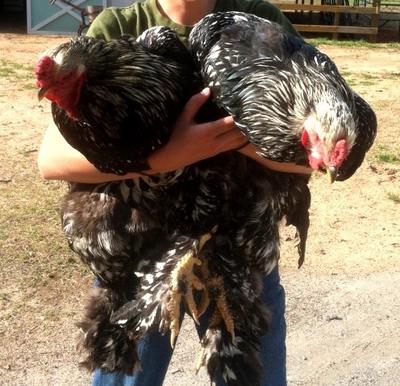 Noah Webster is on the right
Very recently something very sad happened. My two roosters, Noah Webster, a silver-laced Brahma, and Henry Wadsworth Longfellow, a buff-laced Brahma, died.

We had a very bad storm with the all the electricity going out, huge puddles in the front yard, tree branches breaking.

During the storm my smaller chicken coop was pushed half a foot back, in the process running over an extension cord that was connected to a heat lamp which then busted–in the coop with my 9-week old chicks and an elderly white Cochin. Not one of them was injured.

Don't say "wow, that's amazing!" yet, because the cord popped where the two large Brahmas were taking shelter from the rain under a rabbit hutch.

When the rain stopped, I came out to feed my chickens and Noah and Henry were on their sides, soaking wet and dead.

It was so sad for me, but I'm SO thankful the storm didn't kill my chicks as well.
If you found this helpful, please take a few seconds to share it - thank you!