Can't find what you want?
Search this site!

The White Roo
by Jessica S
(Lady Lake, FL USA)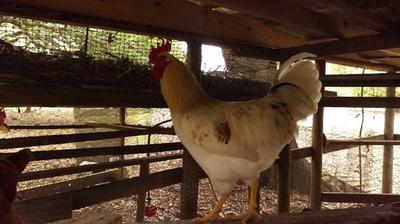 Mr. VanillaRoo
Hello and thank you for all the information you provide.

Our White sex-linked roo is absolutely wonderful. He will only allow me into the chicken yard we have for them. If anyone else enters the yard, he will chase them out. lol.

When he was a baby roo, I would hold him, sing to him and he would perch up on my shoulders as I walked around cleaning out the chicken house.

He does this funny dance thing when the hens move to far away from him, where he puts one wing down and stomps in a circle. He has even done it toward me at times when I try to walk away from him in the morning.

I never thought I could love a rooster such as I do him. His name is Vanilla roo and he is amazing!
---
If you enjoyed this article and found it helpful, I'd love you to let me know by clicking this button - thank you!
---
Thank you for sharing the chicken love!