Free range chicken gardens: a book review.
The definitive book about how to build a garden that both you and your chickens love, by Jessi Bloom.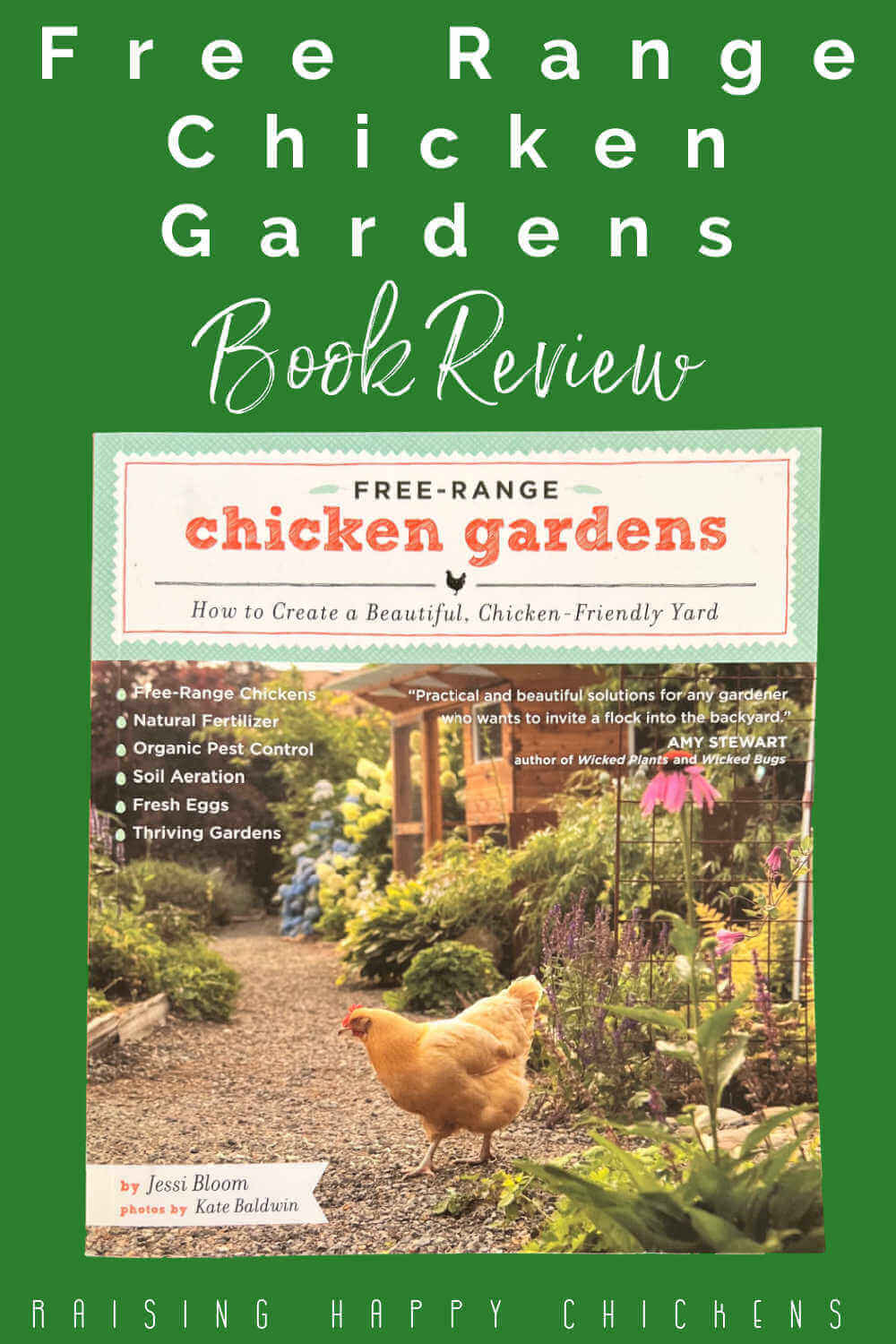 So you want to keep free range chickens in the garden but you're worried they'll dig up your carefully laid lawn, pull up your beautiful flowers and eat all the vegetables that were supposed to feed your family for a month?
It's not an unreasonable concern.
Chickens can turn a garden into a mudbath if they set their minds to it. Been there, had chickens who did that...
So does Jessi Bloom's handbook about free range chicken gardens give all the answers to keeping a healthy flock of chickens and a beautiful, functional backyard at the same time?
Let's take a look.
I own all the books I review and can honestly recommend them. I'm not paid anything for my reviews, nor have I received a free copy.
I simply view them as excellent resources which will genuinely help you as much as they've helped me.
I do earn a small commission if you click on the links and buy. There's no additional cost to you. For more information, see my affiliate disclosure policy.
---
Will you benefit from "Free Range Chicken Gardens"?

Written by a qualified horticulturalist and chicken keeper, the aim of this book is to provide the tools to create a garden which is safe for chickens and a pleasure for their people. 
Its eco-friendly advice can be applied to anything from small city gardens to large country plots, from the hobby chicken keeper to those wanting to become self-sufficient homesteaders.
It covers different types of learning styles by presenting its advice in a variety of easily understood written details, illustrations, full colour photographs, lists of necessary materials, tables, charts and plans. 
Long story short...
If you enjoy browsing through a book when you have a chance to relax, rather than reading from cover to cover in one sitting, this is right up your street!
If you're looking for ideas, advice, tips and inspiration to help you plan your chicken garden, buy it now!
If you don't even have chickens but you like a nice coffee table book, this is it.
If you're looking for a long, detailed, "how to garden" book, this is not for you.

---
What does it cover?

The huge asset of this book is its landscaping advice, whether that's hard – fencing, walls, ramps etc – or soft – trees, shrubs and plants.
It starts wherever you are, whether that's an existing chicken run or a piece of land you're thinking might make a safe free range area, and provides all the information you need to make it a reality.
Begin by drawing a simple plan of what already exists and what other "hard" features you need to provide (coop, shade, predator protection for example), add to it with her suggested planting, whether that's flowers or vegetables – or both – then consider which parts need protecting from your flock and where they can be allowed to "free range".
Free ranging in sweetcorn patches is not usually a problem.
Here are its sections.
Introduction: chickens and gardens working together
Practical considerations
Designing a chicken friendly garden
Landscape materials
Plants with purpose
Innovative chicken housing
Friends and foes of chickens in the garden.
Particularly helpful features are...
tips, such as why diversifying plant life makes it less likely that they will destroy particular plants
lists of poisonous plants
plants which chickens will tend to avoid, and those which they will eat and will provide nourishment
how to deter chickens from edibles and focus their attention where you want it to be (chicken tractors, anyone?)
What does it not cover?
This is not a gardening book in the usual sense of the word – it's a book about how chickens and gardens can work together. So it doesn't deal with how to grow or care for any of the plants it mentions as being chicken-friendly. 
It mainly covers keeping chickens away from well established plants. Preventing them from scratching up growing seedlings is not as well dealt with.

---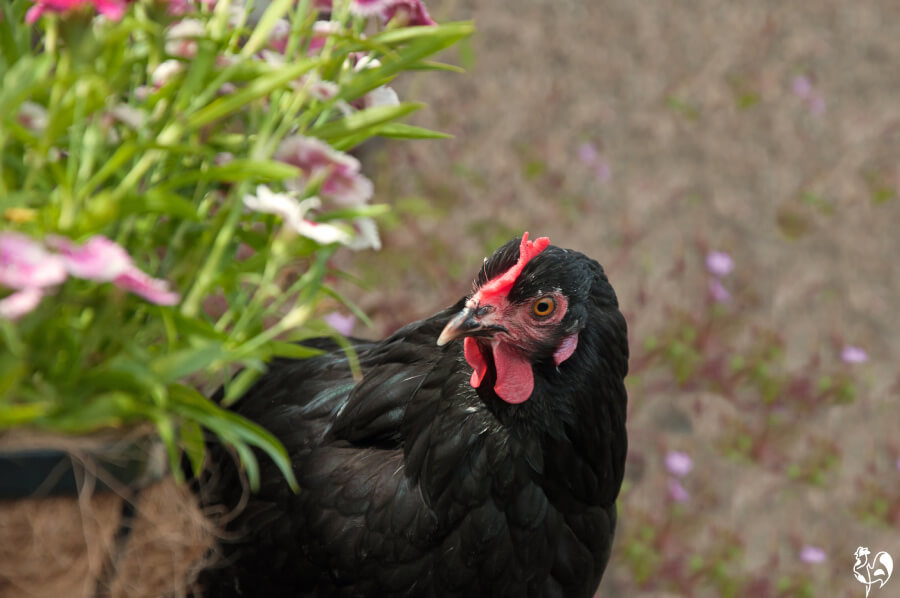 Chickens in ornamental gardens is key to this book.
What's special about 'Free Range Chicken Gardens'?

The author, Jessi Bloom, is a qualified and award-winning professional horticulturalist, arborist and landscape designer, and a caring chicken owner. She knows her stuff.
The site analysis, and sample plans she provides for different types of garden (edible, family, fragrance and sound, for example) show how you can easily create a similar plan without needing specialist design knowledge, and no matter what size of plot.
It includes personal stories from chicken owners in different types of environment. It's always helpful to see how a project works in practice, and these sections cover that.
It contains a lot of high quality photographs, which help illustrate what a chicken-friendly garden could look like. (It's nice to dream...).
It inspires. You may not be able to afford everything she suggests all at once, but it provides motivation to plan for the future.

---
Any downsides?

Most critical reviews refer to the book's tendency to fall apart because of poor binding. My version is its tenth printing (2016) and I haven't had that problem, even though my copy is well used. It may be that later editions improved the binding problems that arose in the initial print runs.
Some of the information seems irrelevant or "fluffy". For example, there's a small section on "chicken bingo". It's Jessi Bloom's idea of an outside game to be used at family events, for example. So it kind of fits into the "gardens" theme, but only just!
There's quite a large section about general chicken-keeping issues: diseases and parasites, feeding, egg issues, feather loss, dogs and other poultry, for example. They don't detract from the gardening-related sections, but they're not strictly related, and not detailed enough to be of much use either. The book would not lose anything if those sections were taken out.
Some reviews describe the contents as being too basic. If you're a seasoned gardener, there might be some truth in that. But, even so, unless you have extensive knowledge of gardening with a specific emphasis on creating chicken-friendly gardens, I'd say it's an unfair criticism.
Some reviews reflect this type of thinking:
"The chickens are better off in their chicken coop away from my vegetable gardens. I don't have worry about bring chicken poop into my house on the bottom of my shoe."
Well, if that's how you feel about your chickens, this book certainly won't be able to help!

Carefully planted, chickens won't necessarily eat your vegetables!
---
What do other reviews say?

Some talk about the book's "lack of focus". Although I acknowledge there are sections that aren't relevant to gardening (see here, for example), I found the majority to be about what the title suggests: gardening with chickens.
Many people refer to their own chickens and their ability to destroy a well-kept garden and turn it into a scene of devastation. Well, that's the nature of chickens – and there are ways of dealing with those issues. See my review of Omlet's portable fencing, for example.
She does refer to fencing, both general, to protect from predators and to protect plants. But in the end it's up to each of us to consider our own situation and plan accordingly.
In the end, the quote I think best reflects the book is this one:
"Bloom's obvious enthusiasm for good design and for her birds will inspire both novice and experienced chicken owners to create a garden space for hens and humans to enjoy." 
American Gardener.

---
How many Golden Eggs does it deserve?

If you've looked at any of my other reviews you'll know that I award "Golden Eggs" for products, from one for a "wouldn't really recommend this" to five - "Yes - don't miss out on this wonderful product".
How many does 'Free Range Chicken Gardening' get?

A Fantastic Four Golden Eggs!


I take on board everything critical reviewers have said about the content and layout, so I've deducted one egg for that.
But this book has many excellent ideas, lots of information about garden design including the suitability of different types of coop, good advice about which plants work and which are not advised, and some truly lovely photos.
Not every suggestion she makes will suit every situation. Not only are all our circumstances different, so are our chickens! Different breeds, and personalities within those breeds, will create different issues. We can't expect one book to provide all the answers.
Take the suggestions in the book. Dream, and then experiment. See what works. Forget the rest.
And most of all, have fun while doing it!

---
Publisher's Information.

Published by Timber Press, 2012
Number of pages: 218
ISBN number: 978-1-60469-237-2

---
Other articles you may find helpful.