All the links on this page lead to different plants which have been proven to offer benefits for your flock's health and well-being.
Some are edible, others are beneficial in external use. They're presented here in alphabetical order.
Since 2006, reviewed and updated in 2016, the European Union has vastly restricted the use of antibiotics in animal feed. The aim was to limit the spread of "superbugs' which are resistant to medical treatment.
For that reason, a myriad of studies into the use of natural remedies to replace commercially produced drugs have been undertaken. 
These articles are based on those studies.
So there's no guesswork here: my information is all verified from research undertaken with chickens.
You can rest easy knowing that all these plants, which will make your garden come alive with colour, are also potentially great for your chickens' health.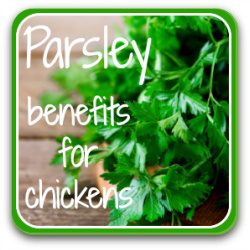 Herbs are an amazing, inexpensive source of natural health for chickens.
This article explores the specific benefits of parsley, and offers the opportunity of a free download of eight different herbs which have particular benefits for poultry.
Discover the benefits, how to grow, dry and store it, and the best ways to offer it to your flock.