Can't find what you want?
Search this site!

"Chickens in the Olive Grove": get my email newsletter - and take a look at my free downloadable ebook!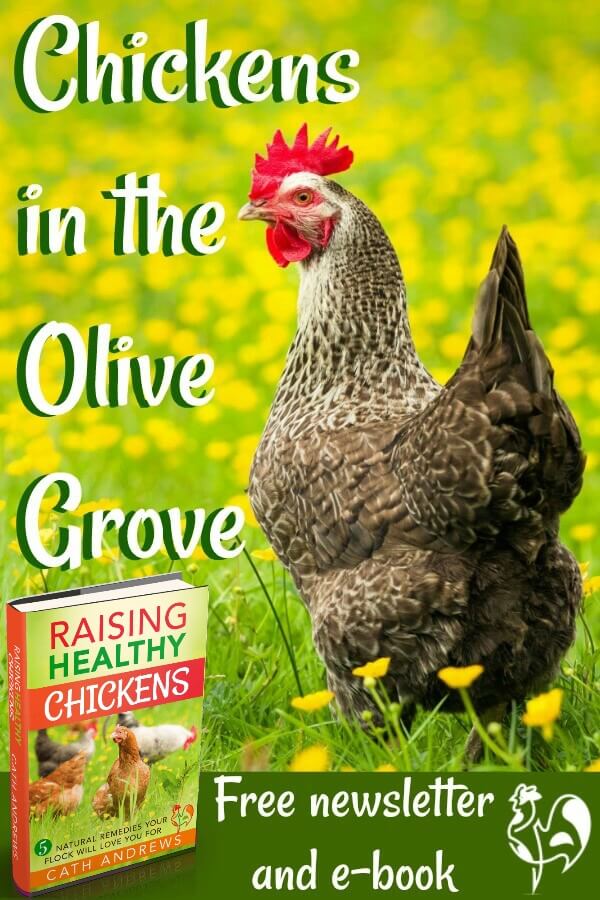 Want to keep up with me and my chickens' life in Italy? Join me in my Italian olive grove!
If you have your own chickens and want to provide them with nothing but the best, you need to hear from me!
Not that I'm the world's greatest expert - I believe you never stop learning!
I love sharing my knowledge of keeping happy, healthy chickens with you here on this website. It's been hard-earned, through...
eight years' experience of incubating, hatching and caring for my own flock
taking advice from others with longer experience than I
reading properly researched books and articles
attending a course in chicken behaviour and welfare certificated by the University of Edinburgh, Scotland
not to mention an amazing course in chicken husbandry at His Royal Highness Prince Charles' own backyard coop, Highgrove House!
Knowing I'm helping other people (people like you!) by writing articles to share with my backyard chicken-keeping friends across the world is one of my great pleasures in life.
But this website has nearly two hundred pages, all of them crammed with information about keeping chickens from incubation right through to caring for older hens and everything in between. I'm constantly updating it with new facts, figures, advice and tips.
And sometimes it's hard to keep up with what's new.
Signing up for my free email newsletters means you'll never miss out on information again!
My newsletter: "Chickens in the Olive Grove".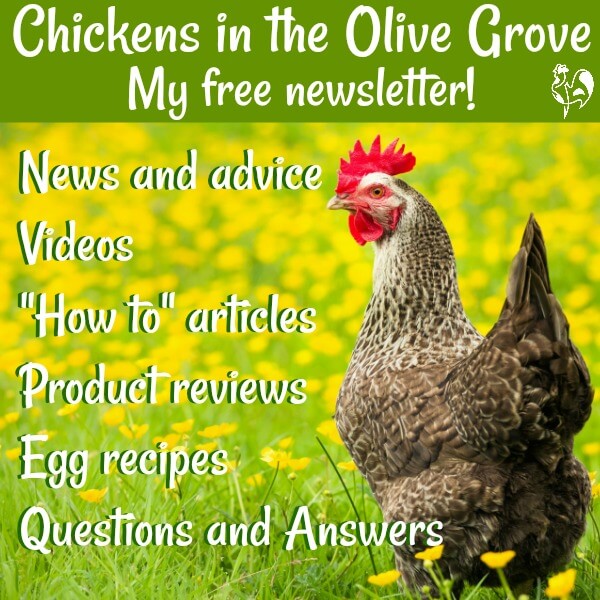 Here's what you'll get...
"News from the coop" - my own coop, here in Italy

Every so often ...

If there's something I think would be helpful to you to know about before my next e-mail's due, I will occasionally send out a special message.
But that's the exception rather than the rule.
I know how important your time is, and I know how over-run we can all get with emails coming from all over the place. So I will always be respectful of your time.

Respectful of your data.
I only ask for the information I need to send you my newsletters: your first name and e-mail address. Your information goes to the company which sends out emails for me, "ConvertKit", but no further. It is protected by European General Data Protection law. 
You will be able to access, change or delete your information if you want to, and in every newsletter there's a link you can click to unsubscribe completely.
It goes without saying that I will never, never give your information to anyone else. 

Here's what you won't get.

Lots of emails coming into your box every day - I know how irritating that is!
'Hard sell' messages - if I recommend a product, here on my site or in a newsletter - it's because I know, use and love it.
Spam. I will never compromise your privacy. Your email address and any other information you choose to give me is important to me as it is to you.  Let me say this again: I never, never sell or give e-mails to anyone else.  Ever.

Whether or not you choose to subscribe...


...I'd like to offer you a special copy of my e-book: "Raising Healthy Chickens - 5 natural remedies your flock will love you for!".

In it, you'll learn... 

Why cider is good for your hens
How to stop your chicks from itching - the natural way

Which herbs can have a calming effect on your hens
How a readily available plant can

help to

soothe a wound
When a weed should be encouraged in your chicken coop - and why.
You don't have to join my newsletter to get the book - you can download a free copy of it here if you'd like to!
But I'd really love the pleasure of your company...
If you do subscribe to the newsletter, there's no need to download the book here (unless you want to, of course).
You'll get a personal link via e-mail.

What are you waiting for?!

I'm really looking forward to "seeing" you (and your chickens, obviously) in the olive grove and sharing stories, information, tips and advice.
All you need to do is enter your name and email address in the boxes below. 
Please note: you do not have to sign up to my newsletter to get a copy of my free book. You can simply download it here if you'd like to.
But I'm really hoping to have the pleasure of your company - and your chickens, of course! - in my olive grove newsletter! If you'd like that too, use the box below to enter your details. You'll then be sent the link to the book.
I look forward to meeting you in my olive grove!


---

PS : If you're thinking about incubating and hatching your own chicks, this series may be of interest to you (unless you've already done it!).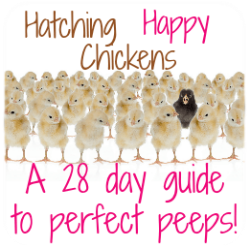 It's a 28-day guide to incubation which takes you right up to hatch day and beyond, sent to your email inbox every day.
For more information just click on this picture.
---

You may be interested in these pages.

Just click on the pics for more information.

---
If you've found this page and my website helpful, I'd really appreciate you letting me know by clicking on this button..
...and / or share it by clicking one of these little buttons - thank you!

---