Inexpensive Christmas gifts for the chicken lover who has everything.

So you've got a friend who loves chickens but also has every single chicken themed trinket ever made?
Or maybe that crazy chicken person is you, and you're looking for a special gift to treat yourself, or to put on your wish-list.

Here are some inexpensive chicken-themed gifts with a Christmas twist which anyone who's crazy about chickens will adore.
How do I know? Because I am one of those people - and I have (and love!) them all!
Just click on any of the links or pictures to see my detailed reviews.
Use the information to discover how you can buy the ideal gift for the chicken-lover in your life!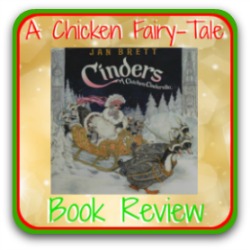 This is at the number one spot because I absolutely, totally, unreservedly, adore it. It's the lovely fairy-story of Cinderella, with one extra-special twist - all the characters are chickens!
It's a beautiful yet inexpensive book with the most stunning illustrations, and it's particularly suitable for Silkie chicken lovers. 

Why? Go on over to the review to find out!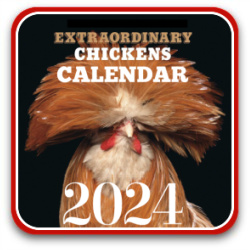 Another all-time favourite. I buy this calendar every year for myself and some to give as Christmas gifts. It's one of those practical, inexpensive presents that keeps on giving!

It's got lots of features you want from a calendar, but its best feature is the amazing pictures of so many different breeds of chicken. Some you'll have heard of, others you won't.
I mean - doesn't even the cover image make you want to smile?!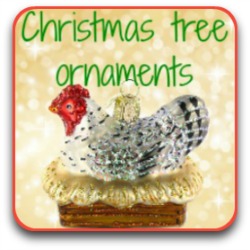 I don't know about you, but I love a bit of sparkle at Christmas time - and if it's got a chicken theme going on, so much the better!
On this page you'll find a variety of chicken ornaments, all from a similar tradition of good quality, glass ornaments.
They make a wonderful heirloom gift for anyone who loves chickens.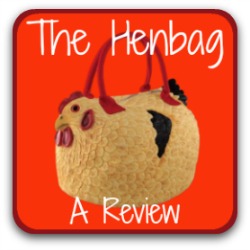 So you have everything chicken you could possibly want. Or you have a chicken-crazy friend who does. And now you need to find her a gift for that special occasion. Or for your own wish-list.
It's fun, it's a conversation piece, it will make people smile wherever you take it! It's durable, light and easy to carry. And it just loves going on road trips!
It will brighten up your life. Or your friend's. Find out why in my comprehensive review.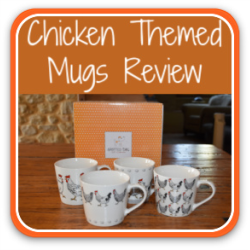 This is genuinely an ideal gift at any time of year, and perfect at Christmas.
It's a set of four chicken themed coffee (or tea!) mugs in a cute presentation box (which makes it ultra-easy to wrap!). Each mug has its own design, and the attention to detail is exemplary.
Created by a family run business in the UK, this is a quirky, individual gift anyone would be pleased to receive.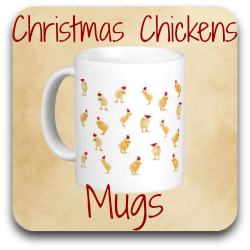 So you're desperately trying to think of an unique gift to give to the chicken-lover who has everything? You've just found it!
I designed this selection of chicken-themed ceramic mugs, so it's completely individual. Choose from different colours, sizes and types of mug, all excellent quality and with a money back guarantee if you're not completely satisfied.

All the images are exclusive, and if you want to you can add your own words, to make it a truly thoughtful, individual gift.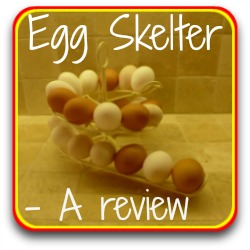 A lovely gift at any time of year, but if you're needing a special bit of inspiration for an unusual Christmas thought, you may just have found it.
Only just available in America, it's not one of the most inexpensive of my Christmas gifts but it is so well made it's worth the price.

It makes for a great talking point if you're stuck for conversation over Christmas dinner, too! My review explains the details.

Looking for a gift for the serious backyard chicken-keeper?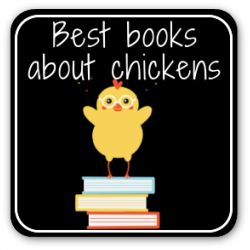 Whether you're looking for books about chicken keeping, or books with chickens as a theme, the articles on this page will cover what you need.
There's a wide range of prices, and all the books I review I actually own myself. I haven't been paid for the reviews, nor have I received a free copy of any of them.
So you can be sure they're authentic. No need to rely on "fake" reviews on other sites.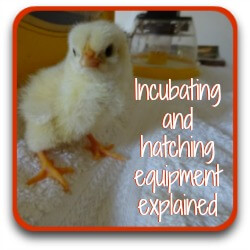 Sooner or later, everyone who starts out keeping backyard chickens wants to incubate and hatch. It's just a fact of chicken-keeping life.
For the beginner, it's hard to know what equipment you need and which is the best buy.
This article explains everything there is to know about what you'll need: incubators, candlers, brooders, heat lamps and the best instructional books.
If you're looking for a more substantial gift for someone's special day, you'll get some great ideas here. 

PS: Want some chicken wrapping paper for your Christmas gifts?
This is some seriously cute wrapping I found on Amazon – chickens all decked out in Christmas lights!
I love it! And I think you will, too.

Other must-haves for the serious chicken-holic!