Inexpensive Christmas gifts
for the chicken lover who has everything.

So you've got a friend who loves chickens but as far as you can see they have every single chicken thing that's ever been made?
Or maybe the crazy chicken person is you, and you're looking for that special gift to treat yourself or put on your wish-list.
Here are some inexpensive gifts with a Christmas twist which anyone who's mad about chickens will adore.
How do I know?  Because I am one of those people - and I have (and love!) them all!
Just click on any of the links or pictures to see my review and discover how you can buy the ideal gift for the chicken-lover in your life!
A Christmas chicken fairy-tale.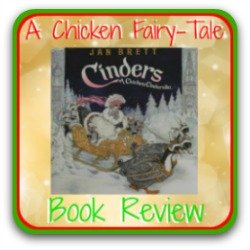 I've put this at the number one spot because I absolutely, totally, unreservedly, adore it!  It's the lovely fairy-story of Cinderella but with one very special twist - all the characters are chickens!
It's very inexpensive considering the quality - a beautiful book with the most stunning illustrations.  It's the kind of gift you'll want to inscribe, and which the person receiving it will want to keep forever. 

And if you love Silkie chickens you'll especially love this.  Why?  Go on over to the review to find out!
---
An extraordinary calendar for extraordinary chicken lovers.

Another of my all-time favourites - I buy this calendar every year for myself and some to give as Christmas gifts.  It's one of those  practical, inexpensive presents that keeps on giving!

It's got lots of features you want from a calendar - reminders about holidays and so on - but its best feature is the amazing pictures of so many different breeds of chicken - some you'll have heard of, others you won't.
I mean - doesn't even the cover image make you want to smile?!

Click here or on the pic to see more details and a complete calendar review.
---
Inexpensive Christmas coffee mug gifts with a chicken theme.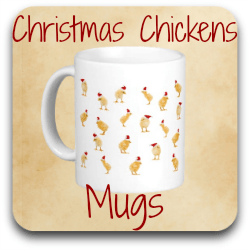 So you're desperately trying to think of an unique gift to give to the chicken-lover who has everything?  You've just found it!
This selection of chicken-themed ceramic coffee (or whichever beverage you choose) mugs is completely individual.  Choose from different colours, sizes and types of mugs, all of them excellent quality and with a guarantee of your money back if you're not completely satisfied.

All the images are exclusive and the best thing is you can add your own words, if you want to, to make it a truly thoughtful, individual gift.
---
Christmas tree ornaments with a chicken theme.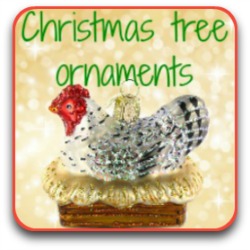 I don't know about you, but I love a bit of sparkle at Christmas time - and if it's got a chicken theme going on, so much the better!
On this page you'll find a variety of chicken ornaments.  Some I've got, some I haven't - but they're all from a similar tradition of good quality, glass ornaments.
They make a wonderful heirloom gift for anyone who loves chickens.

---
An unique, useful Christmas gift : the Egg Skelter.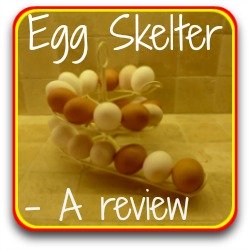 A lovely gift at any time of year, but if you're needing a special bit of inspiration for an unusual Christmas thought, you may just have found it.
Only just available in America, it's not one of the most inexpensive of my Christmas gifts but it is so well made it's worth the price.

It makes for a great talking point if you're stuck for conversation over Christmas dinner, too!

---
If you found this helpful, please take a few seconds to share it - thank you!