An egg collecting apron – a must-have accessory for all chicken lovers!
If you have chickens, you have eggs. And if you have eggs, you need to collect them safely. But how?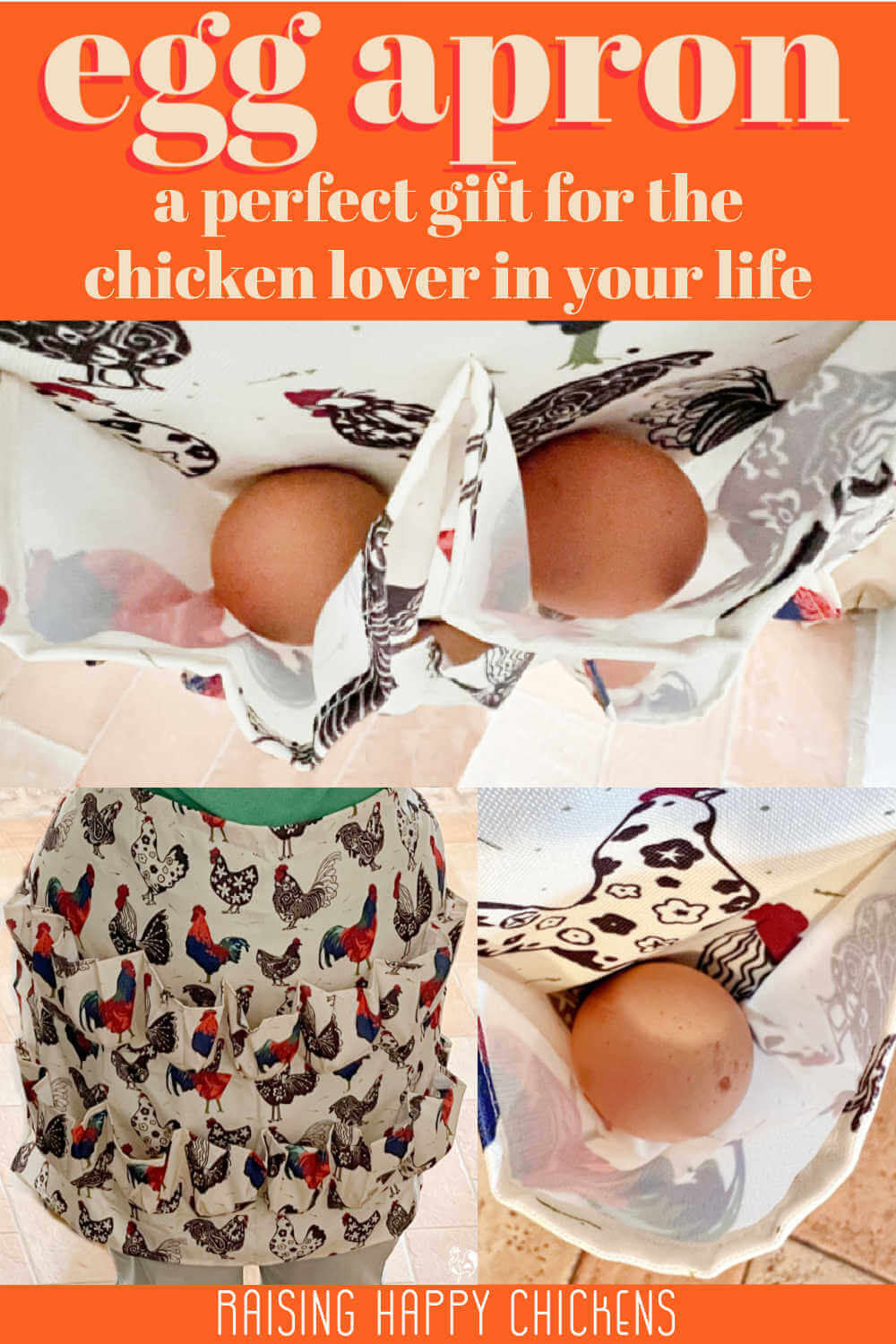 We've all done it: gathered our chicken eggs, realised we have nothing to carry them in, put them in a pocket – only to find when we come to take them out that we've got a good start for scrambled eggs...
Carrying a basket might look good, but there are times when we need hands available to carry out basic tasks in the coop and carrying a basket isn't helpful. They can also be quite expensive.
And if an egg breaks, baskets aren't easy to clean.
So what's the answer?
Get yourself an egg collecting apron!
Inexpensive, convenient, easy to wash, and able to carry a lot of eggs at the same time without breakages.
There are many available, but the quality differs massively. The one I found, a Homaisson brand, is a cut above the rest.
Why?
Find out in this review.
If you purchase a product through links on this page I receive a small commission at no cost to you. I was not paid for writing this review, and I did not receive it as a freebie. I'm suggesting it for you because I own it and love it, and I think you would, too. For more information please see this policy.

What to look for in an egg gathering apron.
I've tried different versions of an egg apron, so I've learned from experience what works and what doesn't. Let me share that with you so that you don't have to learn from the experience of too many broken eggs!
Whichever egg apron you decide to buy, look out for these critical features. 
Strong stitching: a similar concern. Poor stitching with missed sections and brittle cotton means eggs can literally fall out of the pockets as you collect them.
Robust ties: be careful of aprons using satin as ties. It slips easily, the whole thing falls off and eggs are left scrambled on the ground.
Long enough ties: make sure the measurements are adequate for your needs. Some ties are quite short.
Different sizes: if you have children or grandchildren, look for an apron which has both adult and kids' sizes. Littlies love helping to collect eggs, but small hands aren't large or strong enough to hold many.
An apron like this may look pretty, and it's very cute for photographs. But it won't stay held up for long enough to bring the eggs safely home!
Pretty, but not very practical.
Deep pockets: bonus points if the pockets are large enough to hold different sizes of egg – even duck and turkey eggs, if you have them!
Pockets with elasticated tops: these are ideal – they prevent the eggs falling out even when you're going uphill or up steps.

Does this egg collecting apron match up?
Taking those "must-haves" into account, how does this apron match up?
1. Quality of material.
This egg collection apron is made of a canvas material which feels strong and resilient.
It's much stronger than others I've tested which are often made of a thin, poor quality cotton.
I've had mine for some time now without tearing or signs of wear.
The pattern is definitely chicken themed!
Decided you'd like to buy? 


2. Is the stitching of the chicken egg apron strong?
This is something I've often found to be poor quality in products made (as this one is) in China. However, I cannot find any fault with the stitching on this apron.
There are no gaps in stitches, and no areas where the stitching looks as though it would be easily pulled apart.
In areas where there's likely to be more stress – particularly the ties and the pockets – the stitches are small and expertly finished.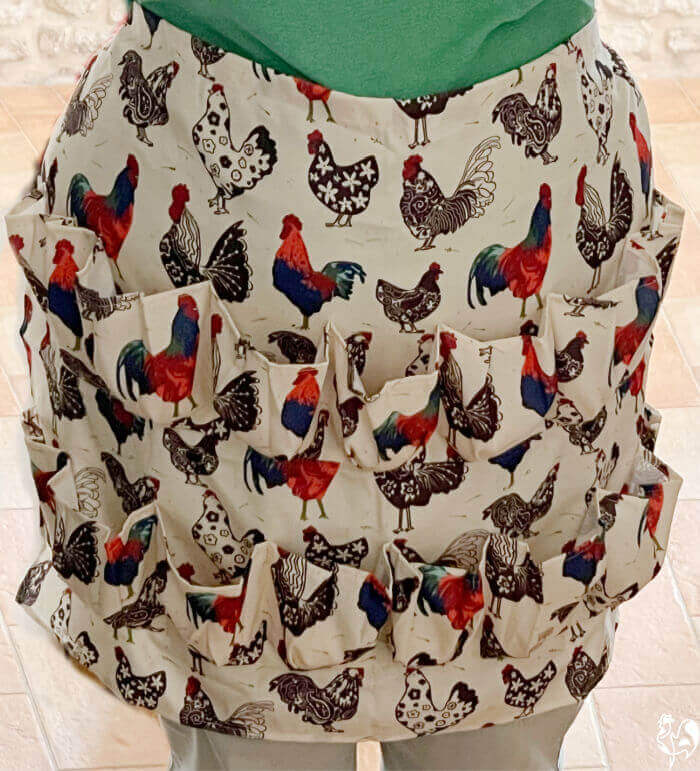 Me, modelling the egg apron!


3. Are the ties strong and long enough to keep the apron securely in place?
Absolutely. The ties are made of the same strong canvas material and tie together without a problem.
They are stitched securely onto the waistband and can be tied either at the back or the front.
The waist size of the apron, including the ties, is a large 207 centimetres or 81 inches. 


4. Is there a child-sized version to children can gather eggs safely?
Older children could easily wear this apron – it's short enough to fit.
Unfortunately, for smaller chidren – toddler age for example – this particular brand (Homaisson) does not have a child-friendly version, which is a shame.
There's another brand which seems to use the same material and does have a child's size, with just three pockets for eggs. The only reason I have not recommended it is because it's not the brand I have tested.
If it's important for you to have a small version to help a child in your life gather eggs, take a look at it by clicking the button below. You should be taken to a brand called "Hossmily". 


5. Are there enough deep pockets to hold eggs collected securely?
There are sixteen pockets on this apron – more than others which generally only have twelve.
Each one is nearly 5" deep, and more than 6" across. They are pleated in the middle to allow for larger eggs. The red box on the image below shows one complete pocket.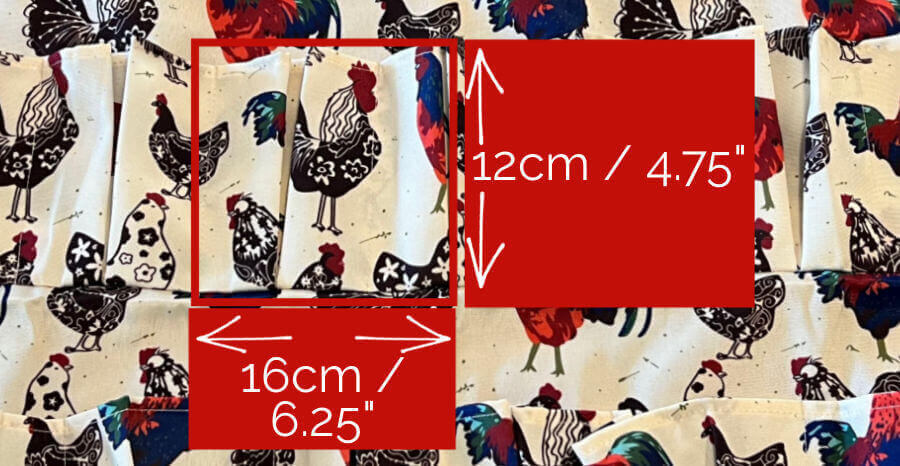 The pockets are so large that they will fit all egg sizes. In fact, they could easily fit two chicken eggs at the same time – though I wouldn't recommend it as they might smash.
I lay my collected eggs on their side, one to a pocket, which means they have an excellent depth of pocket to hold them.
They would actually fit larger eggs than chickens – even as large as turkey eggs!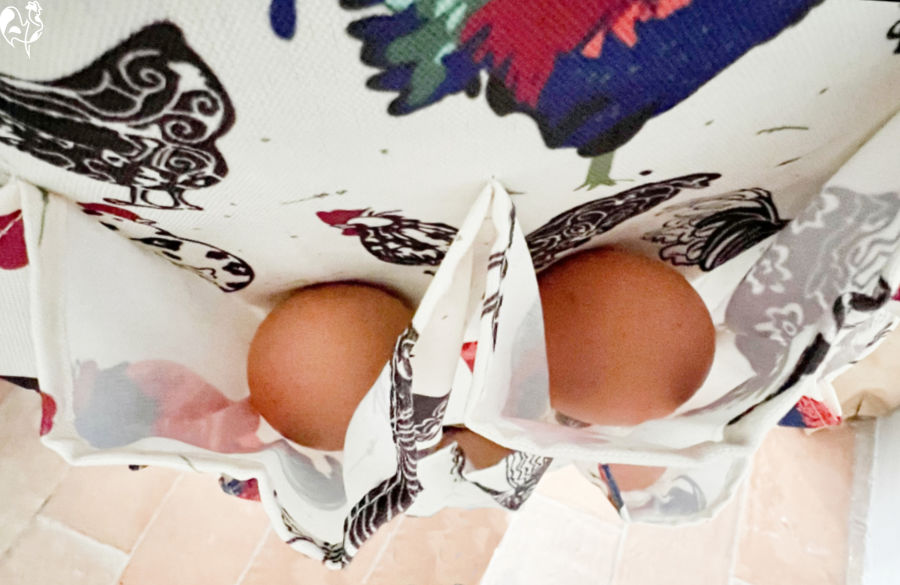 The pockets are a good size to hold even very large eggs.
Finally, the pockets are large enough that taking the eggs out is easy – no need to scrabble around and risk squashing the shell. It's a particularly good process for children's small hands which can easily reach inside.


Any downsides to this egg collection apron?
There's some feedback from others that the pockets are too wide, so that if you bend down the eggs can fall out. 
I did worry about this initially, not from bending but from going up and down hills and steps, which I have to do whenever I collect eggs. But I've never found it to be a real problem.
The one feature which would make this absolutely risk-free would be an elasticated top to the pockets, which it does not have.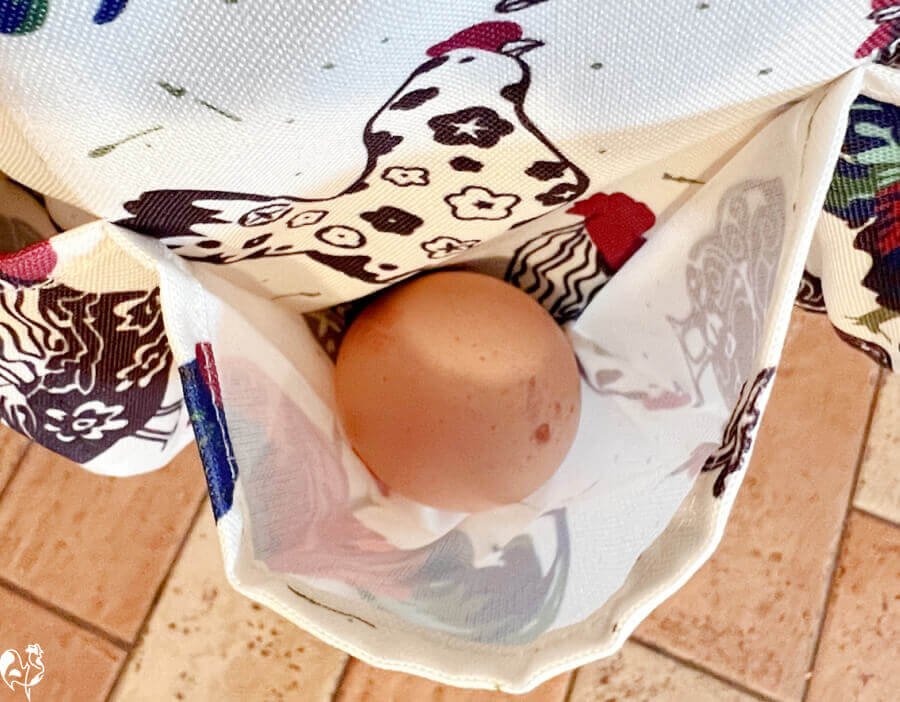 Are the pockets too big? I don't think so.

What do other reviews say?
This item is sold on Amazon, which has over 150 reviews. Of those, over 90% give it 5 out of 5 stars.
The high quality of the material is the most commented feature. That reflects my own experience.
It is found to be more durable than others. Several buyers commented that they had tried other brands which had fallen apart very quickly, whereas this one is so well made it lasts.
"A good buy" is a frequent observation.
The fact that it's practical means that men will wear it too! One person commented: "We both fall down laughing when it is the hubby's turn to gather eggs. He says he's man enough to rock the apron!".


Egg collecting apron: conclusion.
If you've read any of my other product reviews, you'll know that I have a "Golden Egg Award" where one egg means "don't go near this product!", and five means "get out there now and buy it!"
So how many Golden Eggs do I think this egg collecting apron is worth?
A Fantastic Four Golden Eggs!


This is a fun and at the same time extremely useful item, great as a gift for chicken keepers – men, women and older children – and quite inexpensive.
It's made from a good quality material, is well stitched and likely to last a long time.
It leaves hands free to collect eggs and continue with other chores at the same time.
I've deducted one star because the brand I have (Homaisson) does not have a children's version. But if that's not an issue for you, feel free to add on another Golden Egg!

Looking for a free crochet pattern for an egg collecting apron?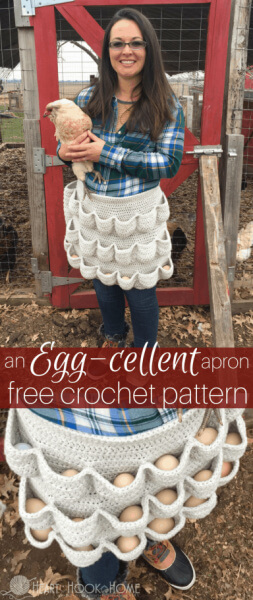 I don't crochet so unfortunately, I haven't been able to make this egg gathering apron as a demonstration.
However, I found this free pattern of a classic egg apron. The instructions on Ashlea's blog are very clear, and the comments at the end of her article are all positive.
This is the classic crocheted egg collecting apron which has stood the test of time – it's been posted on her blog for several years and the feedback comments are positive.
Click here or on the image to go to the pattern.
There's also a child-sized version of it, here.
To print out the instructions without the ads and images, just select the pattern itself and copy and paste into a text document (Google Docs, Word or Wordpad all work well).
Go through, make the images smaller and prune everything else you don't want.
It's then ready to print.

Now you've seen this, you won't be able to resist these!