The best feel-good Christmas book for chicken lovers: "Cinders - A Chicken Cinderella"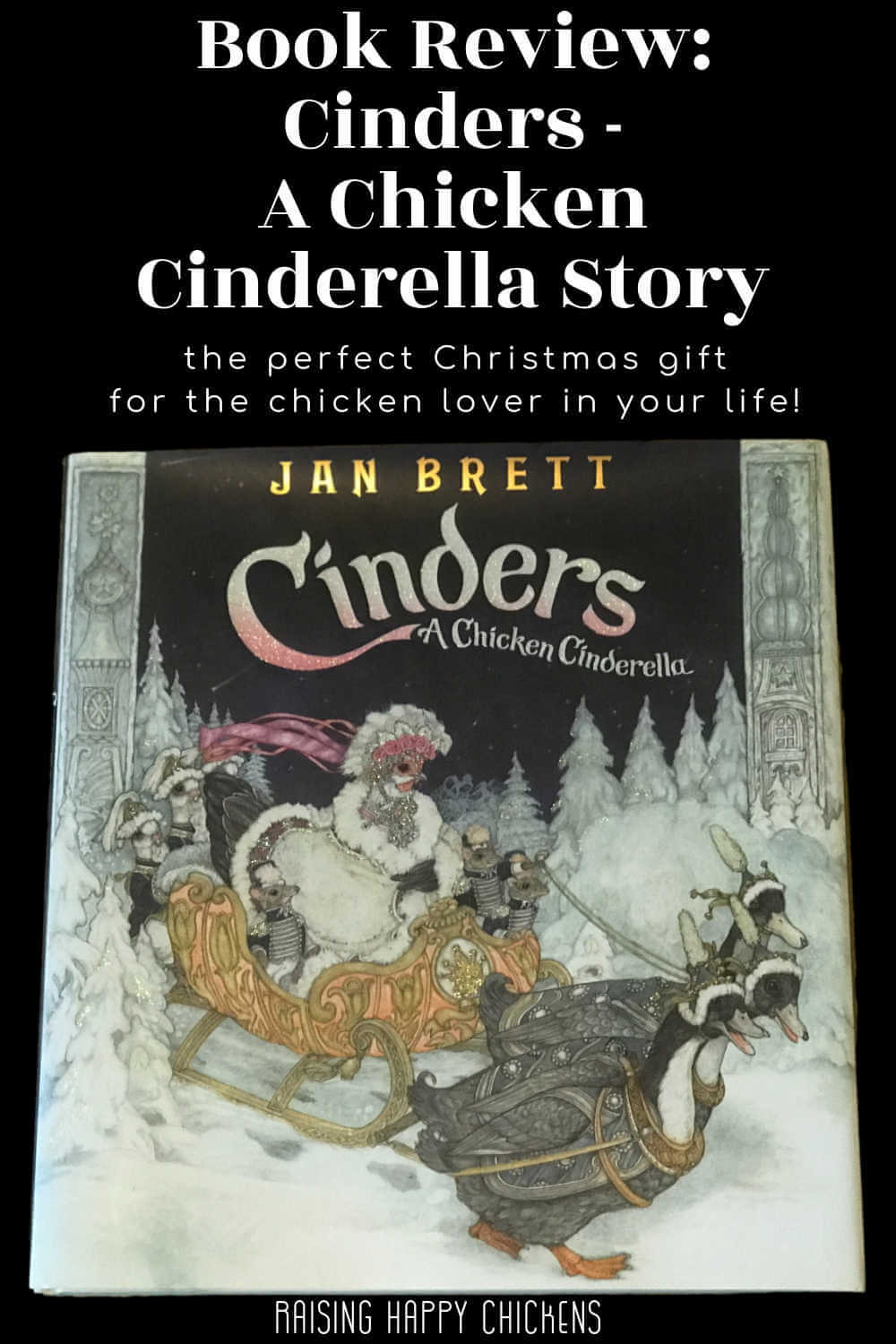 If you love chickens and you love Christmas, you will adore this beautiful book.
"A Chicken Cinderella" should be on the Christmas list for every child - of any age.
It combines all the feel-good parts of Christmas for anyone who loves chickens: glitter and sparkle, a fairy story – and a Silkie chicken as one of the main characters.
It tends to sell out each year as Christmas approaches. Each year I buy one for a chicken-loving friend, and I make sure I do it well before mid-December. 
Everyone has really loved it! 
I obviously have one myself, which is how I can be so sure that it makes an ideal gift.
Your chicken-loving friends need a copy in their Christmas stocking this year!

What's it about?

It's the traditional Cinderella story often told at Christmas, but with a very different twist. Because not only is it set in a snow-filled Russian winter, but almost everyone in it is – a chicken!
Of course there's also Tasha, a young girl who looks after the chickens (and treats them to oatmeal – sound familiar?!). 
And there's her dad who plays a small but important part later on (but I'm not going to spoil it for you by giving away what his role is!).
There are ducks, too. And three pigeons and some mice. Because, you know, there have to be mice in any Cinderella story. In a good way, of course.
But mostly, the characters are chickens. And if you keep your own chickens you'll recognise all their personalities.
The ugly sisters, Pecky and Bossy and their mother Largessa are 'biddies'; there's the majestic Prince Cockerel and – best of all for me – the Fairy Godmother is ...
A Silkie!
The Silkie fairy godmother


Isn't this just another Christmas book? What's so special about it?

Three things in particular: details, characters and illustrations.
The chickens are funny, their characters are spot on. You will recognise them all: the bully, the top of the pecking order, the pullets - and of course Cinders, the very bottom of the pecking order.
Each chicken is different and you'll notice many different breeds, different sizes, different featherings - even their different coloured eggs.
The Silkie makes the most delightful Fairy Godmother in any Christmas story book, ever. And the "ugly sisters" are just adorable.
Click to buy from Amazon
The illustrations make this book extra, extra special. 
The backgrounds are taken from the author's experiences when travelling through Russia. So the detail, especially on the pictures of buildings, is simply stunning.


Who would like it?

Click to buy from Amazon
It would be hard to think of any chicken-lover who wouldn't like this book. Although the original fairy tale may appeal more to girls than boys, using chickens to tell the story makes it accessible to either gender.
And I know men who love to read it to their grandchildren...
Chicken lovers of any age will adore it.
If you have little ones who keep chickens, particularly if they have Silkies, they will be absolutely thrilled at the part the fairy godmother plays.
It's beautifully crafted, the paper quality is lovely and the hard back means it looks even more special, and will last forever. It's the kind of book you could give to be kept as an heirloom.

All of which make it an ideal gift for any chicken lover, at any time. Particularly at Christmas.


What are other reviewers saying?
There are over two hundred reviews on Amazon, of which almost all are five stars. Comments are glowing, particularly from parents, grandparents, aunties and uncles who have all enjoyed reading it to their littlies.
The illustrations come in for glowing reviews, as does the author's research into the different chicken breeds and their characteristics. 
The two objections were...
One person asks why it's necessary to change the original (human) cast and make it all about chickens... (clearly that person is not a chicken lover!)
One person complained the book is not "bound". I'm not quite sure what that means. It's a hardcover book, and very well put together. I've had mine for ten years now and it's brought out every Christmas. So far, it's stayed together perfectly, even though my copy is clearly well used (and well loved).


How many Golden Eggs does it deserve?

If you've looked at my other reviews you'll know that I award "Golden Eggs" for products, from one for a "hmmm wouldn't recommend this" to five – "Amazing, don't miss out on this wonderful product!".
How many does the 'Cinders' Christmas book get? 


A Fabulous Full Five Golden Eggs!


But is it a happily-ever-after Christmas story? 

Well, it follows the Cinderella story so you may be able to guess. But I'm not telling - you'll need to buy it to find out.
The middle fold-out section: the ball at the palace.
Seriously though, don't leave it too late. It sells out early every year.


PS: Want some chicken wrapping paper for your Christmas gifts?
This is some seriously cute wrapping I found on Amazon – chickens all decked out in Christmas lights!
I love it! And I think you will, too.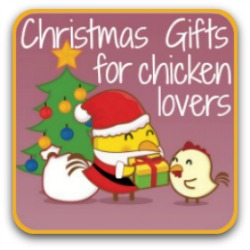 Looking for more ideas for gifts to give to chicken peeps at Christmas? 
This page will give you some much-needed inspiration.
They're all inexpensive chicken-themed Christmas gifts and ornaments that I've either got myself or have bought for other people - or both!
Just click on the pic.


Do you have a Silkie? Or would you like one?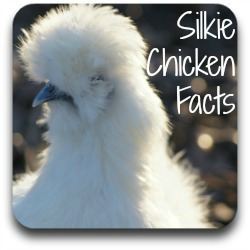 But they don't do well in cold, muddy places and unfortunately that's exactly what my part of Italy is like in the winter.
If you're looking for a cuddly, friendly, fluffy fairy-godmother of a chicken who's great for children, the Silkie may be ideal for you.
Click on this pic to go to the page which will help you decide.

These useful chicken-related products would make a great gift, too!