Here's how you can contact me.

I love hearing from my chicken community!
Having said that, I receive so many messages here and through my newsletter that sadly, I just don't have enough hours in the day to reply to them quickly.
I tried to get my chickens trained up to help but they really weren't interested, so there's only me to do it all!

So, here's a simple contact form for you to fill in. I will get back to you as soon as I can, but please be patient!
---
Have you signed up for my newsletter?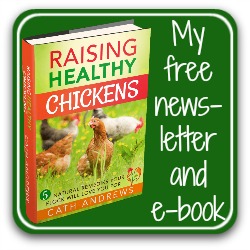 If you've not seen it yet, you might like to consider signing up for my free twice-monthly newsletter.
It's full of advice and information about how to keep your flock healthy and happy right through the year - and you'll get a free downloadable checklist of the top 20 things to do in the coop each month!
You'll also be offered a copy of my free ebook, "Raising Healthy Chickens".
Click on the pic or on my newsletter link to take a look.
---
Check my frequently asked questions - and ask yours!
If you have a question which you'd like to try to find an answer to now, check out my frequently asked questions page. Here you'll find the most popular questions, together with answers from me and from others in our chicken community.
You can also leave your question there, and comment on other people's.
Just click on this link to go straight to that section.
---
My most popular articles.