Chicken memorials: pay your tribute to a much-loved hen or rooster.

It happens to us all: we lose a chicken and no-one understands how sad it makes us feel.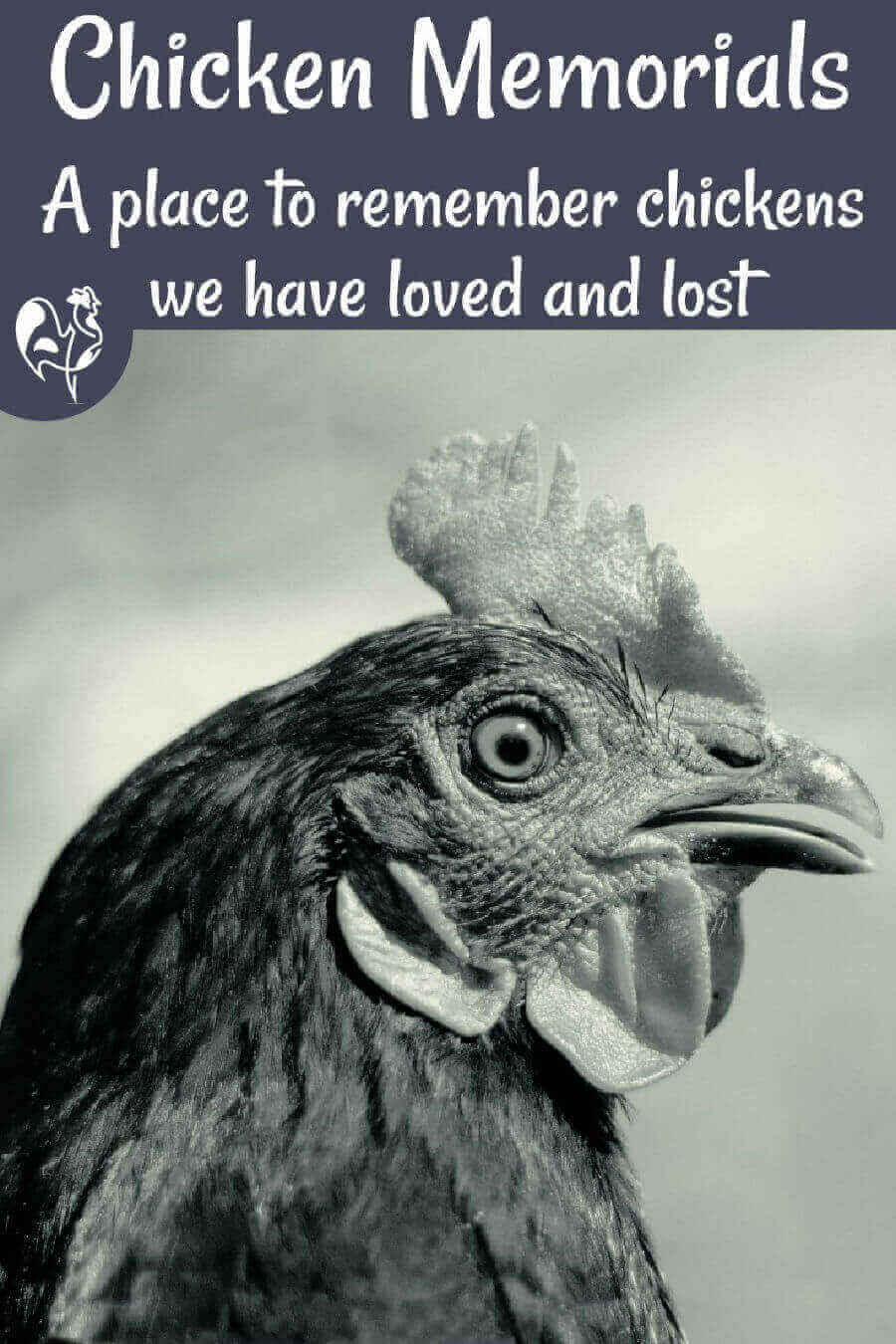 You tell family and friends and see their eyes glaze over. You try to find somewhere to leave your tribute and there isn't anywhere.
Well, now there is – and you've just found it.
This is a place where people do understand. Chickens may be bottom of the pecking order, but their lives are worth talking about.
All the people who have added their stories to this page are in the same position as you.
They have all – including me – lost at least one, sometimes many, chickens.
So you're in the company of people who've been there. Who know how you feel.
Here, you'll be supported and comforted, not judged. It's a safe place where you are welcome to share your words and pictures.

Add your story to my page of chicken memorials and let the world know what was special about your lost hen or rooster.
Read on to find out how. And feel free to pin the image to let other people know they can, too.
If you'd like to skip Harriet's story and go directly to the part where you can share your own, click on this link.

How often have you heard these words: "Oh, for goodness' sake – it was only a chicken"?

Meet Harriet. She was "only a chicken" who was killed last summer by an English visitor's uncontrolled dog.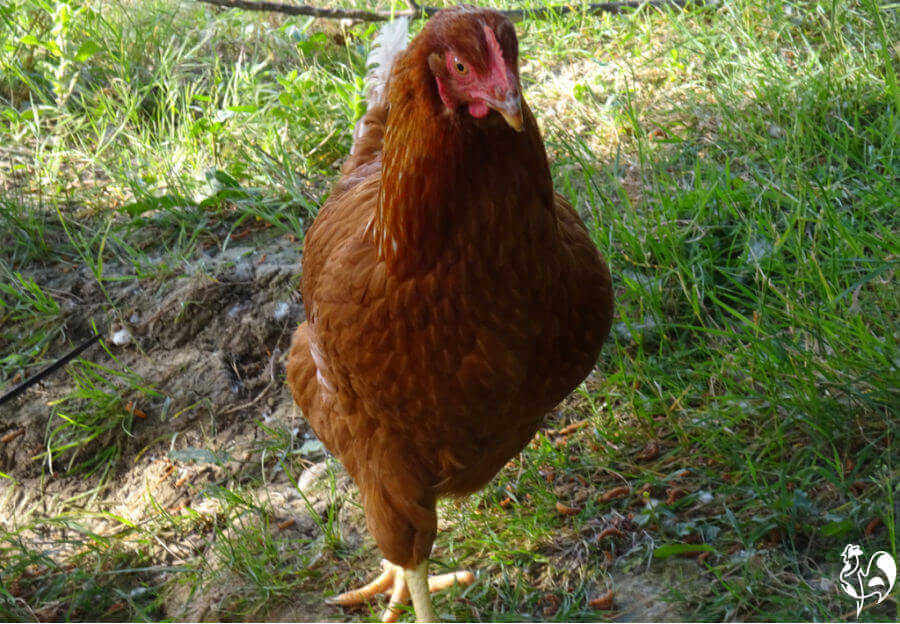 Harriet was a good chicken. She liked lettuce and sprouted beans, and she would do anything for a slice of watermelon. She laid fresh eggs for us every single day and when I went to pick them up each morning, she would come by for a stroke and a chat.
She was so gentle that I didn't even mind when she destroyed my lovely artistic geranium pots so she could use them as a dust bath spa.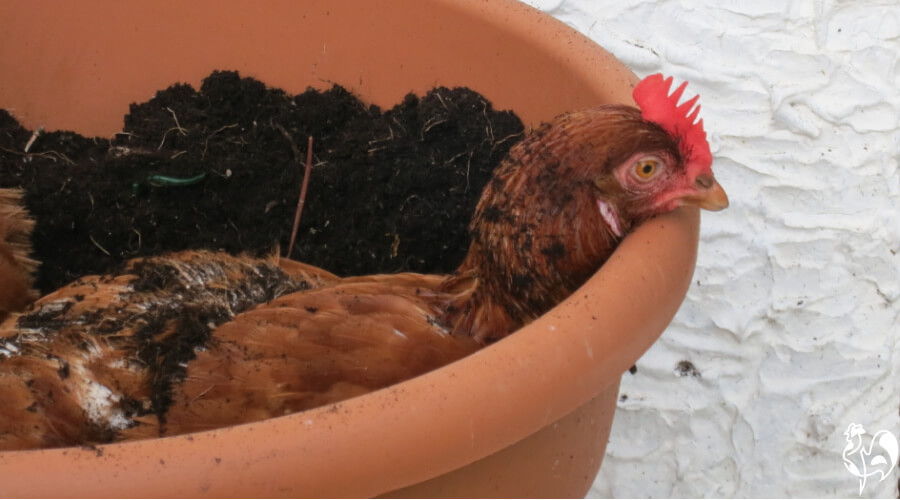 When she was killed, I felt bereft. I didn't expect to, but I did. I've owned dogs and cats for years and always did feel distressed when they passed on. But a chicken?
Well – why not a chicken?

If you keep chickens as pets you'll know that they become part of your family. They have personalities, characters, likes and dislikes, and they provide hours of entertainment – as well as gorgeous fresh eggs.
So yes, the loss of a chicken is just like the loss of any family pet. There's nothing wrong or unnatural about feeling sad.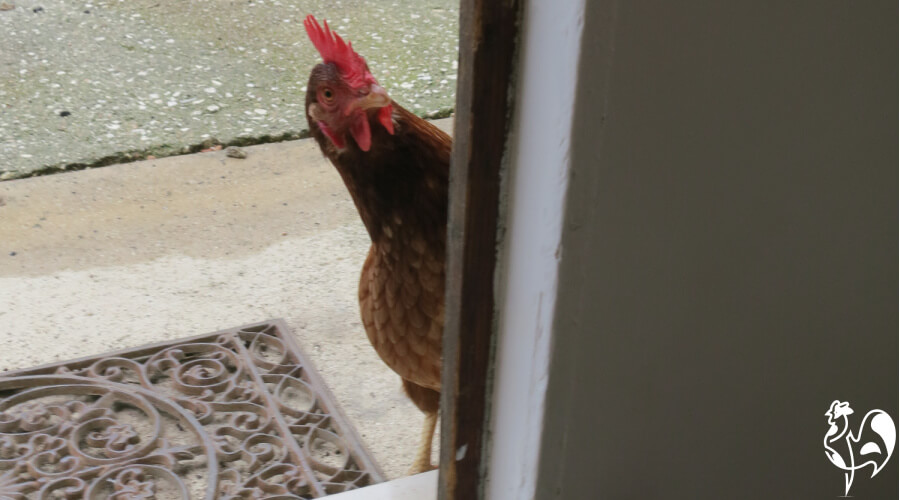 Harriet was always first to the door in the mornings, wanting her breakfast.
Physical memorials: a comforting place to remember.
You may want to think about how you remember your chicken in real life. I have a woodland area where my hens and one of our dogs are buried. It's a great comfort to go there from time to time and just sit, to remember the joy they brought into our lives.
Of course, I wanted to make sure their final resting place is marked in such a way that it remains a place we can go to remember. And where wild animals won't be encouraged to forage.
So I hit on the idea of a pet memorial stone. Most are for dogs and cats, but there are some tasteful markers that work just as well for chickens.
This one is my favourit for a male chicken, or there is also...
this one for a hen. (These are affiliate links, which means I make a small commission at no cost to you if you click on it and buy something).
(In the UK? Use this link instead).
Any money I make in sales from these products goes directly to the British Hen Welfare Trust, who rescue ex-battery hens every year. I felt that would be a fitting tribute to all our lost chickens.

But I couldn't find a place to write chicken memorials.

Writing can be an escape for the feelings which otherwise can stay locked inside. And locking feelings away is never a good thing.
There are lots of places to leave messages and eulogies to lost dogs, cats, horses - even ferrets. But chickens? I couldn't find anything. Nowhere to write, nowhere to post a picture.

That's when I decided to start this page.
Here is a place for you to share memories of your chickens. 
There's no right or wrong way of doing this – just write from the heart. Funny, happy, sad, "glad to have known you"... whatever you feel is a fitting tribute.
So now, how about writing your own tribute...

And when you have, remember to bookmark this place so you can come back from time to time and add your comments to the chicken memorials written by other people. 
Your experience of loss means that you know something about how other people feel – and how dismissive others, who don't own chickens and so really don't understand, can be.
Let other people know you understand.
Start here to share your memorials and chicken pictures.
Important: It is against the law for me to accept submissions from anyone under the age of 16 unless I have a parent's or guardian's consent. If you'd like to leave a memorial and you're under 16, please ask your mum or dad to add their name at the end. Thank you.
Everyone has memories they'd like to share - you too?
We've all been distressed by loving and losing pets - and the time comes when we also want to celebrate their life.

So please feel free to use this opportunity to tell me, and the other caring people who read this website, the story of your hen or rooster who has passed.

Stories which have fewer than 500 words will be published on a shared page with other people's memorials. If you write over 500 words, your tribute will have its very own page where you can come to read and remember - and to share with family and friends, if they also feel the loss.

If you're not sure where to start, here are a few suggestions to get you going:

* When did you first get your chicken?

* Do you know what breed he/she was?

* How about telling us about her/his personality and other striking features?

* What was particularly special about this chicken for you?

* What happened? Do you know how he/ she died?

* What effect did that have on you, and on your family?

* If you could say a few words to your chicken now, what would they be?

As you fill out each section, click on the ? for more help.



Can you offer some comfort to others?
Please know you're not alone in your loss.

Click on any of the links below to read touching stories from others who have also lost beloved members of their flock, and perhaps take a minute to add your own few words of comfort.

It helps so much to know there are others who understand the effects of losing one of our chickens.

Thank you.




---
Prefer poetry?
If you'd find it easier to write a tribute to your chicken in verse, I have the very page for you.
Clicking on this link, you'll be able to read other people's submissions, find tips for writing your own, and be able to encourage your children to write their own rhyming tribute.
You may even find your tribute published in a book!
---
Why do chickens die?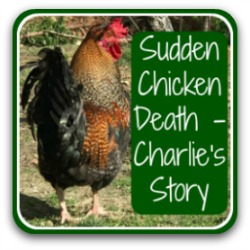 Sometimes, chickens die because they're killed by predators, or because they have an illness. Or just because they're old.
But sometimes a chicken who seems perfectly fit and healthy one minute can be lying in the coop, lifeless, a few minutes later.
It's very hard to come to terms with, and difficult to understand.
It's happened to one of my chickens, and I did some research to find out what could possibly have gone wrong. It's called "Sudden Chicken Death Syndrome".
My information about it, and how you can help prevent it, is based on that research. You can find it by clicking here.
---
Where would you like to go now?

Thank you for leaving your story, and for reading the stories of others.
It's never possible to replace a lost pet, but when the time is right for you to consider more chickens or even hatching some eggs, you may find these pages useful. 
I hope so.