A Memorial to Chicken Tikka.
by Katie
(Scotland )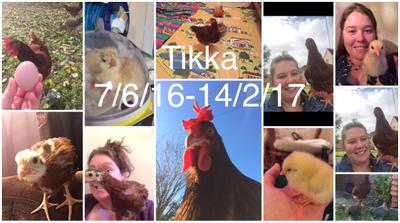 I suffer from depression and read about pet therapy helping deal with it. So not liking animals living in my house I decided to get 6 eggs.

After 2 weeks in the incubator it was clear only 2 where growing so on day 21 a cute wee yellow chick popped out of one I called her chicken Tikka. The other one did not hatch so I had 1 wee chicken, who would cry when I left it's side and slept in an travel cot in my room.

After 12 weeks she got moved into the garden where I spent hours each day letting her free range as I was too scared to leave her out of her run on her own in case a cat got her. She followed me everywhere.

Being a sex linked chick she should have started laying at 16 weeks. I decided to get her 2 friends at this point so Chasni and Satay who were 13 weeks joined her. She was the boss, pecked Satay if she got too close but protected Chasni from Satay.

At 23weeks I finally got an egg from her. For the first fortnight she laid a double yolker every second day, then she fell into a steady 6 eggs a week. A month or so later Chasni started laying and only 4 days ago Satay eventually joined in too.

Tikka would follow me around the garden, pecking at any mark on me. She was a great bird, loved everyone who came to see her, The other 2 keep their distance even from me, but Tikka was my shadow.

Today I was out in the garden, had taken the 3 eggs, that's 4 days I've had 3 eggs now, so still very exciting. I was pottering around and noticed Tikka going to a corner and laying down. I just thought she was having a dust bath but after a few minutes I looked over and she was laying spread out and her head on the ground.

So I picked her floppy body up took her into the house. I tried to blow down her beak and massage her chest but her face just got paler and paler. She was only 8months and showed absolutely no signs of being ill. I've taken her to a vet lab to get an autopsy.

I hated having to hand her still warm body over as if she was just another dead bird.

RIP Tikka.