Treats for chickens: doing more harm than good?
We all want to "spoil" our chickens from time to time. But is giving them treats actually killing with kindness?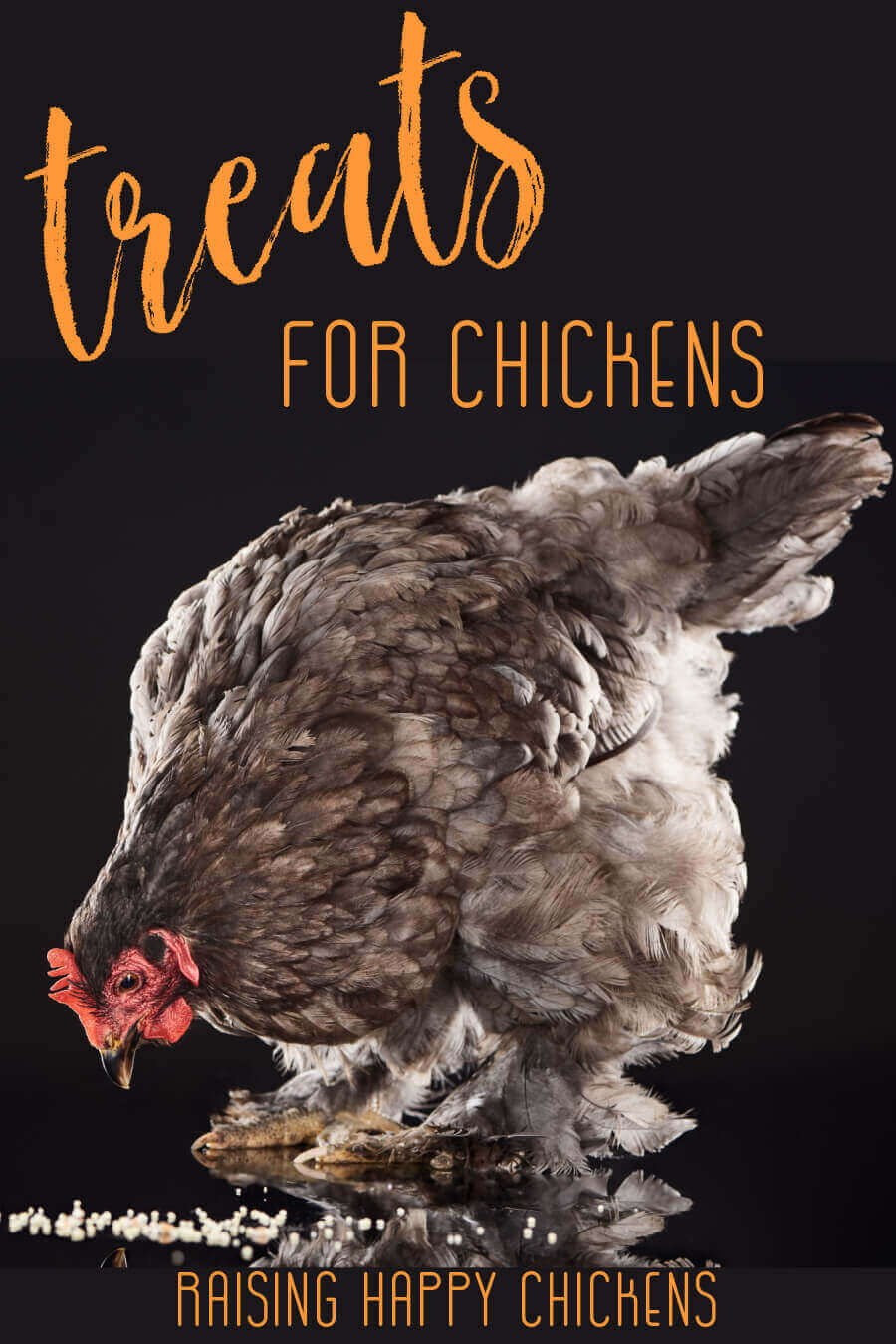 Feeding treats is traditionally a sign of care, whether it relates to children or chickens.
But is it possible to over-indulge our chickens?
It's absolutely right to say we shouldn't feed treats to our chickens every day, or for no good reason.
The main source of food for our flock should be a good quality feed which will provide them with the right balance of nutrients required at different stages of their life.
There's strong evidence that many backyard chickens are over-fed, leading to obesity (yes, it's a problem for chickens as well as people) and contributing to Sudden Chicken Death Syndrome.
But there's no doubt that some natural "treats" can be useful for boosting chickens' immune system, adding vital vitamins and minerals to their diet, and in some cases preventing critical disease without adding to health problems.
The important thing is to know the difference: when and how to add treats for your chickens, what are the best chicken treats - telling the difference between those which are fine to feed at any time, and those which can cause issues, for example.
Naturally occurring treats are always preferable to commercially produced, which often include added sugars and fats.
And of course, growing, harvesting and feeding your own healthy chicken treats is immensely satisfying, very inexpensive, and gratifying to know you've added only natural ingredients.
---
Natural chicken treats which can be freely fed.
The best treats of all are natural, not commercially produced. They tend to be the kinds of foods our chickens will eat if left to forage for themselves. 
In this short video, you'll see how my chickens love to make the most of autumn bounty: windfalls, sunflower seeds and leftover grapes!
---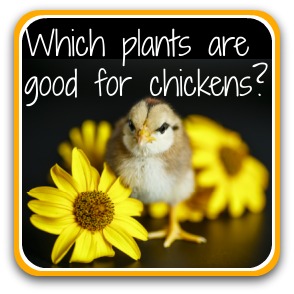 In the same category as autumn bounty come plants which offer both colour in your garden, and health-giving benefits for your chickens.
Many flowers have extraordinary preventative powers, cost little to buy as plants or are fun to grow from seed.
And having little or no fat content, they're particularly beneficial without running the risk of creating obesity.
---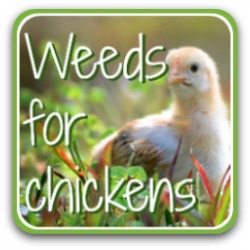 They're free, they grow in most gardens, they can be found in hedgerows if you don't have a garden of your own, and best of all they're a great source of healthy, immune system boosting treats for your flock.
Weeds!
Here are six common weeds packed with vitamins and nutrients you can find today. The article contains photos of each one so you'll be able to recognise them easily.
---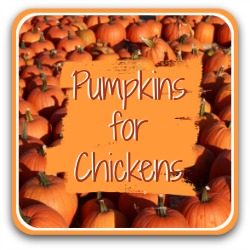 Low in saturated fats and high in vitamins, minerals, and anti-oxidants to boost your chickens' immune system, pumpkins are a welcome source of treats in the autumn, when other natural sources are declining.
This article references studies demonstrating exactly what benefits it brings, and there's a simple recipe for a chickens' pumpkin pie - ideal to give your flock as a special Hallowe'en gift!
---
Healthy, inexpensive, easy and fun to do, sprouting seeds for our chickens is a great way to add nutrition to your flock's diet, particularly in winter when green fodder is hard to come by.
This article explains how to do it without investing in expensive equipment, and provides detailed evidence of the benefits sprouting seeds can provide.
---
Healthy treats for chickens: feed with caution. 
What are healthy treats for baby chicks?
The most critical food for your baby chicks is standard chick feed. But most people want to offer some treats for chicks too.
This article explains which treats are good for healthy babies, which can help when a chick is sick, and why you should beware of overdoing it.
And why, critically, grit is essential once chicks eat any kind of treat.
---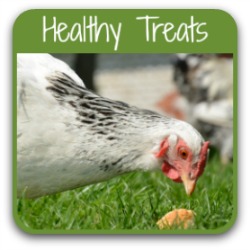 There's a lot of conflicting information about what makes a healthy treat for chickens.
Are apples dangerous? Can chickens eat citrus fruits? Do berries cause stomach problems? And what about rose hips?
This article answers all those questions and lists five of the very best nutritious treats.
---
There are so many treats for chickens to keep them healthy and help them lay delicious, nutritious eggs. And so much conflicting information about what's best.
Are tomatoes poisonous for chickens? is watermelon acceptable or too sugary? And is there any way to make lettuce more interesting?
Following on from the first article, this one covers another five treats which are proven to be healthy without causing problems.
---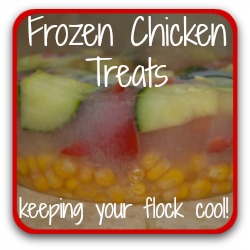 When the temperatures soar, there's only one treat I offer my chickens - the frozen kind.
Pecking at the ice to get to the yummy treats inside makes sure they stay hydrated - a critical factor in the summer months.
And using water-based ingredients ensures you're providing healthy treats rather than contributing to ill health.
---
High protein treats: feed with extra care.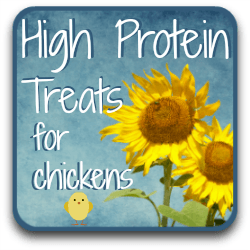 Are high protein foods really good for chickens, or can they damage your flock's health?
The truth is that both those views are right. So it's important to know which high protein foods are beneficial, when they should be given and what the effects of over-feeding them can be.
This article tells all.
---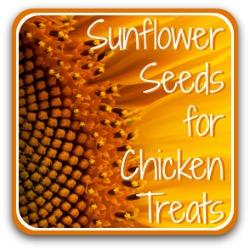 Sunflower seeds: plant in the spring, enjoy their cheerful flowers in the summer, harvest just as chickens are starting to moult in the autumn (fall).

High in protein, these treats fall into the category of "don't feed too often".
But when chickens are moulting, their protein needs increase - and sunflower seeds are an ideal answer.
---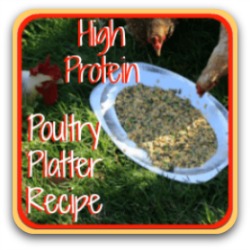 Blending some high protein foods together makes a treat your chickens will love.
Helpful in winter, when chickens may be struggling with intense cold, it can help prevent the need for less natural ways to keep your flock warm.
It's simple, it's quick and it's inexpensive.
---
Looking for other articles about chicken food?
Click on the buttons for the full articles.