Two nutritious poultry pumpkin recipes your chickens will love!
Looking for a Hallowe'en or Thanksgiving treat for your flock?
Look no further! I've worked out an easy pumpkin pie and pumpkin cookie recipe for you – tried and tested on my own flock!
Pumpkin and squashes are excellent nutritionally for chickens, particularly at times their immune system is in need of a boost – around moulting, for example, or when dealing with extreme cold.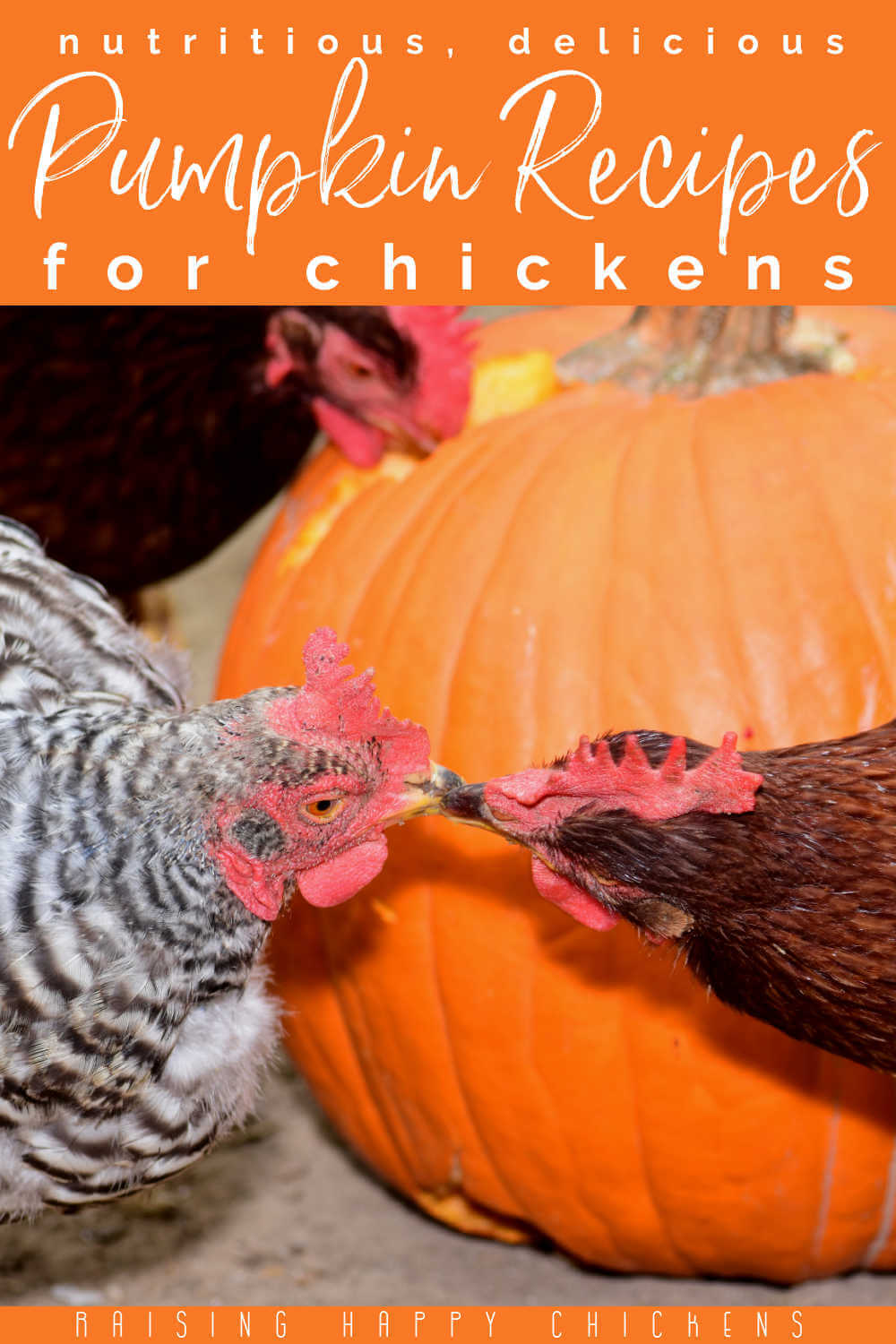 For more detailed information about the health benefits of pumpkins, and why there's no evidence that their seeds are a natural de-wormer, take a look at my article about feeding chickens pumpkins.

Want to go straight to my pumpkin pie recipe? Click here.
For the cookie recipe, click here.
Can chickens eat gourds?
Pumpkins and gourds, and other fruits (yes, they're all designated as fruit) such as squashes, cucumbers, courgettes (zucchini), melon and watermelon, are members of the same family: the Cucurbitaceae.
All are good for poultry to eat (in moderation, as with all treats).
You'll see some gourds marked  "inedible" or "decorative". That doesn't mean they're poisonous.
It's simply that, depending on type, gourds can be very bitter to taste.
Which gourds are edible for chickens?
Your chickens will quickly let you know - they'll simply refuse to eat the more bitter varieties. 
Basically, if you see gourds displayed for sale on the vegetable counter in your supermarket, they should be fine to eat. Try to find younger, smaller plants which tend to be less bitter.
How much is enough?
Both these treats are high in fat, and should be fed only in moderation and after the chickens have had access to their own feed.
What's "moderation"? Times when the flock needs help, such as moulting, during cold weather to at other times of stress such as after a predator attack.
Treating your chickens at occasional holidays like Hallowe'en or Thanksgiving is fine. 
The ingredients for both these recipes are enough to feed a flock of ten. Both are freezable if you have a smaller number, or to batch bake and save for when you don't have time to make more.
I cut the pumpkin pie into small pieces, freeze, and then put the pieces into a freezer bag. This allows the pie to be spread around so everyone gets a chance to eat!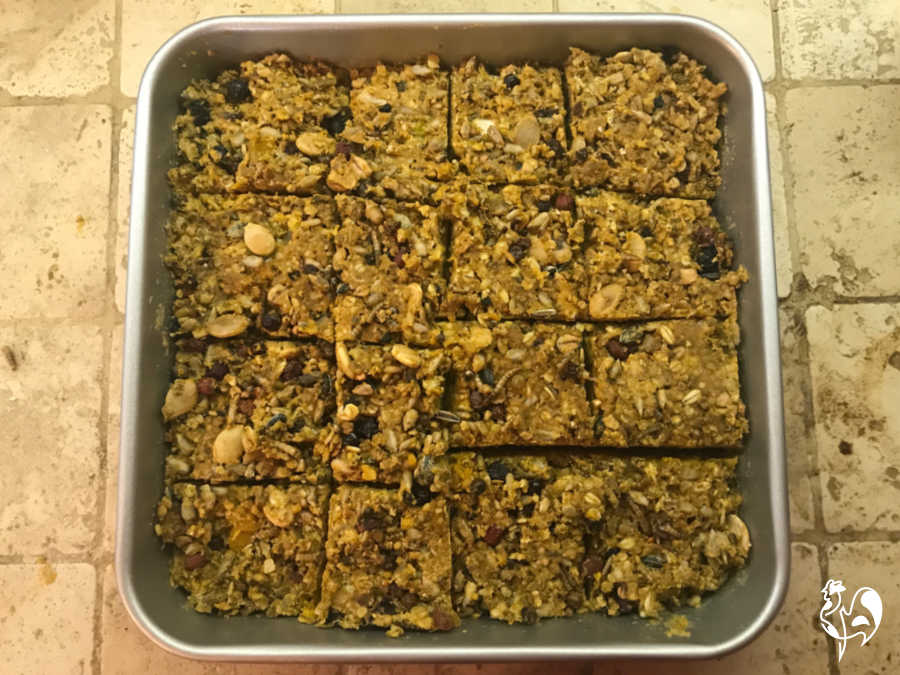 Cut the pie into small pieces, freeze and then bag for later.
If you purchase a product through links on the rest of this page, I receive a small commission at no extra cost to you. I only recommend products I have purchased or would purchase myself and which I believe would benefit you. To learn more please see my disclosure policy.

Poultry Pumpkin Recipes: the Pie.
Are you in my newsletter community?
If so, you'll be able to access a convenient text only, downloadable copy of both these recipes at Hallowe'en and Thanksgiving.
If you're not yet a member, why not sign up? My "chicken digest" has content and information that's not available on this website. 
Poultry Pumpkin Pie is easy to make. It's just a question of mixing together different things you probably have in your pantry which are good for chickens to eat.
Here's what I do:
Scoop out the flesh and seeds from one whole pumpkin, gourd or squash. Put the shell to one side - it will become the serving dish.
Blitz the flesh in a food processor and put into a large mixing bowl.
Is canned pumpkin an option?
Yes, if it's pumpkin purée - use 1 can. Don't use the canned pumpkin you'd put in a pie - it has added sugar which isn't good for chickens.
Beware of claims to be "100% pure pumpkin". Always check the ingredients for added sugars and, as far as possible, buy organic and non-GMO, or make your own.
Home made pumpkin 

pur

ée

.
It's very easy to make your own – and you'll be sure it has no unhealthy additives.
Simply cut your pumpkin or gourd in two, brush the flesh and seeds lightly with oil, place with the flesh side down on a baking tray and bake in an oven at 175ºC (350ºF; gas mark 4) for about 30 minutes – longer if it's very large.

Turn the flesh and seeds into a bowl and mash with a fork. Once cooled, it's ready to use.
The shell will be too soft to use as a serving bowl, so you'll need to use another platter.
In the photo below, the pumpkin purée is in the middle at the back.
Poultry Pumpkin Pie ingredients.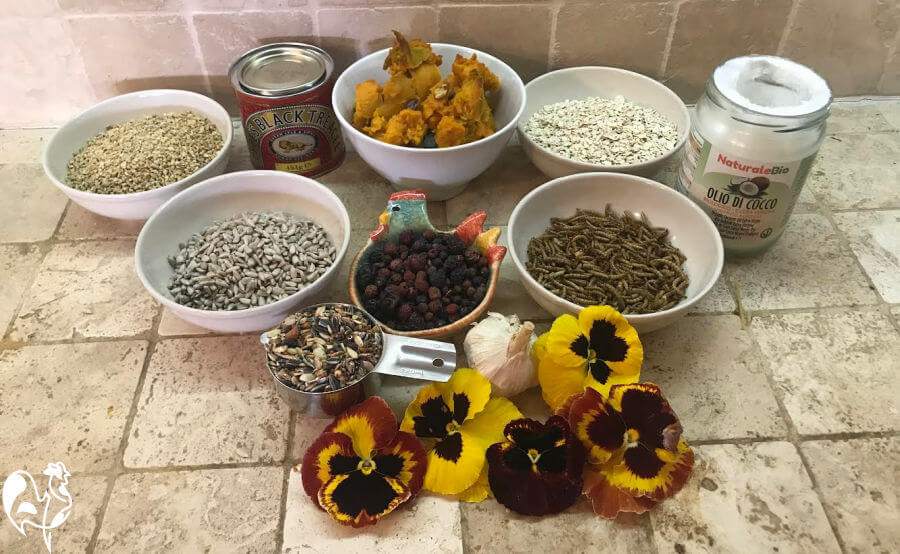 Poultry pumpkin pie can include whatever you have in your chickens' store cupboard!
To the pumpkin, add some or all of the following...

1 cup oats (or wheat or barley, whatever you have in stock)
1 cup of the chickens' usual feed
0.5 cup dried berries
0.5 cup mealworms
0.5 cup sunflower seeds (or clover, quinoa or flax)
1 whole garlic bulb, minced (no, it doesn't make the eggs taste of garlic!)
1 tablespoon fresh, chopped mint (use dried if you have no fresh)
1 tablespoon of any other herbs your chickens like
1 cup of chopped dandelion, clover, rose or marigold petals - whatever's in your garden. This time of year, winter pansies are a good source
1 cup unsweetened apple sauce (I make this from windfalls - don't include the apple seeds though - they're not good for chickens)
0.25 cup coconut oil
1 tablespoon of treacle (molasses). If you're making a smaller quantity, reduce the molasses to a teaspoon - it's a laxative for chickens.
Method.
Simple: mix everything together and feed to the chickens in the scooped-out shell or on a platter.
If you find it's too dry, add a little more coconut oil.
This mixture can also be cut into smaller amounts and frozen for the winter, when healthy food is scarce. It will keep for several months.
And then - sit back and watch your chickens chowing down on their healthy autumn treat!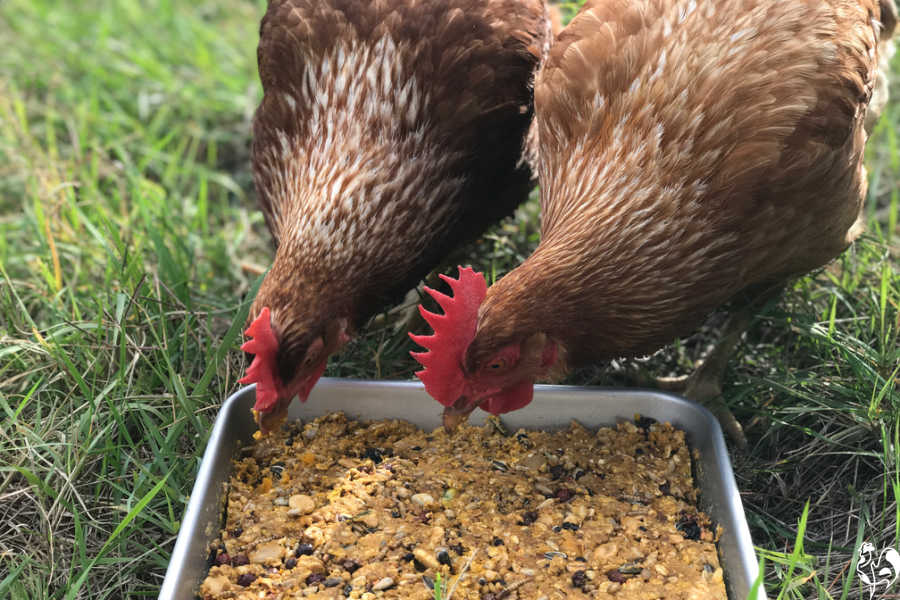 The two Claudias - always first to the party!
---
Chickens' Crunchy Pumpkin Cookies Recipe.

Claudia chicken contemplates one of the pumpkin cookies.
This recipe can also use canned purée if you don't want to use fresh pumpkin, but of course it makes it more expensive.
Or make your own in minutes!
Ingredients.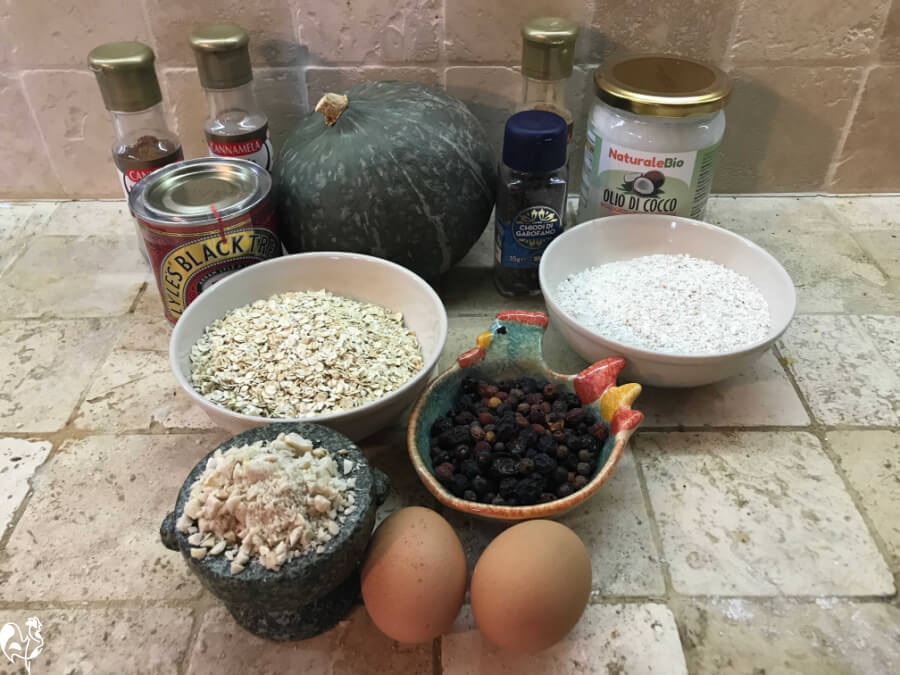 I made this recipe with a gourd but pumpkin works as well.
If you have pumpkin pie spice, you can substitute all the spices below with 1.5 teaspoons. Make sure it has no added sugar or other sweeteners.
This recipe does not use the pumpkin shell. Add it to your compost heap to avoid waste.
We'll be using cookie cutters instead. I have a special Hallowe'en version - I'm sure my chickens appreciate the effort!
1 small pumpkin or gourd, hollowed out and blitzed in a food processor or made into a purée, or 1 can unsweetened pur

ée

1 cup oats



1 cup whole wheat flour
0.5 cup nuts, chopped
0.5 cup dried berries or raisins (optional)
0.25 cup melted coconut oil
1 tablespoon treacle (U.S. molasses)
2 eggs
0.5 teaspoon ground cinnamon
0.5 teaspoon ground ginger
0.5 teaspoon ground nutmeg
0.5 teaspoon ground cloves.
Method.
Preheat your oven to 175ºC (350ºF; gas mark 4)
Prepare a baking tray by lining it with baking parchment
Blitz the pumpkin flesh in a food processor or, if using pur

ée

, mash it in a bowl
In a large bowl, combine all the dry ingredients, including the seeds
In a separate bowl, combine the pumpkin, eggs, treacle (molasses), and coconut oil
Add the wet ingredients to the dry. Fold in well until all the dry ingredients are bound together. If it looks too wet, add more oats.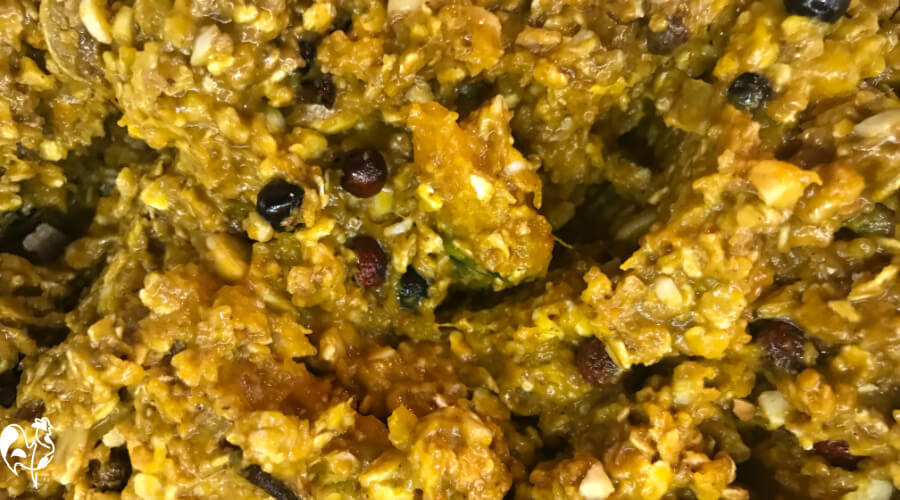 This consistency is about right for the pumpkin cookie mix.
Turn the mixture onto your work surface and use your hands to flatten it out. Don't make it too thin - this recipe will not rise
Use your cookie cutters to create as many cookies as the dough allows. 
If you're thinking of hanging them, use a skewer to put a hole at the top of the cookie. Trying to do that after they're cooked won't work - they're too brittle.
Bake for 15 minutes, then allow to start cooling on the tray for 5 minutes before transferring to a rack. Leave to go completely cold
These cookies can be frozen and will remain good for several months. In an airtight container, they'll have a shelf life of about a week. 
Mine never last that long!
There's plenty, but everyone wants the same one!
---
You may like these articles too!