How to grow your own garlic in 6 easy steps.
From sourcing to planting to harvesting and storing: all you need to know about growing garlic for your flock.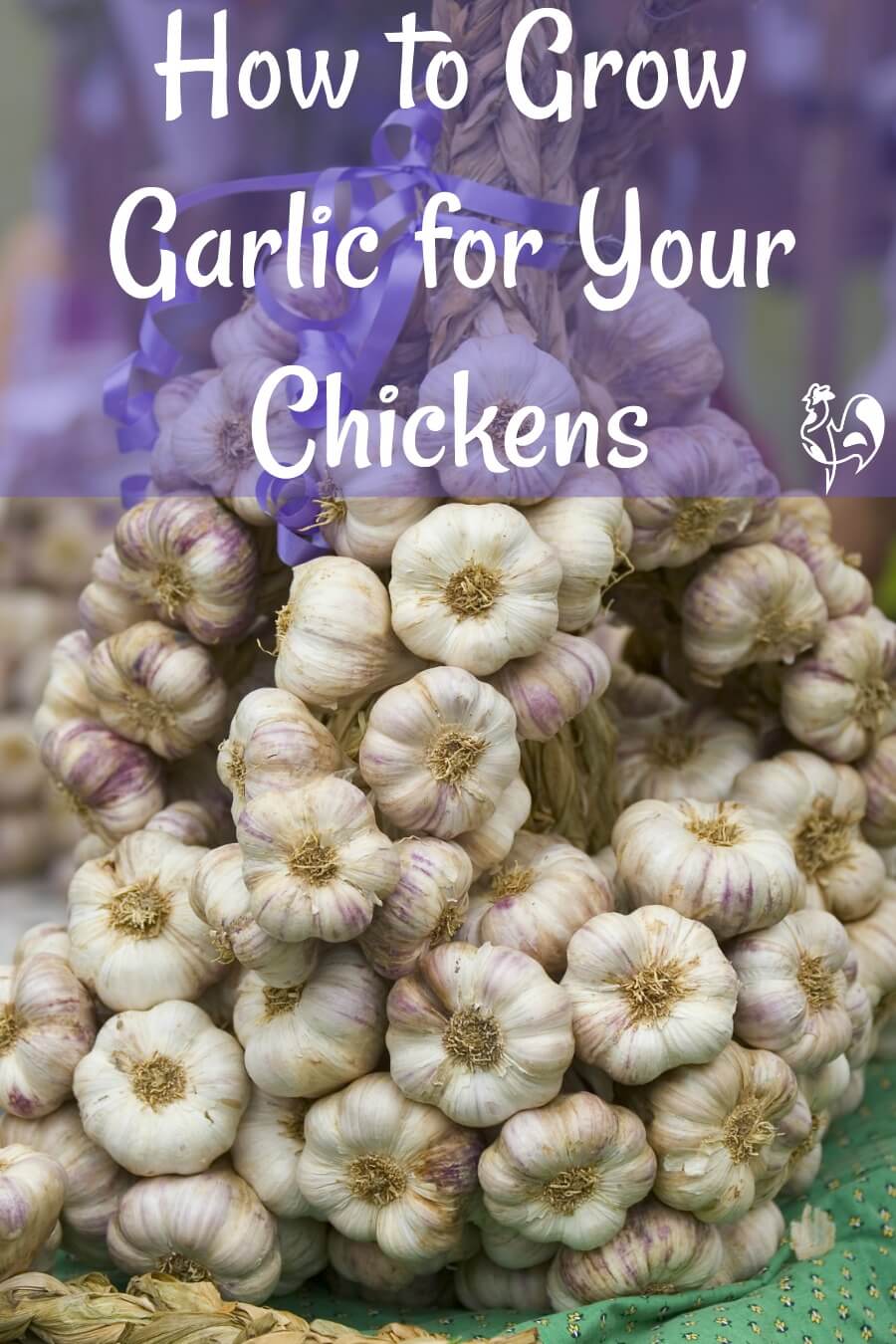 If you purchase a product through links on this page, I receive a small commission at no extra cost to you. I only recommend products I have purchased or would purchase myself and which I believe would benefit you. To learn more please see my disclosure policy.
I've examined the facts about the amazing benefits garlic for chickens previously - if you've not seen the article, take a look at it now.
Given that garlic has such amazing benefits for chickens, it makes sense to give them the best you can find.
Supermarket garlic can be modified in all kinds of ways which, if you knew about them, you wouldn't want your flock (or your family) to eat.
Growing your own means you have control over the entire process. You can ensure that the garlic is fresh, not genetically modified and free from chemical treatments.
It's also a lot cheaper than buying from a store - you get a lot of garlic from one little clove!
And it's really, really easy to grow the most delicious garlic, even in the smallest space. It's in the category of "if I can do it, anyone can"!
Here's how, in just six simple steps.
Step 1: Sourcing the garlic.
Trying to grow garlic from bulbs sold in supermarkets won't work. They can carry disease, may have been chemically treated and may not be suitable for your regional climate.
Some companies modify the garlic so that it can't be grown in any event. Avoid any form of modification - you want fresh, healthy, organic plants to start your crop.
Instead, buy from your local feed store, garden centre or mail order supplier.
If you're not able to get out and don't know of a reputable mail order company, Amazon stocks these organic, non-GMO bulbs for planting.
---
Step 2: Preparation for planting garlic.
Garlic prefers a well-drained soil and a sunny site. Make sure the plot is free of weeds, and prepare the soil by digging in some well-rotted organic manure and fertiliser. 
If you have a heavy clay soil and wet winter weather, start the plants off in pots on a sunny windowsill. Each clove will need a 2" pot filled with a general purpose compost. Plant out once the weather improves in the spring.
Growing garlic indoors is much the same. If you have space try using a long, deep trough, and keep in a sunny position.
Split the bulbs into individual cloves - don't plant the whole head together! I find each clove produces a bulb of around 12 to 15 cloves - sometimes as many as 20.
If you're not sure of the difference between a bulb and a clove, take a look here. 
---
Step 3: How and when to plant garlic.
Make sure the cloves are planted so they can hear the church bells!
Ideally, garlic likes a "chilling" period before it starts to grow, so plant in the late autumn (fall) or even as late as early winter. Any time between October and early December will product the most succulent, flavourful bulbs.
When I first asked an Italian friend how deep to plant garlic, his reply was: "plant so that the tip of the cloves will be able to hear the church bells"!
I took that to mean to plant each clove, pointy end up, so that the tip is no more than 1" from the surface. It's always grown well for me that way, so the cloves must enjoy hearing the village bells!
Make sure each clove is about 6" from its neighbour, and each row is about 12" from the next.
---
Step 4: Growing on.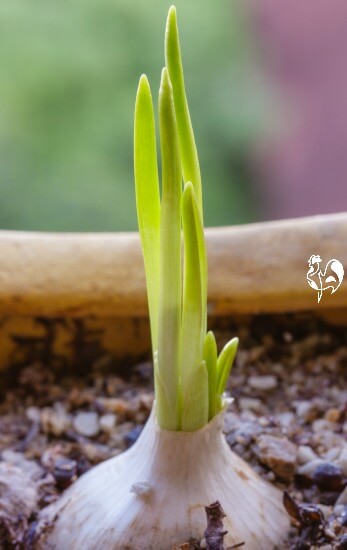 Start sprouting in a pot if your soil is heavy and / or wet.
Keep the site free of weeds by hand-picking the weeds while they're small. Allowing them to grow will interfere with the garlic's growth.
Once the stalks begin to turn yellow, stop watering. If you carry on, you run the risk of rot. If I plant in October, I tend to stop watering in June. 
Remove any flowers that form on the growing stalks.
The green shoots (scapes) can be snipped off before they flower, and used as a garnish in salads or scattered on your chickens' food.

Step 5: Harvesting garlic.
Garlic takes a long time to grow. It's ready for harvesting once the leaves have turned yellow. Planting in October, I find mine is generally well ready by the mid to end of July.
Dig the newly-formed bulbs up carefully. I find a fork is the best way to lift them - they bruise too easily using a spade or trowel.
---
Step 6: Drying and storing.
Garlic tastes its absolute best when it's new and completely fresh. Add some to your flock's food and / or drink straight away.
But it won't keep like that for long. To preserve it, you need to dry it out.
Once harvested, garlic needs to be hung in an airy place to dry. If you want to get that 'rustic' look, try making a garlic braid. Here's a short video to show you how.
---
---
If you don't want to go to that trouble (I tried it once and after that chose not to bother!) simply bend the stalks over, tie together and hang.
Most friends in Italy don't bother braiding garlic - simply tie in bunches and hang to dry!
Once the leaves sound a bit "rustly", store the garlic in a well ventilated container - or leave hanging for effect!
Garlic will keep for up to a year. In rural Italy, where I live, each family plants enough garlic to last just for the coming year. Any longer than that, the taste tends to weaken.
---
Garlic recipes your flock will love!
I talked about the benefits of feeding garlic to your chickens in my first article. But sometimes it's nice to create a special recipe just for your flock!
Garlic is especially useful in the autumn (fall) and winter, when chickens are moulting and need an added boost to their diet.

A garlic 'flock block' recipe.
Mix 2 crushed garlic cloves into 1 kilo (4 cups) warmed suet. Add 250 grammes (3 cups) of your flock's normal feed. 
Stir in 100 grammes (

2/3

 cup) dried mealworms, 150 grammes (1 cup) sunflower seeds and (1 cup) treacle (molasses). Pour into a cake or bundt tin and allow to set.
Note: this is a very rich treat - do not feed it all at once! Too much fat and protein can lead to serious illness in your flock. Cut off a slice and feed no more than twice a week. 
---
Garlic spray as a mite and mosquito repellent.
Garlic makes an organic, non-toxic, environmentally friendly insect repellent.
It can be used as a control for both red mite and scaly leg mite, and Gail Damerow talks of studies demonstrating its effectiveness against Northern Fowl Mite.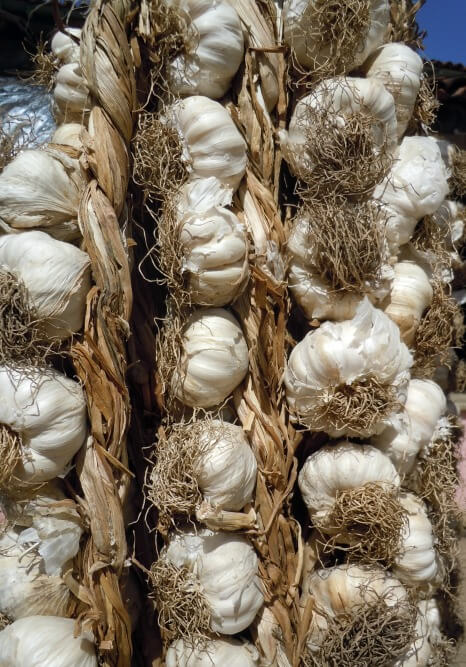 The jury is out on whether garlic can repel mosquitoes - there's no scientific evidence one way or the other. But if mosquitoes plague your chickens, it may be worth trying.

To make a garlic spray...
Peel all the cloves from one head (bulb) of garlic.
Drain the juice by pressing the pulp through mesh or a muslin cloth and catching the liquid in a bowl.
Combine the liquid - there should be about 50 ml (one quarter cup) with 500 ml (2.25 cups) of water.
To treat...
Scaly leg mite, spray the liquid onto legs and gently rub into the skin.
Northern Fowl Mite, spray the vent once a week for three weeks. Use fresh spray each time - its effectiveness will wear off after about 48 hours.
Red mite, spray nooks and crannies where the mite hide. Feeding raw garlic will also deter red mite - they don't seem to like the taste!
Mosquitoes, spray around the coop at night when mosquitoes are most active and your chickens can't escape from them.
---
Enjoy your delicious, home grown garlic!
---
If you found this article helpful, you might like these.