Chicken keeping competitions!
Here's where you'll find links to all my competitions about keeping backyard chickens, past, present – and future!
October 2023: "Autumn Clucks and Colours"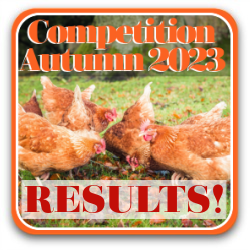 Don't you love autumn (fall) colours? And doesn't it make your heart sing to see a flock of  chickens enjoying everything about the season?
This seasonal competition saw chickens foraging through fallen leaves, chomping down on pumpkins, and meandering through marigolds!
---
July 2023: summer with my chickens competition!
"Summer with my Chickens" – what could be a happier way to celebrate the joy our chickens bring us than to share photos of our flock enjoying the sunny time of year!
This competition saw photos celebrating cute, joyful moments with feathered friends and family, immortalised through the camera lens.
---
April, 2023: a season of new beginnings competition!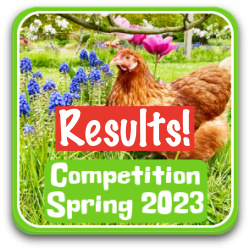 Spring has sprung, and it's the perfect time to watch your chickens thrive and enjoy the great outdoors. 
A time of renewal and growth, this competition was all about celebrating the season of new beginnings.
See the details and the five Spring competition winners, here.
---
Winter 2022: a festive photo competition!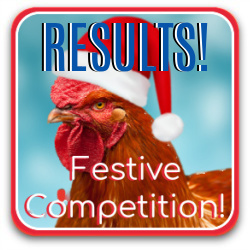 In all our festive seasons, it's always good to remember that our chickens are part of the family. They like to feel included!
This competition was to celebrate exactly that. During the winter of 2022 / '23, my Chicken Digest group submitted their photos of chickens having fun – and a young man called Joshua was delighted his hens were chosen as the overall winners!
---
July 2022: a competition about keeping chickens in your garden!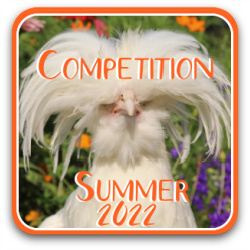 See the results of my very first chicken keeping competition, held during the summer of 2022. 
It involved submissions related to chickens and gardening, with a prize that reflected the topic. And the winners were all reflective of the joys of chickens and the great outdoors. the overall winner even explained how her flock is part of her permaculture system.
---
Chicken keeping competitions: helping you take photos!
My chicken keeping competitions are always based on photos of your flock. And sometimes, chickens are very hard to get a good photo of. No sooner than you think you have them framed than someone moves!
This article is there to offer my experience over many years of taking pics of chickens of all shapes, sizes and ages. Helped by official photographers at poultry shows in the UK, there are sections on equipment, background and lighting as well as training your chickens!
---
Chicken keeping competitions: the prizes.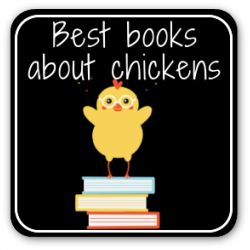 Most of my prizes for the competitions are some of the very best books about chickens and chicken keeping. 
From coffee table books featuring different breeds, to chickens and gardening, to chicken health – all are books I have and consider an important part of any chicken-keeper's library.
Take a look at my reviews of related books and then – join in with my competitions to win one!
---