Festive Chickens Photo Competition: the Winners!
What's it all about?
This was my festive winter chicken keeping competition in 2022 / '23.
Please keep an eye out in my weekly Chicken Digest newsletter for more competitions, all of them with prizes celebrating chickens!

All my competitions are open only to those who have signed up for my newsletter. 
Entrants submitted photos (or video) of chickens enjoying their best festive life to win!
In all our festive seasons, it's always good to remember that our chickens are part of the family. They like to feel included!
This competition was to celebrate exactly that.
People wishing to enter were asked to share photographs or videos of their chickens having fun during the Christmas holiday festivities.
It might be enjoying a specially made treat, tucking into the leftovers from a festive meal, celebrating with family members, or perhaps a specially decorated coop.
Photos for my competitions don't need to be "professional" – they just need to be of reasonable quality (smartphone photos are perfectly good for this) and tell a story of a family and their chickens at a special time. 
The prizes were...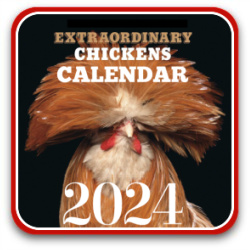 Have you seen my review of the ever popular "Extraordinary Chickens Calendar" yet? 
It's an amazing calendar I buy every year. It features the most beautiful photos of chickens you'll ever see! They're truly stunning.
Some will be familiar to you, others new. I've learned a lot about unusual breeds from this calendar, over the years.
If you've not yet seen it yet, take a few minutes to read my review now – because that's the prize I gave away to the winners of my competition!

The festive chickens photo competition: results!
A huge thank you to everyone who entered this competition – there were over 100 entries, and over 500 votes cast for the most popular!
It was really very difficult choosing between them.
My top 5 winners were chosen by popular vote, and from those I chose one overall winner based on originality and the best reflection of "festive chickens". 
The winners...
My overall winner was Joshua Hansberry with "Who laid that?!"
Joshua had a lot of votes for this photo, and I chose it as the overall winner because of its obvious winter setting, its festive touch, and most of all because of its humour.
The hens all look very surprised at the strange, shiny, green "egg"!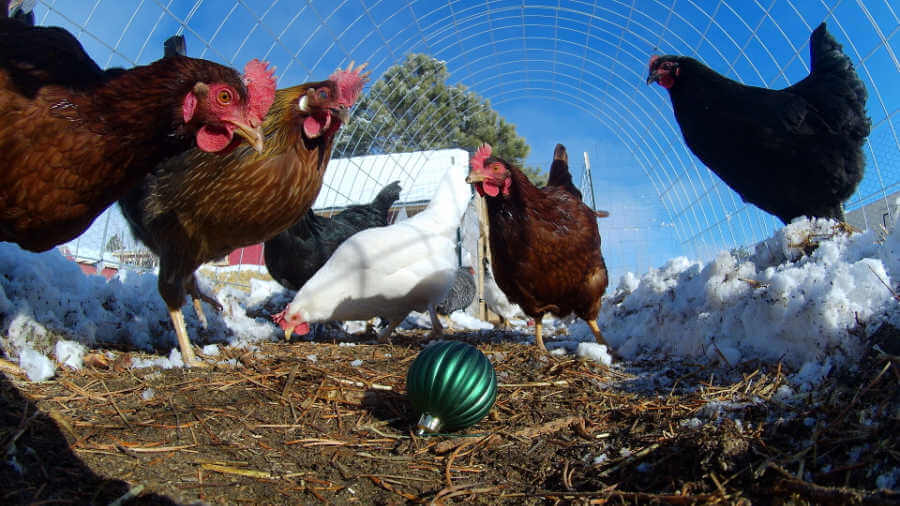 Thank you, Joshua – this photo made me chuckle!
My other winners submitted the photos below. I hope you enjoy them as much as I did!
Please note: all the images have been made smaller and of a less good quality than when they were originally submitted. All are covered by copyright.
The photos are listed in alphabetical order – they are all winners!
From Nicolle Ferrier of Sugar Feather Farm: Polish chickens in winter.
Beautiful Silver Laced Polish chickens trying to work out what the white ground covering is! – And thanks too for the photo of the turkey in a hat, Nicolle!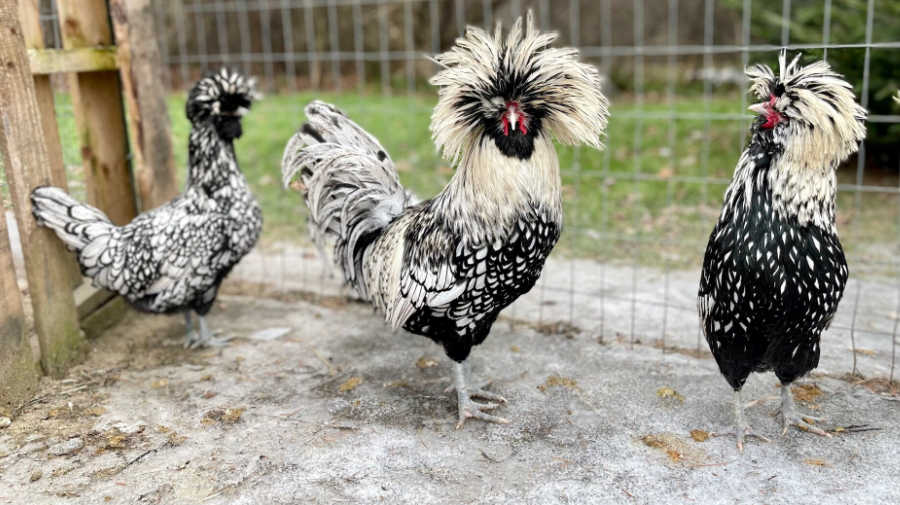 Faith Hansberry: Friends helping friends.

Isn't that what friends are for? – Helping each other find the tastiest of treats in the winter weather!
Jacqueline Mendez: Benny, crowing Christmas morning!

Beautiful Benny! What a great way to let in Christmas morning – or any other morning, come to that!
Angelina Stevens: "I can't believe she's wearing red!"

This photo made me smile, as Angelina sits, surrounded by frost, chilling out with her hens, who seem to be admiring those lovely colourful trousers! 
Breanna White: My first Christmas egg!

We've all been there – the thrill of seeing our very first egg. Don't you think the red background gives a lovely Christmassy feel?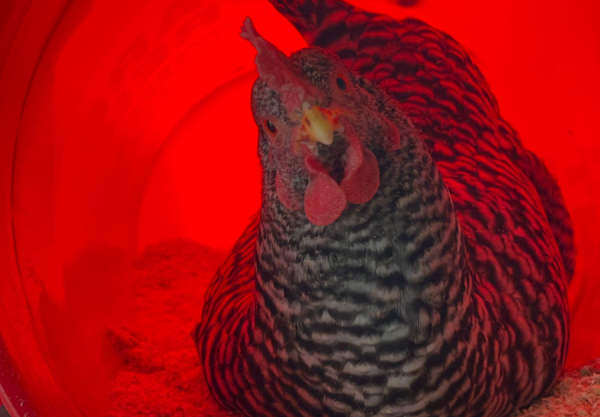 And an honourable mention for Carol Goins, for the most well decorated festive photo, with Buffy loves Christmas!

Buffy, a Christmas tree, Santa, snowman and reindeer – a real taste of a festive holiday!
Thank you all!
Thank you all! I had such a lot of fun looking through all your photos and seeing your lovely chickens! It really made my Christmas!
All my winners are on the way to receiving a copy of the Extraordinary Chickens calendar.
As I said earlier, watch out for more competitions in my weekly Chicken Digest newsletter – the next one will likely be around an Easter theme!


Want some tips about taking photos of chickens?
Chickens are not the easiest creatures to take photos of! Just when you think you have the perfect shot, someone gets in the way, or spots a tasty bug and moves, or decides it's the perfect time to poop...
I happen to have an article about how to photograph chickens without losing your mind! Feel free to take a look at it before you submit yours.
Some other articles which may help.
If you're looking for inspiration, try taking a look at any of these articles.
Deck the coop!: ten DIY ideas for making your coop look especially jolly during the festive season.
It was fun!
It was fun to see all the entries, and I hope you had as much fun both submitting them, judging them and looking at the winners.
And always remember: in the world of chicken keeping, everyone's a winner!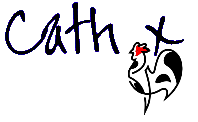 Other articles you may find helpful.