Chicken coop décor at Christmas.
Having decorated your home for the holiday season, do you feel your chicken coop could use a little sparkle too?
No problem! I have ten easy, inexpensive DIY tips you can use today to make your coop shine bright during the holidays!
It may be important to include our chicken coops in Christmas décor, but it's also important to make sure that we're not doing anything to compromise the health and safety of our flock.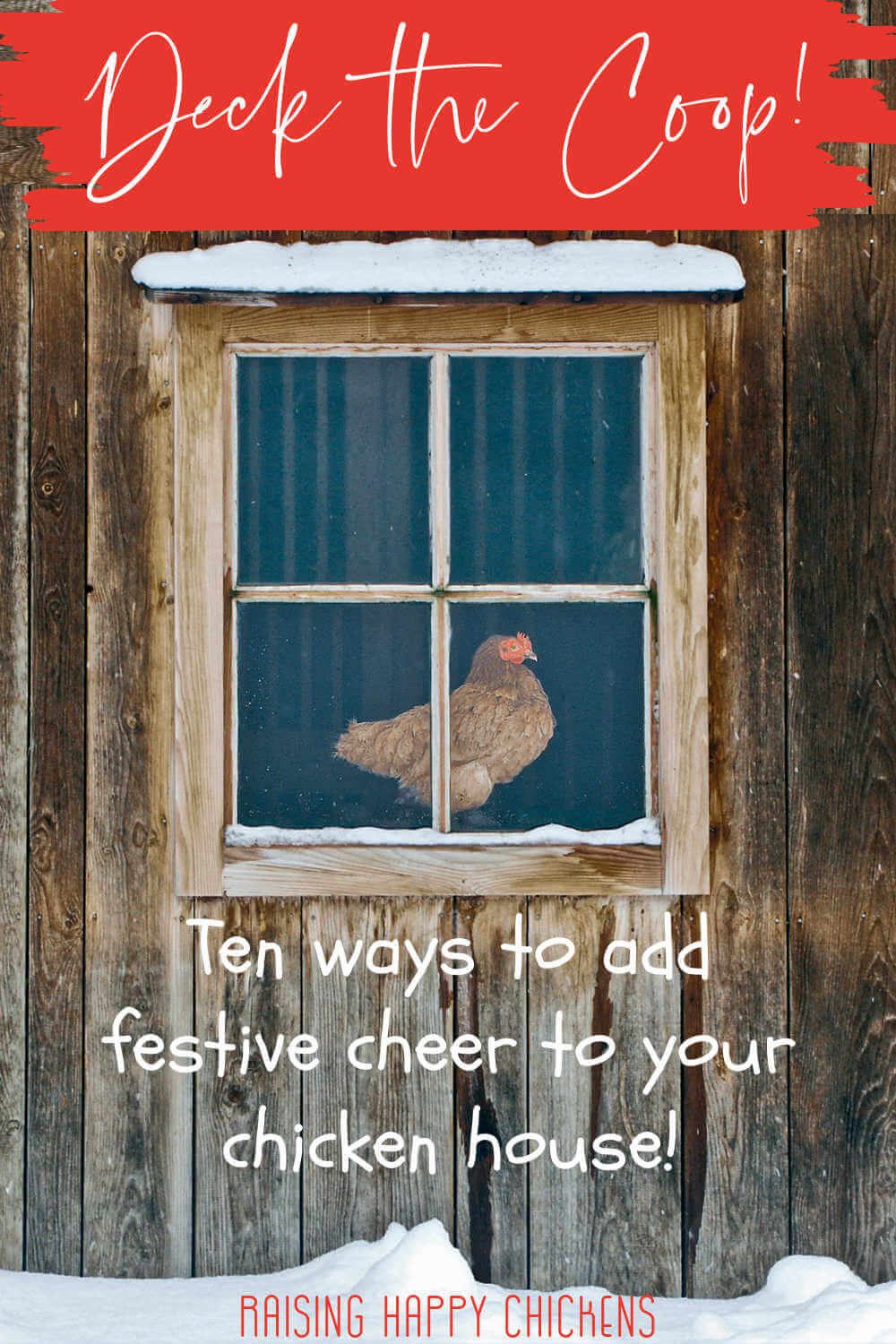 So the best thing you can do for your chickens at Christmas really is to make sure their coop is watertight, properly ventilated (but without draughts), has good quality bedding and adequate roosting space. 
For more detailed information about how to set up your coop against winter weather and keep your chickens warm, safe and happy, take a look at my article here.

It's also important not to introduce anything which may be tempting for unwanted guests like red mite to hide. This time of year is when they're at their worst.
Which is why most of my tips for adding some chicken coop décor at Christmas revolves around decorating the coop externally, and the run.
There are some inexpensive, DIY decorations you can add to the coop without causing a problem, though.
Christmas décor inside the coop.
1. Deck the windows...
A very simple example of Christmas décor which can both decorate the coop and add a seasonal scent.
Collect some small, fresh pine cones. If you don't have any on your own trees, take the opportunity to have a walk in the woods.
Slice oranges to about 1cm (¼") thickness. Blot dry on paper towels, then place on a rack in the oven at 120ºC (250ºF) for about three hours.
Allow to cool, then thread twine through the top. Create different lengths. On some but not all, add your pine cones to the bottom of the orange slice. 
Hang in your coop, across the windows, from the ceiling, wherever you feel looks good.
Oranges and pine - the smells of Christmas.
Can chickens eat oranges? 
They can, but it's very unlikely that they will. So if the garlands are within chicken range, don't worry about it.

2. Tie bow on feed bin handle.
If you keep your feed bin inside, take a simple piece of burlap and add a bow to the handle. Use a double knot so the chickens can't undo it.

3. Hang a garland.
If your chickens have to stay in the coop for any length of time - during bad weather, for example, or when there's a bout of Avian Flu around, it's important that they have ways of keeping themselves entertained and healthy.
There's an article about that here. One of the easiest things I describe to deal with boredom is making an edible garland. 
For Christmas, popcorn and cranberries are the thing. Use unsalted popcorn, of course and simply thread onto strong cotton.
If you can't find cranberries, try strawberries if they're available, or pieces of apple.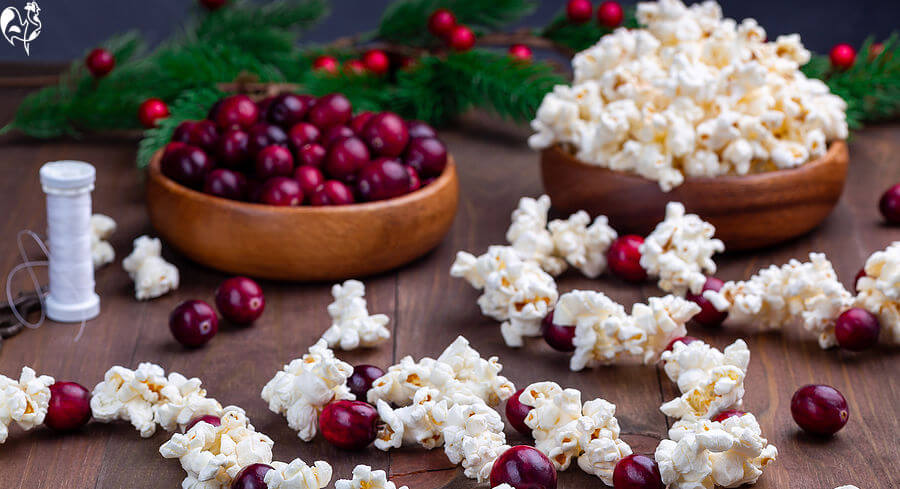 Always use unsalted popcorn.
Hang this inside the coop, but make sure you take up any that's left over when your chickens have roosted.
Rats and mice are looking for easy food at this time of year. The last thing you want is to attract rodents into the coop.

4. Use themed material for nest box curtains.
Next boxes are a critical part of a hen's wellbeing. They need to be safe, peaceful places where the laying hen won't be disturbed.
Although I only use basic nest boxes (my hens' favourite, which they all fight over, is an old olive crate!) many people add curtains to create a private place.
So why not add some Christmas themed material? You'll find some cute and inexpensive materials on Etsy - both Christmas and chicken-themed. (Not an affiliate link).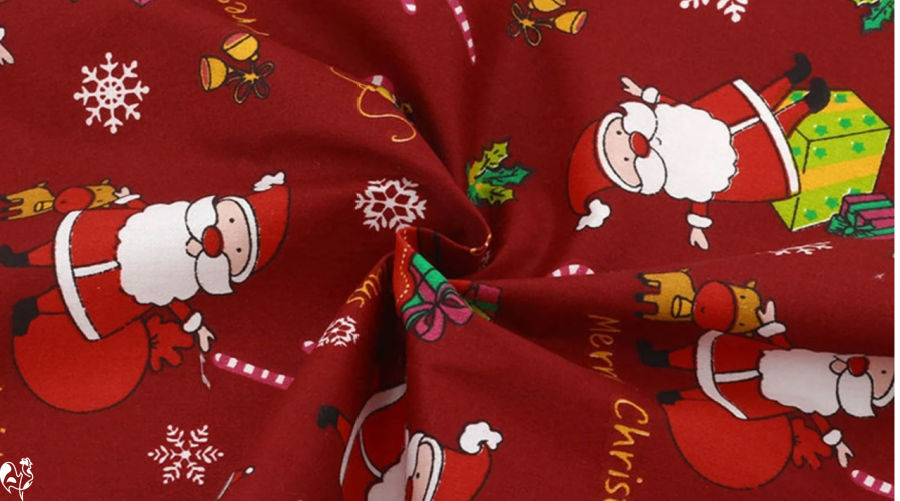 Christmas themed material can make cute nest box curtains.

5. Lights in the coop.
This is a big no-no as far as I'm concerned.
Heat lamps in the coop are largely unnecessary and cause fatal fires every single year.
For that reason, I tend to steer clear of anything involving electricity in my coop.
It's too easy for something unforeseen to happen, and the mixture of combustible bedding and even a single spark of electricity can be fatal.
So my advice about Christmas lights in the coop itself is - save them for your own house. Of course, they may be perfectly fine. Or they may not. 
Use them outside, by all means. They can make a coop and run look very festive. And your chickens really won't care whether they're in the coop or outside it.

Chicken coop décor outside.

6. Tree lights.
Rather than have lights inside the coop, if the building is large enough and you have an electricity point within reach, try adding them onto the guttering, as you might do for your own home.
Alternatively, look at adding lights to natural trees within the run.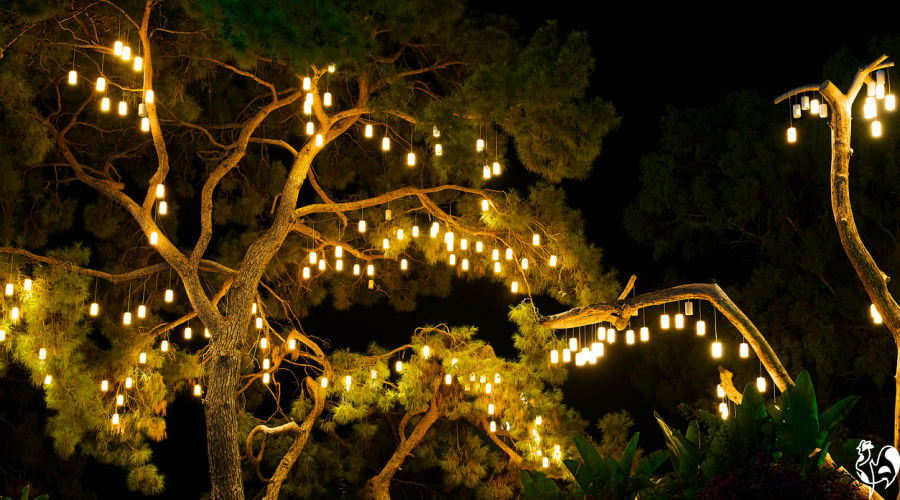 Add lights to outside trees for a magical effect.

7. Natural evergreen boughs in planter.
If you don't have trees in the run or near the coop, or you don't have much room, try adding boughs of evergreens to a planter or jug.
Twine lights around them for a festive effect. Lights using batteries, rather than requiring an electricity supply, can be easily found online.
Use battery-powered lights in a large glass bottle to light up fir tree branches and poinsettia leaves.

8. Let nature speak!
This is my very favourite outside decoration in my chicken coop. In Italy it's called a "kaki" tree. You may know it as persimmon.
The fruits are not ready to eat, according to Italian culture, until the leaves have fallen. And it seems to work!
Its beautiful, jewel-like colour makes it as good as any other Christmas décor in the run. As a bonus, when the fruits fall it provides my flock with a healthy Christmas treat.
If you can find a persimmon tree in your area, buy it!

9. Door wreath.
One of the easiest ways to add a little Christmas cheer to your coop. I'm not a crafty person, sadly, so I bought mine.
Unless you make a fruit wreath, make sure you hang it out of the chickens' reach. They're curious creatures and they'll destroy it if they can. Or eat it, which isn't good for them.


10. A natural fruit garland.
At this time of year it's nice to use fresh produce and natural boughs where possible. I'm fortunate to be surrounded by fir trees and an entire wild woodland, so I gather whatever is on the floor.
If you're in the city, watch out for neighbours with trees, or plant some yourself for use next year.
Take a few branches, bind them with a strong wire and add in fresh apples, also on wires. Hang at chicken head height and you're done!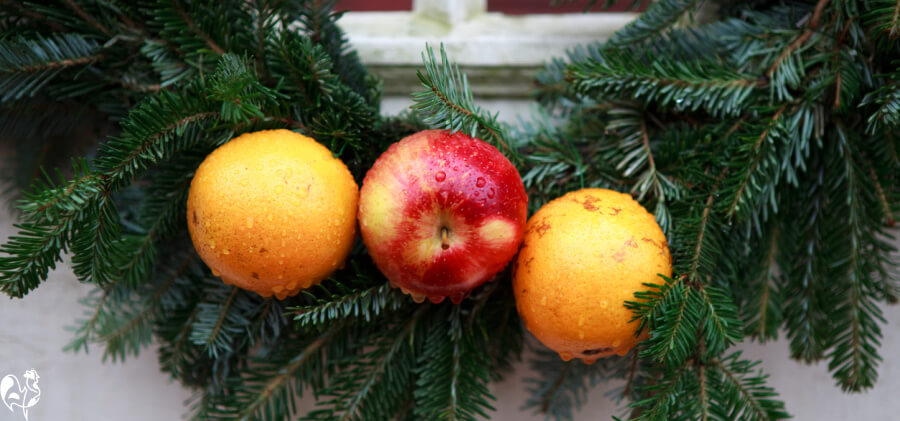 Simple to make and a healthy treat for your chickens.

If you enjoyed this article, you may like these, too.