Can't find what you want?
Search this site!


Christmas Tree Ornaments with a chicken theme!


          No time now? Pin it for later!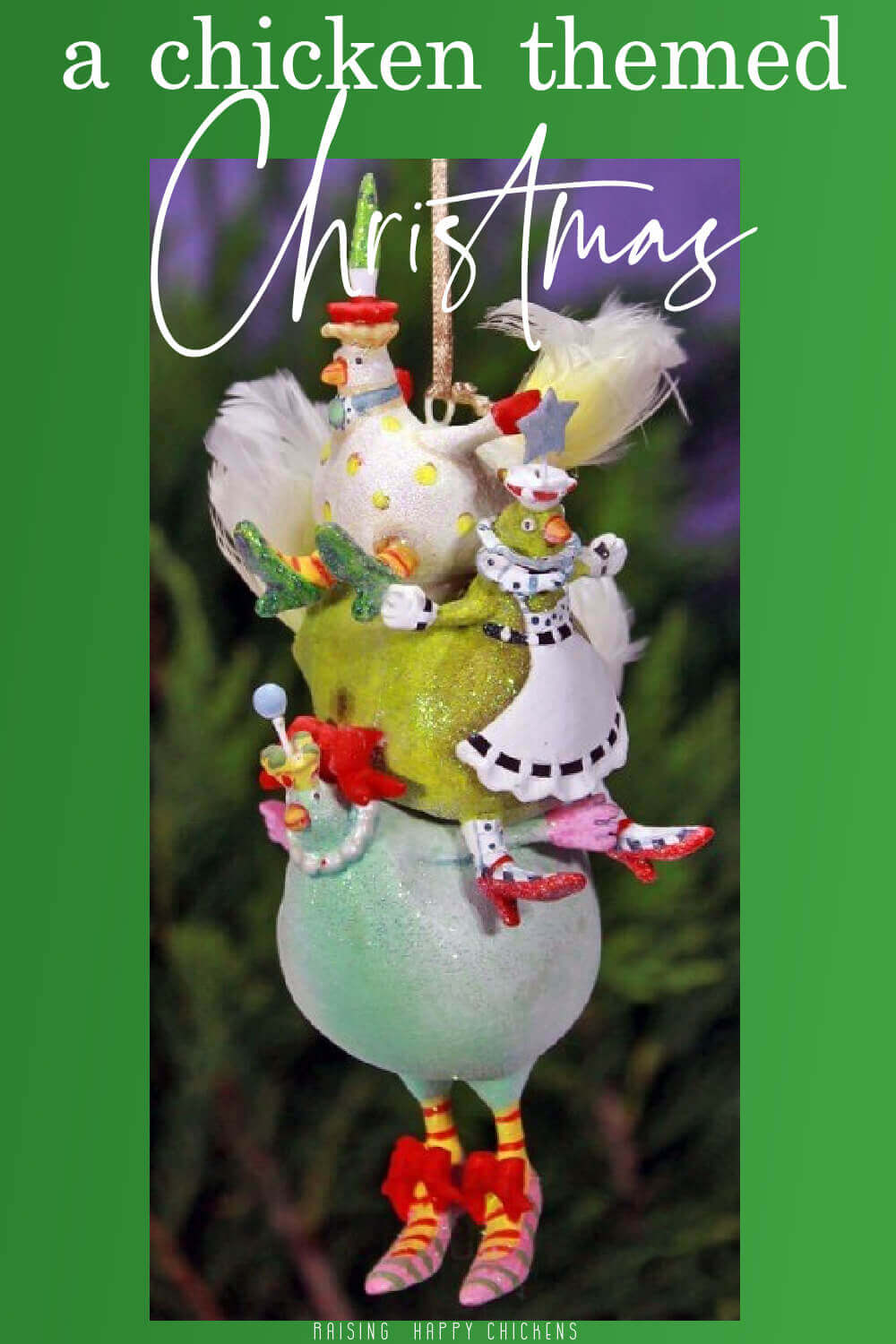 Let me guess: you love chickens, and you love a bit of sparkly magic at Christmas - right?!


So if that sparkle comes in the shape of a chicken or two - so much the better!

You're in the right place. I started collecting chicken-themed Christmas tree ornaments several years ago now, so I know what's available out there.
And we're not talking about modern plastic imports. I'm here to tell you where to find some of the classiest - and funniest - chicken Christmas tree ornaments out there.
They're the kind of ornaments you can give to younger family members who love chickens and have just set up home.
Often at that stage, they can't afford to buy the more expensive  ones for themselves. 
So these all make wonderful, unique, Christmas gifts.

Look on them as heirlooms. You'll be contributing to family traditions for many years to come.
Ready? Let's go!

Firstly - keep an eye open locally.
If you live in the States, chances are you have a Christmas store somewhere nearby. I've found really lovely chicken pieces on my visits to family in the US - these, for example...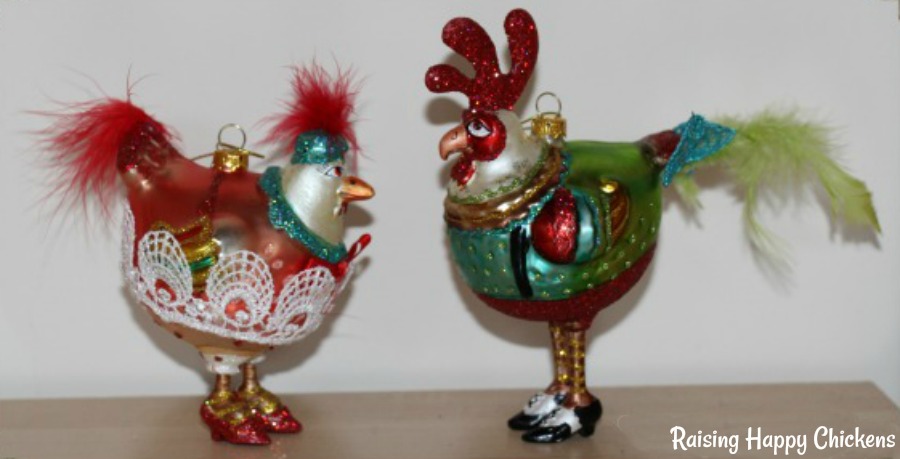 Sadly, I can't find these online. 
But I can find all these below. They're available from Amazon - click on any of the links to buy. But be aware that these always sell out well before Christmas.
My advice so as not to be disappointed is to buy them in November.
---

Patience Brewster's "Three French Hens".

To buy this tree decoration, click on the image or on this (affiliate) link now.
This is one of my favourite of all tree ornaments with a chicken twist. It's a fun, whimsical twist on the "3 French Hens" part of the Twelve Days of Christmas.
If you don't know Patience Brewster's work, it's worth looking at. Hers is a small, one artist  business.
All the items are unique designs by Patience herself, and are hand made and hand painted.
The "3 French Hens" ornament has the hens teetering in heels and dressed in appropriately sparkly attire, fluffed out with feathers.
It's made of a resin, which means it's virtually unbreakable, and comes in a presentation box.
It would make a beautiful heirloom gift for younger family members, or buy it for yourself to pass down the generations!
I loved it so much that, although it can't be bought in Europe, I contacted the company direct and asked them to send me one by special delivery. It wasn't cheap, but it was so worth it!
If you're in the US, you don't have to go to those lengths. Just click here to buy.
---

"Old World" hen on nest glass Christmas tree ornament.

If you like Christmas, you like chickens and you like a bit of sparkle, this fun tree ornament is definitely for you.
It's from the well-known and very well-made 'Old World' collection. This small company makes authentic, an old-fashioned glass ornaments - no plastic anywhere in sight!. This is another one of my favourites which I ordered from America just because I love it so much. 
It's got that lovely sheen of antique-style tree ornaments - and of course it has some sparkle too.  It comes in its own little gift box so it makes an ideal - and inexpensive - Christmas gift. 
The "Old World" collection features quite a lot of chicken- and homestead-themed ornaments - so much so that I've written a whole article devoted to them. You'll find it at this link.
Or, if you just want to buy this sparkly hen, click either on the pic or on this link.
---

A classy, hand-painted glass Christmas tree bauble.

This beautiful tree bauble is made in the U.S. by the Dynasty Gallery - a small group of craftspeople whose work is far superior to the imitations you'll find online from China.
Beacuse each one is hand-made, there will be slight differences in colour.  It's that which makes them an absolutely unique gift.
It's a less 'in-your-face' option than the sparkly baubles and makes a wonderful gift (I've found) for older family members who love chickens, or who remember raising chickens in their younger years.
It comes in a beautiful red presentation box which makes it particularly appropriate as an inexpensive Christmas gift.
This is on my wish list every year but I always leave it too late - it sells out very quickly.
Don't make the same mistake - order yours now!

---
A colourful glass rooster to wake you on Christmas morning!

Got a favourite roo, or know someone who has?  You may have just found an ideal Christmas gift for them!
If you prefer something a little less glittery than our "hen on a nest" and rather tasteful (I like tasteful and glitter!) this hand-painted glass ornament may be just what you're looking for.
It's just beautiful workmanship.  It's presented in a good quality box and it makes a wonderful gift for the younger people in your family who either love chickens, or who know you love chickens and would want to remember you by this gift.
Feedback emphasises that the colours are much more vibrant than the image shows - there are no poor reviews about this ornament.
It's not only a Christmas gift, either - there's nothing specifically "Christmassy" about it. Know anyone who was born in the year of the rooster?  This gift would make an absolutely perfect birthday gift for them!
Click here or on the pic to buy it now from Amazon.
---
Fun blinking Christmas tree ornament!
Here's a novelty chicken-themed ornament for those children in your life (or for the young-at-heart!) who love chickens and love having fun.
It's a "blinking" chicken tree bauble and there's a whole series of these, from ducks to pigs to tigers and elephants - and everything in between! 
It looks like glass, but it's actually made from a high-durability plastic which means it's perfect for little hands. And it comes with four batteries, so no fear of running low during the holiday season!
This is fairly new - and I admit, I don't own it - yet! But it's great fun, and a welcome addition to our stock of chicken-themed holiday ornaments.
Click here or on the pic to buy it now - don't delay, it's bound to sell out quickly!
---

Still not found quite what you're looking for?

No problem!
Here are a few more chicken tree ornaments I've found for you.  These are not ornaments I have first-hand knowledge of (which is why I haven't featured them on the main page) but they're gorgeous, and they all have good reviews on Amazon.
Just a word of warning - from my own experience, chicken-themed Christmas tree ornaments tend to sell very quickly.  Don't leave it too late!
---

Looking for some other inexpensive Christmas gift ideas for people who love chickens?

Because I'm always on the lookout for chicken-themed gift ideas for myself, I have a lot of ideas for other people too!
If you're looking for an inexpensive gift to give a chicken-addict this Christmas this page might give you some ideas.
Just click on the pic.
---
Some links on this page are affiliate links, which means that if you purchase a product through them I receive a small commission. There is no extra cost to you. More details can be found on this page.
Because my integrity and your satisfaction are very important to me, I only recommend products I have purchased or would purchase myself and which I believe would benefit you. To learn more please see my affiliates disclosure document.

---
If you enjoyed this article and found it helpful, I'd love you to let me know by clicking this button - thank you!
---
Thank you for sharing the chicken love!