A coffee mug set for chicken lovers!
Whatever the occasion (or even if there isn't one!) this set of four coffee (or tea) mugs will delight anyone – chicken lover or not!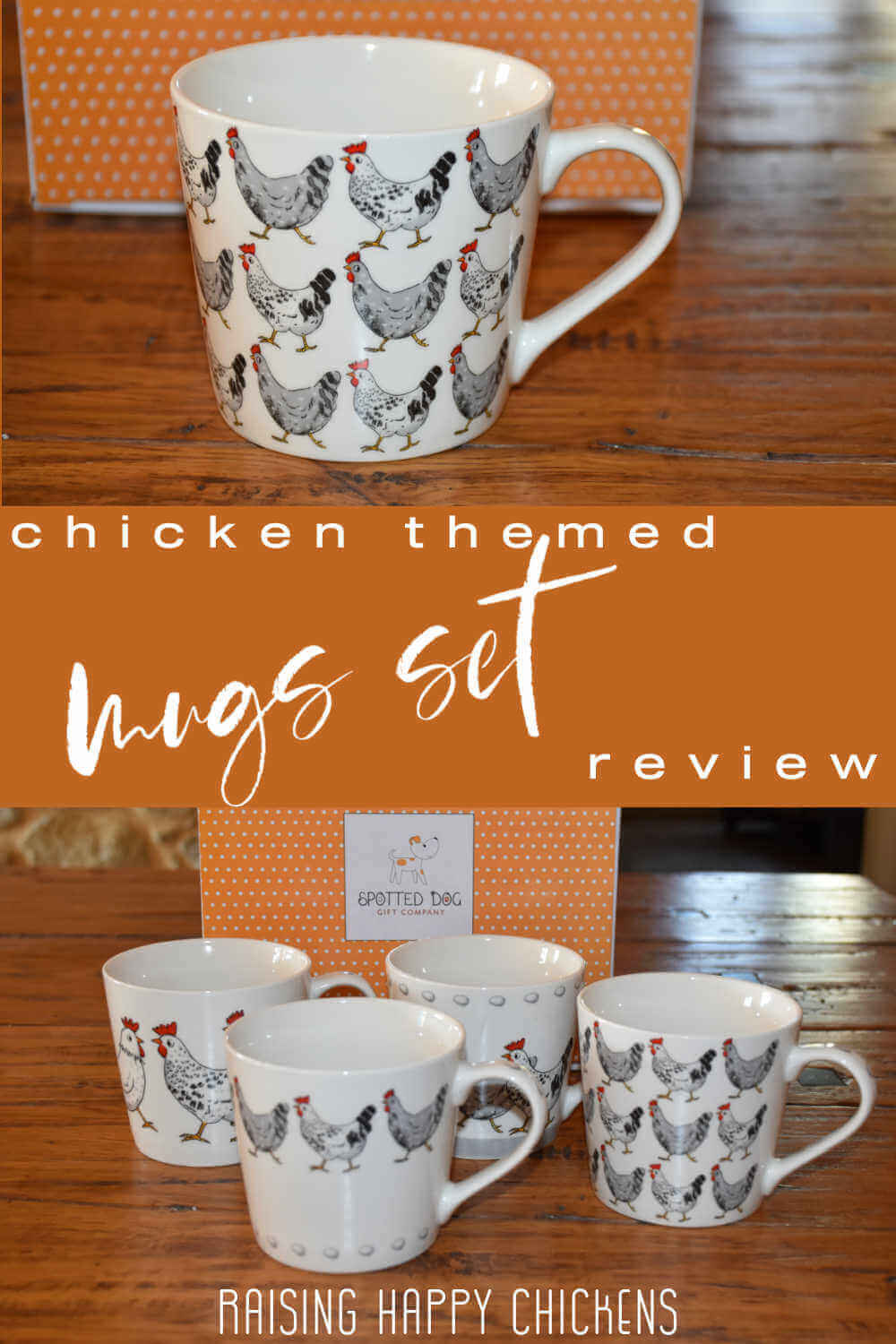 If you're looking for a relatively inexpensive gift, you may be in the right place.
Or you may not. Because that was exactly my intention. But I loved them so much I kept them for myself! (I did buy a second set as the gift though!).
You're looking at a coffee mug set for chicken lovers. They're made by the "Spotted Dog Gift Company", a small, family run business based in the UK.
Their products are all attractive, customised designs featuring dog, cat, sheep and horse themed products as well as chickens.
Their tagline is "Quality materials, crafted with care" – and this set of chicken mugs certainly lives up to this claim.
Here's why.
If you purchase a product through links on this page I receive a small commission at no cost to you. I was not paid for writing this review, and I did not receive these mugs as a freebie. I'm suggesting them for you because I own and love them and I think you would, too. For more info please see this policy.
Mug design.
There are four mugs, each featuring a different chicken design. The concepts are unusual and quirky, a bit cartoon-y without being cartoons, fun without being childish.
The craftsmanship is excellent. They look almost hand drawn, and I've certainly not seen any other similar designs.
These are quite unique.
They'd go well in any kitchen, and particularly well where there's farmhouse-type kitchen décor. 
I hadn't actually noticed the eggs featured on the handles – that's a nice attention to detail.
Even the company logo on the bottom is cute!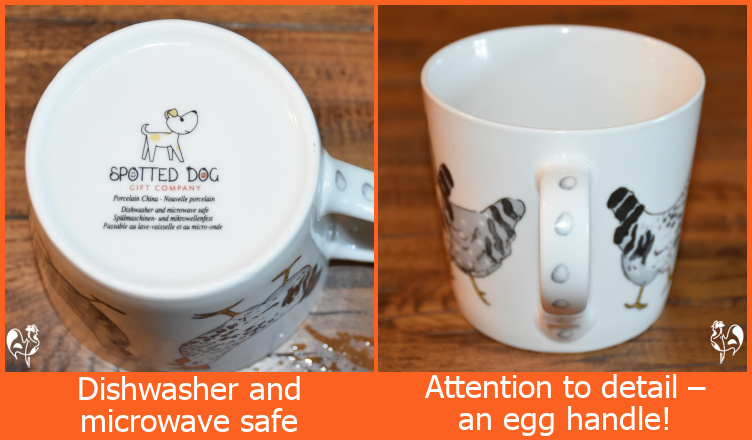 These mugs make me smile every time I use them. I can't say better than that!

What's the quality of these ceramic mugs like?
This set is very high quality.
The mugs are both microwave and dishwasher proof, and the design has stayed as vibrant on mine as it was when they first arrived.
There are comments on reviews saying these mugs are "china" or "porcelain". They're not. They're ceramic.
Which in my view is preferable, because ceramic is more durable. It also gives a solid, weighty feeling to each mug – without them actually feeling heavy.
The presentation box is also high quality. Made of a strong cardboard, it's nicely decorated and makes this mug set ideal as a gift.
Practicalities.
Microwave and dishwasher safe
Made of ceramic, which is very durable
Weigh around 326 grammes (just over 7 oz) each on my kitchen scales. 
Each mugs holds 380 mls / 13 fluid oz
Come in their own well designed, sturdy presentation box.
The presentation box makes this mugs set an ideal gift.

What do other people think of this chicken coffee mug set?
The coffee mug set is sold to chicken lovers by Amazon. There are a total of 500+ reviews globally, of which 85% are positive in the USA, 83% positive in the UK.
Here's what reviewers said. Let's deal with negative comments first.
Negative reviews.
All the negative reviews bar one are related not to the mugs themselves, but to the fact that one of more of them arrived broken.
That doesn't really surprise me. The presentation box is strong, and inside the mugs are well packed in thick cardboard.
But there is nothing apart from that to absorb shock. So if a courier is less than careful and the package is roughly handled, there may well be damage.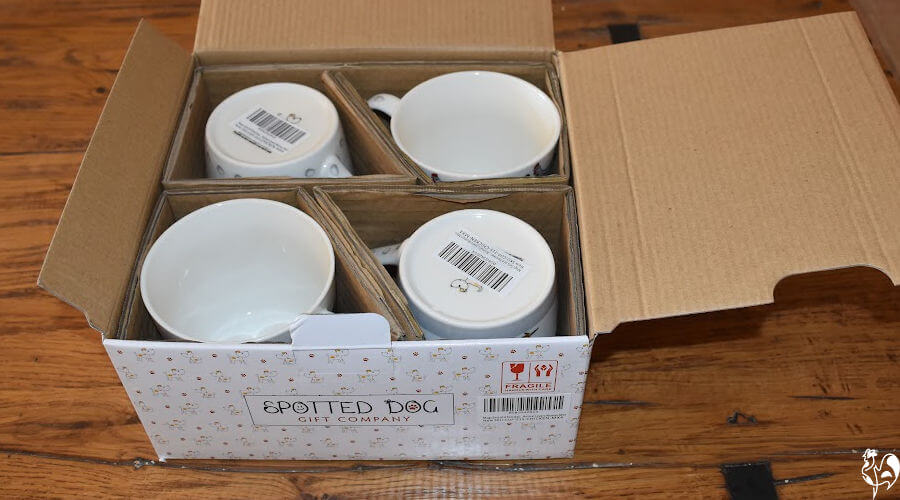 Click to buy from Amazon.
The positive outcome for buyers to whom this happened is that customer service was extremely responsive and replaced the mugs immediately and without a problem.
The other issue was one person who felt the capacity of the mugs was less than advertised. She says: "Described as "capacity 426 ml" but it is significantly less". 
However, the current description is a capacity of 380 mls or 13 fluid ounces. I measured this, and it is exactly right! 
Positive reviews.
The consistent comments were...
Lovely, quirky, "incredibly beautiful", well made designs
Good size, "nice and roomy"
Excellent quality, durable, helpful that they're dishwasher safe
Cost is reasonable given the outstanding quality and "character"
Nice packaging, good for giving as a gift.
And one comment was specifically about a lifelong chicken-keeping couple (translated from Italian):
"My grandfather has always had a chicken coop and my grandmother has always claimed that the only animal she likes is hens, so this was a beautiful gift they enjoyed. They wanted some breakfast mugs and these are the ideal fit!"

Summary: the Golden Egg award.
If you've read any of my other product reviews, you'll know that I have a "Golden Egg Award" where one egg means "don't go near this product!", and five means "get out there now and buy it!"
So, how many golden eggs does this coffee mug set for chicken lovers deserve? This one's a no-brainer as far as I'm concerned...
A Fabulous Five Golden Eggs!


They're

good quality

, with a nice weight that feels comfortable in the hand
The four different designs are both fun and well conceived
They're practical – safe in both microwave and dishwasher
Buy as a gift – or treat yourself. I guarantee, you'll smile each time you use them!

Find more chicken themed gifts on these pages!