Chicken Keeping in Summer: Competition Time!
These are the results from my fun chicken keeping competition of summer 2022.
Feel free to take a look at all the amazing prizewinning photos – and the overall winner's video!
All my chicken keeping competitions are open only to those who have signed up for my newsletter. 
So, keep an eye out in my weekly Chicken Digest newsletter for more competitions, all of them with prizes celebrating our amazing world of backyard chickens!
July 2022's competition challenge was...
Enter your photo(s) of your chickens enjoying their best life in your garden or yard to win!
Whatever the season, it's always delightful to see our chickens enjoying their freedom in our gardens or yards.
Scratching amongst the flowers, dust-bathing under their favourite tree or hunting for juicy summer bugs – whatever "summertime" means for you and your flock, that's what this competition is here to celebrate!
The prizes were...
Have you seen my review of Jessi Bloom's popular book "Free Range Chicken Gardens" yet? 
It's a practical handbook of how to make your backyard chicken-friendly, whilst at the same time protecting your beautiful flowers and delicious veggies from your flock's need to eat and / or pull up everything in sight!
If you've not yet seen it yet, take a few minutes to read it now – because that's the book I gave away to the first five winners of my competition!
And that's not all, because ten lucky runners-up also received a small prize.
The results are in!
A huge thank you to everyone who entered this competition. There were nearly 100 entries, and it was really very difficult choosing between them.
My top 5 winners were chosen by popular vote, and from those I chose one overall winner based on originality. 
And the summer of 2022 chicken keeping competition winners were...
My overall winner was Corrie Cooper. 
Corrie's entry was this video, which explains how she cares for both her chickens and her garden by using a form of "permaculture".

I felt it was was both entertaining and informative. Corrie's interest in using her flock as part of an eco-friendly permaculture process was truly inspirational.
Thank you, Corrie!
We had four competition runners-up, too!
My four other main winners submitted these photos.  I hope you enjoy them as much as I did!
Please note: all the images have been made smaller and of a less good quality than when they were originally submitted.
From Lori Clark: "Hi, mom!"
Lori's pic combines a garden scene with a close-up of one of her friendly chickens. The character in this hen's face makes me smile – and that's what our chickens do best!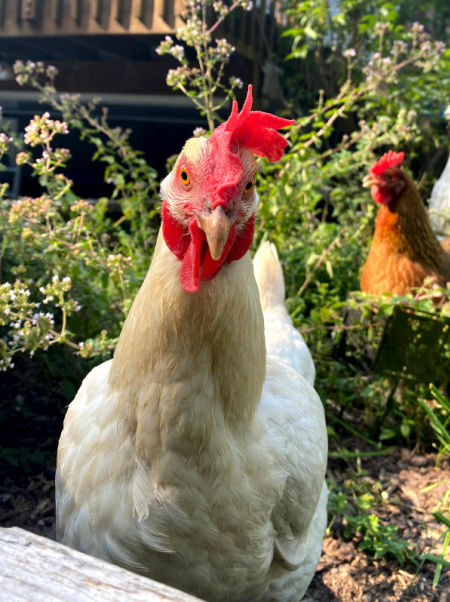 "Hi, Mom!"
From Karen Sloan: "Enjoying this beautiful summer day!"
Three chickens enjoying a stroll among the raised beds full of summer plants and veggies – a relaxed, spontaneous scene which says "summer" without needing any words!
"Enjoying this beautiful Summer day!!!"
From Maryet Mann: "My fluffy butt babies"
Blue sky, green lawn and some colourful "fluffy-butts". An informal snap of a laid-back day with her flock.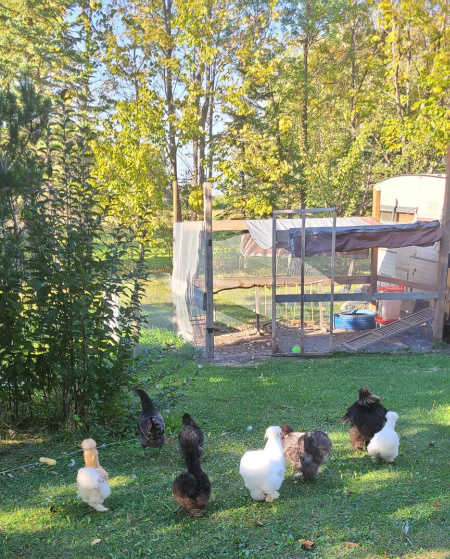 "My fluffy butt babies"
From Jacqueline Mendez: "Somewhere between heaven and earth"
Jacqueline's photo was enhanced by her thoughtful title. The beautiful sky combined with the rooster taking off in flight blend calm and agitation.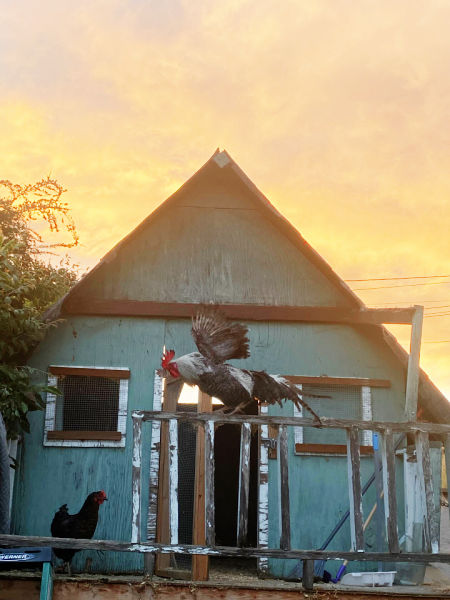 "Somewhere between heaven and earth"
And finally... my ten runners-up, all of whom received Amazon gift vouchers, were:
Dot Bunn
Micah Chen
Jake Frazer
Marielle Hellström
Denise Horan
Barbara Lock
Jennifer Means
Kelly Parker
Julie Robinson
Elizabeth Waraksa
Thank you!
Thank you to everyone who took part!
I had such a lot of fun looking through all your photos and seeing the lovely gardens!
I will be using at least some of the photos when I write an article I'm planning about gardening with chickens.
And, as I said earlier, watch out for more competitions in my weekly Chicken Digest newsletter!
Want some tips about taking photos of chickens?
Chickens are not the easiest creatures to take photos of! Just when you think you have the perfect shot, someone gets in the way, or spots a tasty bug and moves, or decides it's the perfect time to poop...
I happen to have an article about how to photograph chickens without losing your mind! Feel free to take a look at it before you submit yours for the next competition.
It was fun!
It was fun to see all the entries, and I hope you had as much fun in submitting them, judging them and looking at the winners.
Don't forget: my competitions are always fun and always well subscribed, but only open to those loyal supporters who have signed up to my free, weekly Chicken Digest.
You can learn more, and sign up for it, here.
And always remember: in the world of chicken keeping, everyone's a winner!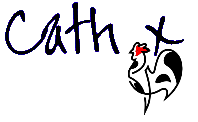 Before you go...
Take a look at some of my other competition winners – or find useful information about enjoying your own backyard chickens!