Bruce
by Linda
(Wisconsin )
I got this rooster by accident from my mother in law because they had moved so she couldn't have them.

So I took on the responsibility of caring for him and three hens. The first year (2016) wasn't to bad. I let them free range in the yard and unfortunately the hens got killed..so I learned from that a built a better area for them and got more hens.

Things were fine until today, when I found Bruce dead. I had just checked on him yesterday and he was fine.

So this is very comforting to be able to write on here because my family thinks I'm nuts for loving that mean rooster.

Thank you.
In Loving Memory of my Roo Legend
My 9 month old Lavender Orpington Roo was found dead this morning with unknown cause.

The day before he was happily running around tending to his ladies, scratching, crowing, and loving life. When we opened the coop this morning, he did not run out like he always did. Instead I saw him still Sleeping with his head under his wing.

This to me looked wierd for him as he does not usually sleep like this. When I ran over to check him, he was lifeless. He was free ranging, had the best food and care I could ask for. He had no known illnesses and was the best rooster ever.

I raised Legend from a hatchling. One night he was missing at about 5 weeks old and I was worried he had somehow managed to get out of our chicken wired fence in his enclosed run. I searched for him every where and was heartbroken he was gone.

Next morning I went early just as the sun came up and I heard this loud peeping. Legend had managed to get stuck between some boards and the fence in an extremely small space and had been trapped all night. I immediately un-trapped him and he snuggled straight in my arms for a good hour. He was cold, hungry, and scared.

Ever since he was my little buddy. Sat on my lap every day, sat in my hand to eat out of my cup and was constantly flying up to see me. He would sleep on me for naps and always greeted me with a special high pitched clucking. He didn't like the other roosters around me, or other humans for that matter. He was never mean to me or aggressive at me.

Of course as he came into his manhood he was less affectionate but still greeted me every day and let me pet him. Sometimes he would still sit in my lap. Every day he loved life and I have no idea what could have happened to him.

You will be missed Legend. One of the best Roosters I have ever owned.
My heart
by Rik
(Singapore)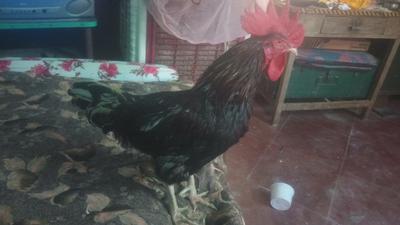 Yesterday my rooster died.

I love him more than my parents. From 2years I treated him like he's my own son. He loved to sleep on my chest.

6 months ago when he was suffering from a viral disease I left my college so that I could take him to the veterinary hospital daily until he recovered from the disease.

Veterinary doctors said he wouldn't live, but I didn't lose my hope. I woke up 1 week at night so that I could take care of him, and he recovered fully within 2 weeks.

After I left college I spent my whole time with him. As usual yesterday he crowed and came on my bed and sat beside me, but after 5 minutes he started coughing loudly and his face turned a blue colour and he died.

First time I cried so much in my life for him.

I want him back in my life. Now I'm feeling alone without him.
DD, the scared Rooster
by Megan Tucker
(Berryville, Arkansas )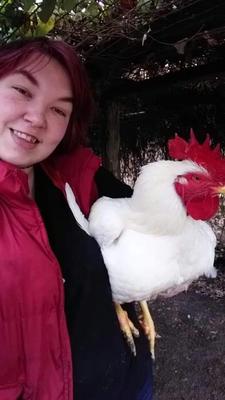 I first met DD as a chick, only a week old and in a Tyson's chicken house. So... I took him.

He was placed in my hands just to hold, and instead, I left with him. He just had these...soulful eyes, I guess.

He was raised in my room for months, until I thought he was big enough to deal with our other 8 chickens. And, they kind of got along.

Soon enough, he was big - bigger than the rest and constantly growing, it seemed. So he was always on a special diet, always getting exercise. He was best friends with the other rooster, Carlos.

The first time he set foot outside, he encountered a butterfly, and hid inside a bush lol. My family even nicknamed him Godzilla, because of how big he was.

When he was in my room, he was with my dog, Sarah Jane. He drove her crazy,lol. Love at first peck! I used to put him to sleep by stroking his beak and holding him.

Two days ago, I did just that- I held him in my arms, stroked his beak, let him fall asleep, and had no idea it'd be the last time I ever held him.

He passed away today. He would be a year old March 8th. But he lived...an excellent life.

I'm just...heart broken. And I don't know what to do now. I'll miss you forever, DD.
Forever in my heart
by Parker Stephens
(Kennewick, Washington)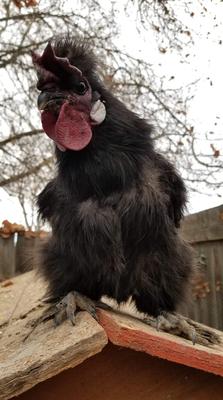 I wasn't necessary eager to begin keeping chickens, but my girlfriend had been wanting to for quite some time.

We picked out three babies: an Easter Egger, a Polish and a little black Silkie. We named the Silkie Lu. He had these tattered wings that we affectionately referred to as "fallen angel wings". He was so tiny!

We would often cuddle him, resting him on our chest or stomach and then gently covering him with one of our hands because we feared he would get cold. He always calmed down when we did this. For such a tiny and seemingly fragile little thing, he was so vocal and bossy. As he grew we noticed he seemed much more confident than our other hens.

One day a friend had given us two mature Isa Browns that we introduced to the flock. These girls were confident and unintimidated by their new environment. But to be safe and be sure everyone got along, we kept our new hen, Rogue, in a kennel and brought her into the chicken run.

Lu was still a little too young for us to be sure if he was a hen or a roo and up until this point we has simply assumed that Lu was a hen. But then he did something...this tiny little fallen angel approached the hen, who was twice his size, and standing as tall as he could, put his chest out and almost frantically tried to "chest bump" his way through the kennel and get closer to the hen.

He then began circling her and the kennel and displaying his little dance. Was our sweet little Silkie hen actually a rooster?

Not long after that Lu began to "crow". It always came out as more of a sort of scream, a complaint. At times he sounds like an old-timey "a-oog-a" horn honk. But we didn't mind at all. He made us laugh. Sometimes at night, when Lu was in his coop, trying to sleep, we would be up talking and laughing. And then Lu would sound off with this disapproving "scream". He did not like to be awoken in the night.

He was a goofball, he looked funny (we described him as looking like a tiny llama to looking like a gremlin) and had the silliest personality. But Lu took his job seriously, he was always so good to his ladies.

He and our Polish hen seemed particularly bonded and we realized with her pom-pom hair doo, she didn't see well and Lu acted as her guide. One of Lu's favorite past times was to hunt for beetles but whenever he found a special treat he would "tid-bit" at his girls.

He was always very gentle and allowed us up to pick him up and cuddle him. Even though he could be a "pig pen," always sussing out any mud he could find to play in and continue foraging for beetles, we would still spend time holding him.

He was not even a year old yet and had never shown any signs of being anything but healthy and happy. One morning very recently, my girlfriend went out to let the chickens out of their coop and into their run. Usually Lu was the first to greet her. So she immediately knew something was wrong.

That's when she discovered him, lifeless. We had even heard his calling out in the late night, nothing alarming, just his typical complaint that we were being too loud (the coop is just outside our bedroom window).

We were devastated to lose this sweet, completely unique, gentle and goofy boy who had brought us so much joy during our time with him.
Roy the Rooster
by Campbell
(United states )
I got Roy in the summer of 2015, he was about four weeks old. He grew into a very handsome rooster. He never pecked or attacked anyone, and let me hold him often. He took great care of my eight hens and always came running when I opened the gate.

His crow the call in the morning and the first to say hello and what do you have for me today? He brought me happy memories and things I will never forget, jumping into my lap and eating out of my hands. Head of my beautiful flock.

A few days ago I noticed his limp, we took him to an expert and she said he looked great apart from a light sprain.

I separated him out and let him rest and he stated to heal. And his limp faded. I held him and gave him treats galore, I was not prepared to say goodbye. I held him on Sunday night and told him "You are the best rooster ever, I love you, see you in the morning." And left him to sleep.

I went out this morning to find him curled up appearing to be asleep, I opened the cage and touched his neck, and realized he was gone. Tears filled my eyes.

My amazing,smart handsome, sweet and beloved Roy the Rooster was gone.

I will remember you, Roy, always.

Onesie
We had a Peking bantam Cockerel since he was two days old.

He was such a lovely boy, very protective of his girls, and had a lovely nature.

Then in October 2018 he had an impacted crop so we took him to a vet. They kept him for five days and we had a phone call to say he had been killed by someone who put water in his lungs.

We are heart broken as he needed an operation, not loads of water, and I dread to know what he suffered.

I find it hard to get over losing him, and do not know where his body is laid.

I miss him so much, will I see him again ?

I love him so much.

Best wishes

Patricia


























































































Bean
by Brandon Thomas
(Edmore, Michigan, USA )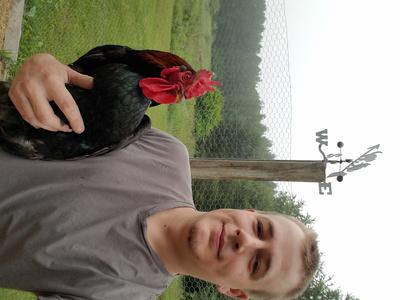 Bean was a great rooster. He did everything that a rooster should and took care of his hens very well.

He like to do his little Sidestep Shuffle every time him and the hens came out of the coop. I think this was to show his dominance but it was still very cute.

We will miss him very much.

He would growl and hiss anytime anyone came near his "women", but this was just out of protection of course. I really enjoyed knowing he would do anything to protect those hens.

Unfortunately, because of this, he was going to stop at nothing to banish a raccoon burglar who broke in to his home and threatened everything he was there to protect.

Bean will not be forgotten.
Death of my German cockerel.
by Bob
(Nailsworth. England)
Last night, the temperature dropped to minus 8C.

Went up to coop this morning and my 2 year old chap was dead on floor. They are kept in a clean large run in a large plot of ground.

With the coop inside the run under cover, plenty of treats and fuss.

All the girls were in the coop and are fine, any ideas?
Vick Vinegar - R.I.P.
Vick Vinegar was our spunky Black Copper Marans rooster.

This winter he fell behind a piece of plywood and was lodged between it and the wall of the barn. He eventually froze to death.

My wife and I feel terrible about Vick's untimely demise. Rest in Peace, Vick Vinegar.
Goodbye Floppy Comb
by Karen
(Petaluma, CA)
My rooster, Floppy Comb was about 11 years old.

A game chicken, a descendant from the people who raised them on this Sonoma ranch ages ago, he was loose on the 200 acres with his girls.

Sleeping in the tree outside our front door, he greeted everyone who came to visit.

Today I saw him squatted on the ground, starting to flip over. I grabbed him and he died in my arms.

There were no symptoms of illness and yesterday he was eating bread out of my hand and breeding his hens.

Escaping a coyote attack, twice, only losing his beautiful tail, I always worried about the hawks and other predators.

I am grateful and blessed to have such a wonderful bird in my life. I will miss him.😥
Gorgeous
by Jamie Escalante
(Kennedale Texas U.S.A)
Gorgeous was a young beautiful Lavender Orpington roo. Calm in nature, only 6 months old. Just getting into his adult hood.

His silly antics. He loved sitting by me on the front steps. Enjoying getting pet while we watched the others scratch about in the yard.

He died suddenly today July 12 2019. He's gone but will never be forgotten. His death has affected my whole family. My daughters are very sad.

We will be making a wood burning of him just as we did for my daughter's Easter Egger roo Fluffy that was poisoned by the old neighbors. That too was a devastating day. That roo loved cuddles.

So I too understand the loss of a pet chicken is extremely heartbreaking. Hugs sent to all who have felt the pain of losing one of the greatest pets you could ever know.
Chaps
by Blythe
(Oregon)
Last year, my favorite chicken, Snow Bird, became broody. She was sitting on an infertile egg and a plastic egg! Snow Bird was determined to hatch them. I felt sorry for her knowing her egg would never hatch so I told her, if she continued to sit I would get her a chick.

After about a month of diligent sitting, the store where I work received some extra chicks in the store order. It was the last of the season so the hatchery sent some extra chicks we had not ordered. I decided to take Snow Bird a light Brahma rooster chick. I thought it would be interesting to see if his Brahma feathered legs and my Araucana fuzzy cheeked hens would produce feathered leg/fluffy cheeked chicks.

That night I slipped the little chick under Snow Bird and removed her infertile eggs from the nest. Snow Bird raised that chick like it was hers. Since his legs were feathered, he looked kind of like he was wearing chaps. So, Chaps became his name.

Chaps grew to be a very large and handsome rooster over the next year. Spoiling my plan, none of my hens ever got broody. However, my ducks got broody and one of the hens laid an egg in their nest. I have no drake so the ducks' eggs were infertile, yet the duck continued to sit.

She hatched the chicken egg and is now doing an excellent job of raising her adopted chick. It has feathered legs like Chaps but not the fluffy cheeks of the hens.

This morning when I went to feed the flock, Chaps did not come running to meet me as usual. So I entered the coop to look for him and found he had passed in his sleep in his nesting box.

I will never know what happened. I won't be doing an autopsy, no signs of disease or that he had been attacked or hurt in any way. Just one of those things I guess.

Chaps was just over a year old. He was a gentle giant who had many adoring fans on Youtube. We will all miss him very much.

Now I am hoping that the chick my duck hatched will be a rooster. If so, I will call him CJ (Chaps Junior) in honor of his beloved father.
Rest In Peace Bon Jovi
by Conor Johnson
(Utica, PA)
Bon Jovi came to us as a bonus chick we received when we purchased our first hens online.

As time went on he grew from a cute fuzzy chick to a beautiful red rooster, much to our surprise. He was beloved by all in our family & even more so by my now 10y old son.

When Bon Jovi wasn't protecting his ladies, my son would carry Bon Jovi around the farm talking to him and feeding him special treats.

Bon Jovi lived a good life for 5years until younger roosters and age finally wore on him. He sadly passed away New Years Eve Day 2019. A small burial took place.
RIP to the best rooster there ever was, Clover ❤️
by Alaina
(Woodbury, Georgia, USA)
Clover
Early Spring of 2018 you happened upon us as a tiny chirping Dominique chick, given to our son as a gift from the hatchery. He named you Clover, and predicted you'd be a rooster.

Right he was. Not only were you a rooster, but the alpha rooster out of our flock, with a startling red rose comb and black and white striped feathers.

You had no problem throwing your weight around, and where the other roosters were sketchy around me at best, you never were. You always looked at me as if you knew I could be trusted, and you always were the first one to come running to me every day for treats. You greeted me at the door, checked in on me at the kitchen window, and you even allowed me to pet you, pick you up, and talk to you like a baby 😆

If ever there was a predator lurking by, it was you who alerted me first by coming up to the window and calling to me. You even alerted me when one of your hens was caught behind the coop and couldn't escape. You had your own language and way of clucking to me that somehow I almost always understood.

You never pecked at me, that is until the month of your untimely death. A fantastic rooster to your last breath, you died protecting your hens when a stray dog attacked the coop. I never heard a thing, but when I stepped outside and saw a large mass laying in the road, somehow I knew it was you.

And it was devastating. It's been weeks and it still pains me to pass by your makeshift grave on my way to the coop every morning.

I'll remember you so fondly, as the rooster who was unlike any other rooster I knew. You outshined them all. No other rooster will be able to fill your shoes. You were simply an amazing and gentle rooster.

I hope I'll greet you again in heaven someday. I'll try to remember to bring some treats. Until then, goodbye sweet boy. I love you.

We will never forget you dear Edward
by Tess
(Virginia)
Edward ~ Forever Loved!
Edward was our beloved Bantam roo. He may have been small but he was mighty.

As deputy roo to "Big Boy"for our small flock of hens he happily and dutifully filled his job.

He lived for nine wonderful free-ranging years in the country and would have certainly lived longer.

Yesterday he was taken by a Cooper's Hawk that was passing through his winter range. Out hearts our broken...
My beautiful Samaa..
by Sam
(Uk)
Samaa passed today while still sitting on his favourite perch... a wooden garden ladder.

He had just turned five years old. It happened so suddenly that l am still in disbelief as l expected him to live at least another five years.

I bought him when he was only a baby. At the time l was looking for chickens and bought four baby chicks. As they grew it became apparent that non of them were chickens but roosters. But the damage was done as l had already named him by a girl's name believing him to be a chicken and the name stuck.

Out of the four he was the only one to survive - and boy what a character he was. When he became mature he killed the other roosters as l had three others before l got him. He guarded our home and wouldn't let any stranger just walk in. He terrorised the builders who were working on mending my wardrobe.

He was my favourite bird and l loved him with all my heart. Whenever l left to go home l would tell him how much l loved him and that I'll see him the following year...

Little did l realize that l would not be seeing him again.

l loved that bird.. my beautiful boy Samaa. There will never be another like him..
Join in and write your own page! It's easy to do. How? Simply click here to return to Chicken Memorials and Pictures..