Bruce
by Linda
(Wisconsin )
I got this rooster by accident from my mother in law because they had moved so she couldn't have them.

So I took on the responsibility of caring for him and three hens. The first year (2016) wasn't to bad. I let them free range in the yard and unfortunately the hens got killed..so I learned from that a built a better area for them and got more hens.

Things were fine until today, when I found Bruce dead. I had just checked on him yesterday and he was fine.

So this is very comforting to be able to write on here because my family thinks I'm nuts for loving that mean rooster.

Thank you.
In Loving Memory of my Roo Legend
My 9 month old Lavender Orpington Roo was found dead this morning with unknown cause.

The day before he was happily running around tending to his ladies, scratching, crowing, and loving life. When we opened the coop this morning, he did not run out like he always did. Instead I saw him still Sleeping with his head under his wing.

This to me looked wierd for him as he does not usually sleep like this. When I ran over to check him, he was lifeless. He was free ranging, had the best food and care I could ask for. He had no known illnesses and was the best rooster ever.

I raised Legend from a hatchling. One night he was missing at about 5 weeks old and I was worried he had somehow managed to get out of our chicken wired fence in his enclosed run. I searched for him every where and was heartbroken he was gone.

Next morning I went early just as the sun came up and I heard this loud peeping. Legend had managed to get stuck between some boards and the fence in an extremely small space and had been trapped all night. I immediately un-trapped him and he snuggled straight in my arms for a good hour. He was cold, hungry, and scared.

Ever since he was my little buddy. Sat on my lap every day, sat in my hand to eat out of my cup and was constantly flying up to see me. He would sleep on me for naps and always greeted me with a special high pitched clucking. He didn't like the other roosters around me, or other humans for that matter. He was never mean to me or aggressive at me.

Of course as he came into his manhood he was less affectionate but still greeted me every day and let me pet him. Sometimes he would still sit in my lap. Every day he loved life and I have no idea what could have happened to him.

You will be missed Legend. One of the best Roosters I have ever owned.
My heart
by Rik
(Singapore)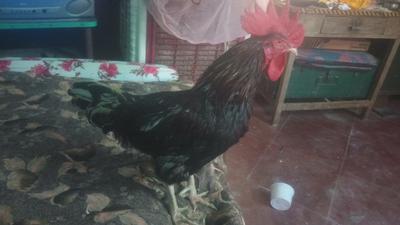 Yesterday my rooster died.

I love him more than my parents. From 2years I treated him like he's my own son. He loved to sleep on my chest.

6 months ago when he was suffering from a viral disease I left my college so that I could take him to the veterinary hospital daily until he recovered from the disease.

Veterinary doctors said he wouldn't live, but I didn't lose my hope. I woke up 1 week at night so that I could take care of him, and he recovered fully within 2 weeks.

After I left college I spent my whole time with him. As usual yesterday he crowed and came on my bed and sat beside me, but after 5 minutes he started coughing loudly and his face turned a blue colour and he died.

First time I cried so much in my life for him.

I want him back in my life. Now I'm feeling alone without him.
---
If you enjoyed this article and found it helpful, I'd love you to let me know by clicking this button - thank you!
---
Thank you for sharing the chicken love!