Clyde - the little chicken with the big attitude.
by Cath.
(Italy.)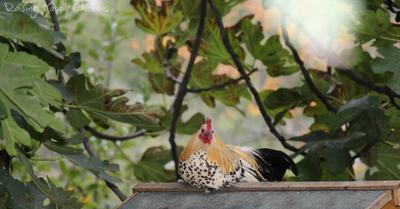 Clyde, where he loved to be - on top of the chicken house under the fig tree.
I hatched Clyde myself in the Spring of 2014, one of only two Lemon Millefleur Sablepoot bantams to hatch from a clutch of eggs which, sent by post, had detached air cells. Despite that I thought they were worth giving a go and sure enough Clyde and his little friend Bonnie (who later turned out also to be a roo and had to be re-named Bono) hatched successfully.

From Day 1, Clydey was a chicken with attitude. He was the one who cheeped the loudest, got to the food the first, grew wings before anyone else and was the first chicken to fly solo all the way to the top of the brooder. When his hatchling friends came along and, being heavier breeds, grew much bigger than he was, Clyde didn't care. As far as he was concerned, he ruled the roost.

Not only did Clyde take on the other chickens, he also had a go at my Livestock Guardian Dog, Luce : a stand-off between an 8oz chicken and a seven stone Maremma had to be seen to be believed.

He also thought he'd have a go at me from time to time. He just didn't like the fact that I seemed to think I was top rooster so he'd come at me, claws out, trying to defend 'his' flock. To teach him a lesson I'd carry him round upside down while I went about my business. I strongly suspect that's why he'd have a go at me. He actually liked the attention.

Two days ago I noticed that Clyde had something wrong with his leg. He was limping badly and his comb was bloodied. He must have injured it either by landing badly when he flew off the roof of the chicken house, where he loved to sun himself, or possibly he was trodden on by one of the larger chickens. He was always getting in their way.

Whichever it was, I kept Clyde warm and safe in his isolation cage, still with his flock in the coop but protected from their attentions. They visited him regularly and he was eating and drinking well. He especially liked the high protein treats - mealworms were his favourite. I had high hopes for his recovery.

But then this morning, I went to give the flock their morning treats and there was Clyde, lifeless in his nest. He looked peaceful and I don't think he was in pain. He looked as though he had died quietly in his sleep, with his flock mates around him.

I will miss you, Clydey. I'll miss your constant crowing, I'll miss seeing you perched on the top of the coop in the sun, I'll miss feeling your claws in my leg and most of all, I'll miss carrying you round with me, upside down.

Sleep well, Clyde, and thank you for the protection you gave to "your" flock, and for all the fun you gave to me.