Little Alice..the fastest hen in the West!
by Kate
(England)
Alice was an ex-commercial hen, re-homed with her friend, Periwinkle.

Alice was a perky little hen, she didn't like being picked up, but loved to peck at the conservatory door for a bit of attention. At the slightest suggestion of human presence in that room, Alice would run down the garden, little white wings flapping to the door to beg for treats.

These two girls were our first foray into chicken keeping and made us fall completely in love with them.

Alice, you left us so very suddenly and my guilt is so overwhelming...my only consolation is that you had some life, you saw and loved the sunshine and you made me smile.. so very much.

Rest in peace now under your favourite tree - and Thank You.
Join in and write your own page! It's easy to do. How? Simply click here to return to Chicken Memorials and Pictures..
Buddy, my beautiful baby girl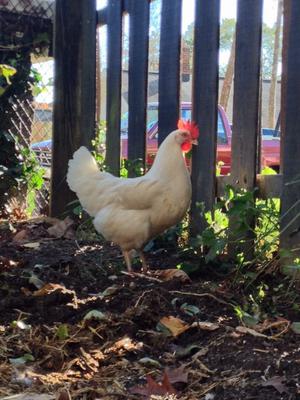 RIP my beautiful Buddy 🐓

I know that she was "just a chicken" but she was different than the other chickens, she was special. She was like a dog to me, always by my side. In good times and in bad... she was always there waiting for me when I got home. She got me through the break up with Ruben & now she's gone.

I know it sounds crazy but it's true. We shared a special bond. My heart is broken 💔

She had successful surgery at the vet on her foot on Thursday.
The doctor showed me how to change her bandage. So yesterday I wrapped her in a towel, laid her on her back and was washing her foot & her belly in the sink so I could re-bandage it. I think I had her laying down too flat and she was nervous and breathing heavy.

You know like when you wash your babies hair & they cry. Then she shook her head & water came out of her mouth and she died instantly. I think that I had her laying down too flat... don't know if she hyperventilated or if I asphyxiated her it but I do know that she was ok before I took her from her cage. I believe I killed her.

The guilt is killing me.

RIP Buddy.
Rosie
by Louella
(Oakland, Or. USA)
I lost My Rosie today. Don't know why she died. I to raised her from a day old. I got three, Rosie, Lucy and Buffy.

Rosie was my Rhode Island Red. She was not a big RI. She was a small R.I.R. She had beautiful red feathers. Up on her neck they were a darker shiny red color with some green and black ones.

Of the three she was the best layer. She laid every day for 2 and a half yrs. For her small size she was the boss of the coop. She would keep the others in line.

One evening last summer I was out on my steps watching them scratch in the yard. I walked over and picked up Buffy who is a Orpington and took her to the steps and set with her petting and talking to her. After a bit I set her back down, she went back to eating with the other two.

Rosie went to her and just started flogging her, chased her all around the yard. Would not let her near the pen or food. She did this for two days. I think she was jealous of her. That was Rosie, she let them know who was boss.

I will miss her. Rest in peace Rosie!
Join in and write your own page! It's easy to do. How? Simply click here to return to Chicken Memorials and Pictures..
Star
by Kristen
(Richland, Washington)
Star was part of my original three chickens I acquired.

She was a dependable layer. She would lay 6 out of 7 days a week.

When she was younger, she would jump on me and perch on my shoulder. One time, she pecked my eye trying to get my eyelash. She thought is was a bug or something. The eye doctor laughed when I called in to get my eye checked for scratches and they wondered how it happened. "My chicken pecked my eye!"

She will be missed.
Join in and write your own page! It's easy to do. How? Simply click here to return to Chicken Memorials and Pictures..
Big Black Betty
by Sandy Brunton-Shiels
(Scottish Borders)
I hadn't had Black Betty long - about 8 months - but she had fitted in well with my Buff Orpington (Bunty) and my Orpington/Silkie cross Peggy.

Yesterday she was fine - out of the coop first, into the food first as usual. She spent the day scratching around and sunbathing (a rare treat in Scotland!). I looked out the window and she was still bug hunting at about 8.30 with Peggy.

When I went down to shut them up for the night she was lying dead. No sign of attack or anything at all - she just appeared to have fallen where she stood.

She was a big beautiful Black Cochin - a real beauty with a cheeky personality who would come when you shouted on her.

I am really upset by her death - she seemed fine yesterday - she laid an egg mid morning and gave no signs of being ill or in distress. I miss looking out and seeing her in the garden and the other two are unusually quiet - they obviously know.

I have buried her in the garden she loved so much - in a sunny spot - she did love a sunbathe.

RIP Black Betty
23.4.17.
Much loved and missed
Join in and write your own page! It's easy to do. How? Simply click here to return to Chicken Memorials and Pictures..
Ruby, a queen among queens
by Curly Betty
(Ontario, Canada)
I adopted 6 red-sex link chickens, age unknown. They live in a warm, secure bunkie. I told them that they were under no pressure to lay eggs, but they did. Two, three and even five eggs some days.

They were always happy to see me and as the days got warmer, they came outside and started exploring their territory. All were healthy, except scaly leg mite which I treated the best I could with no poisons.

This morning I go out to feed them and Ruby is just sitting there, quietly with her eyes closed. I just knew she wasn't well and brought her in the house and put her in a laundry tub with shavings on the bottom. She was very quiet and passed away soon after.

Not sure what happened, but I know in my heart, I gave her a good 5 months of life. Being a farmer, I am well acquainted with the circle of life, but it is never easy.

Rest in peace, lovely Ruby.
Join in and write your own page! It's easy to do. How? Simply click here to return to Chicken Memorials and Pictures..
My three chooks
by Bll Cork
(bunbury wa.)
I got my three chooks as my birthday present one year ago,

Today one died, so sad. I think she might have been egg bound, maybe,a s they didn't lay for about three weeks.

You do feel sad for them, as they are pets, used to follow me around the backyard a bit. But i still have the other two, I hope they are going to be ok.

I buried her under the fig tree,s he used to like scratching around that.

Thanks all.
Join in and write your own page! It's easy to do. How? Simply click here to return to Chicken Memorials and Pictures..
Henny and Penney, the twins.
by Bill
(Australia.)
Henny and Penny, the Barnvelder twins, died yesterday, after a hot day, even though there was plenty of shade and water. No other chooks died.

The twins were in the best of health and their death makes no sense. But after reading your web page it helped me a lot. Sometimes much loved, healthy chooks just die.

I thanked them for all the eggs, and buried them in a cool spot in the garden.

RIP. xxx

Join in and write your own page! It's easy to do. How? Simply click here to return to Chicken Memorials and Pictures..
Goodbye dolly
by Nikki and al
(England)
Dolly was bossy, sassy and a great singer in her own funny way.

Yesterday she was running around eating playing and for some unknown reason she died in her sleep overnight. No sign of illness or injury, we cried, hugged and kissed her and buried our Dolly in the garden.

Today is a sad day xxxxx
Join in and write your own page! It's easy to do. How? Simply click here to return to Chicken Memorials and Pictures..
Hetty Feather
by Michele
(Canberra, Australia )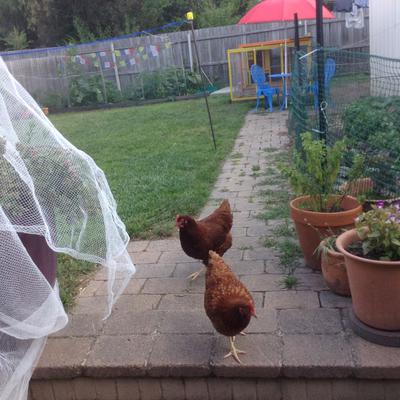 Hetty was a lovely dark Rhode Island Red who died suddenly yesterday and we are devastated.

She was a big girl and a solid, faithful layer of large very yellow and delicious eggs. We are consoling ourselves in the knowledge that as short as her 9 month life was, it was a good life of free ranging around the back yard, scratching and exploring and receiving love and care.

Her friend and partner in crime Molly Moon looked after her and taught her stunts such as jumping the vegetable garden fence and chasing tour little dog away. Molly is getting a new friend but Hetty will never be replaced.

She was her own chook and we loved her very much. She will always be remembered and treasured as our first chook.
Join in and write your own page! It's easy to do. How? Simply click here to return to Chicken Memorials and Pictures..
Fatty Addy
by Suzanne
(Danvers)
Addison would have been 1 year old on April 20th. She was the queen of the flock and she died in my arms.

I did every thing I could to protect her. We called our coop and run Fort Knox. In the beginning she lost a sister to our dog Foxy, but we learned from that.

Now with only 5 chickens I protected them fiercely. I would only let them free range with me outside observing for the hawk. I came home from work and my husband was out in the yard and he showed me how the chickens were out. I said "stay close" he did and when I came down I noticed that Addison wasn't with the flock. My husband said she was in laying her egg.

I then saw Addy come out and I called her. She joined them all and was acting normal. Then suddenly she lay down in the run (something she never does) I thought she was egg bound so I picked her up and put her in the nesting box. I watch her for awhile.

I then yelled to my husband to come here, I knew she was dying. I picked her up and went to bring her in the house. As I left the run with her in my arms she rustled her feathers so I turned around, and then she just stopped breathing. I knew she was dead.

My husband didn't believe me. He had been working on the run that day and thought he had done something to hurt her. We were shocked and stunned, but I had prepared myself for this. My vet had told me don't name them, they die. But I still did.

She was a good hen. She layed an egg minutes before she died. Thank you Addison for being a great hen and a great leader. The flock will miss you.
❤❤❤❤❤
Join in and write your own page! It's easy to do. How? Simply click here to return to Chicken Memorials and Pictures..
Our hen, Blackie
by Jordan
(USA)
Last Easter my husband brought home four biddies as a surprise. They weren't any particular breed, just random chicks from a mix bin at our local hardware store.

He brought one of each color and the black one quickly won me over. I spent months hoping this spunky bird who rode around in my feed pail was a hen. Around five months it became obvious so I let my daughter name he. She chose Blackie since she was our only black hen.

Blackie never lost the urge to ride the feed pail as I went to feed up. When she laid her first egg she was so proud, she sat there making such a noise until I came to see. For over a year she was my favorite and always the first to come when she saw me.

We recently had a storm come through with high winds and rain, I couldn't get to the coop where the big girls were but assumed she was safe and dry. I went out once it was over and found her huddled under the coop, comb blue and barely moving.

I moved her to the shed, checked her over finding nothing wrong, gave her a warm mash, plenty of hay and tucked in for the night. She passed away in the few hours between checks.

We buried her in her favourite spot under our maple tree. Even though it's been a year of losses, I have missed my Blackie every day since her passing.

She wasn't just a chicken, she was loved.
Join in and write your own page! It's easy to do. How? Simply click here to return to Chicken Memorials and Pictures..
Terry-Dacky
by Chicken Pa
(Idaho)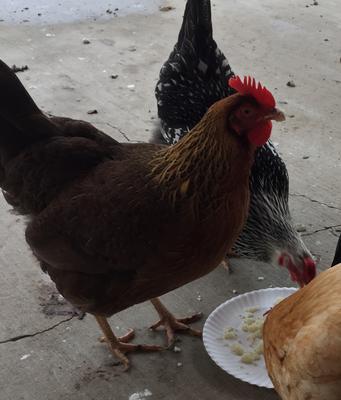 When I first got my chickens I didn't want to name them. I heard many people say to never get attached as they will never live a long life. I had 12 and expected some to die in the process of growing up. Luckily not a single one of them died.

I named all of them after around 4 months of maturing. One of my chickens would scream loud, almost like a little kid begging or whining. Her sister looked exactly like her, they were twins and both Welsummer chickens. So I named the one who screamed Terry and the other quiet one Dacky short for terradactile the prehistoric bird.

Dacky was at the bottom of the pecking order, she would be bullied and pecked almost everyday as a routine along with her sister Terry. They were best friends I'd like to think, as they would sleep next to each other. She was the most harmless chicken you could meet. Never to peck at any other chicken unless they had a big piece of bread in their mouth.

Randomly yesterday I was counting all my chickens as a routine when their free ranging and couldn't find Dacky. I finally found a pile of feathers that looked nothing of her normal feather color and felt some relief it couldn't be her, at least I was hoping it wasn't.

Dacky was one who was never alone. She would always buddy up and eat grass/ look for bugs or explore the woods. So I felt a little bit of loss knowing I couldn't find her. I have accepted she is forever gone and am heart broken writing this. Tonight Terry was sleeping all by herself and her best friend was gone. I pray God takes good care of her in heaven as she was the most innocent chicken I have ever known. There is no more Terry-Dacky without her. Thank you Dacky for being apart of my life, Terry's and the other 10.

I will always remember your beautiful eyes and your innocence like no other. I hope to see you in heaven one day.

Love you😘🐔 baby girl, you were too young to leave us.
Join in and write your own page! It's easy to do. How? Simply click here to return to Chicken Memorials and Pictures..
"Summer" the Sweet Welsummer
by Vonnie
(Kansas)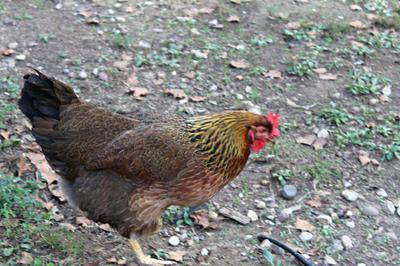 I raised "Summer" from the time she was just a few weeks old. She overcame a bout of coccidiosis when I had her less than a week. She grew up to be the sweetest hen who gave the most delicious chocolate brown eggs.

She was just over a year old when I lost her suddenly earlier this evening. She was one of 13 hens and a rooster. She was very soft spoken and in the middle of the pecking order. Her best bud was "Pearl" a silver laced Wyandotte.

I have been keeping chickens for 2 years and this is my first loss; you don't realize how much they mean to you until they are gone. I left for work this morning and she seemed fine; she was sitting on the nest box. I got home from work 9 hours later and she was still sitting on the nest box; I suspected she had gone broody - there was no egg under her. I picked her up off the box and put her in the yard with everyone else.

I threw out their normal evening treat of black sunflower seeds; while everyone else scampered over she just stood there - didn't eat any. Her comb and wattles were bright red and her eyes were clear, but she wasn't acting like herself. I took her in the house to have a closer look; I was holding her and all of a sudden she started wildly flapping her wings and seizing and she was gone.

I immediately ran to my next door neighbor who also has chickens, she told me it wasn't my fault and that I did nothing wrong but I still can't help but think maybe I was holding her wrong, even though I know I wasn't holding her any differently than I had thousands of times before.

I have shed more than a few tears, I miss her SO MUCH. People say "it's just a chicken" but she was SO MUCH more than "just a chicken".

I can take comfort in the fact that she lived a good life and was spoiled rotten. My friends always tell me that I treat my animals better than some people treat their kids - that's the way it's supposed to be. Animals are 100% dependent on us for their entire livelihood.

My sweet Summer I will miss you forever sweet girl!!
Join in and write your own page! It's easy to do. How? Simply click here to return to Chicken Memorials and Pictures..
In Memory of Lola
by Aynya
(USA)
On Saturday, January 11 of 2017, Lola the Black Sex-Link passed away. I am absolutely devastated, her being my favorite hen. I was walking past the coop when I saw her body lying there on the ground. She was Ina position that suggested she had suddenly dropped dead.

I inspected her body and found no signs of trauma or damage. She had been acting perfectly normally earlier in the day, so I don't believe she was ill. She was only about 6 months old, so it couldn't have been old age. We still do not know the cause of Lola's untimely passing

I have raised Lola with 11 other chicks since she was a day old. In the brooder, she was so much fun to watch, as she was more active than the other sex-links. She was the biggest hen we had, and was gentle to the other hens. I remember choosing her from a big tub at the hatchery, one in a hundred other chicks. She stopped running about, cocked her head at me, and willed me to pick her up. I have loved her since that day.

Lola was a wonderful hen. On the day when I was choosing chickens to auction off at a poultry show, Lola came and stood next to me with a look that said "don't sell me! I'm a keeper!" A keeper she was. Lola was truly "A hen in a million".

Lola loved to wander around the house and visit me. She would fly up on windowsills and peek in on me. She even ate the cat food I had set out for my cats! She would eat food and treats out of my hand.

She laid delicious eggs that I gathered every day, and was our first sex-link hen to start laying. She was always the first one out of the coop and would make a break for my house.

Lola was a sweet, caring, and curious bird. I am sorry to see her go. She will be missed and remembered among humans and hens alike. She was the most beautiful, intelligent, and interesting hen I have ever had and will ever have, because there will never be another hen quite like Lola. I am distraught that she had to leave me.

I will always live my Lola-Bird, as she was called, and hope to be with her again some day.

Rest in Peace, Lola-Bird.
Join in and write your own page! It's easy to do. How? Simply click here to return to Chicken Memorials and Pictures..
Dear Coco-Robin,
by Aynya
(USA)
Dear Coco-Robin,

I remember the day I chose you from the tub at the hatchery. You had a beautiful brown poof on your down that I found enchanting. I thus resolved to call you Coco.

As you grew, the brown poof turned into a gorgeous orange lacing on your black velvet feathers. I thus resolved to call you Robin, but I still loved the name Coco for a hen. And so you became Coco-Robin, with a hyphen.

You have been dead nearly a week, and not an hour goes by where I do not think of you and your sweetness. You would eat treats from my hand, dig in my herb garden, and you made friends with Gilbert the Guinea, who bullied everyone else. You were a unique and wonderful hen.

You would venture down to my house. You would walk along the brick wall beside it and fertilize my garden. Whenever I peeked out the window to look at you, you'd look back at me sweetly with those beautiful amber eyes.

When I found you dead on your nest, I knew you had died doing something you loved. Had we owned a rooster, you would have made a devoted mother to the chicks lucky enough to have you as one. I remember the horror and sadness that struck me when I rolled you over and felt that you had no heartbeat. Oh, my little birdie.

I buried you with my own hands, In a lovely little spot with a stump I could sit on and remember you. Since the death of Lola, your sister and friend, she has been buried beside you. I hope you can go off on fabulous adventures in Heaven together.

You were a sweet and caring companion. I miss you very much. I will never forget you, and you will always be in my heart. Sometimes I can just imagine you brushing up against my leg, clucking softly. Rest in Peace, darling. I will never love any bird like I loved you.

Love,

Your caring former owner.

Coco-Robin was a six month old black sex link. She seemed perfectly healthy the day before she died. As she died the morning after a cold snap, we think she may have frozen. I hope you will join me in remembering Coco-Robin the miracle hen.

Sadly, my iPad is not cooperating with me. I cannot show you a picture of my beautiful Coco-Robin's radiant Orange and black feathers.
Join in and write your own page! It's easy to do. How? Simply click here to return to Chicken Memorials and Pictures..
Peace Found for Buffy
by Autumn
(Oregon)
We brought Buffy home with a friend, Kate, when they were about 6 months old. Buffy was named for her blonde feathers, and Orpington heritage.

I went to pick her up from the farm with my two year old on my birthday, as my gift. We brought the new chickens home, and I was so anxious about integrating them with our two barred rocks, who are tight buds. We set them up in a smaller coop right next to each other. They stayed like that clucking at each other for about 5 days. Gradually, after a few supervised visits, they were all together!

Buffy was bold, and would grab for treats right in there with Ingrid and Hestia. Kate was smaller and she hung back. From the start, Buffy was beautiful and assertive. We watched on and tried to ease their transition. We were rewarded with small eggs, as Buffy began to lay for us almost immediately. She did not enjoy physical affection, but tolerated my two year olds shrieking and antics in exchange for salad greens.

This winter was unusually harsh for Oregon, and I worried about the flock. Everyone seemed fine, though laying ceased for December and January. My heart sank when my husband came in from the coop and said "We lost a chicken." He told me it was Buffy, and I felt disbelief. She was so robust, healthy, and strong. I never would have guessed it was her. He said there were no signs of trauma.

I feel puzzled and confused. I feel like I failed her in some way, my chicken inexperience perhaps contributing to her demise. Mostly, I am sad she may have been in pain without our knowing or being able to help. I fear she felt alone, or without comfort in her final moments. I regret not being there with her. I am sad.

My daughter has not been out to the coop since. I imagine she will ask where Buffy is. This will be her first lesson of life and death. I will be honest if she asks, that she died and isn't returning. I will be honest that I do not know why or how she died. And that I am sad.

Buffy, thank you for the eggs. And for reminding me of the fragility of this life. I am in touch with humility as I feel powerless in the face of loss.

You will be remembered fondly, and I hope you have found a peaceful resting place by the river behind our house. I wish you could have seen the seasons change from this grey winter into a blossoming Spring, and enjoyed summer sun on your feathers with us.

RIP Buffy.
Join in and write your own page! It's easy to do. How? Simply click here to return to Chicken Memorials and Pictures..
Bertha was her name
by Susie
(New york City)
Bertha came to us in a very different way. We own a sewing machine store, and a customer called and asked if we would adopt a chicken who was walking on a street in the Bronx New York. She went on to say if we didn't take her, a another man wanted to cook her.

So we said yes of course.

When we saw Bertha at first, she did not look like a regular chicken, she was very large for a chicken a few months old. But she was so sweet and calm. I felt she must have been a chicken who escaped from a meat market.

We looked her up on google and found she was a Bielefelder, a breed imported from Germany, in 2011. I grew up with Bertha and Andy Mueller from Germany, so she became our Bertha.

She was a very funny looking chicken, she would look you right in the eye and talk to us, I would ask "do you want a treat" and she would gurgle like a chicken does - but she was different. She went on and on for 8 mins - none of my other chickens would do more then a few seconds.

She grew to be gigantic, weighed about 25 to 30 pounds. She was a very special chicken. If I sat on my swing she would lay her head on my knee, of course looking for a treat.

When we went to open the chicken house in the morning, she was gone, looked like a stretched out on her back rubber chicken, I never realized why rubber chickens were such a joke, now I know. She looked like a giant one.

We had her for about 2 years, someone told me they are bred for meat. She laid smaller brown eggs then my Bantams, but always was a good layer.

Sudden death they call it , perfectly healthy, checked everything. It's sooo difficult to lose her, and yes I am a backyard chicken person, using them for eggs only. I always adopt to ones who are in bad condition with no feathers, wounded by other chickens in the pecking order.

And yes they are only chickens, and I do eat chicken only cutlets, they cannot look like a chicken to me.

So what can I offer,just the sadness and loss which will slowly get better. I'll get back to work and think of doing something nice for someone else, it helps.

By the way I spent $500, to save a chicken, some thought I was crazy, but New York vets suck as much as they can out of us, and don't tell you till you pay the bill. A visit was $100, and they just added another $400, just beware.

But they did save Dusty, my blue egg layer.

RIP Bertha.
Join in and write your own page! It's easy to do. How? Simply click here to return to Chicken Memorials and Pictures..
Mabels Sudden death
by B
(Cape Cod)
Mabel and the rest of her brood were born February of 2015.

We got the six 3 day olds from Tractor Supply. Rhode Island reds we heard were hardy, friendly if trained that way and great egg layers. Our first flock for my husband and I. We decided to get chickens as pets and for eggs after raising 4 rats and 4 dogs.

The dogs are great with all animals as we trained them that way, (very gentle and all raised together) except to chase bunnies out of the yard because when the dogs ate the bunny poop they would vomit.

The large chicken coop (20x20, 2 air vents and 2 windows) has doggy doors on both sides. One to a "winter pen" (more shelter, all wood), the other to a "summer pen" with chicken wire and lattice. Both outer coops are also fully enclosed.

We make sure there are no holes for any predators to sneak in. We often let them free range 1 and 1/2 acres (also fenced in) when we are home and the dogs are out. 6 months ago we adopted 3 more girls that were to be food. Everyone got along fine. So we had 9!

Unfortunately last year we lost one, Margaret, to a hawk when the dogs weren't out. Very upsetting and another sad day. Now we had 8. From then on they only free ranged with the dogs outside and us to supervise.

Our girls are fed organic chicken feed and occasional treats such as hung cabbage on cold winter snow days/nights when they don't want to prance in the snow. They get tiny apple pieces now and then or de-cored and hung to peck and bob,broccoli, (veggies are cooked), corn and mealworms. Sunflower and pumpkin seeds.

Last weekend, Saturday night, I went into the main coop (to close up the coop for the night) with a plate of corn and called them from their outer coops as usual "come chicky chickies, time for bed". Only 7 greeted me.

I put the plate down and went back outside. I found poor Mabel lying under the ramp in the summer pen looking as though she was asleep. I cried. I kept blaming myself, asking my husband, what did I miss? He was upset too. She was the one who would always come to the deck and peck at the door if my husband and I weren't outside together or she would just come hang out on the deck with us and fall asleep.

As I finished examining her I became aware that nothing seemed to be wrong! Her crop felt like all the rest, no signs of trauma, no egg bound! They weren't out that day because of the snow except their outdoor pen! They were all fine that morning and throughout the day! (I am very aware when one isn't feeling well as I treated one for an impacted crop last year and she survived.)

I buried Mabel the next morning in the garden next to one of our pet rats and her sister.

So, unfortunately we will never know what went wrong. Although I have been a vet tech for several years, my specialty is not birds and I have to live with not knowing how Mabel passed. I could not bring myself to do an autopsy.

I share our story in sympathy of others who have lost a gal to similar circumstances.

Much love.
Join in and write your own page! It's easy to do. How? Simply click here to return to Chicken Memorials and Pictures..
Dixie (Red)
by Roxanne
(California )
I lost my red hen today, Dixie or sometimes called Red was one of my six original hens.

My husband bought the chicks for me in summer 2014. I was recovering from my 4th stomach cancer surgery and the chicks were a welcome and effective way to keep my mind busy during this healing period.

She was part of my little animal kingdom and I'm truly grateful for the time she was with us. I have no idea what happened, possible egg bound.

Thank you, Dixie girl.

Join in and write your own page! It's easy to do. How? Simply click here to return to Chicken Memorials and Pictures..
Paula Mc Hen-tny
by Pino Cicero
(Santa Barbara)
I raised her from a chick that I purchased at a local Feed store.

She was the first to show interest in being held without hesitation or worry of what I may do to her. She was trusting, gentle and would be the first to greet me at the the coop door to see what treat I had for the flock.

Every afternoon I would walk in with a cup of Steel Cut Oats and in a flash, Paula would be there to greet me curiously wanting to know what I had. I would pick her up for a moment but this was the only time she didn't want to be held.

Instead, she wiggled out of my hands to join the others not wanting to miss one second of the treat. I'm pretty sure she ruled the coop even though she was not aggressive.

She will be missed since the others are not that friendly enough to be petted.

Ciao my Paula!!
Join in and write your own page! It's easy to do. How? Simply click here to return to Chicken Memorials and Pictures..
Miss Potter
Yesterday afternoon I was out gardening and Auntie Em and Henrietta were with me pecking around but not Miss Potter.

I said to them "Where's your sister?" When they didn't answer, I started looking around. I found her dead in one of the nest boxes.

looked so peaceful, as if she was just sleeping. I loved her so much. She was so sweet, fast and athletic. She laid strong, small, shiny pink eggs. She and Auntie Em were best friends.

Anyway, thank you for this site. I didn't know about sudden death syndrome and found comfort for an explanation for her passing.

It's amazing how these little beings can become so dear to your heart. I'll miss my little Miss Potter.
Join in and write your own page! It's easy to do. How? Simply click here to return to Chicken Memorials and Pictures..
Bonnie aka Bon bon
by Donna
(Australia )
Bonnie was one of our first chooks. She was amazing, funny, talkative and just loving.

Everyday when we got home she would come and sit at the table outside with us, talking away, telling us what she did all day. She would sometimes even perch herself on my partners shoulder.

Then one morning I got up and found her dead in the coop. My partner's dog had killed her.

I was uncontrollable. Crying one minute, angry the next. I buried her in the garden and said our goodbyes. I miss her still to this day.

Oh the dog was not punished as she did not understand she could not play rough with the girls. She is now in a fenced off part of the yard. The girls have there fenced area of 1 acre and the dog has the same.

RIP Bonnie.
Join in and write your own page! It's easy to do. How? Simply click here to return to Chicken Memorials and Pictures..
A little chook with a big personality!
by Margaret
(Ventnor, Victoria, Australia)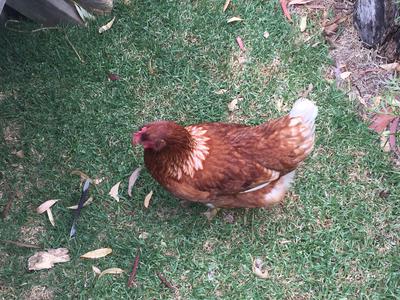 Laverne was an Isa Brown chicken and one of three I got when I decided I wanted chooks. I named them after the Andrews Sisters.

Laverne was the bravest of the trio - if I sat outside to eat a meal she would flutter up onto my lap and see what was on the menu. She totally ignored my two Kelpies, Max and Daisy, who were fascinated by her and the other two, Patty and Maxine.

Laverne was always the first to come running to answer the dinner time call of "Chook! Chook! Chook!" She laid a beautiful brown egg for me every single day and spent her last afternoon with us in the garden, happily scratching around.

This morning when we found her cold and still in her little hen house broke our hearts.

Rest In Peace, little Laverne. Your short but happy life will not be forgotten. 💕
Join in and write your own page! It's easy to do. How? Simply click here to return to Chicken Memorials and Pictures..