Sunny
by Taylor Kraft
(Tacoma, Washington )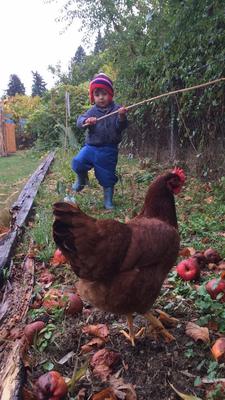 Sunny and Hiro
Our favorite chicken randomly died yesterday.

In the morning my partner went out early to let the girls out of the coop, so they can be free in their yard and give them fresh grain. We ran to the grocery and came back. My partner went to work and I put my son down for a nap.

Around 2pm I went to sit outside in the sun and noticed the other chickens by the fence. I went into their yard to give extra food and just check in.

Sunny wasn't there. I checked the nest to see if she was laying, but no. Sometimes they jump the high fence and wander around our yard, digging in our garden beds and grazing around. So I walked around, there was no sign of her.

I walked down the street and asked a neighbor if he'd seen a chicken: no - with a little laugh. I walked down in the other direction and saw another neighbor and asked her to keep an eye. I walked back to the chicken yard and opened the laying box lid high. And I saw her laying on the floor under the roosting bar. This image will haunt me.

I started to cry and called my partner. He ended up coming home later. I didn't know what to do - I was not expecting her to be gone! The pain my heart felt and the tears were just the beginning of my grieving process.

When my partner arrived he took her out of the coop and we checked her. No signs of struggle, stress, suffering. Whatever killed her, happened fast and with no warning. Maybe "egg bound" maybe "sudden chicken death."

I found a box and we put her in. Our three year old son was asking a lot of questions and didn't like that, "Sunny's eyes were closed and she wasn't moving."

The other two girls walked up to the box, paying tribute to their leader and sister. Even our cat, Daisy came up to say goodbye.

We dug a deep hole in the chicken yard by the grape vine and lowered her in. The Beatles song "she loves you" came to my mind. We found rocks and made a circle around her grave. Her sisters were calling for her around dusk, telling her its time to go roost. I went out to calm them and told them she wasn't coming. It's so heartbreaking.

Sunny was a Rhode Island Red, just shy of two years old. I got her on Mothers' Day with her two sisters from a grange in Seattle. We built them an A-frame coop out of recycled materials from our home remodeling.

She had her own yard with an apple tree, tons of blackberry bushes, and a grape vine. On the back of my garage I painted them a huge mural of green rolling hills and a bright blue sky.

She was the friendliest chicken, I compared her to a little dog. She'd greet you every day and tell you to pet her and hold her. She was the best layer.

Having chickens as pets is one of the most rewarding feelings. Sunny will be sorely missed.

RIP Sunny.