To my beloved rooster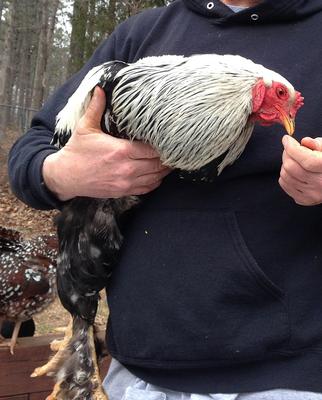 Our beloved rooster
My husband found our beloved pet rooster dead this morning, we think it was a heart attack. He was a handsome huge Dark Brahma, 5 years old, and I cry as I write this. Just last night he was sleeping in my lap before going to bed. We have two more roosters so Grandao ( means big guy) has his own private room in the coop, complete with a fan.

He loved to spend the day with my dog, and when my husband or I came home, Grandao would run to us, all talkative, po po po po po, finding worms and seeds for us. He loved to be picked up, so funny, such a big rooster, and loved to be on our laps, and have his face scratched. I sat with him just last night, scratching his face, him purring to me...

Nobody understands why we're so desolated by his death - he's just a chicken they say... he was a wonderful sentient being, full of joy, loved life, loved exploring, loved protecting his girls. He would protect them from hawks - he once faced one and was about to attack but the hawk flew away. He loved finding goodies for his girls. He would catch raisins and bread in the air, he was so special... he was loved and will be missed so bad...
My Favorite Rooster
by Promise Joy Stephens
(Cherryville, NC, USA)
Clark is on the right and his sister is on the left.
A few years ago, my mom bought five black giant chicks. I was given one. William Clark, or Clark as I called him, became my baby.

I would come out to feed them and he would come up to me and he'd let me carry him all over the place. He would ride in my bike basket. He'd bring his ladies up to the house for a treat. When I called "chick-chick-chickens!" He'd come hopping up to me.

Last year, while we were vacationing, my friend called to tell me that Clark was lying on his side by the barn panting. I was 100-miles away so there was nothing I could do but wait. An hour later he died.

He was only three years old.
Herman guering
by Beverly
(Hudson, NY)
My brother had some hens and a beautiful rooster, whom I named Herman Guering. He really became a good friend. I would feed the hens and Herman crackers and talk with them. He would listen and then one day he was gone. Shot for scratching a car. I was so hurt. I enjoyed Herman so very much. I still feed the hens crackers and they do coo to me but I miss my Herman Guering.
Lord Byron
Lord Byron, my precious rooster, died today. He was a young, friendly, and handsome rooster who made me smile everyday. Lord Byron used to crow all the time, in the morning, in the evening, at midnight. I loved listening to him crow, no matter what time it was. He was a gentle rooster, always welcoming and friendly. I miss him!
Join in and write your own page! It's easy to do. How? Simply click here to return to Chicken Memorials and Pictures..
Claire, my so loved house rooster
by Suzanne
(Québec, Canada)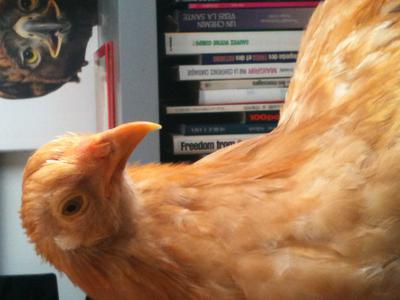 He was supposed to be a laying hen when I brought him home. 6 months later I heard cocorico!!!

He lived with my rescued pigeon and turtle dove for almost a year. They were a cute boys' club. I don't know why he left so quickly for no apparent reason. He was a Chantecler (Canadian) and seemed so healthy. My heart is still broken. Almost 2 years now... Bye Bye Claire.
Join in and write your own page! It's easy to do. How? Simply click here to return to Chicken Memorials and Pictures..
Daisy - a much loved rooster memorial.
I will never forget the day Daisy came into my life .

Daisy had a broken leg and was given up by the pet shop to me as a chick. She was not expected to survive the night, but she did and I named her Daisy.

Later I find out it was a boy, not a girl!

The thing is that this chicken changed my life. I used to called him my love, because of how much I loved him.

Unfortunately, since he was disabled , could not walk and do all the things that chickens love to do, his body started failing him and he passed away at almost six months of age.

In a way he took my heart with him. I have cried every single day for a month. I loved that chicken so much I feel I lost a son not a pet chicken .

Thank you Daisy for being in my life, I love you .
Archie
by Hazel
(Shropshire )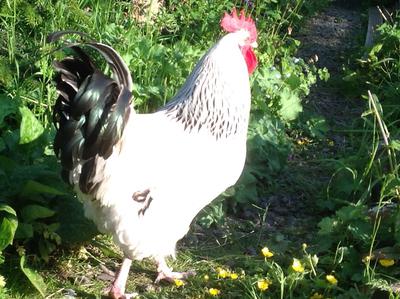 Archie was a magnificent 2.5 year old white Sussex rooster.

He has had a good free range life but with safe and warm accommodation each night. He was beautiful.

We have a mix of birds, 4 magnificent ant inquisitive geese, some funny and loveable ducks and Archie's own girlfriends. We have recently had 3 fox attacks where Archie survived but we have lost 3 girls and replaced these with 3 more for him.

The last few days he and the girls have not re-entered their shed as usual, but have taken positions high off the ground and we have had to encourage them down to go to bed.

Tonight, before it was dark, and on a day when we have been present much of the time around the garden, and seen him doing his usual stuff, we found him dead.

We are devastated, more so because we missed any signs, if there were any, and certainly missed the event itself, even though we had seen him less than an hour earlier. He was fine, and then he was no more.

RIP Archie. I can't cope with not knowing why. X
Hayes our funny Roo
by Alaina
(Oceanside)
We thought we had 3 hens but surprise Hayes turned out to be a rooster.

We already loved him but couldn't have a rooster in the city. We were in the process of finding him a new home but he left us before we could...maybe he knew. He was happy and healthy up until his last day here on this earth.

WE LOVE YOU HAYES. You were one of a kind.

May 14,2016-October 9, 2016
Join in and write your own page! It's easy to do. How? Simply click here to return to Chicken Memorials and Pictures..
The great rooster
by Jacob
(Oaxaca)
He was a very gentle rooster. I don't have much else to say. He was very tender. I loved him.

Today when he was outside he suddenly started suffering, it looked like he was choking. He finally died after I tried to make him recover. It surely was a heart attack.

However I felt so helpless. I just couldn't help him. I wish I could have. May he rest in peace. I will always remember him.
Join in and write your own page! It's easy to do. How? Simply click here to return to Chicken Memorials and Pictures..
If you found this helpful, please take a few seconds to share it - thank you!