The most beautiful, most amusing, most agonisingly missed, Pijin
by Anne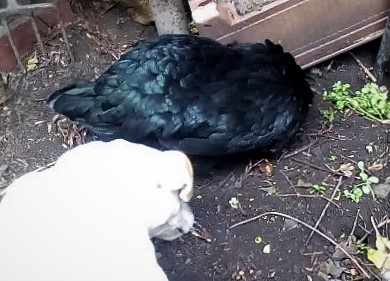 My cousin had bought a few banties. As a first time chicken keeper he picked the most appealing breed, more to look at than anything but with eggs as an extra. He bought 5 white Silkies and a certain black girl around the same age: "I thought as she was bigger she would protect the smaller ones".

It didn't turn out that way.

As they came out of their house this big black girl had to make a flying leap - something to do with the short and narrow ladder; unfortunately landing heavily on the little ones.

Fearing that she would kill them he told me the story and asked if I would take her, knowing what a sucker I was for all things non-human ...

I had a 12 x 6 aviary bought as an outside area for my housebound cats which worked for a short - very short - time as they became ins/outs a month or so later.

It was into this defunct outdoor room with rubber horse mats over pebbles and finished off with a nice astroturf carpet, a few tree branches, a few middle and upper shelf and box roosts, all the feed/waterers and other such goodies turned her lodgings into Chicky Paradise.

She loved it.

She also loved our two Jack Russell pups. Before long she and they could always be found together, either chasing one another around the gardens (she was free range) or ratting, side by side.

I used to have rescue chucks, one of which committed suicide chasing a mouse which ducked out at the last second, leaving Pearl to run into the shovel at top speed and break her neck. Poor Pearl wasn't the smartest chuck in the world, but she was the most enthusiastic in every thing she did!

But back to our new girl, I tried to call her after my cousin in a girly kind of way so I chose Jezzamine ... she didn't buy it.

She decided, I have no idea how, to become known as Pijin.

And that was her, more dog than bird, full of fun and love, doting on the younger pup, pulling his tail then turning away as he spun. We have a table and benches in the garden which would hop up on, to sit beside this pup and mimic his actions, leaving us rolling with laughter.

We had to get another companion, a real chicken, as she didn't seem to see the difference between species. This one was a pullet Barnevelder.

This is how we found out Pijin was an Australorp. They got on well ... Pijin taught Princess how to become a dog, not what expected but hey, they were happy.

Princess began to lay first, every other day, and then to our great surprise as she hadn't since becoming mature, Pijin started to lay a couple of days ago.

And she died today. Not even a year old.

I don't know why. I've been racking my brain trying to work out what I did wrong. I was dusting her rear as she had a mucky backside I checked her over, she was clean everywhere else but her butt, she had a few lice around her vent.

Not wanting her to be uncomfortable I picked her up and was dusting there. I wish I'd never bothered.

She was fine when I picked her up, I had her under my arm and been parting the feathers when I felt her kick a little. I told her I had almost done and there was a flutter of wings. When I put her down she crashed to the floor, her legs, neck and wings like rubber. As I panicked, I picked her up and blew into her gaping beak, massaged her chest, told her she couldn't die.

She had always been stubborn.

Her neck flopped about as though it was broken then as I saw her wattles grow dark as I put her down she had something like a fit, mad flapping of wings. Twice this happened and then once in my arms as she passed.

Did I kill her somehow?

We loved this little hen, all of us. She was a good chicken, she will be remembered.

The most beautiful, most amusing, most agonizingly missed.

We love you Pijin.