Beautiful Skyline - a hen in a million
by Sarah, The Hennery
(East Sussex, UK)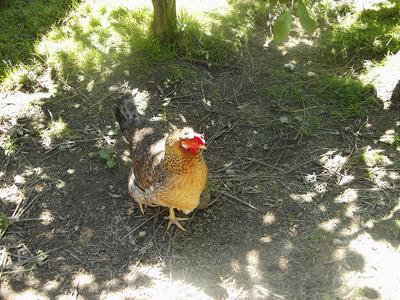 Skyline - our favourite chicken.
This is something I posted when she died, almost two years ago. I wanted a more permanent memorial for her and your page is perfect.


Sad day today. We had to finally say goodbye to our Skyline. She would probably have gone on for a lot longer, with our help, but she couldn't move about much, couldn't lift up her head. Couldn't really be a chicken any more.

So we made the decision. Goodbye to our favourite chicken, she'd been a great head hen and given us lots of lovely, large yolked, blue eggs as well as lots of laughs – she was very chatty and very comical! She survived two dog attacks on our flock, and had been very healthy up until recently.

I can't recommend chickens enough. When we first got ours, our next door neighbour said "you're going to spend hours just watching them!" I thought "no, not us, they're just birds". So we didn't name them and talked about the possibility of eating them when they ceased to lay eggs.

It wasn't to be. I fell in love and I'm still in love. There's nothing more relaxing than pottering in the garden with the girls chattering away in the background. They come in all shapes and sizes, some beautiful or impressive and others just comical! Their eggs are lovely ... you'll always eat well if you have a few laying hens and some veggies.

They run up to see you when you go out to feed (or just pass time with) them. If you sit down, they come and sit next to you. If you talk to them, they talk back ... they all have different voices. When they die, and you miss them as much as you would any of your other pets, it reminds you why you keep them in the first place.