Precious Hens
by Cherry Stoltz
(Pretoria, South Africa)
My Annabelle and Charlotte each laid 2 eggs a day but there was so much more to them than that! When they saw me coming, they jumped into my lap, snuggled their heads into my neck and made soft little hen sounds of contentment.

Once, they managed to get out of their portable coop and disappeared. I was frantic and had just had bilateral eye surgery so couldn't see much at all. A man walked past and asked if I knew of anyone who had poultry, as there were 2 hens in the garden a few properties away.

"Oh, Thank you! I do! But I can't see. Could you take me to them?"

"Yeeees, but how do you plan on catching them?" he asked...

"That won't be a problem!" I replied.

He led me to his garden and stood guard, expecting my hens to rush around in a panic. I squatted down and called out their names. Both came running into my arms and I took them home.

The hens and I were a talking point around the village for some time later - as I live in Africa! That was in 1999.

I still miss my girls so much!

RIP Louise
by Dale Kettering
(Buena Vista, Co)
Last night, when I went to close the hen house door, there she was. Lying next to the hen house, dead.

She was fine in the morning. No signs of illness. I lost her sister, "Thelma" a year ago to eggs going where they are not supposed to go.

Louise was a Silver Laced Wyandotte. She would be 3 yrs old in March. She was a little bit bossy with her sisters, but was always curious about what I was up to. Whenever we would eat dinner on our patio, she would come running to wait for a treat to drop.

She lived a good chicken life, and one of her favorite things was to peck at cabbage heads hanging from a rope.

I will miss her, but now she is in chicken heaven with her sister Thelma.
Jenny
by Aimee
(Ben lomond, Ca)
Jenny was a young, 8 month old, Opal legbar hen. I treated myself and paid a lot of money for her as a young chick...she was just so beautiful.

And a stubborn little streak about her she had! She took over the other 2 hens and the young rooster, Hank...bossed them all around! Brought home 2 baby chicks and it was well over a month before she accepted them.

Jenny, was always sweet with us. Followed me around the yard everywhere I went.

She was fine one Sunday morning...left her in the coop/run with the others...came home a few hours later and she had passed away.

No attack, no illness, nothing obvious what caused her death. All I knew was that my sweet girl was gone and I somehow completely failed her.

It's been almost a month and I'm still grieving her. I miss her greatly...
Carmelita is gone..
by Darryl
(Ailsa Craig, ON, CANADA)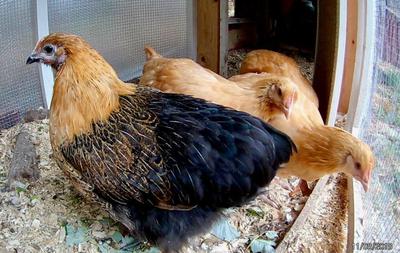 Carmelita and buffs
Back in August, we got six Orpington chicks. These are the first chickens we have had. We found homes for the two cockerels when they revealed themselves.

All had gone well, pullets were now 24 weeks old, and growing fast. There were three buffs and one golden mix (Carmelita). She was our favourite, as she was so beautiful.

All the ladies were doing fine, even after a week of -30C temps. (Coop is heated). Last night I went to put them to bed, and Carmelita was fluffed up, sitting in a back corner. As it was dark already, I thought she has gone to sleep, and was just a bit dozy.

This morning, she was dead. Can't see any injuries other than it looks like she may have been pecked about the head.

We have asked our chicken mentor for advice, but she didn't see anything wrong.

We are very sad, as she was our favourite, and extra sad as these were our first birds, and we were getting very attached.

So sad to see her go....
Pez
by Rebecca
(Gambrills, Md)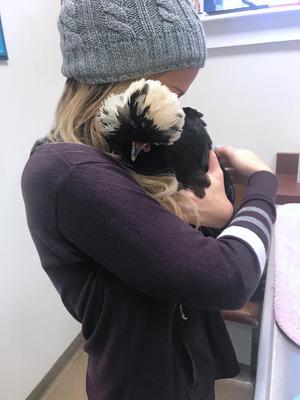 I had to have my not even 10 month old sweet Pez euthanized today and I'm devastated.

3 days ago I noticed her wattle was pale and she was a little less active and had some watery poo. Yesterday she was pretty lethargic but still eating. This morning I came out and she was still up in the coop which she never does.

I picked her up and immediately felt that her crop was huge and very hard.

I brought her inside and gave her a warm Epsom bath just to try to make her feel better and gave her a little olive oil.

By the time I had finished drying her off, she was panting and in obvious pain.

We took her to the vet and everyone ooohed and awed over how beautiful she was but the vet's expression when he felt her crop told me it wasn't good.

We did x-rays and they showed her crop was solid packed and her stomach and intestines were bloated.

There was nothing they could do. Even if they were able to operate successfully on her crop there was nothing they could do for her stomach or intestines.

If we hadn't decided to allow them to preform euthanasia, she would have suffered a very painful death.

I held her, kissed her, snuggled her, cried on her, told her I loved her, that I was sorry, that she was a good girl.

My husband, big tough strong man, cried with me, held her, we said goodbye.

It was heartbreaking.

We had them do a necropsy on her to find out what had killed her.

It was mulch. She was filled solid with mulch and her little body couldn't get rid of it.

Pez was so sweet, brave and smart. She made everyone smile and laugh. She made people happy. She made my days brighter.

I've had to say goodbye to a lot of things I've loved but I honestly wasn't prepared for how hard saying goodbye to one of my chickens would be.

I guess love is love. Loss is loss.
"Our George"
Our "George" was our only pet. She was so loyal, friendly, and so gentle to my 2 boys.

We had her for 2 years and slept in a chicken coop. She laid one egg a day and it was a daily excitement to run down the back and collect the egg. Everyday we would go up and feed her and let her out in the morning and put her back in every night.

This morning I went out like any other morning to give her a big bowl of scraps, only to find her house destroyed and her gone! A fox had taken her with a struggle by the looks. All that was left was scattered feathers and a broken house.

I was left standing there with her bowl of food in tears. How could this be. I looked and looked for her.

I had to break the news to my 2 boys while I drove them to school sobbing. We were still on the look out hoping to come across our "George."

RIP we miss you x
Drw farms
by Drw
(Port huron Michigan )
Lost my first chicken on 3/28/19. She was a strong, beautiful ISA brown with a dusty yet welcome attitude.

She was first to go but she will be missed.
Kfc
by Nicole slape
(Idaho)
RIP KFC,
KFC was very sweet and gentle chicken! She was a Buff Orpington and she would always let me pick her up everyday for cuddles.

She was a big talker and was great company! She loved to eat bread and watermelon on a warm day!

On January 29th 2019 she was out free roaming with the rest of the flock and a hawk sadly took her out😭😭

I think about her everyday and will always miss her!
Rosalinda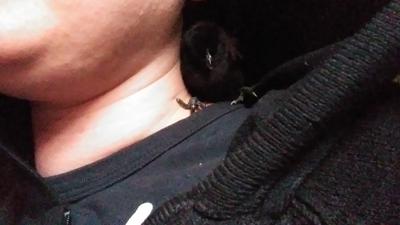 Rosalinda was a 2 week old Ayam Cemani. She loved to nest in my hoodie.
My sweet Delly
by Pam A
(Cedar Creek TX USA)
Sweet Delly.
My sweet Delly will be missed. She was one of the most social chickens with an amazing personality!

My heart is broken as I found her dead from no apparent trauma or illness.
Louise
by Cindy M
(Pennsylvania )
Louise aka Wheezie
June 17, 2009 - June 27, 2019

To some you may just be a chicken. But to me you've been my pet for 10 years and 10 days.

I got you when you were just 2 days old.

You started out having your buddy Boogie as your chicken companion but sadly she passed at age 4. You and I became even closer then.

Everyday you looked forward to your smorgasbord of food and treats which included lettuce, cucumbers, corn, blueberries, cantaloupe, watermelon, saltine crackers and your favorite snack Cheez-it's. As well as your chicken food.

People could never believe such a small chicken ate so much each day but you loved your food.

And I loved your loving company. Hearing your clucks and you chirping your little sounds. Seeing you get so excited and jump up and down when you would hear a treat bag.

And many years of your beautiful eggs that you laid. Chickens are very loving, intelligent and have personalities.

It won't be the same without you now.

Rest In Peace Wheezie ❤️
Goodbye Ladybug
by DMCox
(Bastrop TX)
My beautiful Gold Laced Cochin was found dead this afternoon.

Today was such a normal day. Everyone greeted me for treats this morning. I was gone a couple hours. When I returned Ladybug was behind the water bucket, laying down still.

I ran in to find her dead. Everyone else is fine-she appeared fine, just dead.

What a mystery. I am second guessing if I keep everything clean enough. We had a little cooler weather last night, did she get too cold? I'll never know.

I placed a couple pretty wildflowers in her wings and said goodbye. I have 6 remaining babies to care for, but none as beautiful as her :(.
She's My Boo
by Boo's Mom
(Cincinnati, OH)
Boo,

You were a surprise pet that we took in when you were only two days old. The manager at TSC was going to put you down because something was wrong with your leg. We took you home to give you a chance.

You were immensely loved for eight weeks. You snuggled on my shoulder like an infant and would coo and snore. You were incredibly happy.

We are so glad you got to eat seeds, scratch, fresh blackberries, blueberries, and strawberries from our garden. The sun shone on you every morning when we put you outside for fresh air.

We are sorry your little legs just couldn't support you as you grew bigger and more beautiful. We hope you are pecking and scratching with strong legs in heaven.

There will never be another Boo.


Smokey the Bantam
by Lindsay K
(Corbett, OR)
Smokey was my 8 year old daughter's bantam hen... she passed away this morning.

My daughter wants all to know that Smokey was little, and grey and adorable. She had ember colored eyes. She was perfect. I loved her very much.

We are not sure what caused her to pass, but she had started wheezing two days ago. We are first timers raising chickens, so I blame myself for not knowing what to do right away.

I am also worried about our other two hens. I've added a non-antibiotic treatment to their water and cleaned feeders. So far they aren't showing any signs of sickness.

Rest is paradise Lil' Smokey... We'll see you at the rainbow bridge🌈🐓❤️
Fat Betty - Bossy Agatha - Innocent Gilda
by Jason & Scott Millswood
(Adelaide)
Agatha, Betty and Gilda
Three beautiful hens lost to a local urban fox, two good years of love and affection. The stars of the show...

Fat Betty - picking her up was like lifting weights at the gym. Not that we ever would but she would have made the best roast chicken. Best eggs in town.

Bossy Agatha - always chasing baby Gilda around the veggie garden and making sure she got her share of the scraps before Fat Betty finished them all.

Innocent Gilda - Only a wee pullet just finding her wings. Nursed back to health after a few bad runs with Cococilious. Still growing into her beautiful feather and taken before her time. Alas she will never grow into her big goofy feet.
Brianne
by Kelly
(New Hampshire )
We decided we wanted chickens. We found a place local. We went, read through the books looked at pictures and read of behaviors and that's when we picked the chicks we wanted.

Brianne (named after Game Of Thrones) was one of them.
Beautiful Buff Orpington. She was a lil over 3 years old. Beautiful feathers, fluffy butt, bright eyed. Broody only 1 time.

I opened the coop as I do every morning, everyone came out. Had some worms an I went on about my day doing errands and such.

I later took the dogs out with me to collect eggs an I found my beautiful Brianne dead. 😔 so so very sad. I saw NO signs of anything.

Rest sweet girl💔

A lost goddess
by Leo
(Pennsylvania )
My chicken's name was Hecate, after the goddess of magic. She was a rustic rambler, a cross between two chickens breeds (I forget which two).

Hecate wasn't even old enough for egg laying before my neighbor's dog got out and killed her.
Duckie
by Pamela
(Utah)
The school where I worked, incubated and hatched chickens every spring.

This particular year, the place that we normally gave the 6 week old chicks was full and so I took 6 chicks home for my daughter and I to raise. When they were old enough we planned to give them to my 6 grandchildren that had land and raised chickens.

In the process of their growing up they developed a disease. We found medicine for them and 5 of the six were healed. The sixth one, Duckie, was also healed but it blinded her.

After they were old enough, we delivered the chicks to my grandchildren. After several months, I moved next door to them and helped raise Duckie. She remembered me and we continued our friendship.

Everyday, I would go to her pen and she would run to me as I called her. I eventually had to move her out of the flock because she was getting pecked. I made a special place for her in the garden and visited her everyday. She would run head down and wings flapping to me every day. I would hold her and medicate her back where she had been pecked.

We enjoyed each other's company and she helped me pass a sad time in my life. I looked forward to visiting her for the rest of her long life, but sadly she was killed by a mink.

As I ran to her to try to save her, the mink had already broken her neck, but right before she passed, I was able to talk to her and her eye rotated toward me. I knew that she knew I was there and loved her.

It has been 2 years and I still see her running toward me like a Raptor in the movies. She was a wonderful friend and I still mourn her.

Rest in Peace until we meet again Duckie.
ROSIE
by Dyanne
(Dunedin, Fl)
She was a gorgeous grey Easter Egger that loved attention. Really sweet demeanor.

I would come home from work and enjoy a cup of coffee as you and your sister would do your silly little chicken things roaming freely in your back yard.

You brought a lot of joy to my life and I was heart broken to find you passed out in the yard, no signs of trauma or injury.

You will be missed.
Esmeralda-my sweet singing chicken girl
Esmeralda was 2 years old and passed away yesterday. She was fine at the weekend, taking her dustbath with the other girls, then on Tuesday night I found her in the nest box and encouraged her to go and roost with the others.

The next day when i went to let the girls out, she was still in the coop on the floor, we closed the coop door so she could get some peace and quiet and left her some food and water. When we came home from work she was dead.

All of the girls have their own sound, and Esmeralda used to sing, especially when it came to mealworm time.

We'll miss your smells and hope you are enjoying all the mealworms and dustbaths you desire now you have passed over.

Night, night sweet girl. xx
Olive - 9 week old Olive Egger Pullet
by Brittney L
(Pennsylvania )
When she was 5 weeks old. She was such a ham!
* When did you first get your chicken?
I purchased her from a breeder in April of 2019

* Do you know what breed he/she was?
She was a Olive Egger

* How about telling us about her/his personality and other striking features?
She was sweet but timid. Loved treats! Her favorite was scrambled eggs

* What was particularly special about this chicken for you?
She was a different breed than what I have, I'm a new chicken owner and wanted different colored eggs so I thought she would be perfect in my flock! She has a little feathered Mohawk on her head that I absolutely adored.

* What happened? Do you know how he/ she died?
She was lethargic for a week. I took every chicken owners advice online to treat for coccidiosis. Electrolytes didn't help. And yesterday morning I went out to the coop and saw her laying on her stomach so I picked her up and held her until she passed away in my arms.

* What effect did that have on you, and on your family?
I'm distraught, I'll never forgive myself for letting her suffer. I tried everything I could think of to help her. I vowed to never let another one of my chickens suffer like that again!

* If you could say a few words to your chicken now, what would they be?
That I'm so sorry. I'm so so sorry! I wish she could have told me what was wrong so I could've helped her and saved her and not let her suffer.

Amber
by Heidi
(Kutztown)
Amber was the best snuggler, the one to come running to greet you and loved, loved, loved her blueberry pie.

She made us laugh as she peeped and cackled to everyone. She tore her ACL in October so she became our indoor hen. Her leg healed nicely with love and care but her body then started to fail her.

Yesterday she peeped to me but wouldn't come to eat or for snuggles.

We buried her in the garden after all her sisters said good bye. They tried grooming her to wake her up, pulling on the towel she was laying on, scratching at her and talking to her at her face.

They are all as sad as we are. Miss you, fancy pie lover. Miss you a lot.
My Crazy Girls
by Shelby
I recently lost 5 of my 6 hens. They were sadly killed by two dogs who got into my yard. I write this in loving memory of Clara, Ruthie, Daisy, Smokey, and April.

Clara was my sweet baby. She was secretly my favorite. She was an Easter Egger and paid us beautiful green eggs. She loved to follow me around and get cuddles.

Ruthie was my little hen. She was scared of anything and everything. She was such a little sweetheart.

Daisy was such a little troublemaker. She loved to be bossy and try to pounce on the others as a baby. She was the smallest but the fiercest.

Smokey was my gentle giant. She was a big girl with a gentle soul. She was always laid back and just went with the flow of things. She didn't mind being held either.

Last but no least was my bossy, crazy April. She was the flock leader. She protected the girls with her whole heart. She and my dog Lucy would always argue. I swear sometimes I would hear April say "haha" when Lucy would get in trouble for bothering the chickens.

I miss them immensely. My life feels empty without them. I can't even go into my backyard without feeling overwhelming grief. I loved my girls so much and no one understands.

I hope that they are waiting for me at the Rainbow Bridge and eating all the corn and bugs their little hearts desire.

R.I.P. my beautiful girls.
Our Sweet Dorothy
by Lindsey D
(Idaho )
This is after she was already sick
February 2016-February 2019. We had three chickens: Sophia the bossy over water. Jackie Brown the sweet yet stubborn spitfire, and sweet Dorothy.

Dorothy was a wonderful chicken. She had the sweetest disposition. She was a slower eater, walker, generally everything. But she had the most beautiful personality.

She usually smiled at us. And once when a cat came into the backyard she called out "help" "help" "help" until we went to investigate.

Poor Dorothy got sick Friday. And even though we isolated her, brought her inside and tried to find a vet...she died on Monday March 18, 2019.

RIP sweet Dorothy.
Nori, Ebby, Vince, countless other chicken friends who made life worth living
by Rose
(Fort Collins )
I just want to say, as I'm crying, that chickens are the best pals along with cats and dogs.

We have lost so many over the years as they free range during the day as we live outside of city limits. We have lost them to foxes, raccoons, hawks and illness.

Vince was the most special silkie rooster with the dorkiest crow. Nori was a polish chicken with some neurological issues and died very young from falling off a roost. Ebby was the most dog like chicken anyone's ever met and got taken by a fox.

One of our chickens is dying tonight and I came on here and felt comfort reading all your stories. Thank you.

I miss all my lost chickens with my entire heart, I'm the luckiest person in the world to have gotten to know them. Rip my babies.

Too many deaths to count but I remember all of them and miss them all so much. I hope I gave them the life they deserved.