Can't find what you're looking for?
Search this site!

R.I.P. Mrs Cluck
by henry
(kaministiquia,on.canada)
She was pronounced dead on the afternoon of Jan 4th 2018.

She was a nice chicken. She had nice feathers and she was in good health.
Sweet PuffPuff
by Christine Miley
(Florida)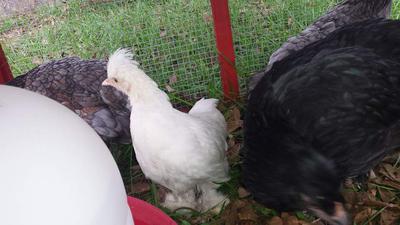 My sweetest and silliest hen.

You taught me just how awesome chickens are. You were my friend and I know you thought of me as yours. You'd sit on my boot waiting and expecting to be picked up and cuddled, and run to me for treats when I'd call.

Such a silly girl, always laying your eggs in the feeder instead of the nest. I never knew how much a chicken could impact my life but you showed me. Thank you.

I miss you. I'm thankful that you passed away in my arms where you loved to be. Rest in peace in the botanical garden sweet girl, your favorite place to scratch for bugs.

I love you.
Henny Penny: Gone, but never forgotten
by Gina Rayeski
(NH)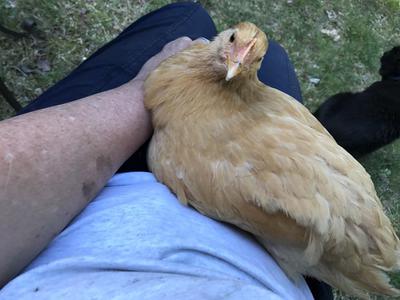 Today my little Henny Penny passed.

She was only 91/2 months old. I'd raised her since she was only 2 days old, along with her 14 sisters and two brothers. She was the smallest of my 6 Buff Orpingtons.

She was sweet, but frisky. If Henny Penny didn't want to go in the coop at night it was a trial to get her to, she was like a kid that hates to go to bed. I'd have to chase her all over the yard, sometimes threatening her with the stew pot! Eventually though she'd go in kicking and screaming.

She was small, but feisty. Other times she would sit quietly in my lap, as we just enjoyed each other's company. She would listen to my stories and daily events, and never interrupt me. She just listened.

The past few weeks of her life I didn't get to spend as much time with her as I would have liked, or with her brothers and sisters and 4 new nieces and or nephews, because of the holidays and the extremely fidget cold snap we had. But every day when I would go in the coop she would come running, and then copy Miss Durham by pecking at my boots.

I never noticed anything wrong with her. She didn't seem sick, and was trying to visit her nieces and nephews that morning on the day she passed.

Hopefully the Necropsy will tell us what caused her death, but it won't change the fact that she's gone.

I'll never forget her and the joy she gave me, and I pray she knew how much I loved her.

Rest In Peace little one. 💞
Our First Chickens
by David
(Tampa Bay, FL)
I was so excited to get a couple of chickens to feed and play with - and the first two were Waffles and Dumplings, both Spotted Sussex.

Yesterday (January 8, 2018) I went out like I always do to call the girls (we have several now) and Dumplings was nowhere to be found. I searched for over an hour. It was unlike her, when I came out with the bag of dried worms, to not come running across the yard.

My partner later found her. I made her a little box with some tissue paper and went out to her favorite place under some trees.

We called the girls over with her rooster and had a little memorial. I had no idea how hard it would be - to everyone else she was just a chicken, but to me she was one of my girls.

Luckily for us we have been raising chicks and she will carry on here at the ranch for a long time to come. She always laid me an egg on a regular basis.

I know she is clucking around in chicken heaven kicking up the dust and being her sassy self. I'm sure she is already at the top of the pecking order and being bossy as ever.

We will miss you Dumplings! Your rooster King and your sister Waffles will, too, along with all of your other sisters!
Ben...
by Jen
(Indiana, US)
Ben was a Black Copper Marans. My husband and I purchased him and his brother last spring.

They had been raised on a chicken farm and had never seen grass. When we brought then home they kept high-stepping like they didn't understand what they we're walking on. Both were very docile and friendly.

Each had their own flock of hens and own run and living space. They even got turns free-ranging in our yard. Just a few days ago I named him Ben. He had begun to really come up to me and let me pet him on his own. It takes time for me to think of names and he was no exception.

I went out this morning to feed and water and found him gone. He had passed overnight. No signs. No symptoms. No injuries. No predator tracks in the snow.

I live in Indiana and it's been cold - like the rest of the country - but it had actually warmed up the last several days. I don't know. I feel so sad and like I missed something.

His girls were still around him. They didn't seem upset. I hate not knowing what happened.

It's so hard to lose a pet and most don't understand the sadness we feel when we lose one of our chicken buddies.
Lily - The friendliest chook
by Chantelle
(Perth, WA, Australia)
Enjoying the gardenbed
Good bye my sweet Lily - R.I.P. 08/01/17 (Bantam Sussex - 5 years old)

Your sisters are lost without you and miss you very much, they are crying and looking for you which breaks my heart :(

I still can't believe you are gone, we will miss you every day but hopefully remembering all the cute and funny memories will bring me some comfort.

The way you followed me around, made yourself at home on the outside couch, dug up all the plant pots and somehow managed to get into the veggie patch for your favourites - lettuce and spinach. If I left the back door open you would always wander in the house to see what we were doing.

You always loved a cuddle and would sit on our laps for ages, a real comfort when we were at home sick.

I hope you enjoyed your time with us and that you are at peace now, we did everything we could to keep you around for longer but it wasn't meant to be :(

Miss you always beautiful girl.

Love Mum, Dad, Emily, Penny and Annie.
xxx



Rest in peace Farrah
by Trish
(Vancouver, WA)
Although you were the biggest bird in my flock, you were the sweetest. I should have noticed when you stopped pushing the other hens out of the way to get at your yogurt.

You were such a funny bird, I enjoyed watching your antics, you just made me laugh!

RIP Farrah.
Join in and write your own page! It's easy to do. How? Simply click here to return to Chicken Memorials and Pictures..
If you found this helpful, please take a few seconds to share it - thank you!