Chicken Nugget
by Elizabeth
(North Carolina, USA)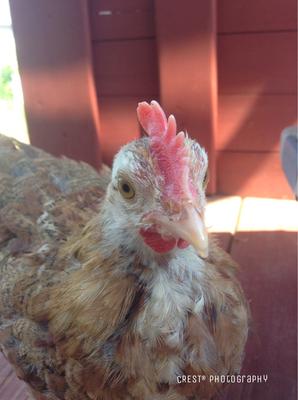 4/?/15 - 6/16/15
Chicken Nugget was a nice little chicken. I got him in April, along with his brother Punjab (who tragically died too young).

He loved waking up in the morning and taking a stroll along the flowers in my backyard. He loved eating worms and the occasional grasshopper. Such a joyful, wonderful chicken.

I'd carry him and take him to a bug hotspot and he'd cheerfully go along, not to mention he would also chase after me. I would put him up in my playhouse and he'd sit on the flower pot, dusting himself with soil. He was killed by one of my dogs, his neck was broken. I was devastated and I buried my little beauty.

Rest in peace, buddy.
Join in and write your own page! It's easy to do. How? Simply click here to return to Chicken Memorials and Pictures..
Gertrude the Good Chicken
by Joyce
(Eastern Shore, MD)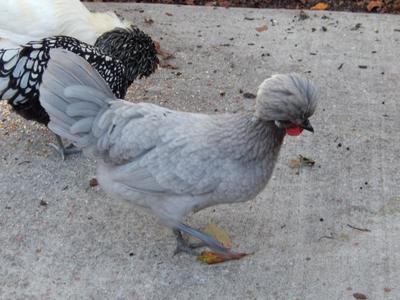 Gertie
Gertrude, or "Gertie" or "Gertis-truid" was one of the "mean girls".

We bought all 4 of our girls together as one day olds. Henny (Hennrietta) Penny (Penelope) Gertie (Gertrude) and Bob (Roberta Jo). Penny became Benny at about 5 months old.

Gertie and Henny were inseperable, and we nick-named them the Mean Girls. Bob is the docile one.

Gertie was beautiful; grey with huge waddle. We lost her today to sudden chicken death, and part of the pain is not knowing why. She gave us the gifts of eggs daily and we loved her. She was exactly one year old.
"Little" Omelette, Rest In Peace
by Noah McCarter
(Byrnes Mill, MO)
My "little" Omelette was the biggest hen in our flock, though she was at the bottom of the pecking order.

She was our gentlest and sweetest hen, and she was very cautious in her movements when pecking around with her siblings.

We adopted her and her siblings together three years ago, and I loved them all from day one. Her siblings and I miss her terribly, but we are comforted knowing that she lived a happy, albeit short, life.

Omelette loved eating grapes and sitting on laps. She was a beautiful gray Cochin and her feathers were always the softest. She loved clovers and corn.

She is survived by her three siblings, Bilbo, Yang, and Jelly Bean.
A family member died today - 7/19/2015
by Angel
(Fairmont, Mn)
Elizabeth, a laced Wyandotte hen, 4 years old, a loving member in our multi-species family.

All of us are of equal value, be it 2-legged income provider, feathered egg-layer or fur-covered individuals.

Each has a special talent and personality that makes us a one time event in the theme of life. History is made up of past individuals, and the future will have more individuals. But just like all living beings, Elizabeth was on this planet, a one time life event never to be repeated or replaced.

Her loyalty of following everywhere I went, her peeps and calls when I got out of her sight, her friendship of running when her name was called to be petted. She will be greatly missed!

10:30 am, cause was sudden death heart attack. She leaves behind family members that are saddened and stressed at her death. 4 chicken mates - Henny Penny, Quail, Kate and Goldie. 3 cats - Stewie, Baby Jane, and Panda. 2 dogs Morgan and Lily. 1 small bunny Harvey and a being trying to be human. Also, a close young friend Emily and her grandmother.

Elizabeth was famous 3 years ago, she made front page of newspaper during the legal fight to keep people's rights on types of pets/family members in a small town. A small neighborhood service will be held later this evening to honor her memory.
Join in and write your own page! It's easy to do. How? Simply click here to return to Chicken Memorials and Pictures..
Tribute to GoldenFlower, the best silkie chicken
by Kellie Ayers
(Tennessee)
We got GoldenFlower last spring at the flea market. Normally we do not buy chickens at a flea market but my daughter fell in love with GoldenFlower right away.

I have never met a chicken like her. She was so friendly that she would come right up to you, stand right at your feet looking up at you making the little bawk bawk noise - at this point she wanted to be picked up and carried around. My daughter would then bring her to our deck and put her down, my daughter would go in the house and warm cornbread that we made every week to give the little hen as a treat.

The little hen would just be waiting there at the double glass doors, looking in waiting impatiently for her cornbread. She even knew her name and would come running when we got home for the day, my daughter would call her name and the little hen would run to the fence and wait impatiently to be picked up.
Marjorie - so long and thanks for the eggs
Marjorie a white Suffolk, was one of the first hens I bought about three years ago. My wife noticed yesterday she seemed a bit off colour, drinking a lot of water and walking very slowly. I said she'd be alright but this morning she was at the back of the hut, her usually beautifully red comb was a sort of blue colour and her eyes were shut. It looks like she had died in her sleep.

She was a happy hen in life, a good layer and had lovely eggs. She had a big garden to wander around in. She will be much missed by her sisters Ethyl, Henrietta and Dorothy.
Join in and write your own page! It's easy to do. How? Simply click here to return to Chicken Memorials and Pictures..
My chicken's sudden death
My chicken Ella was a fluffy footed chicken. She was bossy and loved scratching around in the dirt. We got her with her sister Snowy and the two loved each other.

But one day I came home and she was dead on the ground. She was so normal in the morning and was eating and drinking fine, she laid an egg that morning and when I came home she looked like she was just sleeping in the corner of her coop then I realized she wasn't breathing.

I check my chickens everyday to make sure they're healthy and there was nothing wrong with them. We went to the vet the next day and she said it was sudden chicken death syndrome so we buried her in our backyard. We miss her so much.
Join in and write your own page! It's easy to do. How? Simply click here to return to Chicken Memorials and Pictures..
Angel chicken died today...
by Cheryl
(Austin TX)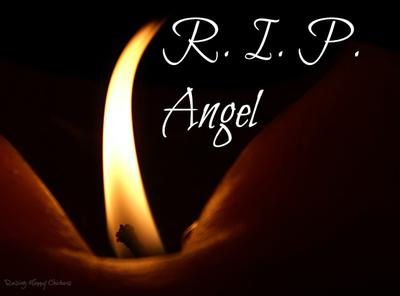 R.I.P. Angel chicken.
Angel was a good chicken, 3 years old , from our first batch we ever had. We named her Angel because she grew white feathers out of her fluff first.

She was a top of the pecking order chicken, confident but not mean to the others, golden headed and pretty. Her only nest mates left are Tiramisu and Rooster (who is a hen actually).

She gave little warning of her illness. She seemed fine earlier today but by the time I figured out she had Ascites and tried to drain her, her lungs had filled up with fluid. She gurgled and coughed and then flapped her wings in a sudden convulsion and died.

Did the heart failure cause the Ascites, or did the Ascites cause the heart failure? I don't know, but she was a good girl and we will miss her.

I wish I could have saved her.

Rest in Peace ANGEL! !🐔👼
My Oh My Wynonna
Wynonna (also called "Why-why") passed today all of a sudden. She was a silver-stenciled Wyandotte. I already miss her kind of husky hen voice and the beauty of her feathers and her silhouette in the backyard while ranging. She was a steady, calm hen, never pushy for the best morsel.

Together with Cheryl, our Columbian Wynandotte, they were the yin and yang of the flock, as their colors were opposite. I know all the other hens miss Wynonna, but especially Cheryl.

I cried, I held my girl, as she was passing her last breaths. She opened her eyes one last time, I told her I love her.
Join in and write your own page! It's easy to do. How? Simply click here to return to Chicken Memorials and Pictures..
Mocha, the hen who loved to cluck.
by Jenny LeFane
(Prosper, Texas)
There once was a chick, a brown chick, we fed her and played with her etc. And one day, she grew up to be the most beautiful brown and golden hen there ever was and will be.

One tragic afternoon I went outside to check on my fowls, I go behind the coop and there I find her soul gone from the flesh. I was so very upset and depressed. After all, Mocha was my most prized possession. I went on to grow the fowl group but never to replace her.

I get very, very emotional when I talk about our fallen comrades (not really comrades but still, you know what I mean...).

May Mocha forever rest on a soft heavenly cloud with other deceased hens.


🐓🐔R.I.P. Mocha🐔🐓
Mel
by Jeanne
(Burlingame, CA)
I was saddened to suddenly find my 18 month old chicken had died quietly this morning.

As usual, she was the first to bounce out of the coop earlier today. Then, two hours later, I found her under the camellia bush, one of her favorite spots.

While researching what might have been the cause, I found your website with your touching remembrance to your chicken and am moved to add a few words.

Mel was a proud and bold chicken who wanted to be wherever I was, which usually meant sneaking into my kitchen whenever the door was not tightly shut.

She rushed to greet me whenever she heard my voice and chose to lay her wonderful, strong shelled brown eggs under our redwood tree. She had the run of the yard every day, protected by our cat (they all napped together), and I think had a rather happy life.

We will miss you Mel!
Mamma Mabel
by Nette
(UK)
Found my dear little mother hen in the run this morning, a light Sussex hen about 10 months old, but a cheeky girl. Always first at the food tray, loved to cluck proudly when she'd laid and led my other 2 hens into all sorts of scrapes. :)

I don't know what took her, no injuries, no evidence of being egg bound, no excretion problem, loved her food and was a little heavy I suppose but active around the run.

She will be missed, I didn't know what to do with her body, so I've wrapped her in a towel for now and put her in my shed. Maggie and Maud are subdued today, walking a little slower and very quiet. A few little treats later, a bit of fresh corn and fruit maybe. RIP my little boss lady. x
Join in and write your own page! It's easy to do. How? Simply click here to return to Chicken Memorials and Pictures..
Golden Grahams
by Shawn
(Oak Park)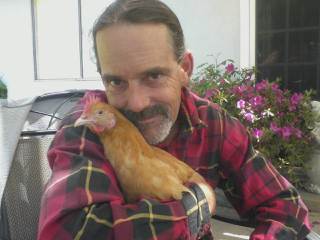 Goldie was my baby girl. We received her as a rescue that was going to be culled. She was in the splits position and was unable to walk or stand. I became very attached to her. We lost her at 11 months on June 22, 2015.
Join in and write your own page! It's easy to do. How? Simply click here to return to Chicken Memorials and Pictures..
Janice the Silkie
One of my best friends passed away today. It was sudden and out of nowhere. She passed away in her coop overnight at the young age of 2.

She changed my life, because of her, I stopped eating meat thus saving even more chickens and other living beings on this Earth. Life is sacred to all creatures. I was lucky to have such a good friend.
Tilly, sweet Till
by Lisa Lajoie
(Huntington, NY )
The sweetest little red bantam cochin. She was always so sweet to me.

During this harsh winter, I noticed her hanging out under the heat lamp in the coop (yes, that helped ME sleep at night).

Then a few days later, my bedtime count was off by 1. I knew it was her and found her huddled outside under the coop in the freezing cold. She had been exiled.

I brought her in to my living room where she spent her last 2 weeks of life. I never figured out what was wrong with her, but having the others immediately attack her when I tried to put her back outside with her flock 2 days later, convinced me that she was indeed not well.

Nothing I tried worked. She died in a peaceful, warm, safe place.
My best pal Betty
by LEILA
(Floris, Iowa)
My husband surprised me with 2 Buff Orpington chicks one spring - they were on sale at the tractor supply store after Easter. I named them both Betty since I couldn't tell them apart.

That was THIRTEEN years ago!!

I loved going to their pen with some of their favorite foods & chatting with them.
They gave us lovely eggs for many years, then quit for 3 years as they aged - but started laying eggs again when they were about 9 yrs old!!

Betty 1 died 2 years ago & it was then that Betty & I really bonded. She was very lonely & I needed someone to talk to.

I loved talking to her - she really listened, would cock her head & try to understand but usually her clucking comments sounded like advice to take things as they come; go with the flow. Wait for the bugs - the good things in life do come to you.

Betty passed this past Saturday. I cannot walk by her pen yet. I will miss her very much.
Buffy, my babe
I read all of what you said about losing Sophia. I just lost my 1 yr old Buffy (Buff Orpington) tonight.

I got home from work & my daughter & husband said she was listless & acting slow at drinking & walking. When hubby went to put the usual 4 away, Buffy was missing, he found her leaned against the shed dead.

My heart is saddened as she was my favorite. Followed me everywhere. Loved to be petted. I'll miss her greatly & I am like you. Why did she die so young? :(
Join in and write your own page! It's easy to do. How? Simply click here to return to Chicken Memorials and Pictures..
Little chicken - known as Squirt
by Annie
(Hampshire UK)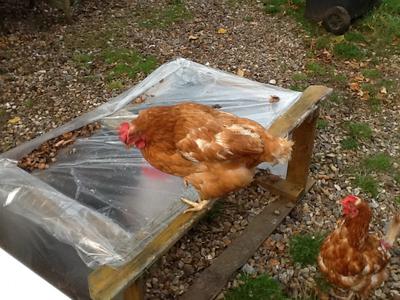 Squirt
Little chicken came to us in July 2015 as a rescue hen. She was the smallest of the four we adopted and bonded wit our older hen Gertie. They were always together, slept together, roamed together and ate together. She died this morning of sudden death syndrome. She was fit and well one minute and laying dead the next.
She was the first of the ex bats to venture outside and great the outside world, she was tiny compared to the others and took her share of pecking and bullying but , she came through it and became one of my favourites, next to Gertie.
I shall miss you Squirt, and Gertie will too. Rest in peace little one, thank you for the time you spent with us.
Join in and write your own page! It's easy to do. How? Simply click here to return to Chicken Memorials and Pictures..
Losing a chicken is a lonely thing.
It was Belle. My Belle. She was the top hen who looked out for trouble and kept the others safe. Of course, she pulled their feathers out when she felt like it. But I will truly miss her. She was fine last night... and gone this morning. It's very hard right now. But I hope I'll be better soon.
Join in and write your own page! It's easy to do. How? Simply click here to return to Chicken Memorials and Pictures..
Little Flo
by Richmond Family
(Oklahoma)
You were a sweet girl every day of your brief chicken life. You greeted me by flying across the yard to meet me at the gate. You gave us beautiful pale blue eggs and loved to eat the dried meal worms.

Thank you Florence. Free range forevermore.
Join in and write your own page! It's easy to do. How? Simply click here to return to Chicken Memorials and Pictures..
Lost my most adored chicken.
I lost 3 chicks through lack of heat and then my grown chicken died. My grown chicken laid us three eggs a day for 3 years and then got sudden death syndrome.

I felt like giving up until my next batch of chicks all hatched and survived.

The pain went after a very long time but I got no sympathy in the process because she was "only a hen."
Join in and write your own page! It's easy to do. How? Simply click here to return to Chicken Memorials and Pictures..
Mattie the menace
by Nathin
(Wichita, Kansas)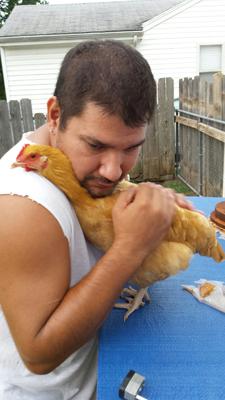 Mattie was a very sweet and loving bird and loved her hugs!!

If she didn't get her hugs for the day, she'd Bawk up a storm! Also the head chicken she would let us know when or if one of the others were being bad.

On the 30th of January after 5pm, I found her laying by a Uca plant on her side.

We dearly miss her, her bawking and mostly her hugs. She was only 11 months old. The 26th of February 2016, she would of been one.

R.I.P Mattie Lynn. We'll see you again in Heaven.
Join in and write your own page! It's easy to do. How? Simply click here to return to Chicken Memorials and Pictures..
Pumpernickel, my fancy hat Ameracauna
by Sarah
(North Carolina)
My Pumpernickel suddenly died during the night this week.

She was a lovely hen who watched out over the other four hens I have. Yesterday she was vibrantly alive and today she is gone.

I'll miss her and so will her sister hens.
Join in and write your own page! It's easy to do. How? Simply click here to return to Chicken Memorials and Pictures..
Loved
by Alyssa
(Ny America)
My chicken lived 2 years.

She was part of my first ever flock and I still have the 11 other chickens and 6 new chicks that I love more than I thought I ever could.

Sitting with them and watching them eat and scratch, even hop up on my legs, makes me love them. They are not just chickens, they are my pets that I love.

I will miss my white Leghorn. She made me happy and I will miss her. I hope she's happy .
Join in and write your own page! It's easy to do. How? Simply click here to return to Chicken Memorials and Pictures..
Farewell, Puffy
by Harriet
(US)
I lost my white silkie hen, Puffy, today. She was 10 months old.

I came out to the run and found her lying peacefully on her side, no sign of distress or trauma. Almost as though she just went to sleep.

She never caused trouble to me or the rest of the flock. She and the others simply ate and drank and laid their eggs. Rest in peace. Job 12:9-10
Join in and write your own page! It's easy to do. How? Simply click here to return to Chicken Memorials and Pictures..
Losing Mama
by Marion
(California)
My 2 year old Americana was especially special. She followed me and sat on my lap often.

She developed impacted crop and I administered all the conventional care. Nothing worked as she lost weight.

I had to do surgery and cleared out an immense amount. I kept her off feed for 24 hours except water, electrolytes, and probiotics. I held her most of the day yesterday on my lap just giving her love and she was very relaxed.

Late at night she was pecking at food, so I gave her favorite treat, banana, & she devoured it. I didn't sleep well, checking on her all night. She was active and under a heat light.

This morning she was in a corner with labored breathing. I said out loud, she's going to die. I changed my clothes, got a blanket, went out and she was face down.

My poor baby died alone and I feel so guilty. I'm holding her now and bawling my guts out. I tell her I'm sorry and how much I love her and how sweet she was.

This is definitely a learning experience I hope never presents again. Feeling like when the other 10 hens die, I'm done for a while. It hurts too much with just a regular hen but when you're bonded it's too much.

Thank you for a place to share my sorrow. Love to all who know what I'm talking about from your own experiences.

Broken hearted. Don't know how to download pics, maybe I will try later.
Snow White
by Dusty
(Houston, TX)
We are new to chickens having just begun our adventures in January. We started with a flock of 5, known as the Fab Five. We've since added 3 more hens and 4 chicks that we're raising.

Snow White was our first hen to pass. She did so suddenly and unexpectedly today. She was young, 4-5 months and had yet to begin laying. Being new to everything we are not sure what happened. Through I suspect she was egg bound. I'm praying it was nothing highly contagious that will spread to the rest of the girls. They are all being closely monitored.

Snow White was a sweet hen. She was a Barred Plymoth Rock and was beautiful. From the first day we got her, she would let you pick her up and cuddle her. She was very talkative and would come to you and talk your ear off.

She loved fresh fruit and veggies and was a gentle soul. I'm so sad we couldn't do anything to help her and I hope her passing was easy. I'm researching and gathering as much information as I can to prevent anything like this again, even though I know that these things do happen.

Snow White may not have been here long but she will always hold a special place in our hearts as part of the original Fab Five.

Thank you Snow White for all of the good memories.
Join in and write your own page! It's easy to do. How? Simply click here to return to Chicken Memorials and Pictures..
Sweet Dreams Johnnie Cash
by Shanon
(Wa)
We bought her and 2 other hens from a neighbor. My husband named her because she was all black, a slight beak deformity but a cool chicken!

She survived the coyotes and a mean rooster! Her feathers grew back and she loved to sun bathe!

I'm not sure why or what happened to her because she was fine and as far as we know healthy but we woke up this morning and she was just laying in her nesting box.

We are so sad to lose her at only 1 1/2yrs old.

R.I.P Johnny Cash!
Join in and write your own page! It's easy to do. How? Simply click here to return to Chicken Memorials and Pictures..
Hi ho Silver
by Gwen Glover
(Isle of Wight UK)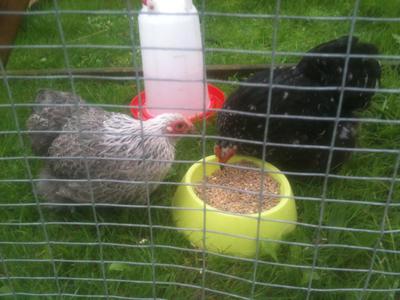 Silva joins the fold
I lost four chickens a few years ago to the local vixen. I cried but out of shock mainly.

There remained one speckled bantam named Sharkey (for unknown reasons by my then 6 year old grandson). She appeared bereft even though she had not witnessed the massacre since she was broody at the time and barely left the coop.

So I went back to the lady who had supplied my first ever bantams to replace the four lost hens. Naively I was asking for baby hens at the wrong time of year, but after almost begging this lady, she supplied this bedraggled skinny silver bantam with smelly feet who automatically became Silva.

I nursed her to good health and later added 3 new birds to the coop and they provided eggs and much amusement, not to mention the best therapy ever for me when I was suffering from anxiety and depression some months later on.

Shortly after moving to a new house, chickens and all, the dog next door got over the wall and killed two of my girls. The fox, I had understood,but this well fed lurcher/cross I could not understand first nor last. Its owner was less than sympathetic and I refused his offer to replace Ginger and Sharkey.

We had given our cockerel Reg away just before moving so now I treasured my two remaining girls, Silva and Dilly Dilly. So when my partner just told me Silva had died in the coop over night - having laid right up until the day before and "chatted" to me on Sunday. I am ridiculously upset. How does a healthy chicken just shuffle off this mortal coil like that??

Then I found your blog and I am on the path to acceptance, so thank you for your wise words. I nursed Silva through bad feet twice, bathing her and holding her for hours on end, and I will never forget her. I shall now drown Dilly Dilly in love until her last breath and I will never have chickens again. they break your heart.

R.I.P. Silva x
Join in and write your own page! It's easy to do. How? Simply click here to return to Chicken Memorials and Pictures..
Pearl and Lou, the Wonder Hens.
by Jennifer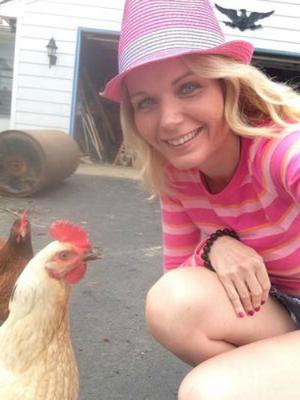 My girls.
My first time with chickens and can't believe how devastated I am to lose them.

Pearl loved to take grass from my hand. And I would give her hugs everyday. Lou was my fiesty independent girl; she would always be first out and she would follow me around the yard.

I can't believe they won't be crying and ready for their morning walk. They all loved bread time and rolling in the dirt on hot days. They did tricks jumping for their bread.

Their sisters Harriet and Sammy also miss them so much. Frankie our new rooster they kept in line.

You girls will never be forgotten and I am so sorry you had to go that way. But you guys were loved by us and you are missed.

Thank you for this page and I am sorry about your Harriet.

We love ours too. Love you Pearl and Lou.
My Sweet Cora
by John
(Tucson, AZ)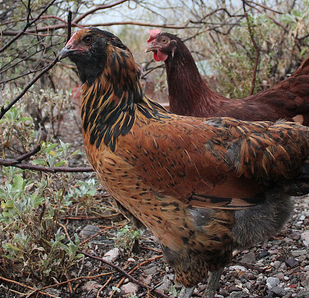 I remember the day I brought you home, riding shotgun along side me on the drive that seemed like it took forever.

You looked like a chipmunk with a beak and made the cutest little scratching and peeping sounds. You were no bigger than a clump of grey and brown cotton balls. You grew up to be a beautiful bird that laid the most beautiful blue-green eggs.

Everyone loved you, most of all me. I don't know what happened to you that you only lived a little over 2 years, but I hope that I was able to help you feel loved.
Join in and write your own page! It's easy to do. How? Simply click here to return to Chicken Memorials and Pictures..
Missing Annie, our Blue Wheaten Ameraucana
by Laura
(Forest, Virginia)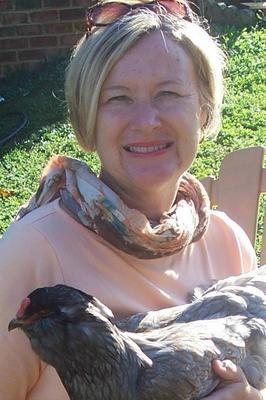 Me and Annie, Blue Wheaten Ameraucana
We just lost our affectionate Annie, a lovely Blue Wheaten Ameraucana hen who was 3 years old to Sudden Death Syndrome.

She had been fine and was eating, laying and doing her chicken thing every day. I found her in our coop just laying quietly one morning, and by noon she was dead. She convulsed and had wing flapping at the end as I held her close. We were devastated as a family because we had her for three joyous years. She would greet us daily as we came to the coop and would literally jump up in our arms.

I have been questioning myself over and over what we could have done differently and what could have happened as she appeared healthy over the previous week and days leading up to her illness. Now that I have read your website I feel like it was probably Sudden Death Syndrome and was unavoidable.

I have beat myself up for a week thinking that I should have seen something, and had a cure, but it sounds as though we could have had no control over her demise.

Thank you for your website and information. At least we know that she was a happy hen, and loved us just as much as we loved her. We love our poultry - all 43 hens and 12 roos!

Join in and write your own page! It's easy to do. How? Simply click here to return to Chicken Memorials and Pictures..
Francine was only part of my family for a month
by Madison
(Louisiana)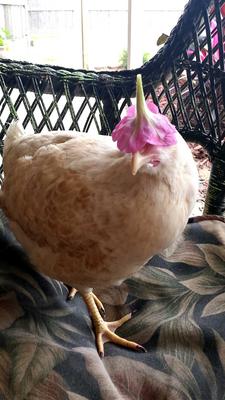 Franny always let me do silly things for pictures
Francine (or Franny, or Fran) was a gift from my grandfather, because of how sweet she was (and also the fact the other chickens picked on her for being born deformed). She was already a year old when we got her, the day before Easter Sunday, but she was carried around everywhere by my grandfather while she healed from her deformities, so she was extremely docile and tame.

She was born with her legs over her head and a blind, always squinting eye. She overcame her legs, and I found her blind eye charming.

She loved to peck at my mother's painted toenails and hop into the feed storage bin whenever I opened it. Her favorite treats were dried mealworms and cherry tomatoes picked from our garden (and sliced of course, she was that spoiled). She laid her head on your shoulder whenever you held her and talked back to you when you spoke to her.

She liked to also follow me around when I was working in the yard, even just after two days of coming home. She was a family pet, everyone loved her, and she thought she was one of the dogs because she always tried to come into our house when the dogs did.

She passed away last Saturday from unknown causes. It was possibly a deformed heart, but it was so sudden we have no idea. It devastated everyone, but she was respected even in death by being buried among my tiger-eye sunflowers, with a metal cross. Rest in Peace Francine, you were a amazing, brave chicken, and I'll never forget you.

Francine 2014-2015
Join in and write your own page! It's easy to do. How? Simply click here to return to Chicken Memorials and Pictures..