Can't find what you want?
Search this site!

Hallie-Hen
by April
(Jacksonville FL)
Hallie & I
I lost a hen tonight (4-29-18).

Hallie was one of my more inquisitive gals. Would be the first one running towards me when she heard the bag of meal worm treats shake.

She was also my most vocal hen. She made sure the entire block knew when she laid an egg and if another hen was in her favorite spot she'd fuss at them sometimes so loud I'd think something was wrong but no, she was just unhappy and making sure everyone knew it!

Tonight when I went to lock up the coop she was no where to be found. After searching the yard for a bit I found her hidden under a dark corner of the shed.

When I pulled her out she was very lethargic. Just an hour ago when I was outside she was scratching away at the dirt - now this.

So I brought her inside, wrapped her in a towel and sat with her on my floor trying to research what could be wrong. About 15 mins or so later she stretched her wings and neck and flapped uncontrollably for a few seconds then she was gone.

The only thing I think it could be is sudden chicken death. I'm just glad I could be with her for her final moments.

Gertie
Gertie was our only green egger.

She was mean but not a bully. She was a good friend to our special needs chicken, Pearl. She had a best friend she roosted with each night, Pepper.

She had the most beautiful feathers I've seen on a chicken.

Like your story of Sophia Lor-hen, she appeared to have died from Sudden Death Syndrome. Despite all of the care we took to keep them healthy.

Thank you for putting this page together. It helps to see how others have lost their dear chickens and know that even though they are "just chickens" that they hold a special place in our hearts.

I will quote your article about Sophia in my last words about Gertie:

"And, perhaps most importantly, she was loved. She was a lucky hen."
RIP Big Mama
by Diane
(New Jersey)
Big Mama was found dead in the coop yesterday, intact and eyes closed.

I hope she passed peacefully.

Have fun up in the chicken run in the sky, grumpy girl.
in memory of Pancake
by Hope
(Cincinnati )
Pancake in my hand before she got sick
Pancake was a sweet Ameraucana chick who passed at about 5 days old, from complications of pasty butt.

She liked being held and being stroked between the wings.
We will miss you dear Pinta
by Karen
(Utah)
We got our pretty red Rhode island chicken a month ago when she was 3 weeks old. Our little baby loved her and we named her Pinta because we were thinking on getting only three chickens and we were going to name them after Christopher Colombuses ships.

Anyways we loved having her for the short period of time we had her. She was not laying eggs yet but she was very healthy and growing fast and beautiful, so we were excited to see her growing.

But today 05/12/18 she was killed by two big dogs who escaped from their backyard and came to our property. They knocked over the tray that was inside of the nesting box of their coop and some of our hens fell off the nesting box, leaving them defenceless outside of the coop :(

Anyways, we found our about that because the kids who were looking for their dogs came by and said their dogs killed our chicken. :(

It was very sad and we are still very sad. But things like these happen and we hope it doesn't happen again.

We secured our coop even more - hopefully we don't see these dogs again!
Hedwig
by Sarah McNeal
(Roseville MN)
My Hedwig
Hedwig was my flock leader for 8 years. She ruled like a firm Mom - the kind who had only to give you a look and you would stop what you were doing. She was from my very first flock of chicks. She talked to me all the time and could recognize her sounds from the rest.

Toward the end, I knew she was dying. She would stand under lawn chairs for long periods of time. She wasnt eating much. She was slowing down.

At night, she would not be able to make it up to the perch or into the nesting box. I placed her up there and she liked that.

I found her there one morning, having died (peacefully I hope) overnight. She is one of the pets I hope to meet when I go to the great beyond.
Pearly - Brewer Extraordinaire
by Dranz
(England)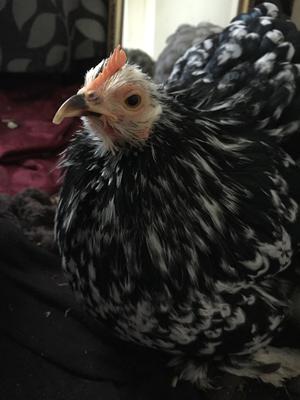 My Perfect Pearl
I lost Pearl on Tuesday. She'd been unwell for weeks, but waking to discover that she had passed was still a blow. I'd spent the previous weeks savouring our time together and telling myself to be prepared, but I wasn't.

Pearl was part of my second hatch. She was born alongside Sandy, and there's a good chance she fell victim to second hatch nerves and I coaxed her out of the egg sooner than she'd have liked. Despite this, she was always amazing.

I used to joke with my sister that Pearl had this crazy other life. She hoarded raisins, made whiskey and was a general beauty who anyone seeing would want to steal on sight (but then I was probably bias in that regard!).

Pearl loved to eat just about anything she could find and an encounter with barley straw nearly caused us to lose her pretty early on, but she battled on through, until a love of carpet would prove to be her downfall.

My fondest part of Pearl, the bit I always had to comment on, was her smell and I'll miss that greatly. Pearl always smelt wonderful when she woke, or the day after a wash when she'd had chance to sleep and regain her scent, but hadn't been awake long enough to tread on the wettest, stinkiest poo she could find! My sister used to joke that I bathed her too much, but you would too if you had a chicken who enjoyed dirt as much as she did!

In her final months she had developed a close friendship with the eldest of my hens, so much so we would joke they were in a relationship, though by the end that seemed to have soured slightly (perhaps the mini R simply couldn't accept the end was coming?).

Whatever the reasons, Pearl was never alone. If I was around I'd keep her close and I treasure those final memories. You were my perfect Pearly girl and know that you'll always be in my heart.

Rest in peace my sweetheart, I hope we'll see each other again one day.
Ditty
by Pip
(Warwickshire, England.)
My mother decided to get some chickens after years of wanting some 3 weeks ago. She decided on Silkies and bought 3: A big white one called Dandy (Dandelion), a pure black one called Mo and a cuckoo one called Ditty.

I've always been an animal lover, all sorts and sizes, and being a countryside girl I love any farmyard creatures. I didn't expect myself to fall so in love, so quickly with my little hen.

Ditty was the middle sized one. She loved to be held and stroked as she quietly buck-buck away in your arms. She was calm and friendly and the first to eat from my hand when I brought them some morning oats whilst I was looking after them whilst my parents were away.

I would call out to her as I approached 'hello buck-bucks! Dandy, Ditty, Mo! Where are you my ditsy-do-do?!'. She'd craw and cluck and meet me for a treat and a stroke.

Three days ago I noticed that she was laying down a lot in the day. It's been sunny and so I assumed she was catching some rays, but when I went to put her to bed that night she pecked at my hand as I tried to pick her up and fussed as I carried her to the roost.

Once in she lay back down and refused to move, I stroked her and said goodnight. The next day my parents returned home and I told them that Ditty was acting up and explained how, saying perhaps she was broody as none of the hens have laid for us yet.

I went back to my house and thought nothing more. However today I received the phone call that she had passed unexpectedly this afternoon.

I went and saw her. She was all nested up in a cardboard box. All beautifully speckled and soft. My little feather pillow, peacefully at rest.

I never thought I'd love a bird, let alone kiss one, but a week back as I held her, without a second thought I kissed her and was immediately surprised at her smell. It was warm and comforting and smelt just like feathers, an obvious but still unexpected smell.

I cried as I stroked her one last time, hugged the box and told her I love her. I couldn't kiss her because the box was small and she was settled at the bottom all safe. I wrote her a note and left it with her.

She'll be buried tomorrow under the apple tree she used to free range under.

She truly was a wonderful bird and I loved her dearly. RIP Ditty xxxx
Millie was one of my absolute best friends
by savanna
(tx)
she was beautiful i miss her so much
i had my angel baby for 7 years and she helped me through the loneliest times of my life.

Millie was a Millefleur Belgian Bearded d'Uccle bantam (obviously I couldn't think of a more creative name for my Millefleur than Millie) and she was the sweetest funniest and sassiest bird you can imagine.

At age 5, my sassy gal went missing in the woods by our house for 2 weeks. Chicken parents know that when a chicken goes missing....they're dead.

Lo and behold, Millie came flying through our yard, alive!

We moved to the city where we bought a huge antique iron bird cage for her (at this time she was our only chicken). She lived the next year befriending our cats and dogs, and stealing cat food and eating roaches and living the hen dream.

The day before yesterday I noticed she was lethargic and wobbly, followed by runny egg out of her butt. an egg busted inside of my poor baby.

We took her to the vet and kept her very comfortable until her passing around 3am this morning.

I'm so incredibly sad this amazing chicken left us on such short notice. I'll always remember my sweet Millie :,)
Eleanor
by Aryeh
(New Jersey)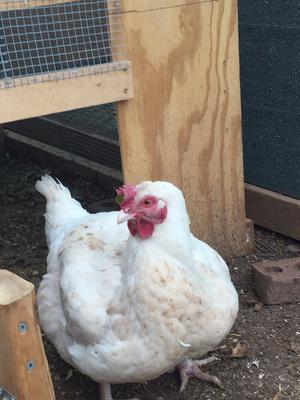 Eleanor was a Cornish cross pullet that I rescued from slaughter.

She was such a sweet bird. She loved to be with the other chickens and free range.

Eleanor was the sweetest chicken I had ever had. When she would see me she would come running.

Sadly Eleanor passed away from depression when I was forced to rehome my flock. I kept Eleanor and her Silkie friend, but Eleanor was so unhappy and she started to decline.

She passed away while I was on my graduation trip for high school and I never got to say a proper goodbye to her.

My father buried Eleanor in my backyard. She was 9 months old when she passed away.

One night many months later I had a dream about Eleanor, she was so happy and I said goodbye to her in my dream.

I miss Eleanor so much.
My baby silkie
by Gemma
(Scotland )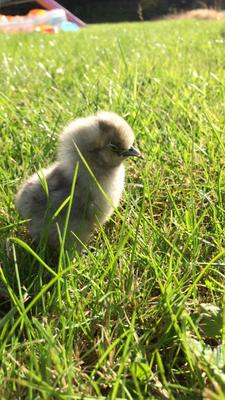 This was her last Monday
My beautiful Silkie bantam chick started acting strange two days ago. Yesterday, she was really lethargic and I was scared that she wouldn't make it through the night.

But she did, and she's still here next to me but it is a Saturday and I'm afraid she might not make it until the vet's open on Monday.

She spends most of the day peacefully sleeping and I sometimes give her some water using a dropper. I don't know what to do as she is my baby and I don't want to lose her. - Gemma xxx
Ode to the girls I have lost
by Kelly
(Spring Bay , On, CA)
I recently suffered a devastating loss by a raccoon.

He managed to get 12 of my girls. Not the new chickens I hardly knew. No, my favorites. Tit and Tat, my bantam lavender Orps, who used to chat with me all the time.

And my little moms who raised my chicks. Mabel the sexlink that was friendly and smart.

And the chick that Tit had hatched a few days before the devastation.

Rest in peace girls and sorry I let you down, but we got the coon and fortified the coop.
Busy Bee
by Anissa
(Colorado)
Busy Bee was just a baby. She was living in the coop with her flock. One day I noticed she was having trouble keeping her balance. I took her out and was working on finding out what was wrong.

I tried treating her for ear infection, Marcel's disease, and finally crazy chick disease . She passed away this morning.

She was a silver Leghorn and as sweet as a bug. Being sick didn't slow her down. She still tried to run even though she would end up falling down. She ate and drank . And got so excited about it.

She especially loved watermelon.

She would scold if you held her wrong or if you tried to put her back in her bin. She wanted to be with me all the time. But, I had things I needed to get done today, so I put her down.

When I came back she was gone. She had died. My heart is so broken that I didn't just keep holding her.

This pain is just like any other loss of a pet. So she was not just a chicken. She was a beautiful creature with her own personality and I will always miss her.
---
If you enjoyed this article and found it helpful, I'd love you to let me know by clicking this button - thank you!
---
Thank you for sharing the chicken love!