Can't find what you're looking for?
Search this site!

Hallie-Hen
by April
(Jacksonville FL)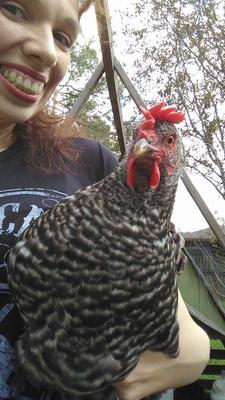 Hallie & I
I lost a hen tonight (4-29-18).

Hallie was one of my more inquisitive gals. Would be the first one running towards me when she heard the bag of meal worm treats shake.

She was also my most vocal hen. She made sure the entire block knew when she laid an egg and if another hen was in her favorite spot she'd fuss at them sometimes so loud I'd think something was wrong but no, she was just unhappy and making sure everyone knew it!

Tonight when I went to lock up the coop she was no where to be found. After searching the yard for a bit I found her hidden under a dark corner of the shed.

When I pulled her out she was very lethargic. Just an hour ago when I was outside she was scratching away at the dirt - now this.

So I brought her inside, wrapped her in a towel and sat with her on my floor trying to research what could be wrong. About 15 mins or so later she stretched her wings and neck and flapped uncontrollably for a few seconds then she was gone.

The only thing I think it could be is sudden chicken death. I'm just glad I could be with her for her final moments.

Gertie
Gertie was our only green egger.

She was mean but not a bully. She was a good friend to our special needs chicken, Pearl. She had a best friend she roosted with each night, Pepper.

She had the most beautiful feathers I've seen on a chicken.

Like your story of Sophia Lor-hen, she appeared to have died from Sudden Death Syndrome. Despite all of the care we took to keep them healthy.

Thank you for putting this page together. It helps to see how others have lost their dear chickens and know that even though they are "just chickens" that they hold a special place in our hearts.

I will quote your article about Sophia in my last words about Gertie:

"And, perhaps most importantly, she was loved. She was a lucky hen."
RIP Big Mama
by Diane
(New Jersey)
Big Mama was found dead in the coop yesterday, intact and eyes closed.

I hope she passed peacefully.

Have fun up in the chicken run in the sky, grumpy girl.
in memory of Pancake
by Hope
(Cincinnati )
Pancake in my hand before she got sick
Pancake was a sweet Ameraucana chick who passed at about 5 days old, from complications of pasty butt.

She liked being held and being stroked between the wings.
We will miss you dear Pinta
by Karen
(Utah)
We got our pretty red Rhode island chicken a month ago when she was 3 weeks old. Our little baby loved her and we named her Pinta because we were thinking on getting only three chickens and we were going to name them after Christopher Colombuses ships.

Anyways we loved having her for the short period of time we had her. She was not laying eggs yet but she was very healthy and growing fast and beautiful, so we were excited to see her growing.

But today 05/12/18 she was killed by two big dogs who escaped from their backyard and came to our property. They knocked over the tray that was inside of the nesting box of their coop and some of our hens fell off the nesting box, leaving them defenceless outside of the coop :(

Anyways, we found our about that because the kids who were looking for their dogs came by and said their dogs killed our chicken. :(

It was very sad and we are still very sad. But things like these happen and we hope it doesn't happen again.

We secured our coop even more - hopefully we don't see these dogs again!
If you found this helpful, please take a few seconds to share it - thank you!