My Girl
by Sharon
(Mi)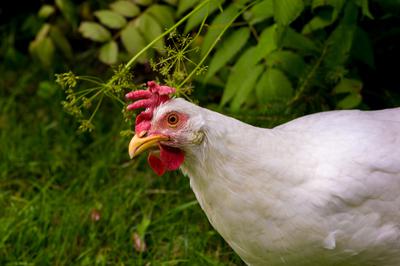 My Girl
Today I know for sure my chicken died of Sudden Death Syndrome.

I witnessed it as I was walking to the house from the backyard.
She was inside her fenced in chicken house - she is a survivor of a weasel attack when she was young. She and her sister are the only survivors of 16 chickens. We had to build a Fort Knox to keep them safe.

For about a year now they did lose the privilege of free roaming due to a family of foxes in our area. The sisters were about 9 or 10 years old. She was a Leghorn I believe. A beautiful white chicken. :-)

As I was walking up I saw her fly up in the air and fall to the straw. She fluttered a few times, and then she was still. I knew in my heart she had just died. Her sister just stood over her as though to say, "what is wrong?" She was confused.

My son came over and removed her for me. When my husband gets home, we will bury her.

I cried tears. I have had these chickens for so long and had protected them so they could live a long and good life. I do know she had a good life.

I believe she had a heart attack. She seemed 100% fine this morning. They wanted out, but I knew I would not be home to watch over her sister and her from the predators, so I told them, "not today."

It is a part of life to lose things we love even a chicken. I accept it, but it sure saddens my heart. Now I wonder how her sister will do without her. She will be so lonely. They have had each other for almost 10 years.

I let the last surviving sister out to free range after her sister's death. She is happy and comfortable enjoying the rest of the day in the shade under a tree.

As a Christian, I believe all living things have a purpose in life, even a chicken. I am reminded of this verse:

"Are not two sparrows sold for a penny? Yet not one of them will fall to the ground apart from the will of your Father. And even the very hairs of your head are all numbered. So don't be afraid; you are worth more than many sparrows." (Matthew 10:29-31)

God does care for all things, no matter how small they may be. All life is precious.