Old World Christmas tree ornaments.

Want to add some traditional glass ornaments to your Christmas décor? 
Do you have fond memories from childhood of watching, fascinated, as the ornaments on our Christmas tree sparkled in the fairy light glow?
It meant that Christmas was really here - and it still does!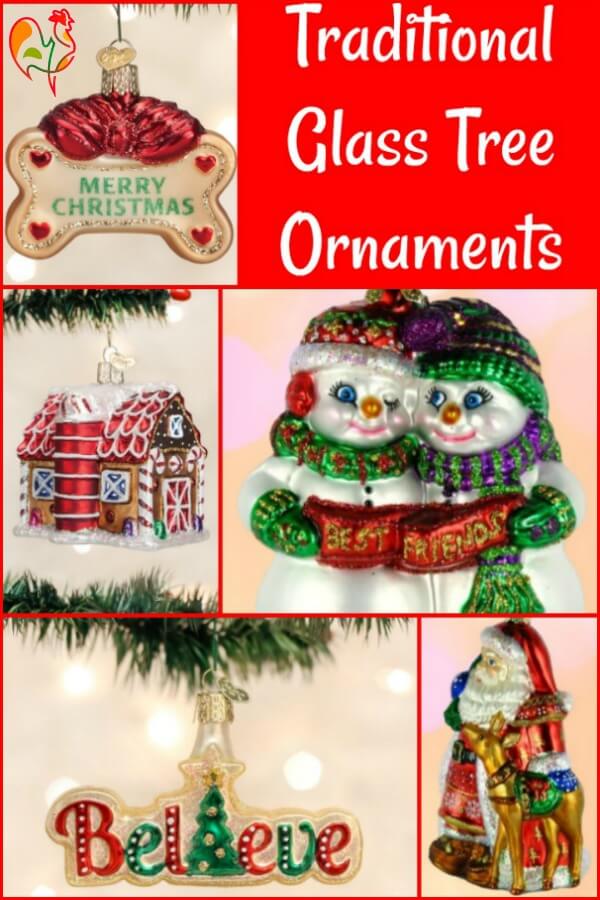 My dad's mother was German, and we were lucky enough to have some of her traditional glass decorations - and, believe it or not, some real tree candles! - as part of our childhood traditions.

They were all lost. I have no idea where they went. For years I used the plastic baubles you can buy anywhere, but they just weren't the same.
They didn't have that special sparkle.
So when I saw some real traditional glass decorations from the "Old World" company, I was delighted. Since finding them, I've bought a lot.
A lot!
Now, I have to hold my hands up here - not all of them are chicken-themed. I do have all those that are, but I also have some that aren't - though they are related.
I'm sharing them here just because I love them and I wanted to share a bit of fun time with you. I enjoy writing about them so much, and deciding which to buy next! 
Let's start with the chicken-themed ornaments.
If you purchase a product through links on the rest of this page, I receive a small commission at no extra cost to you. I only recommend products I have purchased or would purchase myself and which I believe would benefit you. To learn more please see my disclosure policy.


My favourite - a Christmas hen on her nest.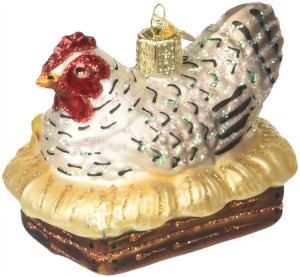 Obviously, I love this because she's a chicken, and I love chickens. But I also love it because of the craftsmanship that has gone into it. 
All the "Old World" ornaments are based on the German tradition of using traditional hand-blown techniques to create unique decorations which are then hand-painted and glittered.
I loved it so much that I ordered it from the States, to be delivered to me in Italy.
The result is a sparkly, colourful addition to my Christmas tree which I hope I'll be able to pass down my family to my nephews' families.
When they're my age I'd like to think they'll look back and remember happy Christmas holidays, as I do now.
Who in your family would love a sparkly hen at Christmas time?

Any drawbacks?
All these decorations are glass, so obviously they need much more careful looking after than the run-of-the-mill plastic ornaments.
But as long as they're stored well - I just use lots of tissue paper and a small box - there's no reason why they shouldn't last for years.

More chicken and farm-based Old World glass ornaments.

I choose to use the "Old World" company because their quality is excellent - they've been using these old-style methods since 1979. They're also ranked number 1 in the US for customer satisfaction.
It's one of the main things that makes them stand apart from other retailers.
Their attention to detail on these ornaments is second to none, as you can see. And considering how labour intensive the process is, their prices are kept very low.
To be honest, the ornaments are even better in real life than photos can portray. I just love them.

Animal-themed glass ornaments.
I chose this category because, if you're a chicken-lover, you'll probably love other animals, too. If you're anything like me, you'll like your festive tree to reflect the passions of yourself and your family.
And I've found that the first of this collection - the paw print - is a lovely gift for anyone who's lost a beloved dog during the year. 
I bought one for myself after our lovely Yorkie, Effie, was killed and it somehow made me feel her spirit was there with us at Christmas.

Traditional fruit and nut tree baubles.
These Old World decorations use the same technique that's been used since 1847 by the German glass-blowers of Lauscha. 
Their first attempt at glass tree ornaments were in the form of fruit and nuts, which were also, of course, given as gifts to children in their Christmas stocking.
Do you remember that tradition as a child? I always received an orange or tangerine, some walnuts and a coin.
Imagine giving those to children now. As one of my nephews would remark: "where's the batteries?"

Traditional Christmas tree ornaments.
Although there's always a place for the more out-of-the-ordinary decorations, there's also a place for traditional figurines on your holiday tree.
Here are a few I particularly like. It would take much too long to list all the decs that the Old World Company make - they have over 1400 unique designs covering all the different holidays, including Hallowe'en and Thanksgiving.
Are you getting excited for Christmas now?!

Some other pages you might like.
If you're looking for Christmas gifts for chicken-lovers, you're in the right place. I have a selection for you, all chosen because I own and love them. Some are seasonal, some are all-year-round useful.
Click on any of the pics underneath to read my reviews.