The White Roo
by Jessica S
(Lady Lake, FL USA)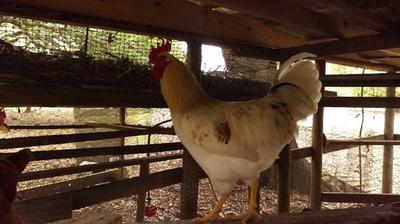 Mr. VanillaRoo
Hello and thank you for all the information you provide.

Our White sex-linked roo is absolutely wonderful. He will only allow me into the chicken yard we have for them. If anyone else enters the yard, he will chase them out. lol.

When he was a baby roo, I would hold him, sing to him and he would perch up on my shoulders as I walked around cleaning out the chicken house.

He does this funny dance thing when the hens move to far away from him, where he puts one wing down and stomps in a circle. He has even done it toward me at times when I try to walk away from him in the morning.

I never thought I could love a rooster such as I do him. His name is Vanilla roo and he is amazing!
Louis the fearless
by Jessie
(Benoni South Africa)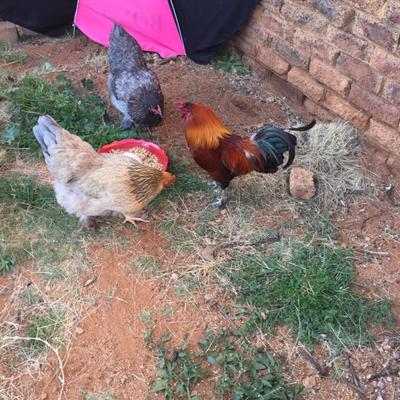 Ok so this morning as I was leaving for work Louis our rooster got out again and all I saw was him running into the house with a line of dogs behind and hubby behind them.

Then they all came shooting back out with hubby running at the back again. I screamed at the dogs and managed to get them to bugger off and hubby got Louis in his arms and saved his little cotton pickin' socks again.

Oh mornings are such fun.
Foghorn
by Dave
(nova scotia)
Our rooster is very gentle with his hareem. While they are all well bred, he does not seem to do much damage.

Foghorn really does look after the hens, we have 2 1/4 acres and we allow the chickens free run of it. Foghorn keeps all the hens together where they are easier to watch.

If a hen wanders off, he brings them all back together. If he finds a nice tasty morsel, he will call the hens to eat it while he watches over them.

At the end of the day, Foghorn even chases the hens back into the coop for the night - all I have to do is close it up.

When I check on them at night, Foghorn even likes a back scratch from me or my wife.
Mr. Rooster Moved In
by Jean Armstrong
(Austin, TX)
Three years ago in October my neighbors moved. As they were moving their rooster escaped and no one can catch him despite trying numerous recommended methods. As I feed the birds and provide them with water, he started living in my yard, sleeping midway up in a live oak tree. When I tried not feeding the birds for a week, he left - but came back as soon as I started feeding them again.

Mr. Rooster makes a lot of noise. In addition to crowing he started pecking loudly on the back door if I was late feeding the birds. He was especially happy when a very cute black hen escaped from another neighbor was hung out with him for a few days. Sadly, she had to return home.

The following winter we had a heavy rain storm and then the temperature dipped down close to freezing overnight. I was so worried about Mr. Rooster who had become part of the family. But he is a survivor and started sleeping on the top of a storage unit on a covered patio. He enjoys eating with the other birds and terrifies the cats if they try to get close to him.

We almost lost him to a hawk last spring during the hawk migration. He started screaming like I had never heard him scream and I ran outside to see a hawk on top of him. I spooked the hawk and Mr. Rooster stayed under the bushes for almost a month.

For last two weeks the temperature has been close to or above 100*F. He is losing a lot of feathers and seems quite uncomfortable. I am not quite sure what to do for him. He has a dust bath area with some DE in it but isn't using it so I don't think he has mites. He has lost most of the feathers on his feet so I can now see that his spurs are extremely overgrown. I do think he needs some veterinary attention but he is so afraid of people he is not likely to get it.

Meister Eckhart said that every creature is a word of God. Mr. Rooster has helped me to know that this is true. I feel blessed that he came to live with us despite what a pain in the neck he can be.