Bacon and egg casserole: one of the easiest, tastiest breakfast recipes ever.

A simple to make, delicious to eat meal for breakfast, brunch or even a relaxed Sunday supper in front of the T.V.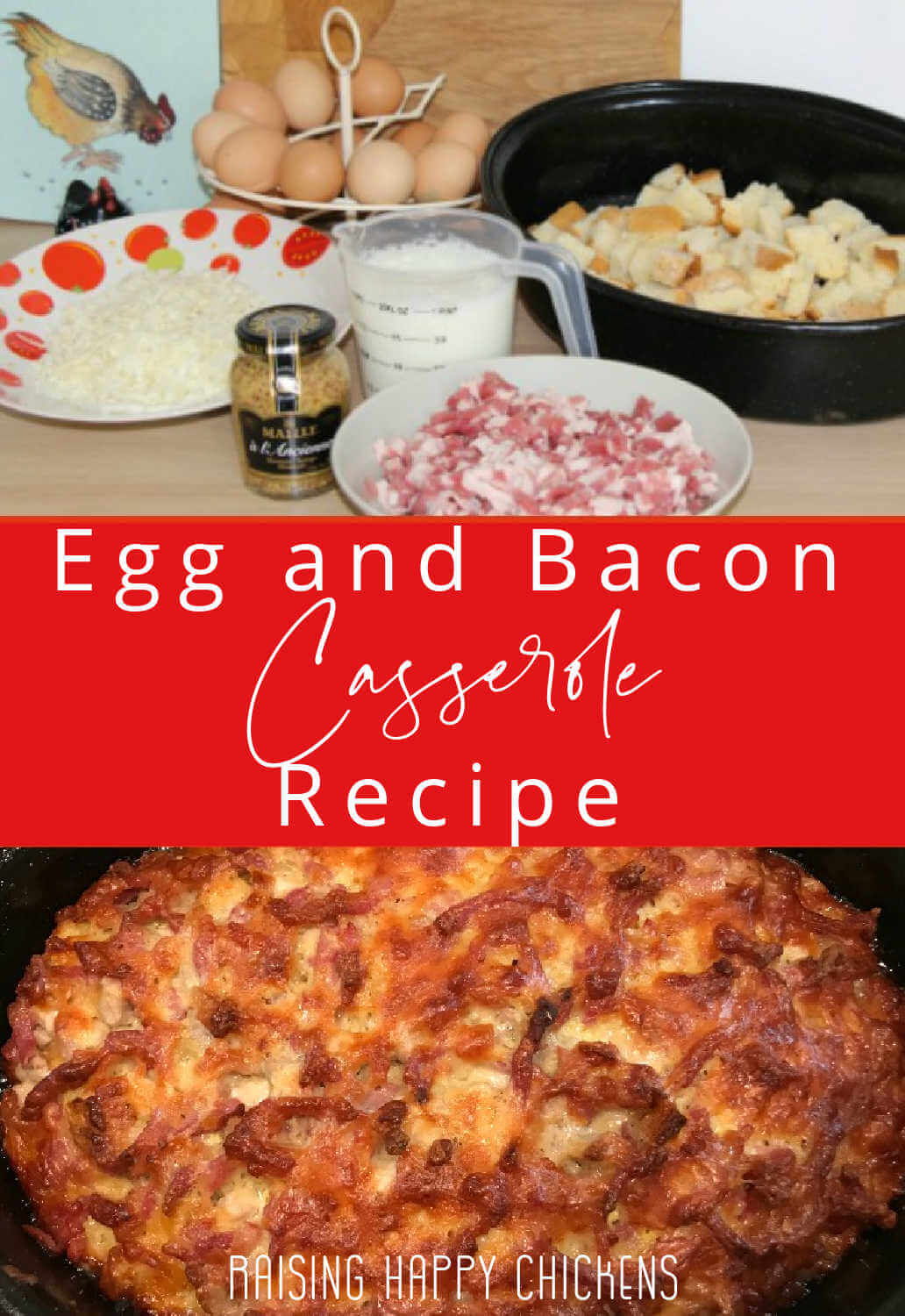 This delicious recipe is ideal for chicken owners because it uses a large number of eggs.
And using your girls' healthy, fresh eggs makes for an even more distinctive taste.
It combines bacon and those freshly-laid eggs with cheese and milk to make one of the most delicious comfort food meals ever.
One of the best things about it is that it can (and preferably should) be made several hours before  you want to eat it and left in the refrigerator for the tastes to combine. 
The longer you leave it, the better it tastes. The bacon juices and the eggs mix together and really soak into the bread. Yum!

Bacon and egg casserole: ingredients.

This is enough to make a casserole for four hungry people. 
The ingredients are very flexible - don't get too hung up on exact measures. If you like a lot of cheese - just use more!
Notes on ingredients :
'Half and half' can be substituted for the milk if you prefer a creamier taste.
If you use salted bacon, don't add any extra salt to this mix.
Any cheese will work. For a stronger flavour choose a good, sharp Cheddar. I use Parmesan which is even stronger - but then I live in Italy, so it's readily available and not expensive.
6 fresh eggs
2 cups (500 mls; 1 pint) milk
2 cups (500 grammes; 16 oz) bacon
1 cup (250 grammes; 8 oz) grated cheese
9 pieces of bread, cut into cubes
1 teaspoon wet or 0.5 teaspoon dry mustard (optional)
A pinch of salt (optional).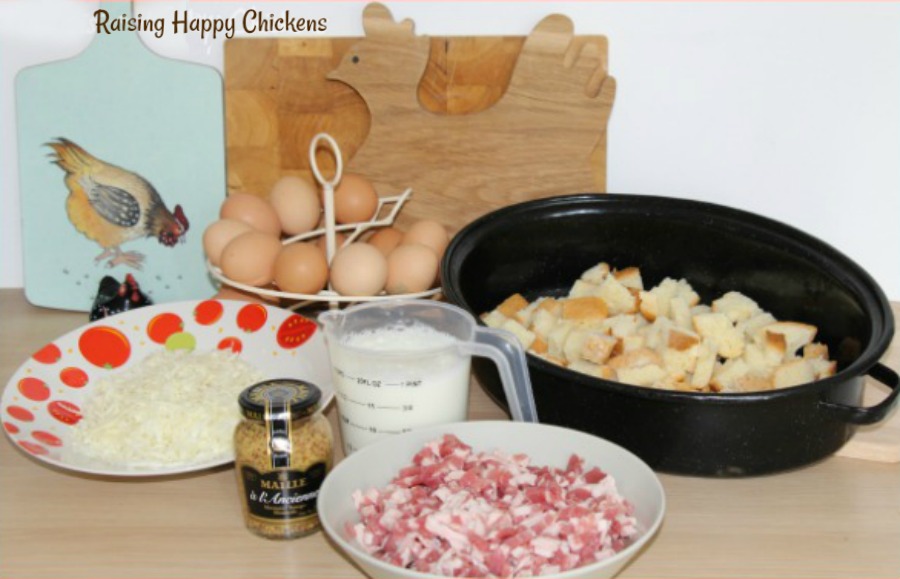 My chicken-themed kitchen! Like my egg storage solution? It's an egg skelter!

How to make this oh-so-easy bacon, egg and cheese casserole.

Put the cubed pieces of bread into the bottom of the dish.
Cut the bacon into strips and fry it in a heavy gauge saucepan so that you don't need to add any fat.
I use a Le Creuset skillet - they're expensive, but they last forever and cook superbly. They don't do the wooden handled one now but this is a link to the same pan with an enamelled handle (affiliate link).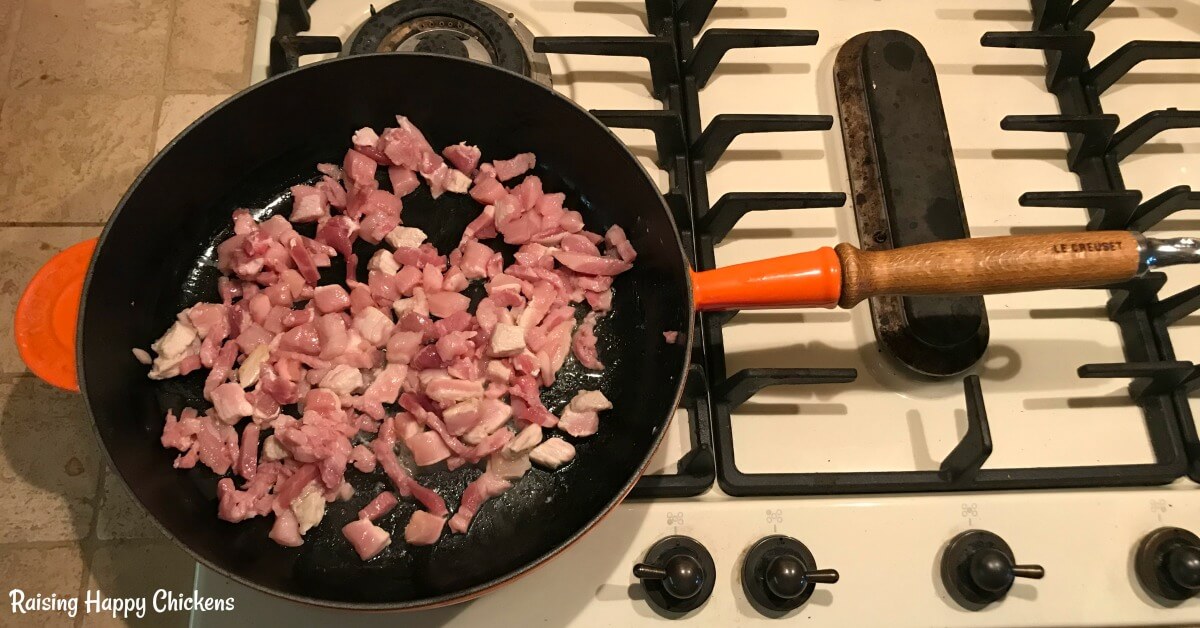 While it's cooking, beat the eggs, milk and mustard together in a bowel or jug. I use a jug as it's easier to pour later.
Once the bacon is cooked, spread it as evenly as you can on top of the bread. (It's looking yummy already!).

Now sprinkle all the grated cheese over the top of the bacon. For the best taste it should cover the bacon - if it doesn't, grate a bit more!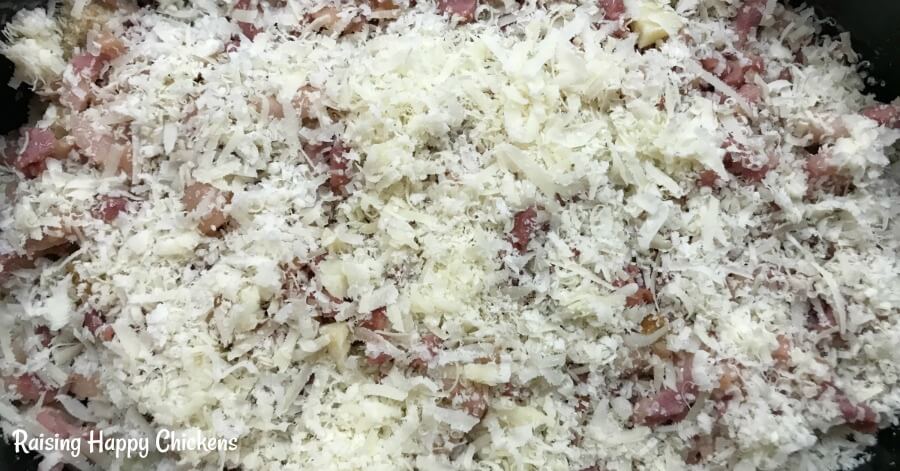 Take your egg and milk mix and give it a bit more whisking - it makes it light and fluffy.
Once it's all whisked together, simply pour it over the cheese.
The liquid will more or less disappear, soaking into the bread.
For best results, cover the casserole and leave it in a refrigerator for at least four hours.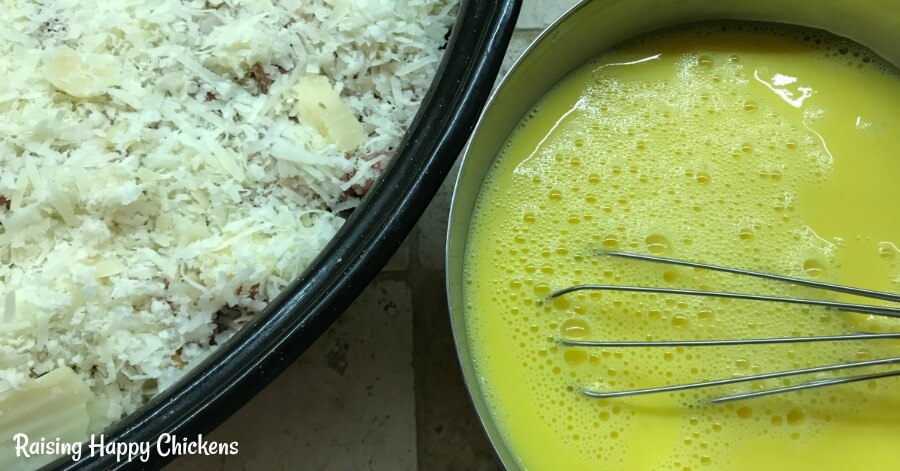 Having your own fresh eggs makes all the difference to appearance and taste.

Cooking the bacon and egg casserole.

When you're ready to eat, take the casserole dish out of the refrigerator and let it stand on a work surface so it comes a little closer to room temperature before you put it into a hot oven.
Heat your oven to 180C (350F; gas mark 4). Once it's heated, cook the casserole, still covered, for 20 minutes.
 Now take the lid off your dish and cook for a further 25 minutes.
And that's all there is to it! The only thing  left to do is - enjoy!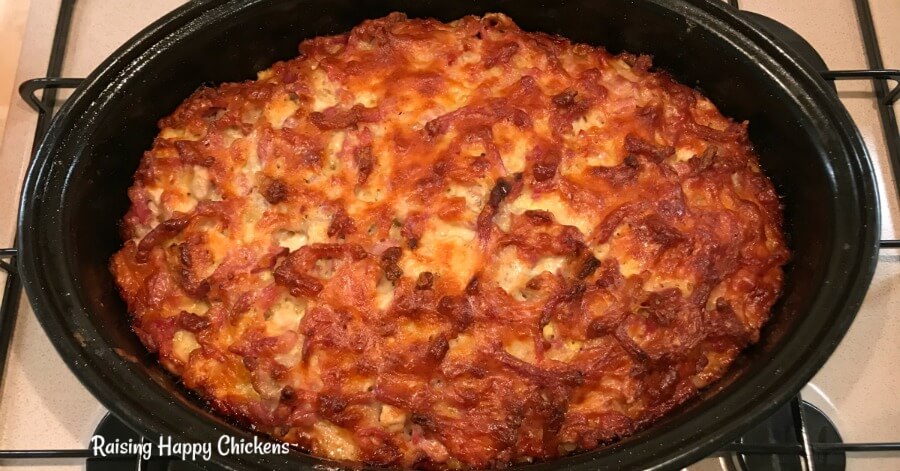 Variations on the theme of egg and bacon casserole.

This is a good base recipe and I enjoy it for its simplicity and mixture of tastes.
If you want to spice it up, or bulk it out, you can add more or less whatever you like to the basics. 
Some family favourites to throw in are sausages, garlic (well, we do live in Italy!), tomatoes, spinach, mushrooms, bell peppers and onions. Not all at the same time though!

It's very rich, and filling enough to eat on its own but if you're feeling particularly decadent - and hungry! - try it with small roast potatoes).


These are the utensils I use for this simple casserole dish.

I have some tried and tested utensils I like to use for most of my egg recipe dishes. These are those I use to make this delicious recipe. 
Click to buy from Amazon (these are affiliate links, which means that if you click and buy something, I receive a small commission at no cost to you).

If you liked this page, you may also like these!