An easy deviled eggs recipe for all occasions.
It's simple, it's quick, it's so tasty you'll want to eat the lot and it's even nutritious - my classic deviled eggs recipe.
Need a simple but delicious lunch for one?  Or a stylish starter for a dinner party?  Or perhaps you need to find a striking centrepiece for a finger buffet?
You've come to the right place.  This recipe has it all - and because it's centered around your chickens' nutritious eggs and uses low fat ingredients, you can claim that it's nourishing too.
A classic deviled eggs recipe laid out for an Easter finger buffet.
(Like the platter? Find out where you can buy it here).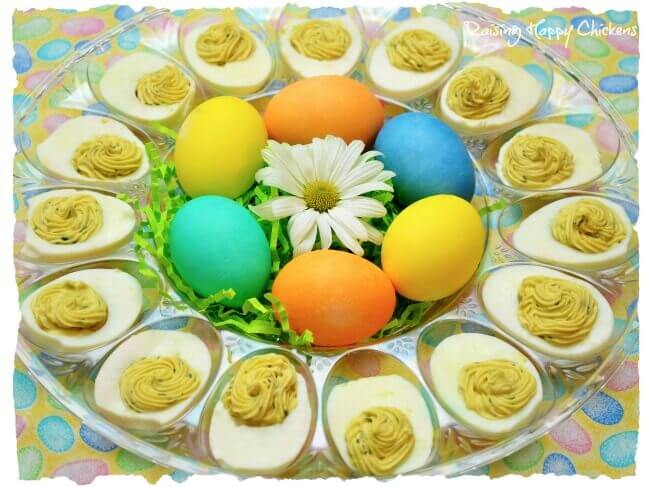 How to make deviled eggs : the classic recipe.

I put off looking at any deviled egg recipe for ages - I thought it was complicated.  I couldn't have been more wrong.  It's so easy that I now make them very regularly, both this basic version and some more adventurous ones.
Once you've got to grips with the basic recipe there are dozens of variations to be made based on your own likes and dislikes. 
This recipe is delicious and doesn't overpower with vinegar as so many others do. It's a simple, delicate taste which I love so much that, to be honest, I rarely make any other.

So try this one first and then graduate to experimenting with your own additions if you want to.

Classic deviled eggs recipe : Ingredients.

The ingredients couldn't be easier.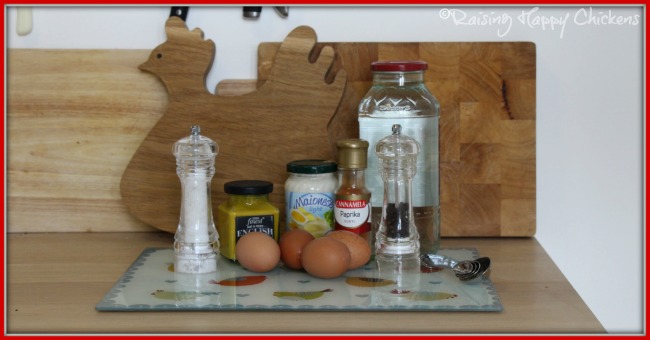 These quantities are enough for twelve half eggs : if you need more (or less) just increase or decrease accordingly. 
Six eggs : they will be easier to peel if they are at least three days old.
4 tablespoons mayonnaise : I use a low fat version to make this recipe as healthy as it can be.
0.5 teaspoon white vinegar : don't use brown vinegar - it will discolour the yolks.  I use a white wine vinegar but pickling or any flavoured white vinegar works too.
0.5 teaspoon mustard : I use a strong English mustard as I love a stronger taste, but any mustard will do, as will a mustard powder - use the same quantity for wet or dry.
Salt and pepper to taste : a freshly ground sea salt and black pepper work well here.

Classic deviled eggs recipe : Method.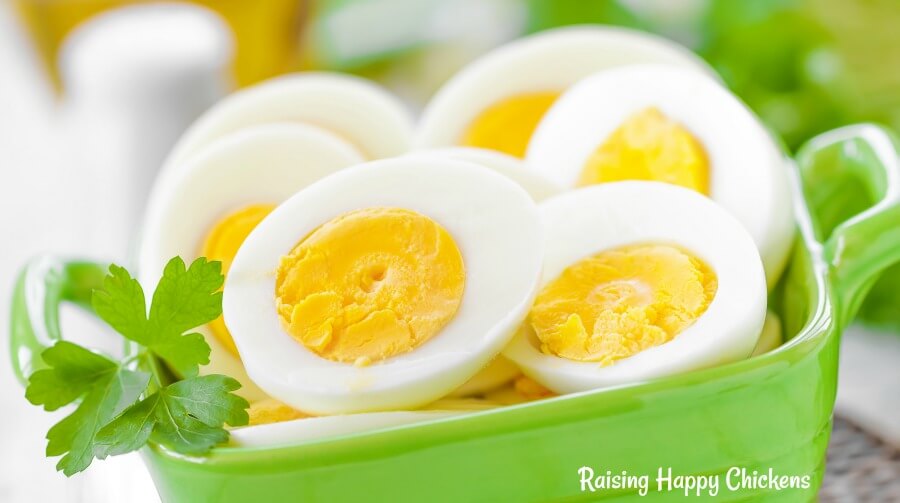 Place all the eggs into a saucepan and cover with lukewarm water.  Bring to the boil.
Turn down the heat and simmer gently for about ten minutes.
When time is up, remove from the heat and run cold water into the pan.  Leave to cool.
When the eggs have cooled, peel and cut them in half lengthways, using a sharp knife.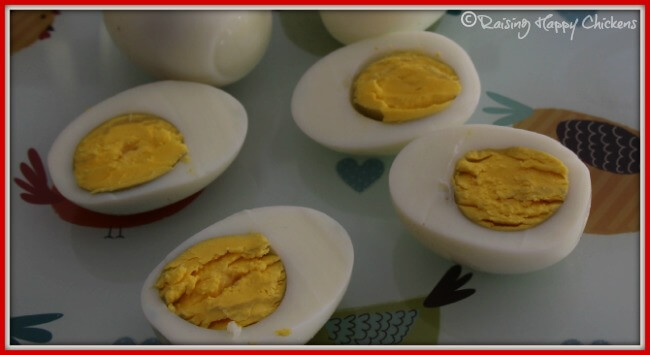 Scoop out the yolks with a small spoon and place straight into a bowl.
Into the same bowl place all the other ingredients except for the paprika.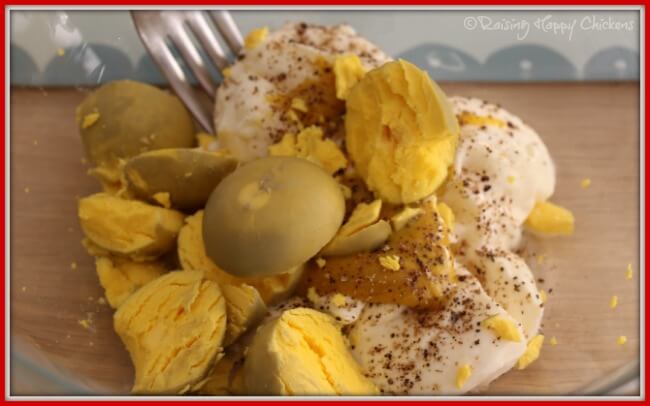 Now mash all the ingredients together with a fork until the yolks have become combined with everything else until it's a firm, creamy consistency.
If you're going to pipe the mixture into the whites, you need to make sure the yolks are completely broken down - otherwise your piping bag will block up (ask me how I know!).
If you're going to use a teaspoon to fill the whites you don't need to be as careful with the consistency.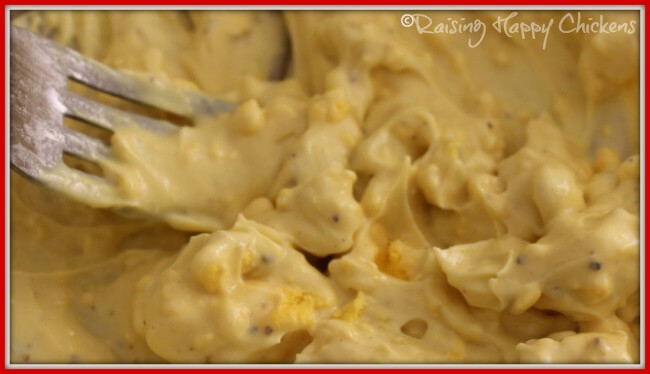 Even these tiny pieces of egg are too big to go through a piping bag.
If you're going to spoon the filling back into the whites, your task now is easy.  Just do it!

If using a piping bag, it may take practice to get the finished dish looking as good as it does in the books.
Piping the filling back in is not as easy as it looks!
Once the filling is back in the whites, sprinkle as much (or as little) Paprika over as you like - and your job is done!
---
Devilled egg platter.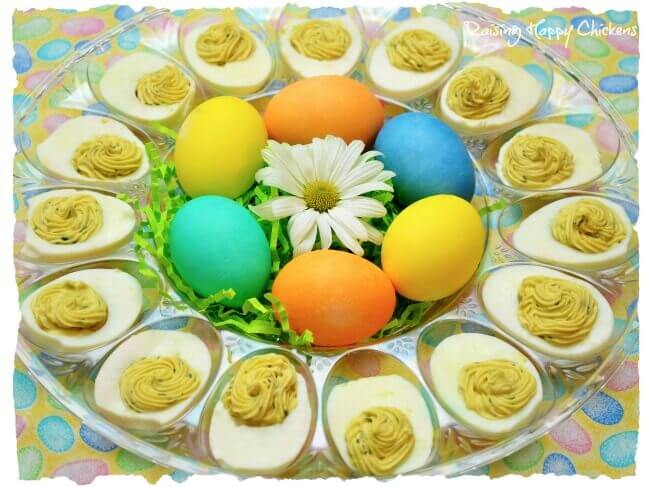 Did you like the platter in this pic at the top of the page?

Personally I love it. 
It's a great way to serve deviled eggs either at a dinner party or as part of a finger buffet - it stops them all from sliding off the plate.
It looks like cut glass but it's actually plastic, so relatively inexpensive and less likely to break.
It holds up to 15 half eggs and the thing I really love about it is the space in the centre for any kind of decoration, according to the event.  This  one, of course, is set for an Easter table.
Like it?  Buy it now!

| | |
| --- | --- |
| Click below to buy from the USA | Click below to buy from the UK |
| | |
---
If you liked this page, you'll love these too!

One of the enormous joys of keeping chickens is having your own wonderful fresh eggs warm from the nesting box.
I've written several articles about eggs, both their nutritional value and some recipes.  These are just a starting point for you.
Click on any of the pics to go to that page.

---
Some links on this page are affiliate links, which means that if you purchase a product through them I receive a small commission. There is no extra cost to you. More details can be found on this page.
Because my integrity and your satisfaction are very important to me, I only recommend products I have purchased or would purchase myself and which I believe would benefit you. To learn more please see my affiliates disclosure document.

---
If you enjoyed this article and found it helpful, I'd love you to let me know by clicking this button - thank you!
---
Thank you for sharing the chicken love!