A review of Brinsea's 24-egg incubator: the Octagon 20.

Product update.
This model of incubator has been discontinued by Brinsea, in favour of the newer Ovation 28 (affiliate link).
I have left the review here because you may be able to find a model on a resale site such as E-Bay or Craigslist.
If you've ever hatched chicks, the chances are you'll want to do it again - and again!  
But this time, you'll very likely want to hatch even more eggs than before.
How do I know? Because that's exactly what happened to me!
I grew out of my Brinsea Mini Advance 7 egg incubator very quickly (although it's still my favourite and my go-to piece of hatching equipment when I want to hatch a small number of chicks). I graduated to Brinsea's Octagon 20.
I love it, and as a reliable, larger incubator it would take a lot to beat it. 
However, it seems Brinsea are no longer offering the complete, automated package of incubator, turner and humidity pump. It's now necessary to buy the incubator and turning cradle separately, which makes this an expensive option.
Does that make it prohibitively expensive, and is there another option? We'll come back to that, later in this review.
Here's what you'll find covered on this page. Click on any topic to go straight to that section, or keep reading for the full review.
Hatch day in my Octagon 20 incubator and it's already quite crowded in there!
Links on the rest of this page are "affiliate links". If you click on them and buy, I earn a small commission at no cost to you. I only recommend products I know and love and which I think will be genuinely useful to you. See my disclosure policy for more information.
---
What features make the Octagon 20 Advance stand out from other egg incubators?

This is one of Brinsea's larger home incubators for the 'hobby' chicken-keeper. They also produce large cabinet units which hold many dozens of eggs for more commercially-focused companies.
It holds up to 24 large chicken eggs and is flexible enough to be able to hatch any size of bird eggs, from as small as quail to as large as goose. 
Small Speckled Sussex eggs are joined by larger Legbar eggs in my flexible Octagon 20.
Its ability to maintain consistent levels of warmth and humidity make it also much loved by breeders of exotic birds such as parrots. 
This is a circulated (as opposed to still) air incubator. The warm air is spread evenly around the unit by a very efficient fan system contained in the lid. That means there are no hot and cold spots - every egg is warmed at exactly the same temperature.
It's very flexible, so you have have it as a stand-alone manual unit, or combine with an auto-turn cradle so you don't have to worry about remembering to turn your eggs.
To make it completely stress-free I also added on a humidity pump so that both temperature and moisture levels are controlled for me - although obviously, that adds substantially to the cost. Update: the humidity pump is no longer available. 
---
Who's this incubator a good fit for?

Anyone who wants to hatch more than 6 or 7 chicks and has the money to pay for an upgraded incubator. If you're happy with hatching up to seven eggs, look instead at the Brinsea Mini Advance.
Anyone who welcomes having the incubation process fully automated. If the auto-turner cradle and the humidity pump are added, this incubator can be set up to be completely automatic for everything except stopping the turning just before hatch.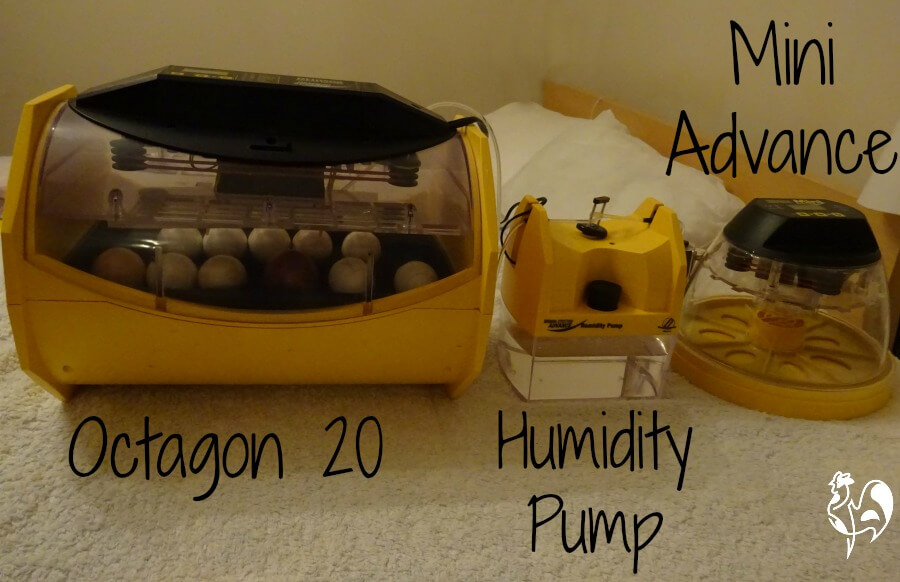 My complete unit set-up. Sadly the humidity pump is no longer available.
---
How easy is it to set up?

Very simple. The eggs are set on end, rather than flat as the Mini Advance is, so you need to make sure their more pointed end faces downwards. They're held in place by restraining bars which slot into the sides of the machine at whatever distance apart you choose.
If you're using the automatic turning cradle, the incubator simply slots on top of it. The wiring goes into the top of the incubator. If you're not using it just stand the incubator on a flat surface.
To control humidity, fill the trenches in the bottom of the machine.
Now set the digital display for temperature, moisture level and how long you want to allow the eggs to cool each day.
The turning cradle rocks the eggs from front to back once an hour, very slowly. That mimics what a mother hen would do - keeping them moving so the embryo does not stick to the membrane.
You do need to remember to remove the machine from the auto-turn cradle at day 18, as the eggs should not be turned after this point. To do this, just lift it off and set it on a flat surface.

Once it's all set - sit back, relax and wait for hatch day!

---
The Octagon egg incubator: five best points.


Its amazing ability to sustain temperature and humidity levels no matter what the external environment is like. This separates it from other, smaller incubators - even my favourite Mini Advance. Smaller machines tend not to operate as well if the outside temperature is low or fluctuates.


The digital read-out is clear and instantly indicates that the temperature and moisture levels are right. The one thing it doesn't do, unlike the smaller 7 egg Mini Advance incubator, is count down the days. 

Being able to dismantle it for cleaning. Keeping incubators clean between hatches to get rid of bacteria is critical to success. The Octagon 20 comes apart so that, apart (obviously) from the electrical elements, it's very easy to clean.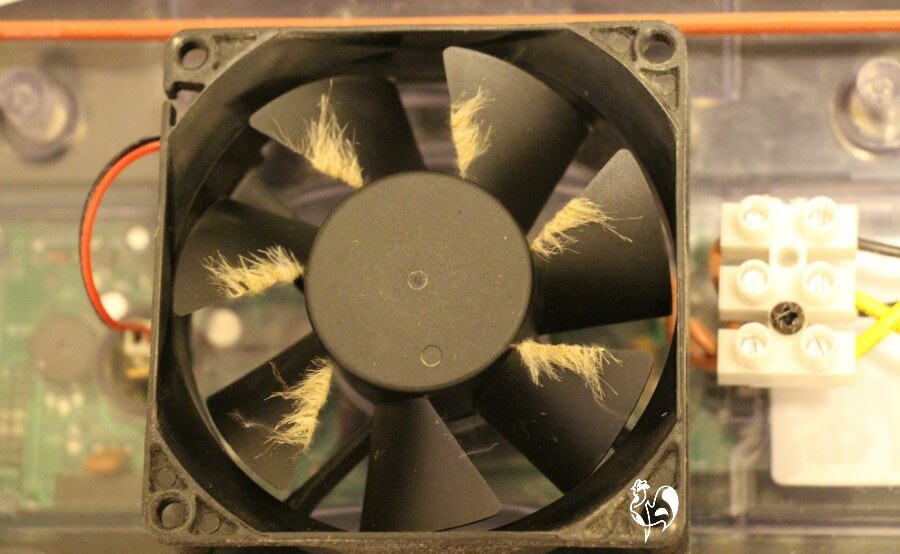 Fluff and dust on my Octagon 20 internal fan, post-hatch. Essential to clean it for next time!

Setting up the digital controls on the Octagon is exactly the same process as for Brinsea's other egg incubators. To see me setting up the Mini Advance, click on this link.
---
Are there any drawbacks?


It's not as easy to see inside as it is with the smaller Brinsea Mini Advance, which has a high dome making viewing a pleasure. The workings of the fan and moisture control in the lid drop down into the hatching chamber, reducing the available viewing space. It also means much less room for the chicks to move about. 
It's hard to see inside the Octagon 20, and hard for the chicks to move around.

It's quite big - sitting on its auto-turner cradle it measures 17" (43 cm) wide by 10" (25.5 cm) deep. 


It's not cheap. It used to be possible to buy the whole package: incubator, turning cradle and humidity pump. That's no longer possible so you have to buy the cradle separately, which adds to the cost. 

I've read some reviews which say that this incubator was not reliable. However, they were from its very early days and it seems that Brinsea have now ironed out those early problems. All I can say is that I've owned the Octagon 20 since 2013, and I have always found it extremely reliable.

---
Would I recommend the Octagon 20 egg incubator?

Based on my own experience - yes, with three reservations. It's easy to set up, and the temperature and humidity controls are very accurate.
This is my go-to egg incubator if I want to hatch either more than 6 eggs, or different types of poultry. I've hatched geese and turkeys in the Octagon 20 - in fact it's become a bit of a celebrity in my part of Italy! My neighbours regularly bring their eggs to hatch because they're so fascinated by it.
I'm just waiting for someone to want ducks!
Hatch day in my Octagon 20 - a high rate of success.
My reservations about this egg incubator are...
It becomes very crowded inside the Octagon 20 incubator when chicks start to hatch. This is the case with most large incys, and you need to be prepared to have the confidence to lift the lid and remove chicks as they dry out and fluff up post-hatch, even if others are still pipping.
If you're hatching with children, whether at home or at school, I'd definitely go with the Mini Advance. It's viewing capacity is simply much superior to either of the other machines.

See my full review of it, here

.
Golden Egg Award.
If you've read any of my other reviews, you'll know that I like to assess products in terms of how much I love them to do whatever job they're meant to do.
In the case of the Octagon 20 egg incubator, I don't feel I can award it the full number of stars for the reasons I've stated above.
Having said that, it's a very reliable incubator and super-easy to use.
For that reason, I'm giving it...

A Fantastic Four Golden Eggs!

---
Where to buy.

My full set-up: the Octagon 20 incubator, its turning cradle and external humidity pump. Click to buy.
It's possible to buy each of the elements for the Octagon 20 separately, so building up from a manual to a completely automated version over time.
It's an expensive way of doing it, but at present it seems Brinsea have decided to stop offering the all-in-one package that was available when I bought.
Firstly, the Octagon 20 egg incubator itself.
If you want this egg incubator but you don't want to pay for the auto-turn cradle at the moment, it's possible to buy just the machine and to add the cradle in at a later date. 
You just need to remember to turn each egg by hand at least four or five times per day. If you don't, your hatch rates will be much less successful.

---
If you want to add in an automatic turner, this is where to go.
The incubator easily slots into this turning cradle, which "rocks" the eggs from side to side at intervals you set on the digital display.
---
Thinking of hatching? These articles are for you!