How to make pancakes - English style!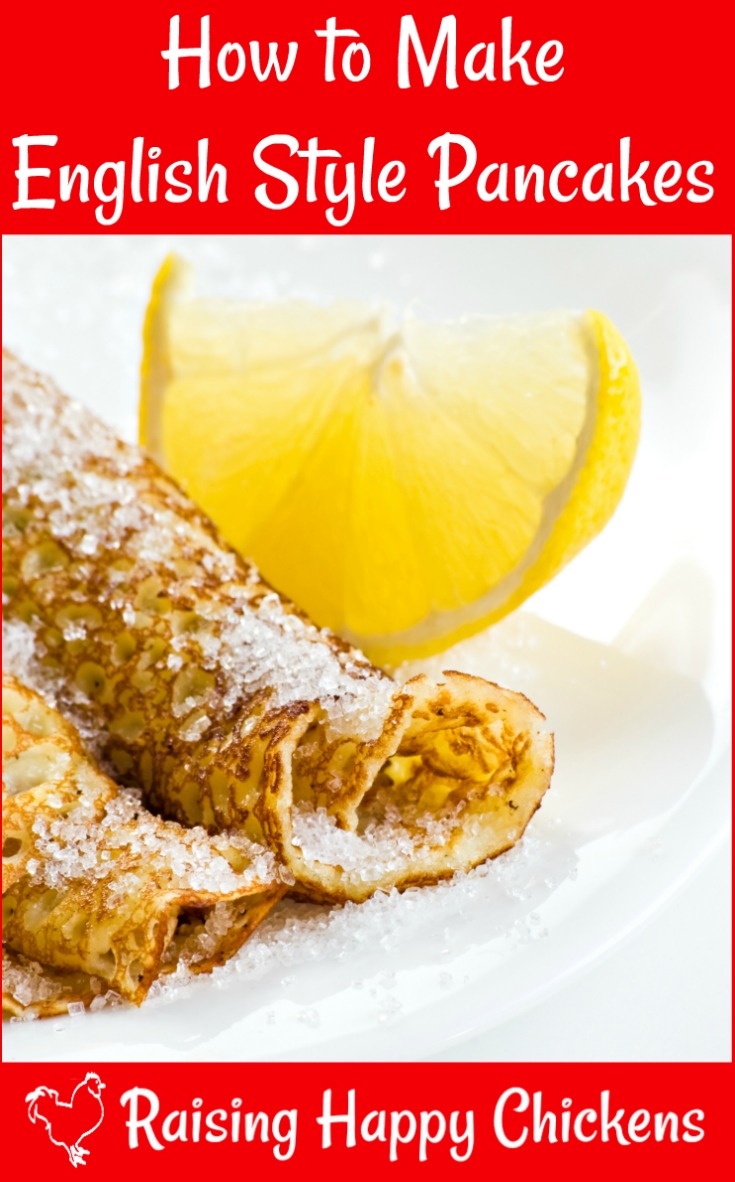 Too many eggs?  Not enough recipes?  Here's a very simple homemade pancake mix which takes minutes to make and is delicious to eat.


No need for a store-bought mix - you really are better off without all those additives.  Fresh eggs from your chickens and organic flour is the way to go - and much less expensive.


A word about pancakes and the UK.

Traditionally, pancakes in England are thin and usually eaten rolled up, dressed with sugar and a squeeze of the juice of a fresh lemon. In the US, they'd probably be called "crêpes" and eaten with a variety of fillings, both sweet and savoury.
I love the English version, though. Even the sight of them makes my mouth water.
'Pancake Tuesday' - also known as 'Shrove Tuesday' - in the UK (and 'Mardi Gras' elsewhere) is the day before Ash Wednesday and traditionally the day when pancakes are eaten at at least one meal. 
Historically this has a religious background - eating all the rich foods before the beginning of 40 days' fasting during Lent.


How easy is it to make English-style pancakes?

When I was young and about to leave home, I'd tell my family "You'll miss my pancakes when I'm gone".  Why?  Because English pancakes are so, so easy to make - they were about the only thing I could cook successfully.
To this day - many years later - I make them every Pancake Tuesday and occasional days in between.  And I am not known for my cooking skills!

That's how easy they are.
This is a very simple recipe I learned from my mother.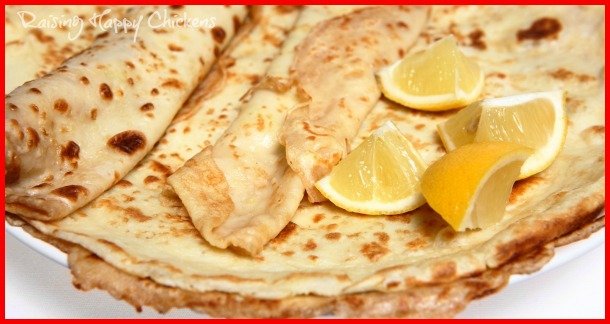 English pancakes - thinner than the US version and served with lemon and sugar.

Ingredients.
This is plenty for 4 - 6 pancakes in a 10" pan.

100 grammes (3.5 oz / 0.75 cup) flour

2 fresh eggs

300 mls (0.5 pint / just over 1 cup) milk
A small amount of olive oil
Sugar and lemon juice for topping.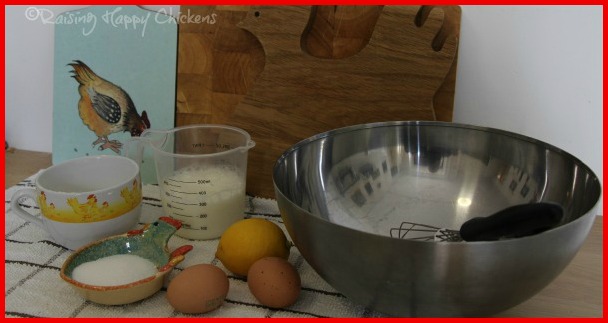 How to make pancake batter.

Measure the flour into a bowl, make a 'well' in the middle and add your eggs and a dash of milk - like this ...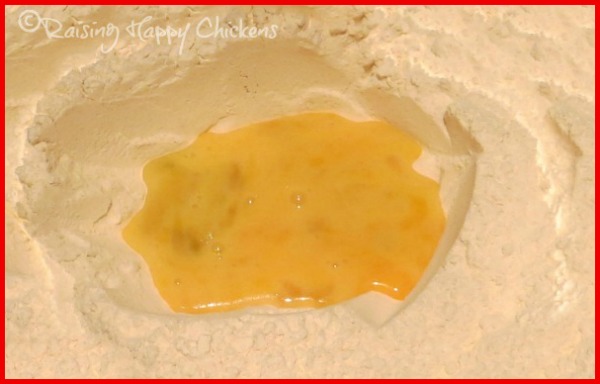 No need to beat them first, although you can if you want.  Add a dash of milk into the well.
Using a hand whisk and starting at the centre, pull in some flour from the walls of the well, a little at a time, until all the flour is mixed in. 
Beat the mix well, adding in the rest of the milk.  Don't over-beat it - it will make the pancakes hard.  When it's done you'll see lots of air bubbles like this.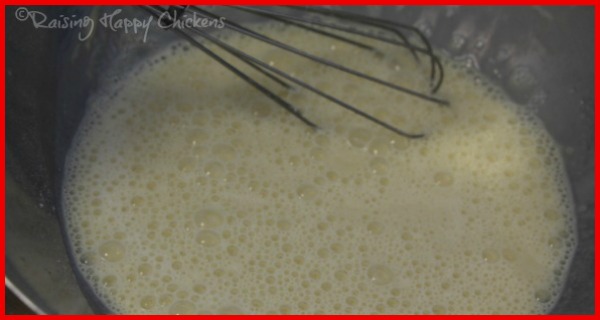 The batter should be left to stand for at least 30 minutes - it's much easier to cook with - and if you want to, you can prepare it several hours in advance and leave it covered with a cloth until you're ready to eat.


How to cook your pancakes.

Take a non-stick frying pan (you can buy special pancake pans but I just use my favourite  heavy-duty Le Creuset model) and add about a teaspoon of oil.
Heat it on a medium setting, swirling the oil around until it coats the pan.  You can use kitchen towel to make sure it's completely covered and to wipe off any excess oil - otherwise the pancake will be too greasy.
Take a ladle of the batter and add it to the heated pan, just enough to cover the bottom.  Don't add too much - English pancakes are traditionally thin.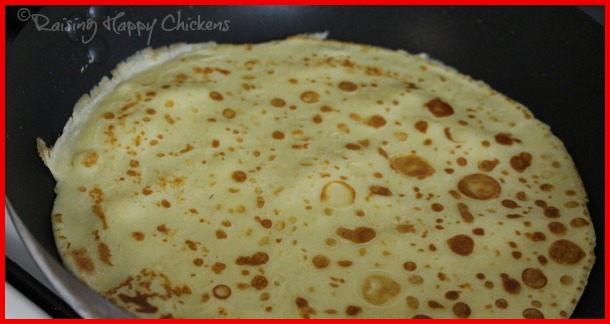 Tilt the pan so the bottom is covered with the batter, and depending on how thick your batter is, cook it for between 30 and 45 seconds.
If you're brave enough, you can toss it.  If not, just use a non-stick spatula to turn it.  But tossing it is more fun!
Cook the second side for a very short time - no more than 30 seconds.  Now slide it out onto a plate.
Sprinkle over a teaspoon of sugar, squeeze lemon juice over the top and fold the pancake into an oblong.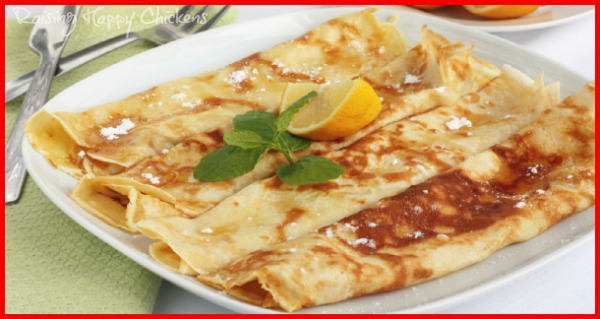 Enjoy!


---

Here are the utensils I use to make my pancakes.


(Affiliate links)
---

Want some other scrummy egg recipes?  Try these!

---

Some links in the following sections are affiliate links, which means that if you purchase a product through them I receive a small commission. There is no extra cost to you. Find more details on this page.
Because my integrity and your satisfaction are very important to me, I only recommend products I have purchased or would purchase myself and which I believe would benefit you.