My hatching course is opening again in Spring, 2020 - bookmark this page and come back next year!
Sorry - this course is closed for 2019 - you cannot sign up for this incubating and hatching course until next year.

It is an updated, detailed online course, which will include membership of an incubating and hatching group.
The emails relating to this course are free of charge. The incubation course itself, and membership of a private Facebook group, require a subscription to join.
My loyal newsletter subscribers will be offered a discounted rate.
My less detailed information about hatching is still available for free, here.
Incubate and hatch your own chicks - a step by step guide.

Sooner or later we all get the bug - we desperately want to incubate and hatch our own chicken eggs.  And I can promise you - you'll love it - it's a magical experience!
But you'll only love it if you're properly prepared for it.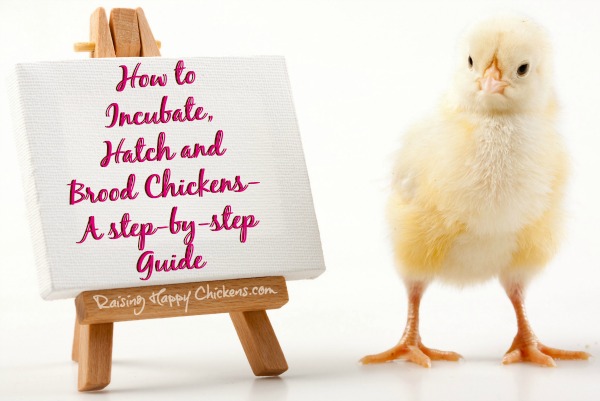 If you're not, it will stress you out.  And we don't want that.  It's not good for you and it's not good for your chicks.
It's not difficult to be prepared.  There are just a few steps you need to take and a few things you need to have before you start.
Nor is it difficult to incubate and hatch successfully.  But again, particularly if you don't have much - or any - experience, you need to learn something about what you're doing.
That's where I come in.
My aim is to give you the confidence to incubate, hatch and brood successfully - while keeping your sanity.

Two of my newly-hatched chicks - a Booted Bantam and a Light Sussex. Cute or what?!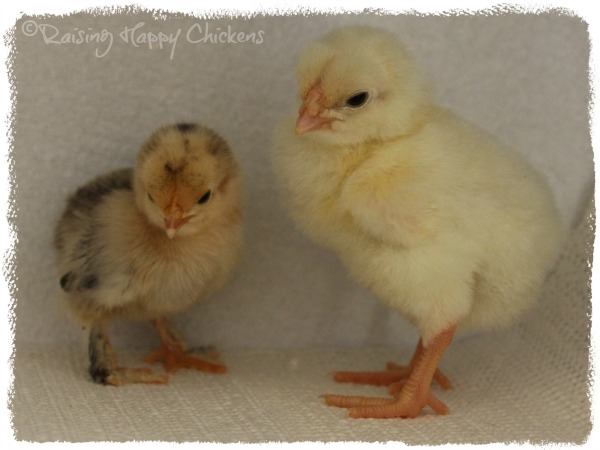 This page is the start of a whole step-by-step 'course'  on how to incubate, hatch and brood successfully.  I lead you through each part slowly and carefully, from the time when chicks are just a glint in daddy rooster's eye to the point where you have a flock of happy, healthy chickens giving you delicious eggs - and a lot of fun.
What's so special about it?
... I have done all the research, so that you don't have to!  There is a huge amount of information out there - some of it misleading, some just downright dangerous.
To be sure of giving you the best possible advice I've read a large number of articles, books and research projects - I've listed them all here.
They can be hard to understand.  They are often long, and almost always written in 'jargon'.  If you want to wade through them all please - be my guest.
Or you could just join my hatching series and save yourself the bother.

Sign up for my free monthly newsletter - there's advance notice of the hatching course there.
Or for more information about what to expect in my newsletter, take a look here.
Here's what the free e-mail series will cover.

If you're going to share your e-mail address you need to know what you're signing up for. 
This is what's covered in each of the 28 total e-mails.

1.  Before you start : Make sure you know the law in your area; how to tell if your family is ready; what hatching's really like - the real story.
2.  What equipment will you need?  :  What to look for in an incubator; how to make a home made incubator; reviews of commercial incubators; candling and candlers.
3.  It's all about the chickens : Deciding on the right breed of chicken for your family.
4.  No - it's all about the eggs! : Where to buy; choosing and storing to achieve the best hatch.

5.  Setting up the incubator : Including positioning, turning, cooling, temperature and humidity settings.

Please make sure, before you sign up, that what I'm covering is what you need.

Here's what the paid-for course will cover.
Day by day in the incubation process: What's going on inside the egg? Including : how the embryo is developing; how and when to candle (and when not to); exactly what to look for in candling; how to detect a non-developing egg.  In order to be as clear and complete as possible these stages are covered in three ways : text, pictures and videos.

Hatch day: What happens; how long it takes; when to help - and when not to help; hatching problems.
Problem chicks: How to deal with common problems in newly-hatched chicks.
Week 1 in the brooder: What makes a good brooder, and how to make sure your chicks stay healthy and happy during that first week of life.
Before you hatch...
Before you even think about how to incubate you need to think carefully through the implications of having chicks, who grow into adult chickens - and quite often, roosters.  It's easy to get caught up in the excitement of it all, especially if you have kids who want to get started now!
So start right here - click on any of these pics to go to that page.
If you're sure that you've thought through the implications of hatching your own chicks, here's what I cover on my course.
A. The Free Email Course.

Part I : The right equipment.

Egg candlers - a review of the best on the market.

Ten steps to choosing the perfect incubator.

How to create your own incubator.


Brinsea's Mini Advance 7 egg incubator - will it suit your needs?

Brinsea's fully automatic 24 egg incubator - the Octagon Advance.

The best book about incubating, hatching and brooding - a review.




Part II : Pre incubation.

Is hatching chicken eggs really for you? Five questions you need to ask.


Choosing the right chicken breed for your family.

Where to buy fertile chicken eggs for hatching.

Choosing the right eggs for incubation.


How to store fertile eggs before incubation.



Part III : How to's.

B. The Incubation and Hatching Course.
Part IV : Incubation.

Day by day explanation of what happens in the incubated egg, including photographs of the candling process, what to look for and special downloadable images showing what's going on in the egg, day by amazing day.

Incubating: common questions answered (and the opportunity to ask more!).

Lockdown: what is it and what needs to happen?



Hatching and first days post-hatch.
Hatching: common questions answered (and the opportunity to ask more!).

Preparing for post-hatch : heat lamp reviews.

Pasty butt in newly-hatched chicks - what it is and how to deal with it.



---
Or, for a quick overview of the process ...

If you're not sure you're ready for incubating yet, use these pages to get an idea of what's involved.  They're nothing like as detailed as my full hatching series, but they're a starting point.

Happy hatching!


---
If you enjoyed this article and found it helpful, I'd love you to let me know by clicking this button - thank you!
---
Thank you for sharing the chicken love!