Chicken breeds: a review of Storey's Illustrated Guide to Poultry Breeds.
"More than 128 birds strut their stuff". Author: Carol Ekarius.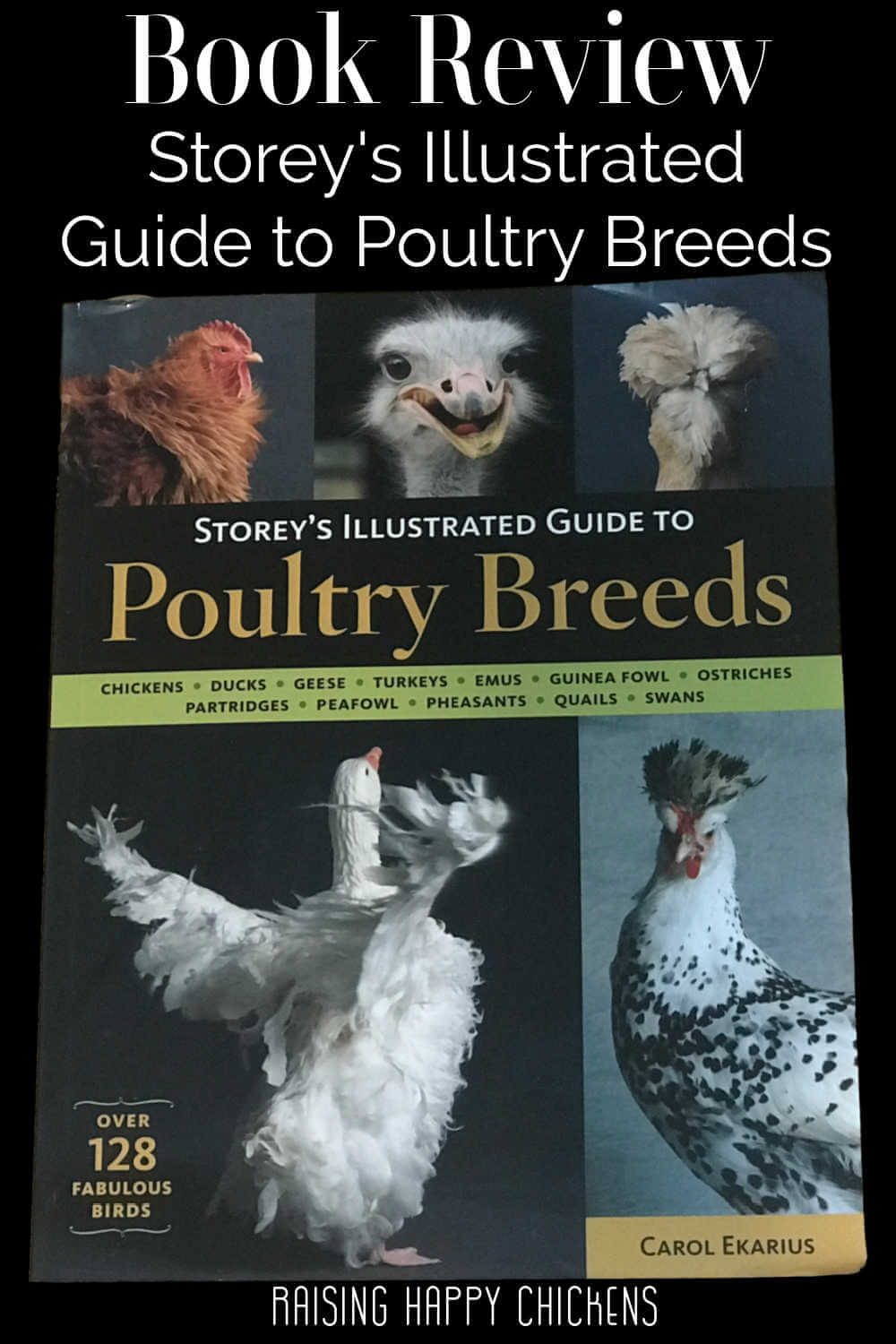 Looking for a book to help you choose which breeds you would like to add to your flock?
Or maybe you just love looking at photos of different types of chickens, and  learning about their individual characteristics.
In either case, you'll love this book. It has details of nearly 130 breeds from not only chickens but waterfowl, turkeys and "other birds of interest".
Available as either a hardback, paperback or Kindle, this book is fun to browse, and could equally serve as a coffee table book.
My advice: avoid the Kindle version. It doesn't do credit to the beautiful photos.
I own all the books I review and can honestly recommend them. I'm not paid anything for my reviews, nor have I received a free copy.
I simply view them as excellent resources which will genuinely help you as much as they've helped me.
I do earn a small commission if you click on the links and buy. There's no additional cost to you. For more information, see my affiliate disclosure policy.
---
Will you benefit from this breeds guide?

If you're a backyard chicken keeper looking for basic information about a lot of different, well known chicken breeds, this book is definitely for you.
It's an excellent choice for those looking for the characteristics of different breeds, with a view to deciding on either a first flock, or which chickens are most likely to fit easily into an existing flock.
It's also a great choice to have a look at with children - it can be great fun leafing through it. The photos are beautiful and there's just enough information, easily readable, to spark a child's interest.
As a hardcover, this would make a beautiful coffee table book and a lovely gift. The hardcover version is much more expensive than the paperback, though.

---
What does this book of chicken breeds cover?

Here are its sections.
History, including species and varieties
Laying chickens
Meat chickens
Ornamental breeds of chicken
Waterfowl  - ducks and geese
Turkeys
Others, including emus, ostriches, peafowl and quail.
There are also some very helpful sections at the end including information about breed clubs, breeders and commercial hatcheries (all in the USA only), and books and magazines.
The glossary is very full, and the book is very well indexed and cross-referenced, making it easy to find whichever breed you're looking for.
Having the categories (chickens for eggs, chickens for meat, show birds etc) is a handy way to break the breeds down. So if you're looking for hens that are the best layers, for example, you know where to start.

---
What's special about it?

I'd call out four specific things which make this book stand apart from others:
The photographs are  wonderful. Each breed is portrayed by a specialist, and it shows. Most show both the male and female version. Some, like the Jersey Giant (below), shows both male and female versions, together with the bantam. Others show the bantam only.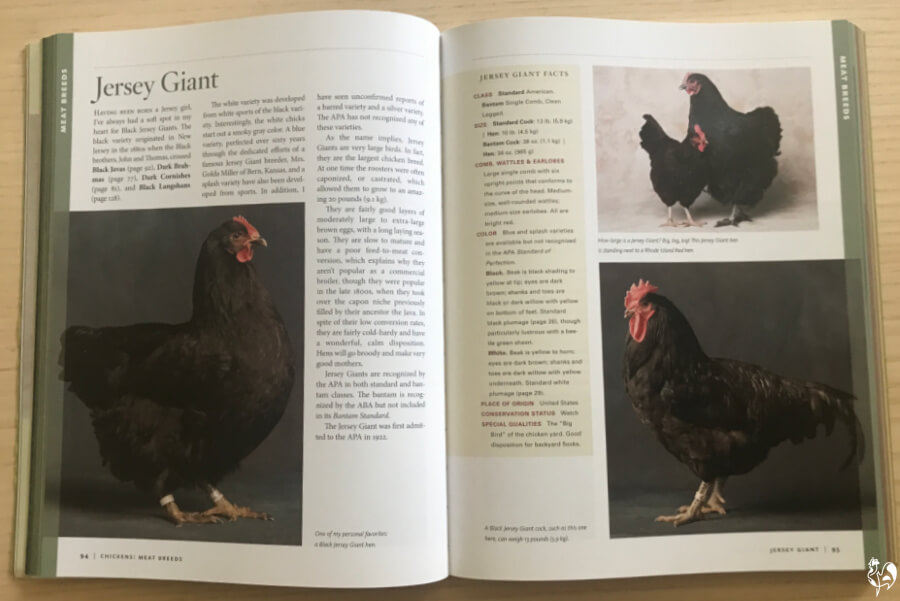 Photo credits: Glenn Drowns, John Pierce - Storey's Guide.
The descriptions are enough to give a general idea about the breed, how it should look, and its characteristics. For new chicken keepers in particular, it's a gold mine of information.
Having ready information about breed clubs and hatcheries is a bonus, if you're in the USA. Make sure you do your due diligence in the case of hatcheries, though. Not all have an outstanding reputation.
This is just a lovely book to browse through over a cup of whichever is your favourite beverage.

---
Any downsides?

Including the bantam size only in some photographs is irritating.
I'd like to have seen each breed being given its own page. Instead, when there's not enough information to cover one page, the next breed information starts, sometimes including a photograph of the new breed. It's perhaps a small point, but it can be a bit  confusing.
Here's an example: the Silkie is one of the most popular chicken breeds. Rather than have Sultans (which are far less common) on the same page, it would have been more classy to have a larger Silkie photo, perhaps of a chick.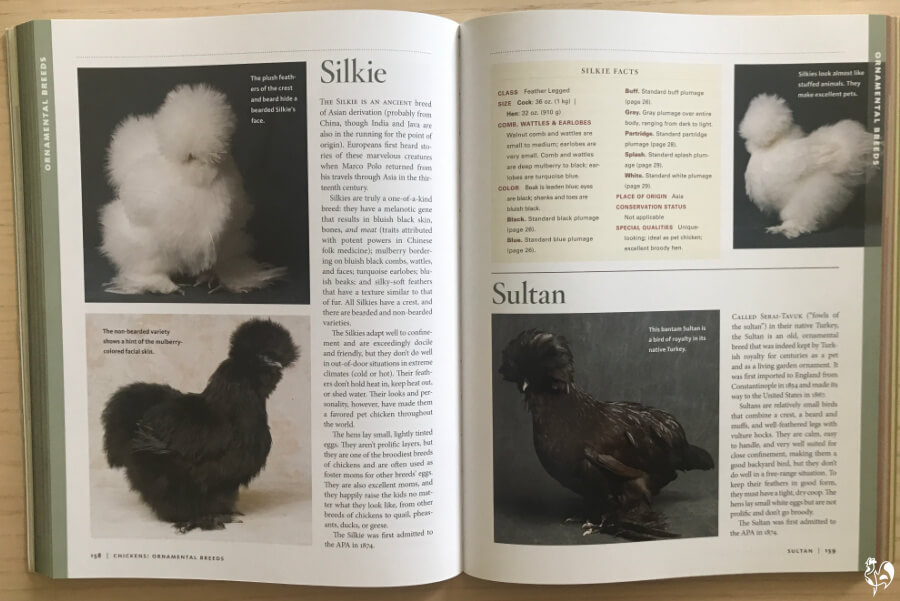 Photo credits: Michael Burns, Henry Johnson, Edward Travers - Storey's Guide.
There are no photos of baby chicks of any breed. That's not helpful if you've been to the feed store and want to know what breed the chicks you just brought home are! 
It would be useful in the facts section of each breed to have some information about what type of climate the chicken can tolerate. It's sometimes covered in the general text, but a quick reference would be useful.

---
What do other reviews say?

There are a total of 374 reviews of Storey's Guide to Poultry Breeds on Amazon, of which 85% give it the full 5 star rating.

Those who voted it fewer than three stars were concerned that…
there's not enough information about eggs. This I agree with. Saying that a breed produces "plenty" of eggs is pretty meaningless.
there's too much emphasis on photographs of bantams (the small version of each breed) rather than the standard sized. I also agree with this, although there's still enough to see what the large version would look like in terms of feathering, for example.
there's not enough detailed information about each breed. That's a fair comment if you're someone who wants to breed chickens, but for the average backyard keeper, particularly someone starting who wants basics so as to know which breed will fit into a flock, there's plenty to read. More would be overwhelming.
others felt there is too much and too technical information. Which only goes to show you can't please everyone!
Not everyone likes having information about other types of poultry. The book is predominantly about chickens, though, and personally, I quite like learning about other types of poultry. Runner ducks are my favourite!
Photo credits: Jay Birder, Norwood Reed - Storey's Guide.
Want to see other reviews? Read more reviews on Amazon.

---
How many Golden Eggs does it deserve?

If you've looked at any of my other reviews you'll know that I award "Golden Eggs" for products, from one for a "hmmm wouldn't really recommend this" to five - "Yes - don't miss out on this wonderful product".
How many does 'Storey's Illustrated Guide to Poultry Breeds' get?

A Fantastic Four Golden Eggs!


Why not five?
Two reasons:
As above: it does briefly mention the eggs of most breeds, but doesn't contain that information as standard, nor does it have photos or illustrations of the eggs. Many people choose different breeds in order to have a rainbow of eggs, so I think that's a real omission.
It only covers breeds readily available in America, so chickens such as the Scots Dumpy and the Sablepoot (both of which I happen to love!) are missed out.
---
My review: the bottom line.
Don't buy this book if you're an experienced chicken keeper looking for detailed information about breed standards. You won't find it here.
Don't buy it if you're looking for information about breeding. Go instead to the breed clubs - they always have detailed, accurate advice.
Do buy it if you're a backyard chicken keeper who loves looking at stunning photos of chickens and learning about the general characteristics of different breeds.
Do buy it if you just like leafing through photos of chickens!

---
Publisher's Information.

Author: Carol Ekarius
Published by Storey Publishing, 2007
Number of pages: 277
ISBN number: 978-1-58017-667-5 (paperback edition).

---
Other articles you may find helpful.