Party and picnic egg recipes.

One of the wonderful things about keeping chickens is the number of beautiful, fresh, healthy eggs you'll have.

Sometimes, though, that can be a problem - they can mount up!

Claudia chicken - and some of my daily egg collection!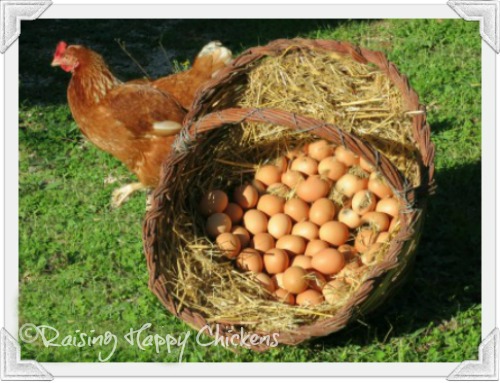 These links are to pages with quite simple but very tasty egg recipes for picnics or parties.  They're good for both summer and winter and all of them can be prepared in advance so you have them ready without hassle.
Click on any of the links or pictures to go to that page.

And - Enjoy!
Good for parties.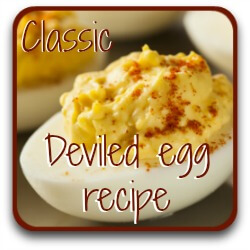 One of the most useful recipes you'll find anywhere - and so easy!
Whether you need a tasty brunch for one, a delicious starter for a dinner party for friends or some finger food for a buffet for dozens, deviled eggs are the answer.
Make them in advance, store them in your refrigerator, add toppings of your choice at the last minute - or enjoy the delicate taste of this basic recipe.
Whichever you choose, you'll love them.

---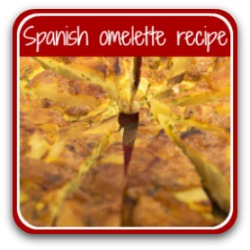 This is a recipe I've used for years - ever since I lived in Spain and was taught it first-hand by the lady of the house.  It's healthy, filling and very, very tasty.
Easy to make, it stores and travels well.  It can be eaten hot or cold. 
Particularly great for picnics in the hot summer months.
---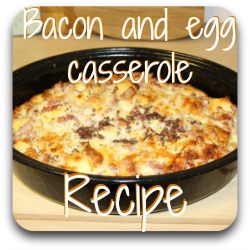 This is one of our very favourite, quick and easy recipes.  It can be made in advance too, so if you're having guests it can be left in the refrigerator until you're ready to eat.
Scrummy at any time of year but particularly good warmed up for get-togethers in the winter.
---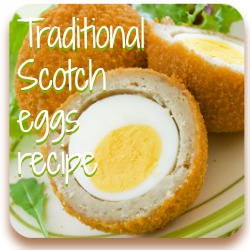 I was amazed to know that most of my American friends had never heard of a Scotch egg.  If you haven't either, you're in for a treat!
This page tells where they're from, what they are, and gives a recipe for the traditional version.
Use chicken eggs for picnics, quails' eggs for a particularly tasty, dainty party dish.
---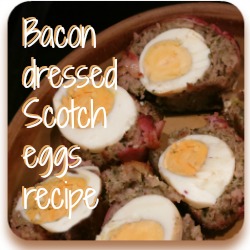 This is a variation on the Scotch eggs theme, with a few added calories for extra effect! 
This one is real comfort food - it's one of our favourite recipes for a Saturday evening "party tea" in front of a log fire in the winter. 
Not so great for 'finger food' buffets - it's a bit too clumsy for that - but good for picnics or some stodgy winter suppers.
---