Can't find what you want?
Search this site!


Quick and easy Spanish omelette :
a taste of Spain in your own home.

Picnics, party food, a quick lunch or combined with salad as a tasty meal - this authentic Spanish omelette or 'tortilla' recipe fits all the bills but takes just minutes to make.
I learned this 'tortilla' recipe many years ago when living with a Spanish family in Seville, Spain.  It was a staple of the family's diet then and it's remained a favourite of mine ever since.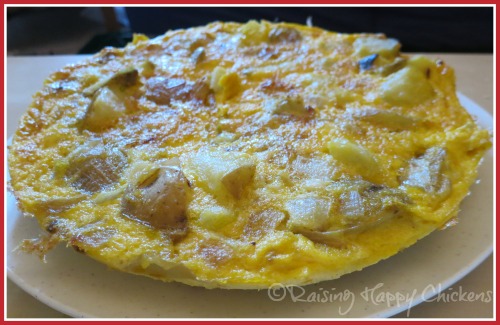 You'll find a lot of recipes online for 'tortilla' or Spanish omelette which add many different ingredients, particularly peppers, often parsley and sometimes, meats. 
However, this is the authentic Spanish deal.  It was always made as an inexpensive dish in times of poverty and its main ingredients are traditionally kept very simple.
How's it eaten?
We eat Spanish omelette in very much the same way I enjoyed it in Spain.  It makes a light but filling main meal when taken straight from the hob and combined with a green salad - or even better, a tomato and onion salad.
It also tastes really good cold and it's great for a light snack on hot summer days.  I have especially fond memories of it being left to go cold, cut up into individual portions, wrapped in cling film (Saran wrap) and eaten as part of a picnic on the long journey to the family's summer house in the beautiful Andalusian countryside. 
Or at family fiestas as 'tapas' (finger food appetisers), speared with a cocktail stick and enjoyed with a glass of cold white wine.  Delicious.
Information.
When I make Spanish omelette at home it's more than enough for the two of us as a main meal - in fact it will feed four.  It's like a cake consistency so for a picnic it will cut up easily into at least eight individual portions.  As finger food at a party buffet it will cut into triangles or squares as large or small as you want.
Preparation time : 10 minutes.
Cooking time : 20 minutes.
Total time : Around 30 minutes.
Assuming this to make four portions : 
Calories per portion : 550 kilocalories.
Fat : 43 grammes (1.5 oz)  
Saturated fat : 7 grammes (0.2 oz).
Spanish omelette : ingredients.
This is a very flexible recipe.  You can add more potatoes, onion and garlic if you want to - I usually do - or leave garlic out altogether if you don't like it.  The best potatoes to use are small, new potatoes but any you have in your store cupboard will do fine.

6 fresh, free range eggs
500 grammes (18 oz) potatoes
1 onion
About three tablespoons of extra virgin olive oil
Salt.

You'll also need a non-stick frying pan measuring about 8" across the base.  If you have a bigger or smaller one that's fine - it just means your omelette will be thicker or thinner.  It helps if it has either a lid, or is made entirely of stainless steel - you'll see why later.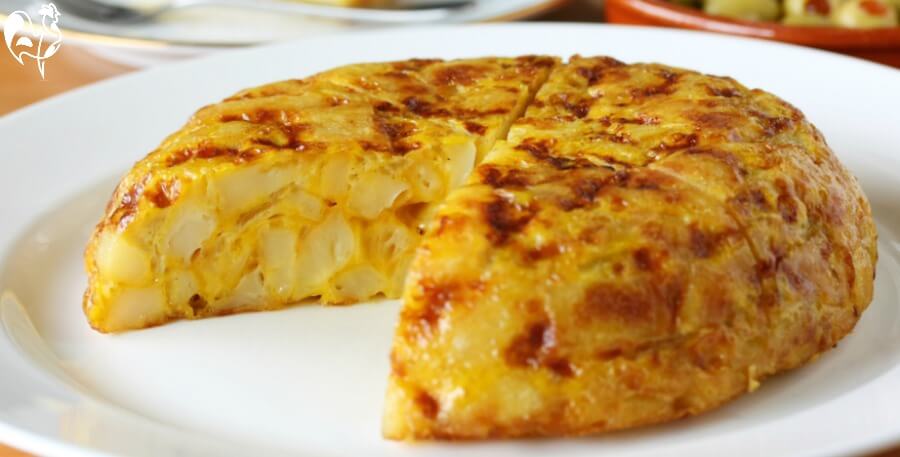 Spanish omelette : instructions.
Wash your potatoes and peel if you prefer.  Personally, I like to leave the skins on.
Cut them into small-ish cubes.
Put them into a pan of boiling salted water and bring to a gentle boil.  Leave them for about five minutes so they're part cooked.  Don't overdo them, particularly if you're using older potatoes, or they'll turn to mush.
Once they're done, drain off the water and leave them to one side.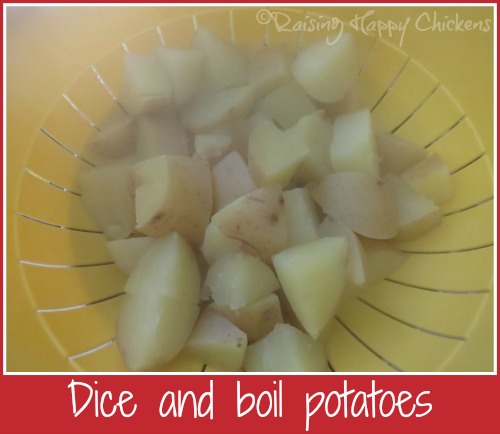 While your potatoes cook, dice the onions and garlic.
Warm the olive oil in your frying pan, add the onions and garlic and cook gently.  Don't let them burn.
When they're ready, the onions will look almost transparent.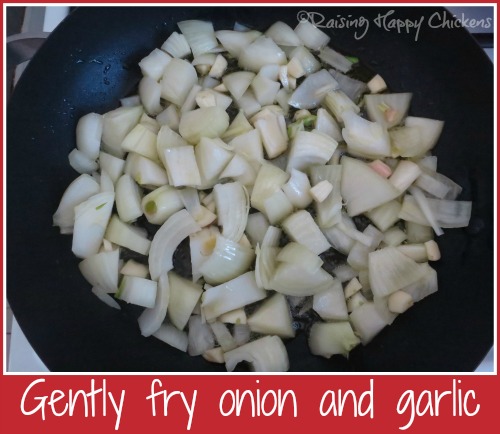 Once they're done - it will only take a few minutes - add the potatoes to the pan and mix them all together.
Let them fry off together for another couple of minutes.
Some people let the potatoes cook completely in the oil without par-boiling them.  I don't do that because it makes them quite fatty as they absorb the grease - and it wasn't the way I was taught!

However if you want to use that method, just fry onions first, add the potatoes, put the lid on the pan and leave to cook on a very low light for ten to fifteen minutes.
While all that cooks, break your eggs - whole - into a container and whisk them together.
If you want to eke out your eggs, add a dash of water to them before beating.  Don't overdo it because they'll go too liquidy.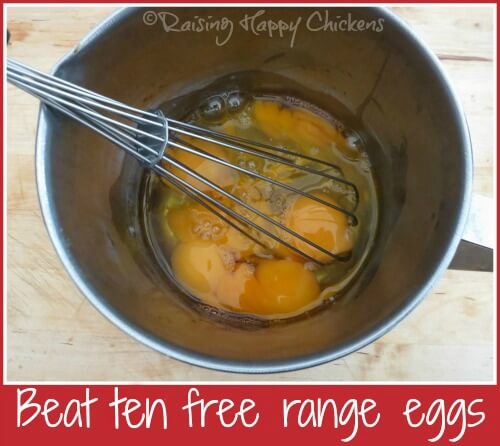 Don't overdo it or your tortilla will taste a bit 'rubbery'.
When it's ready, the beaten egg will look something like this - lots of frothy bubbles.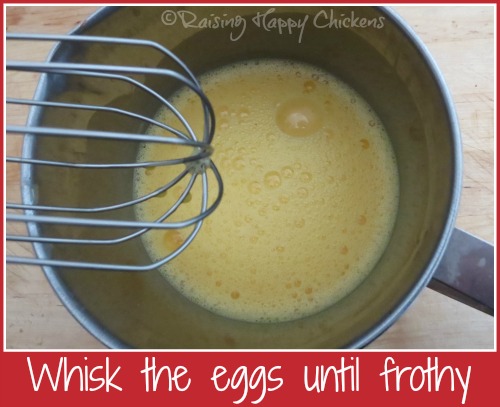 Once the vegetables are cooked, pour your beaten eggs into the pan.
Allow it to set on the bottom.  It will take some time to cook through, because it's quite thick.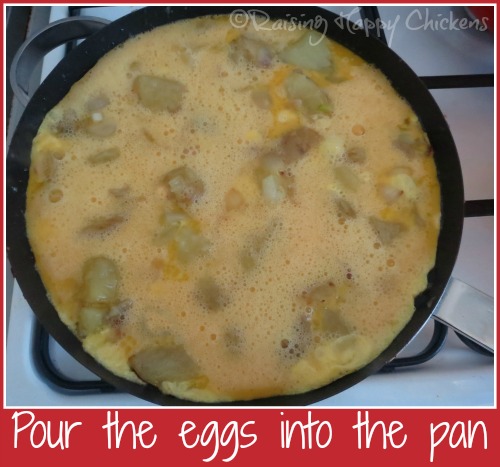 If your pan has a lid, you can put it on now and leave to cook.  However this often results in the bottom of the omelette being 'caught' - slightly burnt.
Here's an insider tip.  To make sure your tortilla cooks all the way through without over-cooking on the bottom, put it under a hot grill.  It's for this reason that you need a stainless steel pan - it won't melt.
The other way of doing this is to slide the part-cooked omelette onto a plate, turn it over and put it back into the pan.  However, this can be quite a messy way of doing it.  A grill is much easier!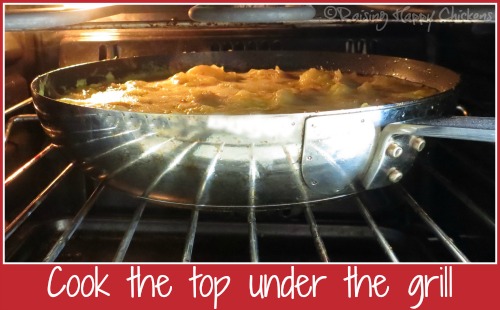 When the top is set, put a knife into the middle of the omelette.  You'll be able to see whether the egg is completely cooked.
Not everyone likes fully cooked eggs.  In Spain, Antonia - who taught me to make this - would leave the middle of the omelette a little runny.  It's delicious either way.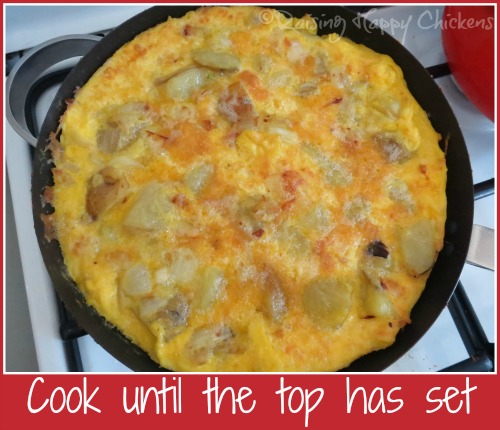 And then - the only thing left to do is to eat it!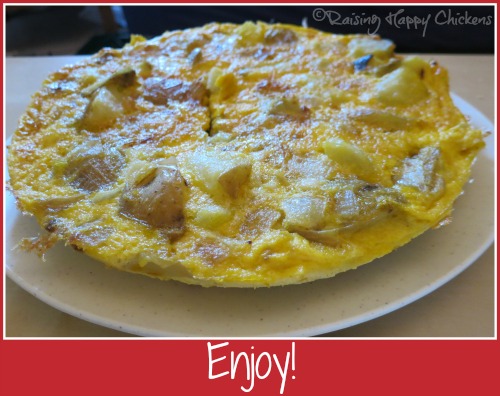 ---

Want another picnic or party food recipe?  Click on the pics for great recipes for Scotch eggs.  Delicious!
---

Claudia Chicken says ...
¡Olé!
---
Want to go through the Spanish omelette recipe again?  Use this link to take you back to the top of the recipe.
---
If you enjoyed this article and found it helpful, I'd love you to let me know by clicking this button - thank you!
---
Thank you for sharing the chicken love!